While many of the top NBA free agents have found teams for the upcoming season, there are still a number of unsigned players who still have something to offer.
After the conclusion of the 2013 NBA draft, teams are still vying to round out the final pieces of their franchises in the hopes that a key free agent or two may be that last integral part needed en route to a successful season.
Many of these remaining veterans are long-standing players who probably have seen their best days behind them. Yet, if the price is right, some of these veterans may still have something to offer in various roles which may prove vital down the stretch.
Some of these players, including the ones listed here, may find themselves again employed in 2013.
Lamar Odom—Forward
USA TODAY Sports
A few years ago, it would have been strange to consider Lamar Odom as a free agent this late into the offseason.
The talented forward has certainly seen a fall in his career—netting only 330 points and a .399 field goal average last season compared to his 1180 points and .530 average only two years before.
Odom completing all 82 games with the Los Angeles Clippers last season is a good sign, although it is yet to be determined if he comes back. Recently, the Clippers were rumored to be pursuing either Odom or forward Antawn Jamison as reported by Marc J. Spears of Yahoo Sports.
Spears also noted via Twitter that Odom was the favorite of the two and that he would be a great teammate.
Clippers coach Doc Rivers patiently waiting to sign Lamar Odom after getting rave reviews about how great a teammate he is, source tells Y!

— Marc J. Spears (@SpearsNBAYahoo) August 16, 2013
LA Times Clippers beat writer Brad Turner tweets that a deal is already in place for Odom to return.
Clippers willing to offer Lamar Odom vet. mim. of $1.4 million. Odom would like more, but no team has offered LO anything more.

— Brad Turner (@BA_Turner) August 16, 2013
The Clippers would like either Odom or Jamison as they do not need both. If that is the case, and Los Angeles is favoring Odom, Jamison may have to look elsewhere for employment.
Antawn Jamison—Forward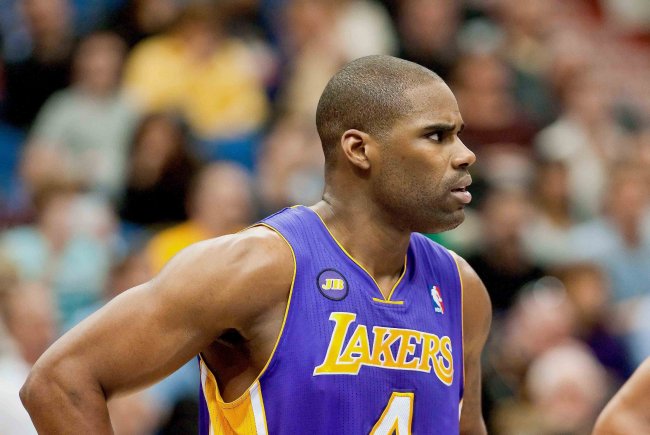 Greg Smith-USA TODAY Sports
If not Los Angeles, what other team would Jamison find himself on in 2013-14?
The former fourth-overall pick of the 1998 draft still has some basketball left in him even if it will not be with the Clippers in this upcoming season.
According to ESPN writer Ramona Shelburne, Jamison is eager to play for a contending team this season and has met with a few different clubs already. She wrote that the Clippers, Chicago Bulls and Memphis Grizzlies have all reportedly been interested in Jamison's services.
Los Angeles' interest in Odom may be the one element that thwarts the chances of him becoming a Clipper. At best, he is a reserve option if the Odom deal does not work out.
If Los Angeles is out of the equation, perhaps Jamison finds himself either in Chicago or Memphis fairly soon.
Hamed Haddadi—Center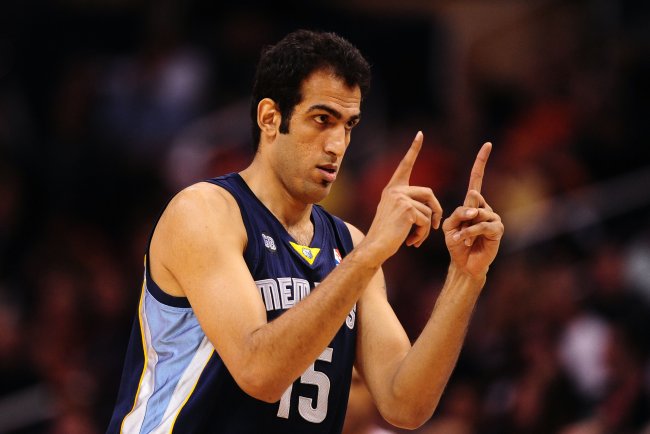 Mark J. Rebilas-USA TODAY Sports
The New York Knicks would like another big man to back up incumbent center Tyson Chandler and they may have found one in Hamed Haddadi.
At 7'2", the Knicks would be wise to add a veteran backup center to the roster and Haddadi should fit that role nicely. According to Matt Agne of SportsMedia101.com, New York would be smart by his addition especially considering the free agent market for big centers is relatively thin.
The Knicks have already worked out Haddadi according to a tweet from NBA rumors:
Report: Knicks working out 7-foot Iranian center Hamed Haddadi http://t.co/pikKZ3poIT

— NBA Rumors (@nba_rumors) August 17, 2013
New York Daily News beat writer Frank Isola also backed up the rumor:
Iranian center Hamed Haddadi is meeting with Knicks officials today, the Daily News has learned.

— Frank Isola (@FisolaNYDN) August 16, 2013
Haddadi, who is well versed in both the NBA and international play, averaged 2.8 points, 3.7 rebounds and 0.9 blocked shots per game with the Grizzlies and Suns in 2012-13.
Which listed free agent will have the biggest impact on his 2013-14 team?
For a team looking for depth at the position, Haddadi would be a smart addition.
All statistics, records and accolades courtesy of Basketball-Reference.com unless otherwise stated.
Peter Panacy is a featured columnist for Bleacher Report. Follow him @PeterMcShots on Twitter.