Ranking the Top 25 Players in Brooklyn Nets History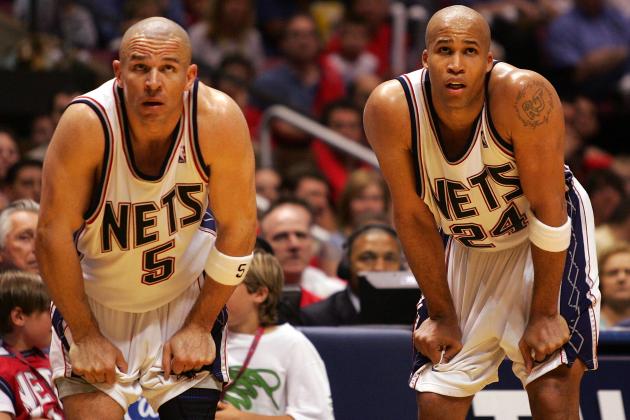 Chris McGrath/Getty Images

Dating back to the ABA days, the Brooklyn Nets have had numerous players don the uniform and contribute mightily.
Although the franchise has never won an NBA championship, two ABA titles were brought to the New York Nets by Julius "Dr. J" Erving.
Turbulence struck immediately, however, after the ABA and NBA merged and territory fees led to the selling of Dr. J to the Philadelphia 76ers.
Mainstream relevancy only returned to the organization after the Jason Kidd trade in 2001. The New Jersey Nets up until that point had one winning year in the prior seven seasons.
For the most part, the Nets' legacy has been a roller coaster, so let's look at the best players who contributed to the ride over the years.
Begin Slideshow

»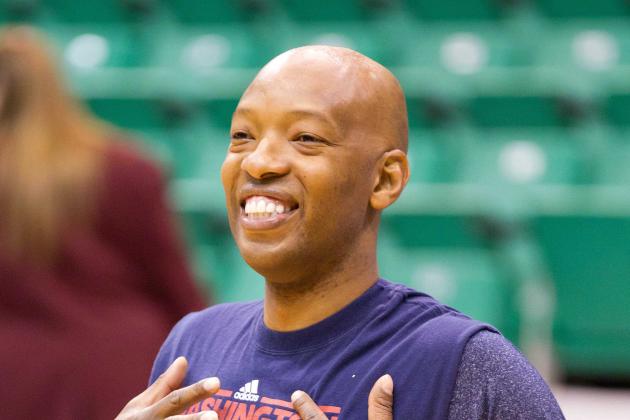 Russ Isabella-USA TODAY Sports

Sam Cassell only appeared in 102 games for the New Jersey Nets, but in the one season he played completely in 1997-98, he averaged 19.6 points and eight assists.
He led the Nets to a 43-39 record, the third and final winning season for New Jersey in the '90s.
He was eventually packaged to Milwaukee in a three-team trade that brought Stephon Marbury to the Nets.
Chris Morris is a longevity pick here.
He spent seven years in New Jersey and averaged at least 27 minutes per game throughout his Nets' tenure.
A solid defender and rebounder, Morris is ranked third all time in offensive rebounds (1,290), seventh in total rebounds (2,918), fourth in steals (784) and eighth in blocks (468) for the Nets.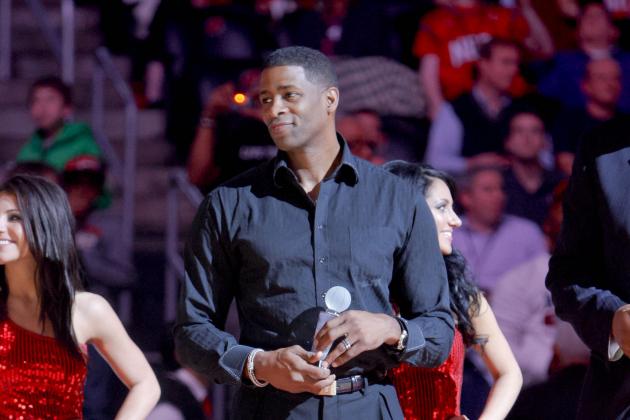 Jim O'Connor-USA TODAY Sports

Gill played with the Nets from 1996-2001.
In his first full season in New Jersey, he averaged 39 minutes, 21.8 points, 6.1 rebounds, four assists and 1.9 steals per game.
His field-goal attempts and numbers overall tapered off from that point on, but he still produced as a solid role player.
He averaged a career high in steals in 1998-99 with 2.7 per game, which led the NBA.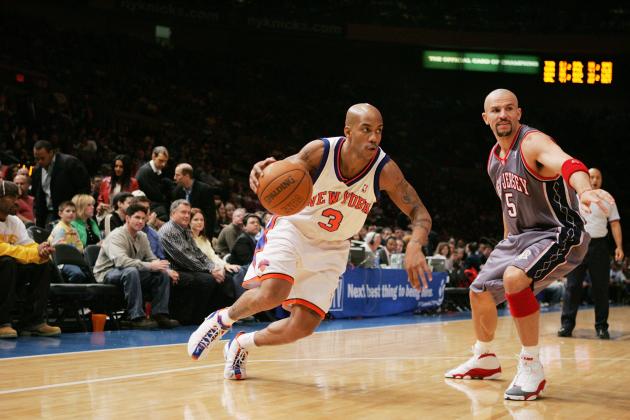 Jim McIsaac/Getty Images

If you looked at the box scores, you would see Stephon Marbury posted gaudy numbers in his Nets' tenure.
In his two full seasons with the club, he averaged 22.2 points and 8.4 assists and then 23.9 points and 7.6 assists, but New Jersey went a paltry 31-51 and 26-56, respectively.
The roster had little talent, but Marbury has always been known as the kind of player to care more about getting his individual stats than wins.
He's only on this list since he was the main piece that delivered Jason Kidd.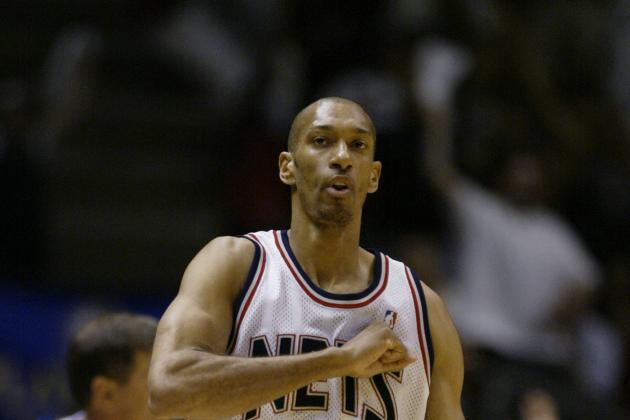 Ezra Shaw/Getty Images

Kittles played all but 11 games in a Nets uniform. His first two seasons were his most impressive, when he averaged 16.4 and 17.2 points, respectively.
He took less shots during his third and fourth seasons, with 13.3 and 11.3 attempts per game. While he averaged around 11 shots per game for the rest of his Nets' career, he maintained consistency as the Nets added talent and made trips to the NBA Finals.
In 2001-02, he scored 13.4 PPG on 46 percent from the field and 40 percent from behind the arc.
He ranks second in franchise history in three-pointers made (687) and third in steals (803).
The shooting guard from Villanova also made the 1996-97 NBA All-Rookie Second Team.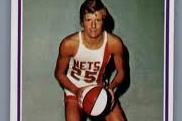 Bill Melchionni spent seven seasons (1969-1976) with the Nets, but his first three years with the club were his best, statistically speaking. Playing at least 39 minutes per game, he averaged 15.2 PPG and 5.7 APG, 17.6 PPG and 8.3 APG, and 21.0 PPG and 8.4 APG during those three seasons.
His minutes dipped to 30.3 per game in 1972-73, but he went on to contribute, as a role player, to the two ABA titles that the Nets won in 1974 and 1976.
He dished out the second most assists in franchise history with 3044, having held onto the No. 1 spot until Jason Kidd arrived.
He's the all-time blocks leader in franchise history with 863 in only four seasons from 1977-80 and 1984-85.
In his first stint with the Nets, he averaged at least 3.2 blocks with a career high of 3.4 in 1977-78.
Johnson wasn't much of a scorer, but his defense and shot-blocking were pivotal, although New Jersey was below .500 in each of the seasons he played with the club.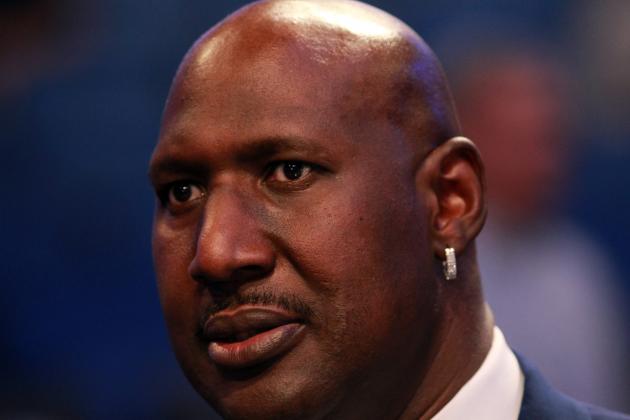 Ronald Martinez/Getty Images

Dawkins spent five years with the Nets.
His best season in New Jersey came in 1983-84. when he averaged 16.8 points, 6.7 rebounds and 1.7 blocks and shot 59 percent from the field.
He played in 11 playoff games that year, upping his scoring average to 18.4 PPG.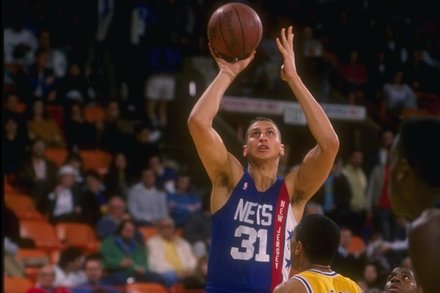 Although he was selected directly in front of Michael Jordan in the 1984 NBA draft, injuries riddled Sam Bowie's career early on. He had little opportunity to showcase his abilities with the Portland Trail Blazers.
His career took a turn, however, when he arrived in New Jersey and managed to stay on the court for at least 62 games.
He spent four years with the Nets, manning the middle. Throughout that period, he accumulated 459 blocks, which puts him 10th in franchise history.
In his first season with the club, he averaged 14.7 points, 10.1 rebounds and 1.8 blocks. His production during his Nets' tenure dropped after that initial year, but he did score 15 points per game in 1991-92 when the New Jersey made the playoffs with a 40-42 record.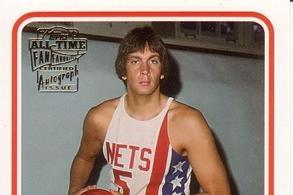 Paultz played center for the Nets in the ABA from 1970-75 and was a two-time ABA All-Star while playing in 1973 and 1975.
He averaged a double-double for the first four years of his career and missed out on a fifth in his last season with the Nets by 0.3 rebounds (he grabbed only 9.7 in 1974-75).
His best statistical season came in 1972-73 when he averaged 16.7 points, 12.5 rebounds and 2.6 blocks.
In his five years, Paultz grabbed the second most total rebounds in Nets history (4,544), compiled 498 blocks (ranking seventh for the franchise) and is 10th in field goals made with 2,583.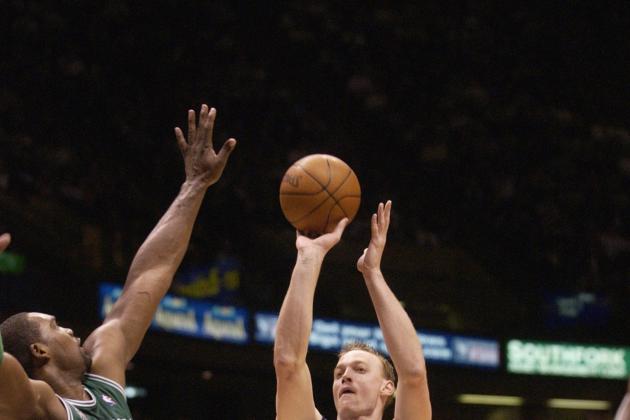 Ezra Shaw/Getty Images

Keith Van Horn had his best years with the Nets.
After he was drafted second overall in 1997 out of the University of Utah, he stepped in and averaged 19.7 points and 6.6 boards per game.
He made the All-Rookie First Team and looked like a young Larry Bird without the passing ability.
He ranks fifth for the Nets all time in three-pointers made with 335. His career never reached the heights it should have, but he played well in New Jersey.
In his five seasons, he averaged 18.5 points and 7.6 rebounds and played a prominent role in New Jersey's first NBA Finals run in 2001-02.
Throughout the playoffs that year, he was the Nets' third option and scored 13.3 points per game on 40 percent shooting from the field and 44 percent from behind the arc.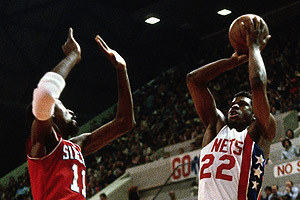 King is better known for his days with the Knicks, but he did spend the first two years of his career with the Nets.
In his rookie season, he stepped into the NBA and did his thing immediately. He averaged 24.2 points, grabbed 9.5 boards and dished out 2.4 assists.
He was named to the 1977-78 All-Rookie First Team, but the Nets finished with a 24-58 record. New Jersey made the playoffs the following year, however, with a record below .500.
He closed out his career with the Nets, averaging seven points in 13.4 minutes per game in only 32 contests.
Otis Birdsong was with the Nets from 1981-88.
The shooting guard from the University of Houston led the Nets in scoring twice, with 19.8 PPG in 1983-84 and 20.6 in 1984-85.
Although he was a four-time All-Star, Birdsong only appeared in the game once as a member of the Nets in 1984.
He played a large role in the 1984 first-round upset against the 76ers, averaging 15.2 PPG throughout the playoffs.
Since coming over from the Utah Jazz, Deron Williams has done all that he can to return the Nets to relevancy.
In his first 12 games with the team, he averaged 15 points and 12.8 assists with a mediocre roster.
Through 55 games in 2011-12, he scored 21 points (just 0.3 PPG shy of his career high) and dished out 8.7 assists.
Despite battling a couple of injuries that limited his production for the first half of 2012-13, he finished the year strong by averaging 18.9 points and 7.7 assists per game.
He upped his numbers in the playoffs this past year to 20.6 PPG and 8.4 APG, but Brooklyn came up short. With more weapons around him than ever, Williams should have a career year, further augmenting his budding Nets' legacy.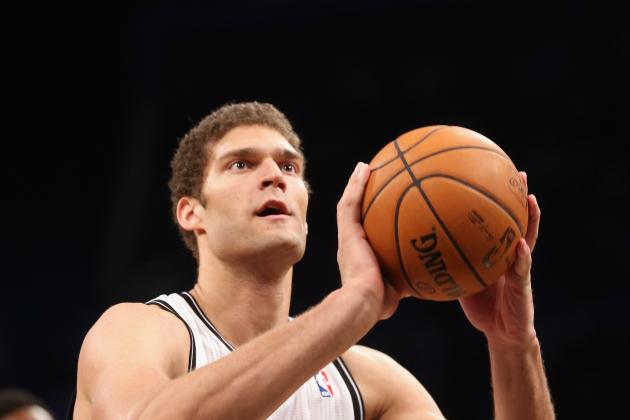 Bruce Bennett/Getty Images

Through his five NBA seasons, Lopez has looked like the Nets' best offensive center of all time.
He possesses a career scoring average of 17.9 points per game at this juncture and already has the fourth most blocks in franchise history with 568.
Had he been healthy in 2011-12, he'd be third in blocks and making a serious push for Buck Williams' No. 2 spot.
Lopez should continue to develop this offseason and possibly have a career year in 2013-14. With all the versatility the Nets have, the offense should open up even more for him.
New York native Kenny Anderson had his two best seasons with the Nets from 1993-95.
He put up 18.8 PPG and 9.6 APG in 1993-94 and 17.6 PPG and 9.4 APG in 1994-95.
He was partially responsible for two of the three winning seasons New Jersey had in the '90s.
The Nets went 45-37 in 1993-94 thanks to the marvelous season Anderson had, which built hope for the franchise. However, the roller coaster took its course, and in 1994-95, the Nets finished with a 30-52 record.
In 1996, Anderson was traded with Gerald Glass to the Charlotte Hornets for Kendall Gill and Khalid Reeves.
He compiled 2,363 assists while playing for New Jersey, which puts him third on the Nets' career leaderboard.
Kenyon Martin electrified fans with his athleticism on both ends of the court.
With Jason Kidd playing beside him and pushing the tempo, "K-Mart" was able to score easily in transition and around the rim.
He averaged 15.1 PPG and 7.6 RPG with the Nets and remained consistent when it mattered most in the playoffs—sometimes even raising his numbers.
In both of New Jersey's trips to the NBA Finals, Martin averaged 17.9 PPG and 7.6 RPG. Kidd may have been the main reason for the Nets coming out of the Eastern Conference in 2001-02 and 2002-03, but without Martin on the floor, New Jersey would have likely been eliminated by the second round.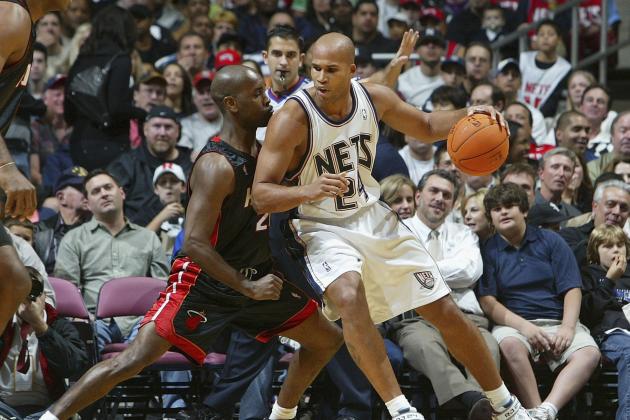 Jim McIsaac/Getty Images

Jefferson spent seven seasons with the Nets, averaging 17.7 points and 5.5 rebounds per game.
He is second all time in free throws made (2,359), ninth in total rebounds (2,627), sixth in assists (1,486) and third in points scored (8,507).
He made the All-Rookie Second Team and played a pivotal role in both NBA Finals runs.
Petrovic played in 195 games for the Nets before he lost his life in a tragic car accident in 1993.
He emerged as a poignant scorer in 1991-92 when he averaged 20.6 points per game, shooting 51 percent from the field and 44 percent from the three-point line.
The following season, he averaged 22.3 points, shooting 52 percent from the field and 45 percent from behind the arc.
He made the All-NBA Third Team that year, and the Nets finished with a 43-39 record—the first of three winning seasons in the '90s for the organization.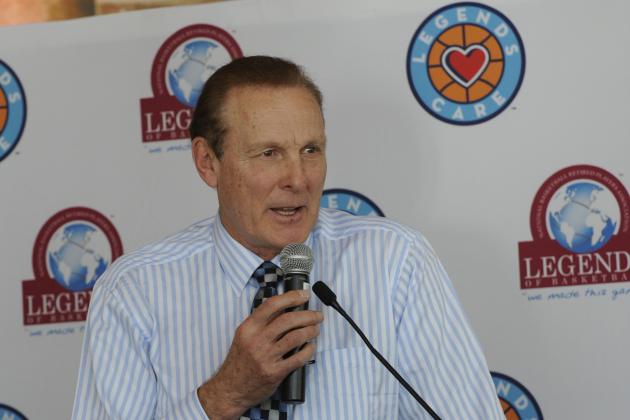 David Banks/Getty Images

Rick Barry would be in the top five of this list if he played more than two seasons with the Nets.
He posted scoring averages of 29.4 and 31.5 PPG in his two years and led the team to the ABA Finals in 1971-72, but the Nets ultimately came up short.
Barry also made the All-ABA First Team twice as a member of the New York Nets.
Vince Carter is better known for his days with the Toronto Raptors, but when he reached New Jersey, he had some of the best scoring years of his career.
Through his first 57 games with the Nets, he averaged 27.5 PPG, shooting 46 percent from the field and 43 percent from the three-point line.
His shooting percentages dropped from that point on, but he still maintained his offensive prowess by averaging at least 20.8 points per game in his Nets' tenure.
He was a three-time All-Star with the Nets (2005-2007) and is their second leading scorer with 8,834 points. He also ranks fifth for the franchise in assists with 1,762, with an average of at least 4.3 APG.
The Nets drafted Coleman No. 1 overall in 1990, and he scored and rebounded as expected for the five years he played in New Jersey.
He averaged a double-double of at least 18.4 points and 10.3 rebounds per game four times in those five seasons. His sophomore year was the lone setback on the glass as he grabbed only 9.5 boards.
Throughout his five years with the Nets, Coleman averaged 19.9 PPG and 10.6 RPG.
He made the All-Star game in 1994 and led the Nets to three postseason appearances, where he averaged 24.5 PPG and 13 RPG. Those numbers were inflated some, however, as he only played in 13 total playoff games with the Nets.
In his first seven years with the Nets, Williams averaged a double-double of at least 15 PPG and 11.9 RPG.
His final year with the club in 1988-89, his production tapered to 13.0 PPG and 9.4 RPG.
Throughout his eight years in New Jersey, he made the All-Star team three times in 1982, 1983 and 1986. He was also named to the 1981-82 All-Rookie First Team, 1982-83 All-NBA Second Team and 1987-88 All-Defensive Second Team.
The Nets made the playoffs in each of his first five seasons, advancing out of the first round only once in 1983-84.
In the playoffs that year, Williams averaged 15.5 points, 14.1 boards and 1.5 blocks per game.
Dr. J was an elite all-around player for the Nets.
In his three years with the organization in the ABA, he averaged at least 27.4 PPG, 10.7 RPG and 5.0 APG.
Erving led the Nets to two ABA titles and ranks sixth in franchise history for points scored with 7,104.
A fair case could be made for him to be the best player in Nets' history, but playing only three years with the club detracts somewhat from his accomplishments, particularly when the guy ahead of him turned the franchise around upon arrival—something Dr. J did for the 76ers. Philly became a contender and lost in the finals in Erving's first year with the team when he and the Nets were forced to part ways.
When Jason Kidd arrived in New Jersey, the team culture changed immediately.
The season prior, with Stephon Marbury as the team's point guard and No. 1 scorer, the Nets finished with a 26-56 record.
In 2001-02, with Kidd as the floor general, New Jersey went 52-30 and lost in the NBA Finals in four games to the Los Angeles Lakers.
Unlike Dr. J, Kidd was unable to bring championships to his team, but his two trips to the finals saw the Nets fall to two teams (LA and the San Antonio Spurs) that have won nine rings since 1999.
His career averages as a Net are 14.4 PPG, 7.3 RPG, 9.2 APG and 1.9 SPG. And he's first in assists (4,620), first in three-pointers made (813), first in steals (950), fourth in points scored (7,373) and fifth in rebounds (3,662).
It's only fitting that the next stage of Kidd's basketball career is as head coach of the Brooklyn Nets.