Biggest Hits and Misses from WWE SummerSlam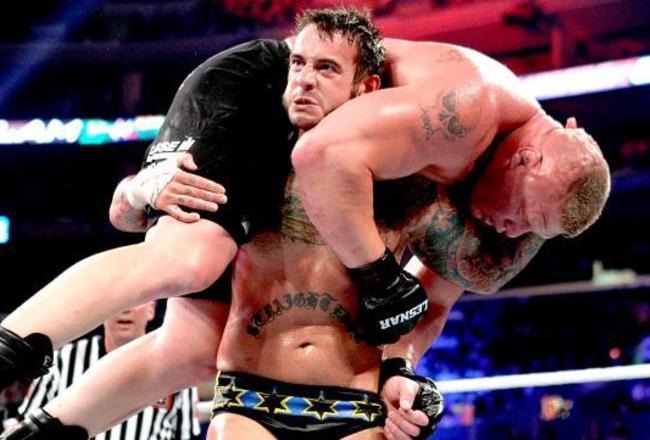 All photos courtesy of WWE.com

The WWE continued its streak of excellent pay-per-view events with SummerSlam 2013. We got some very high-quality matches and saw the beginning of a huge new angle.
That's not to say there weren't any missteps, though. Some segments were extraneous or imperfectly executed.
The following are the biggest hits and misses of one of the best SummerSlams of the last 15 years.
Miss: A Sloppy Start to the Pay-Per-View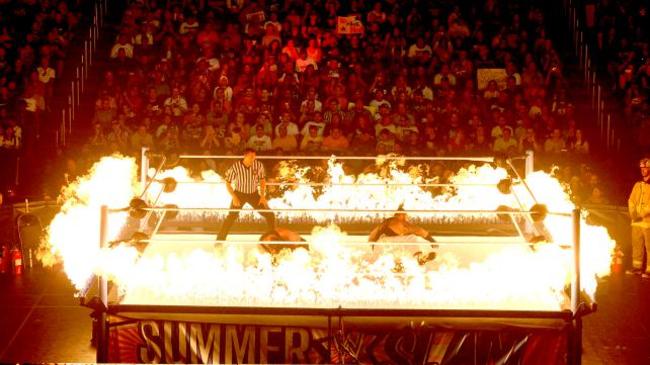 Well, at least fire is cool

The Wyatts are an interesting bunch. They've been consistently enthralling on Raw, mainly thanks to Bray's intense promos.
Unfortunately, his debut against Kane wasn't a particularly strong one.
They just never clicked; the match never got particularly exciting, and the ending where the Wyatts interfered was done sloppily.
To top it off, it really seemed like the announcers couldn't care less about what was happening in the ring; they didn't sell the action very well at all.
After the match, the trio once again attacked The Big Red Machine, so maybe the two will get another shot at putting together a solid match.
Hit: Stars of the Future Deliver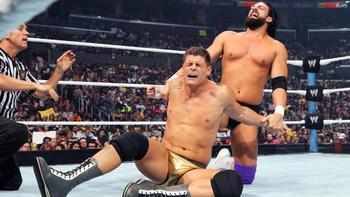 Rhodes' lack of mustache must make him more aerodynamic
First and most importantly, Cody Rhodes shaved his mustache.
After he made the grand reveal of his hairless face, Rhodes and Damien Sandow really kicked the event into gear. Their match wasn't particularly long, but it was everything it needed to be, and it's good to see the second generation Rhodes gain some traction as a babyface.
Rhodes looked great, and they set up a rematch for the briefcase, where it'll be Sandow's time to shine.
Hit: Christian and Alberto Del Rio Make Their Feud Interesting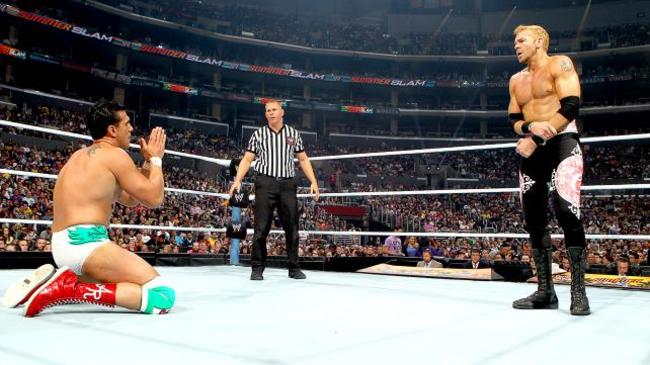 Spoiler: It was a trap

The build up to SummerSlam's World Heavyweight Championship was very lazily done. Christian and Alberto Del Rio barely interacted, and when they did, it was in a one-off match that ended cleanly; they gave away the match for free!
Still, that didn't stop Captain Charisma and the Essence of Excellence from putting on an outstanding match. The Mexican Aristocrat ultimately won via submission, taking advantage of Christian's injured shoulder.
Although it was sad to see Christian lose, both men should be commended for using their wrestling ability to make their feud interesting after Creative had failed them so.
Miss: 'Total Divas,' SummerSlam Edition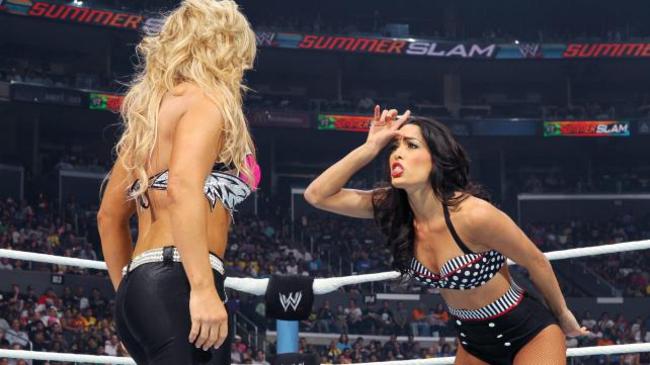 Top stuff there

This match was a massive disservice to Total Divas, to everyone who paid money to see SummerSlam and, most importantly, to Natalya.
It's not that it was particularly bad—most diva matches are. It's that it so blatantly promoted the Total Divas reality show. But even then, it wouldn't have been so bad if it hadn't just seemed to drag on.
Most divas matches are short for a reason; the female "wrestlers" in the WWE are mostly not hired for their wrestling ability.
Natalya is a rare exception to this rule, of course.
At least she won the match. Hopefully she can feud with AJ and we can get a decent divas match at Night of Champions.
Hit: Clash of the Heyman Guys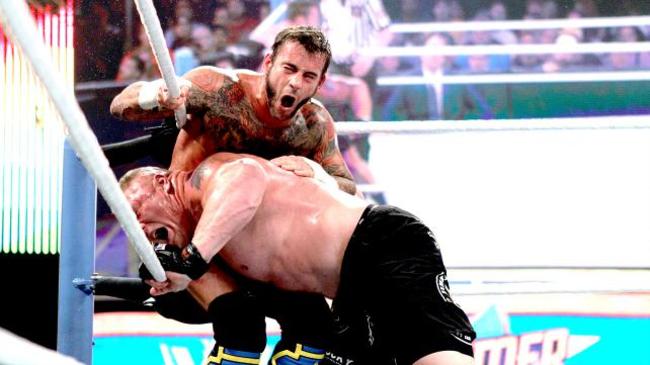 This match was a career highlight for both men

We've been waiting for this match for a long time.
Ever since Brock Lesnar returned to the company, it was just a matter of time before he crossed paths with CM Punk, the WWE's second-biggest star.
Anticipation rose steadily after Paul Heyman aligned himself with Punk in the middle of last year. We knew the Heyman guys would clash eventually, and clash they did.
CM Punk and Brock Lesnar put on a tense and impactful show. It started with standard Lesnar brawling, but it became so much more. The Beast won the match, but Punk came out as strong as ever.
Miss: Miz as Host of SummerSlam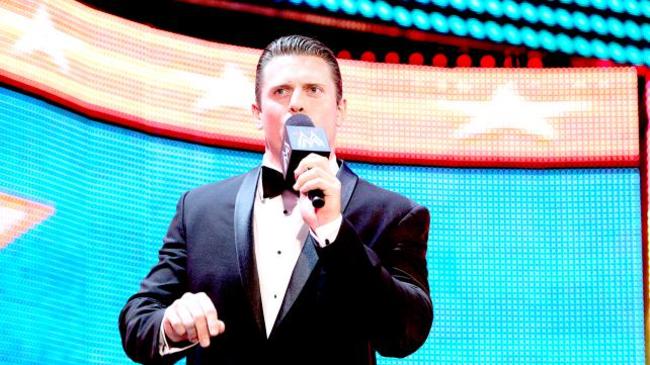 Making an impact

This is just a quick side note, but The Miz as host was pointless.
The only marginally noteworthy action he took was punching Fandango, and you don't really need a reason to do that.
Maybe the WWE wanted to keep Miz exposed, but The Awesome One would've looked better in absence; he's above that.
Hit: The Instant Classic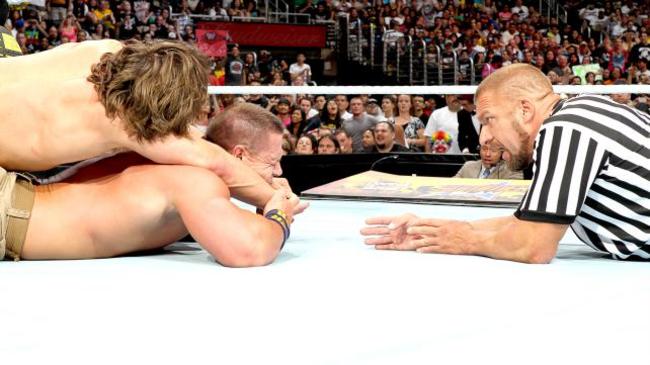 Bryan hitting Cena with his own submission hold

Daniel Bryan beat John Cena. Clean.
You have to give it to the WWE—that's a sentence I never thought I'd say. I didn't even think that syntax could form that way.
But it happened.
The American Dragon pinned the 13-time world champion in the middle of the ring—and it was glorious.
Their match was everything we expected to be. It was a true instant classic. Bryan delivered as always, and major props have to be given to John Cena as well.
Cena gets a lot of flak for doing the same shtick, but he showed that he's more technically capable than we often give him credit for.
I thought that Triple H's involvement as special referee would debase the integrity of the match due to a swerve finish. Thankfully, that didn't happen.
Hit: Bryan's Title Quest Continues
I guess Triple H has put the whole "Orton assaulted my wife" thing behind him
Well, the swerve happened—just after the match.
A Randy Orton cash-in has been teased on Raw for weeks, so imagine everyone's surprise when Orton's music hit during Bryan's celebration.
Triple H hit the new WWE champion with a pedigree, and moments later, an even newer WWE champion was crowned.
Without sounding too pessimistic, the WWE is probably going to screw this up.
Both Bryan and Orton need to be WWE champion, which puts Creative in a tough spot. It may pull a master stroke, but it's unlikely.
Regardless of how this may go, it makes Raw must-see—for now, at least.
Keep Reading