Boise State Football: Game-by-Game Predictions for 2013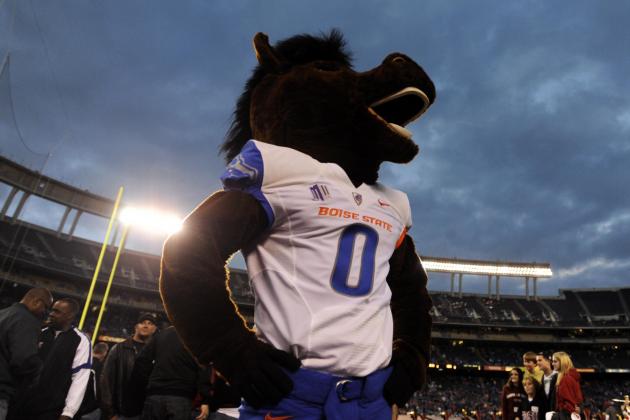 Christopher Hanewinckel-USA TODAY Sports

Boise State begins another college football season ranked in the Top 25. Currently, the Broncos are No. 19 in both the AP Top 25 and the USA Today coaches poll.
This season is the last season of the BCS, and head coach Chris Petersen and his team are poised for another run at a BCS bowl game.
It is more than appropriate that the official Boise State school mascot is named "Buster." After all, the Broncos, while not the only "BCS Buster," are certainly the most famous—or infamous for that matter.
Boise State will once again begin its quest to break the BCS. However, to do it they will have to navigate a deceptively tough schedule filled with challenging road games.
Let's look at every game on the 2013 schedule for Boise State and try to figure out if the Broncos have a legitimate shot at busting the BCS one last time.
Begin Slideshow

»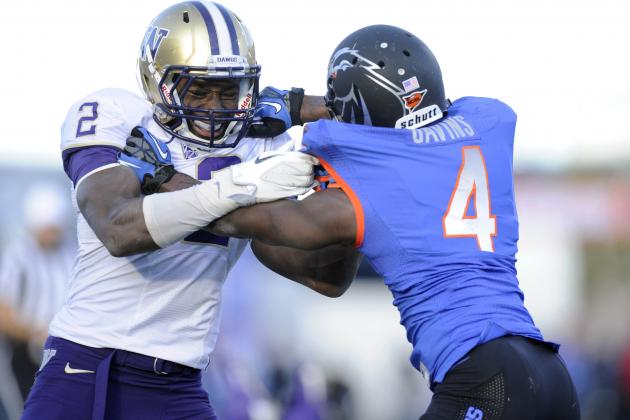 Josh Holmberg-USA TODAY Sports

When the Broncos step onto the field in Husky Stadium on August 31, 2013, they will be facing a team that is ready for a fight.
The Huskies of Washington nearly beat these same Broncos in the Las Vegas Bowl last season, and there is no doubt they will use that for motivation to attempt to topple Boise State this time around.
The question is, can they do it?
Well, anything is possible. However, Boise State head coach Chris Petersen is a master at getting his team ready to play when he has this much time to prepare. The team did falter last season in the opener against Michigan State, but the 2013 version of the Broncos is far superior to the opening-game team of 2012.
Still, it is going to be a huge challenge.
Boise State must have its offense rolling early against the Huskies. All indications are that it will be, but if the team can't get it together on opening night, Washington could get its revenge.
Prediction
If Boise State struggles on offense, Washington will take this game.
However, that just doesn't seem possible with senior quarterback Joe Southwick playing at a high level with confidence and surrounded by what is arguably the best wide receiver corps in the Mountain West Conference.
Not only that, but the ground game of the Broncos is going to be awesome.
Last season in the opener against Michigan State, the Broncos struggled in every area, but it was the lack of a rushing attack that doomed them.
In total, the Broncos rushed for 37 yards against the Spartans. That was on 24 attempts mind you, and it was impossible for Boise State to overcome.
This season, Boise State has a great stable of running backs. In fact, it might be the best overall group the Broncos have ever fielded—and that's saying a lot.
In the end, it is that ground game that should open up the passing game for Joe Southwick in Seattle. The defense will have to do its part, but with the talent the Broncos have on that side of the ball, it certainly seems feasible.
If the Boise State offense is clicking, they should take home the win. If Washington is able to shut them down, it points to another opening-night loss.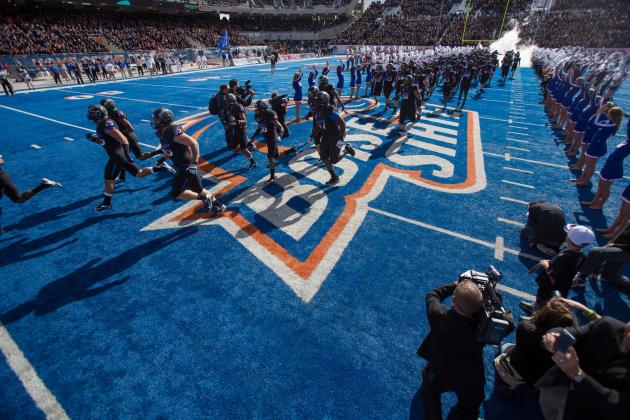 Otto Kitsinger III/Getty Images

This is one of those games that athletic directors get because they really don't have any other option.
Tennessee-Martin is a fine program, but if the Broncos don't take this game by at least 45 points, something is very wrong.
Prediction
Boise State will win this game. It will be one of those games where the starters get to rest in the second half. However, if the Broncos struggle at all, this game will be used against them all season as they attempt to rise in the rankings.
That is the trap with a game like this. If you win it but don't win it like you should have, it could harm you in the quest for a BCS bowl game.
However, it isn't like coach Petersen to let his team overlook anyone.
In the end, look for the Broncos to let up late, but the score should still be in the area of 56-7 in favor of Boise State.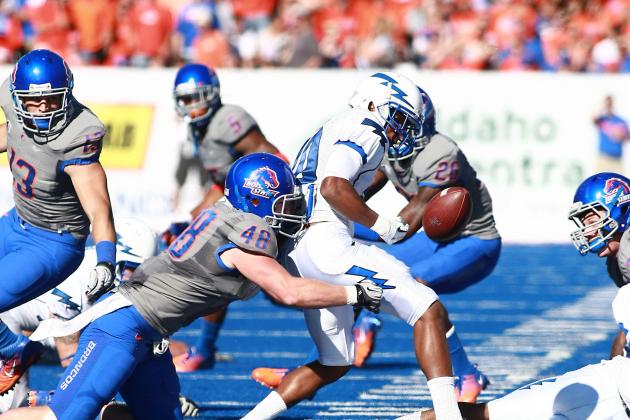 Brian Losness-USA TODAY Sports

Air Force is known for its ground game. It runs the option as good as anyone, and it gives teams like Boise State fits.
The last time these two teams met it was in Boise in 2011. They didn't face off last season because of an odd conference schedules.
When the Falcons came to Boise, they gave the Broncos all they could handle. At the time, the Broncos were ranked No. 5 in the nation and looking for a perfect season.
Air Force almost derailed the them.
In the end, it was a 37-26 win for the Broncos, but it was not impressive. The Falcons ran up 264 yards on the ground and tired out the Boise State defense.
Prediction
This time around do not expect the same results.
Boise State will certainly be much more prepared for the option offense in 2013. It had a scare from a similar option offense last season when it played New Mexico.
That simple fact, along with the task of facing Air Force and the Lobos again in 2013, has to be motivation enough for Chris Petersen to figure out a way to shut it down.
Look for the Broncos to be ready for Air Force this time around. It will be a battle, but in the end, Boise State should take it, 45-21.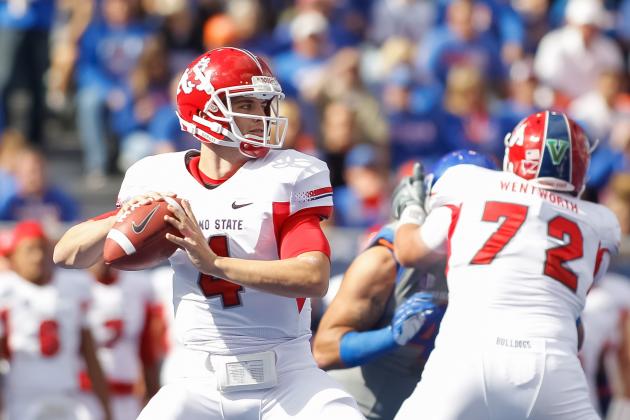 Otto Kitsinger III/Getty Images

Some say Washington, others say BYU, but Fresno State may be the toughest game on the Boise State schedule this season.
Fresno State has a number of key starters coming back from a team that was impressive in 2012.
No starter for the Bulldogs is more important than Derek Carr. In 2012, all he did was throw for 4,104 yards with a completion percentage of 67.3 and a mere seven interceptions. Oh, by the way, he also threw for 37 touchdowns on the year.
Carr will also have his two best wide receivers back.
Isaiah Burse and DaVante Adams finished first and second on the team last season in receiving yards, respectively. Adams had 1,312 yards and Burse an impressive 851. These two are going to be hard to stop in 2013.
Running back will be a bit of a mystery for the Bulldogs, but the passing attack alone has to be scary for the Broncos.
Prediction
This could be a game that Boise State has a hard time winning. The hostile crowd in Fresno will no doubt be hungry for a win.
Head coach Tim DeRuyter has his team playing with serious attitude, and it won't be intimidated by the Broncos.
In the end, if the Boise State is able to move the ball on the ground and keep Derek Carr off of the field, victory should come. However, even if Boise State wins the game in Fresno, these two teams could meet again in the Mountain West Conference Championship Game, should they both make it.
It is hard to pick a score here. Let's just say the team that is able to control the pace of the game and keep the other team's offense off of the field the most wins this game.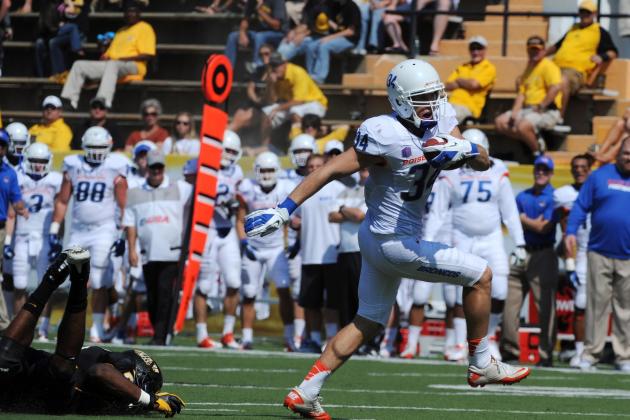 Chuck Cook -USA TODAY Sports

Southern Miss had a horrible season in 2012. Actually, that might be an understatement.
The Golden Eagles didn't win a single game last year. They played valiantly at times, but nothing seemed to go their way. However, that should change this season.
In 2013, look for Southern Miss to do much better, but probably not against the Broncos.
Prediction
Boise State will be at home for this game, and Boise is a long way from Hattiesburg.
The Golden Eagles will not be able to match up with the bruising rushing attack of the Broncos. Not only that, but if the passing game is as good as it looks like it could be for Boise, the defensive secondary of the Golden Eagles won't be able to do much to slow it down.
In the end it, looks to be a Boise State win. Look for a score of 48-14 in favor of the Broncos.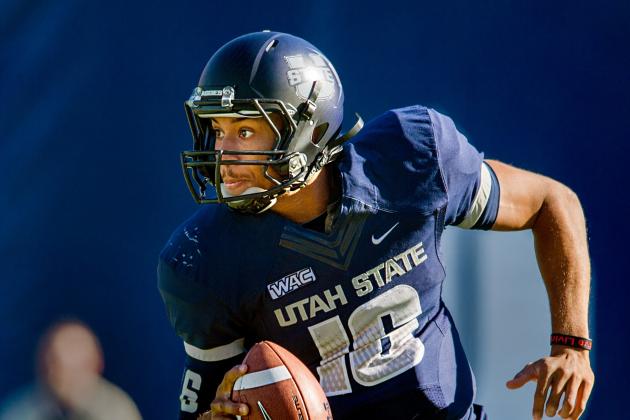 Douglas C. Pizac-USA TODAY Sport

The Utah State Aggies are reminiscent of another team in college football.
They are young, scrappy, not afraid to take on any challenge, fast, fly around the field and play with a chip on the shoulder.
Sound familiar?
Well, if you are a Boise State fan, it should.
Utah State looks and plays a lot like the Broncos. Or, at least they did under Gary Andersen. However, since Andersen left for Wisconsin, it is anyone's guess if the Aggies will continue to elevate under new head coach Matt Wells.
Wells was the offensive coordinator under Andersen, so he is familiar with the system and the attitude.
Of course, that sounds a lot like what happened here in Boise when then offensive coordinator Chris Petersen was promoted to head coach after Dan Hawkins left for Colorado in 2006.
In 2012, the Aggies finished 11-2 with close losses to BYU and Wisconsin. This season, Utah State returns a fair number of players from last year's squad, including quarterback Chuckie Keeton.
Last season, Keeton threw for 3,373 yards, 27 touchdowns and just nine interceptions. He can also scramble—Keeton rushed for 619 yards.
Dual-threat quarterbacks have always been a challenge for the Broncos.
Prediction
This isn't the year that the Aggies get the Broncos.
Boise State is just too talented up and down the roster. Utah State is going to give them a scare, but in the end, the Broncos will be just too much to handle.
It will be a hard-fought game with some amazing offense. However, the Broncos have a little more offense, and they probably have the better defense of the two teams.
That recipe spells victory for Chris Petersen and his team.
Boise State takes home the win, 41-31.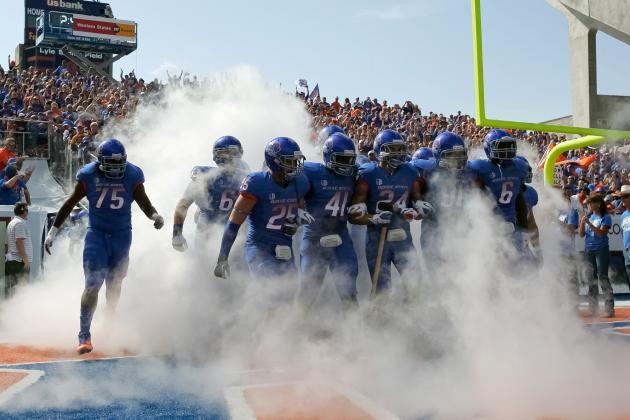 Otto Kitsinger III/Getty Images

Nevada is another team on the Broncos schedule that hired a new head coach.
After many years at the helm of the Wolf Pack, Chris Ault retired.
Brian Polian replaced Ault, and you can expect the winning tradition to continue in Reno. However, the Wolf Pack probably don't have enough in 2013 to take down the Broncos.
Prediction
Nevada has an excellent dual-threat quarterback in Cody Fajardo. Last season, Fajardo ran for 1,121 yards and threw for 2,786.
However, no matter how good Fajardo is, he can't make up for the fact that Nevada lost running back Stefphon Jefferson, who ran for 1,883 yards last season.
The Wolf Pack also lost over half of their defense, which struggled last season anyway.
Add to that a brutal schedule that sees them open at UCLA and then travel to take on Florida State in Week 3, followed by games against Hawaii, Air Force and at San Diego State before traveling to Boise on Oct. 19.
The struggles on defense combined with the brutal schedule says the game in Boise should be a victory for the Broncos.
Final score prediction: Boise State 47, Nevada 27.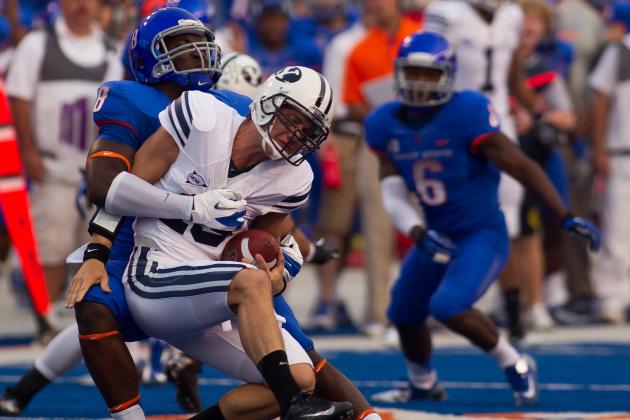 Otto Kitsinger III/Getty Images

Toss a coin and call it in the air. That's how this game looks on paper.
BYU is going to be good again in 2013, and after losing a horrible-looking game to Boise State by a score of 7-6 in 2012, these Cougars are going to be looking to pounce.
The 2013 BYU team should look a lot like the 2012 team, but with a few exceptions.
The defense is going to be downright nasty again. Even though they lost several starters, they return some of the core of the 2012 team that was solid. That list includes one of the best linebackers in the nation in Kyle Van Noy.
On offense, BYU returns nine starters.
That bodes well for a team that struggled at times last season scoring points. The Cougars offense did get better as the season progressed, and that fact, along with the number of returning players, should make BYU more than a one-dimensional defensive juggernaut.
Prediction
This game is in Provo. It is going to be an electric environment, and there is no doubt BYU will be difficult to take down on its home field.
However, the schedule leading up to this game is going to be brutal for the Cougars.
BYU starts the year at Virginia but then comes home to face Texas and Utah. After that, it gets a break with Middle Tennessee but then goes to Utah State the first week of October.
It is then home against Georgia Tech and on the road to face Houston before returning to play Boise State.
After Boise State, the Cougars play Wisconsin, Idaho State, Notre Dame and Nevada. Overall, this has to be one of the most difficult schedules the Cougars have ever played.
If they can stay healthy with all those early tests, they are going to give Boise State all that the Broncos can handle.
The team that makes the fewest mistakes and has the most players healthy is going to win this one.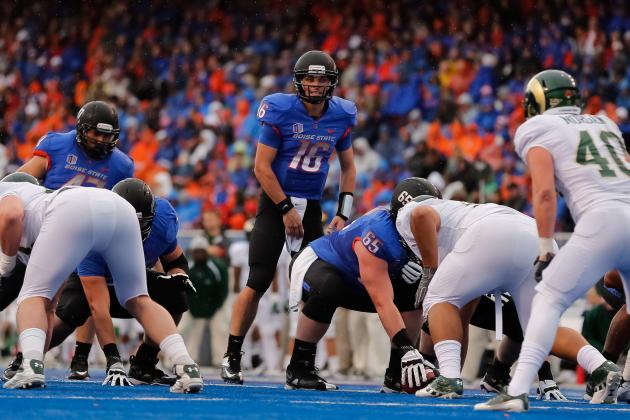 Otto Kitsinger III/Getty Images

Colorado State should be a better team than it was in 2012. The Rams return a total of 16 starters, eight on each side of the ball.
Last season, CSU finished 4-8 overall.
This year, the Rams will be a better team, but with their schedule, it will be difficult to improve on the win total.
They start against Colorado and then face a pesky Tulsa team. After that, they should have a guaranteed win against Cal Poly but then travel to face Alabama.
The team then returns home to take on UTEP and San Jose State. After that, it's at Wyoming and the big journey to the islands to take on Hawaii.
One week later, the Rams face the Broncos.
The Rams finish the season against Nevada, at New Mexico, at Utah State and home against Air Force. It will be quite the task matching the win totals from 2012 with that schedule.
Prediction
As far as the game against the Broncos goes, anything can happen. After all, it is college football.
However, the Broncos should be able to handle Colorado State.
It won't be the blowout of 2011, when the Broncos dismantled the Rams 63-13, but it should still be a decisive win for Chris Petersen and his team.
Look for a 42-10 contest with Boise State controlling the game throughout.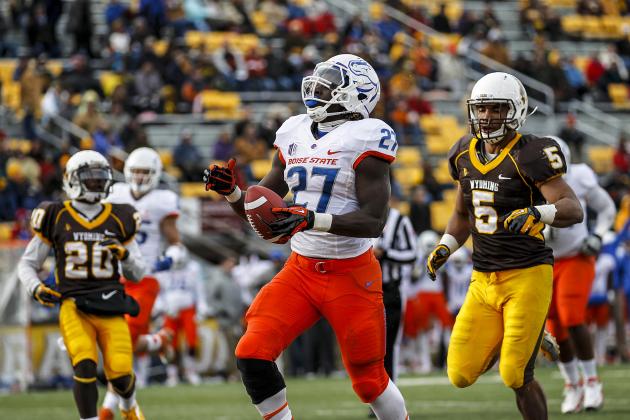 Troy Babbitt-USA TODAY Sports

Wyoming will be better in 2013. It struggled early in 2012, and it seemed like it took most of the season to get things going.
The Cowboys lost seven of their first eight games but finished winning three of their last four.
In 2013, they will have 14 starters back, seven on each side of the ball, and a very good quarterback with another year of experience.
Quarterback Brett Smith threw for 2,832 yards, 27 touchdowns and only six interceptions last season.
Prediction
The passing defense of Boise State will get tested. However, with the pressure the Broncos should be able to put on Smith, along with the powerful offense of Boise State chewing up clock, Wyoming can only hope to keep it close.
In the end, Boise State should handle Wyoming, 45-19.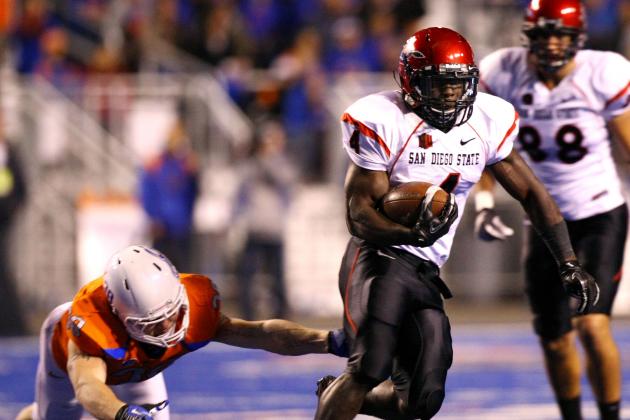 Brian Losness-USA TODAY Sports

San Diego State came into Boise last season and took home the Broncos' BCS dreams.
After upsetting Boise State on its own home field, 21-19, you have to believe the Broncos are going to be looking to get some payback.
San Diego State brings back much of what it had last season. In total, 16 returning starters. That includes seven on offense and nine on defense.
Boise State will have its revenge work cut out for it in 2013.
Prediction
The Broncos should be rolling by the time this game comes around. However, so should San Diego State.
The Aztecs will have early battles against Ohio State and Oregon State and difficult conference games against Fresno State and San Jose State before facing the Broncos.
It really depends on how SDSU handles those games to determine how it will play against the Broncos.
However, in saying all of that, it is the Broncos with the most to lose or gain in this one.
Look for Chris Petersen to have his team primed for this game.
Boise State should bring home the win this time around. Boise State 41, San Diego State 21.
Otto Kitsinger III/Getty Images

The last game of the regular season will be a big one. Even if some fans might not realize it.
New Mexico has been the bottom-feeder in the Mountain West for a while, but it is getting better.
The Lobos gave the Broncos a real scare last season. Boise State had to hold off a late run to take home a 32-29 victory.
Attribute all that trouble to the option.
Boise State hasn't played all that well against option-based offenses. However, look for head coach Chris Petersen to figure it out in 2013.
Prediction
This game will most likely be important for two reasons.
First, if Boise State is in a BCS run, it must win this game—and win impressively.
Secondly, the Broncos should be competing for the Mountain West title game. That makes this game a must-win.
Look for the Broncos to win this one at home in a big way. Boise State should score over 50 and hold the Lobos to under 14.