Oklahoma Sooners Football: Game-by-Game Schedule Predictions for 2013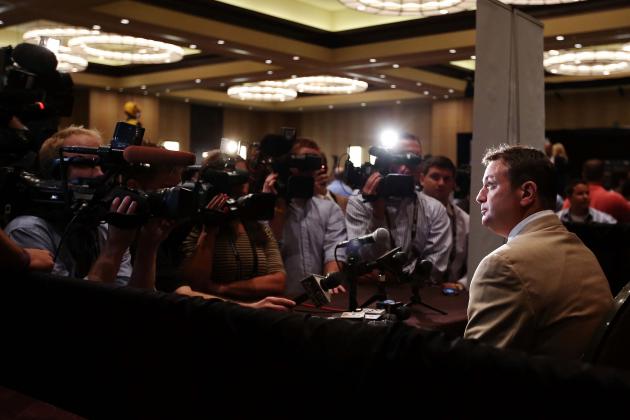 Kevin Jairaj-USA TODAY Sports
Can Stoops get the Sooners back into the national spotlight?
The Oklahoma Sooners never back down from a challenge.
According to college football expert and ESPN Insider Phil Steele, the Sooners will play the second-toughest schedule in the nation this season. Only the Florida Gators have a tougher road.
Oklahoma will face four ranked teams in 2013—No. 13 Oklahoma State, No. 14 Notre Dame, No. 15 Texas and No. 20 TCU. Only one of those four games will be at home.
With a new starting quarterback and the loss of five defensive linemen, the Sooners were already facing a disadvantage. This just makes things tougher.
So just how well—or badly—will Oklahoma fare against each opponent?
Begin Slideshow

»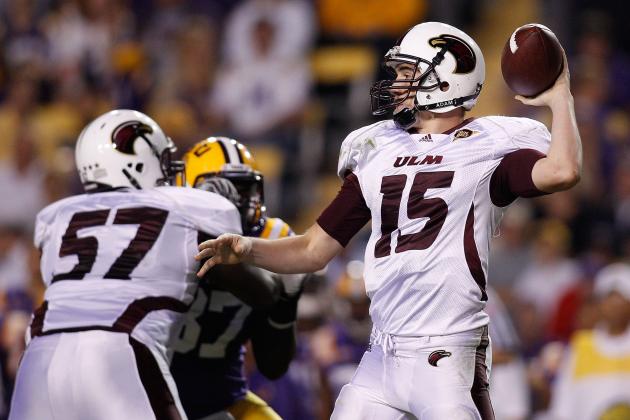 Chris Graythen/Getty Images
Browning's dual-threat ability could be a problem for the Sooners.
Overall Head-to-Head: N/A


Last Five Results
N/A


Player to Watch Out For: Kolton Browning (QB, Sr.)
If the Warhawks have any chance of pulling off the upset, they'll need top play from their quarterback.
In 2012, Browning threw for 3,049 yards and 29 touchdowns. He also did some damage on the ground, rushing for 488 yards and seven scores. Browning was crowned Sun Belt Player of the Year for his efforts.
Against a young, inexperienced Sooners' defensive line, Browning's dual-threat ability could be an issue.
Prediction
In years past, Oklahoma has been caught napping during the opening week.
Sure, Lousiana-Monroe won't garner nearly as much attention on the schedule as games against Notre Dame, Texas, TCU and Oklahoma State. However, if the Sooners want to avoid another Week 1 upset, it would be in their best interest to add the Warhawks to that list.
All things said, expect Oklahoma to make some mistakes and look sloppy on defense early on. But by the second half, Bob Stoops will have his team settled down.
The Sooners run away with this one and get off to a 1-0 start in 2013.

Final Score: 41-27 Oklahoma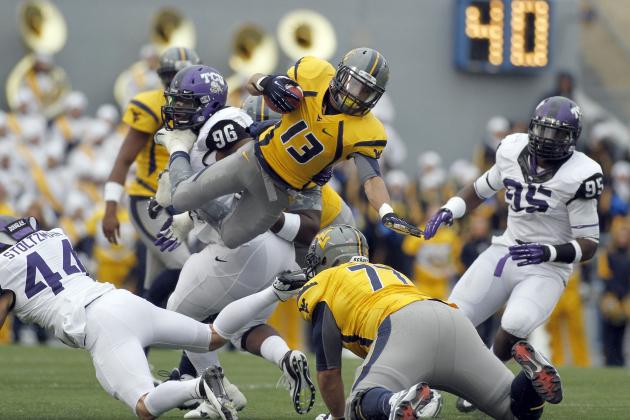 Justin K. Aller/Getty Images
Buie will be expected to carry the entire offense on his shoulders this season.
Overall Head-to-Head: 3-2 OU (1W)


Last Five Results
11/17/12- 50-49 OU
01/01/08- 48-28 WV
09/11/82- 41-27 WV
09/16/78- 52-10 OU
09/27/58- 47-14 OU


Player to Watch Out For: Andrew Buie (RB, Jr.)
The departures of Tavon Austin, Stedman Bailey and Geno Smith to the NFL will make Buie the focal point of the Mountaineers offense this season.
In 2012, the junior led the team in rushing with 851 yards and seven touchdowns on 179 carries. He also caught 28 passes for 318 yards.
With a new quarterback and the loss of not one, but two 1,000-yard receivers, expect West Virginia to rely heavily on Buie throughout the year.


Prediction
Last season's 50-49 classic in Morgantown has put high expectations on this year's game. Instead, this will be a battle of two offenses trying to find their way with a new quarterback.
However, unlike the Mountaineers, the Sooners return a ton of experience on the offensive side of the ball.
Oklahoma should jump out to an early lead, forcing West Virginia to throw the ball. That's when the Sooners' secondary, led by Aaron Colvin, will feast.
It should be a rather comfortable victory for Oklahoma, who start the season 2-0 for the fourth straight year.


Final Score: 34-14 Oklahoma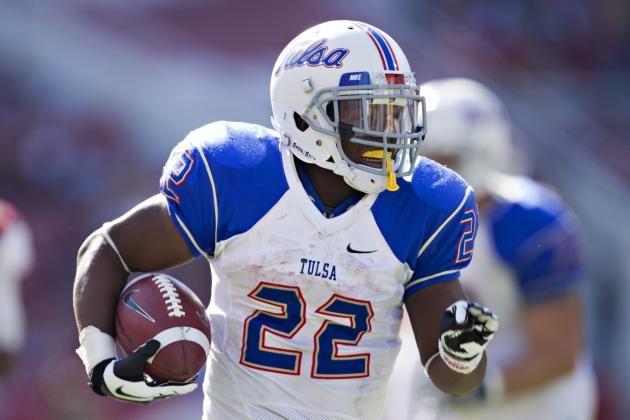 Wesley Hitt/Getty Images
Watts could give Oklahoma issues.
Overall Head-to-Head: 17-7-1 (6W)


Last Five Results
09/03/11- 47-14 OU
09/19/09- 45-0 OU
09/21/07- 62-21 OU
09/10/05- 31-15 OU
08/30/02- 37-0 OU


Player to Watch Out For: Trey Watts (RB, Sr.) and Ja'Terian Douglas (RB, Sr.)
The Golden Hurricane ranked ninth in the nation in rushing yards last season. Even with the loss of leading rusher Alex Singleton—800 yards and 24 touchdowns—expect the ground game to be just as deadly.
Watts and Douglas combined for 2,044 yards and 10 rushing touchdowns in 2012. The former also contributed in the return game, taking two back for scores.
With a full slate of carries between them, the senior duo should only get better.


Prediction
This will be the Sooners' last test before an important showdown against last year's BCS title runner-up Notre Dame.
With a big game looming, there's always the potential for the team to look ahead and lose track of the current week's opponent. However, Bob Stoops will have his team well prepared.
It should be a high-scoring affair, but Oklahoma should prevail, taking advantage of a questionable Tulsa defense to move to 3-0.

Final Score: 45-31 Oklahoma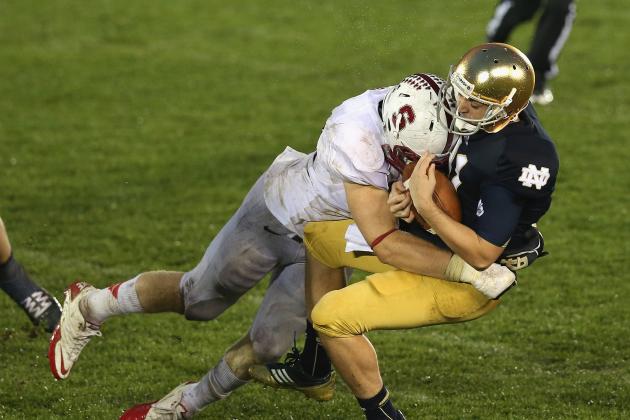 Jonathan Daniel/Getty Images
It will be a long night for Rees (right).
Overall Head-to-Head: 1-9 (7L)


Last Five Results
10/27/12- 30-13 ND
10/02/99- 34-30 ND
09/21/68- 45-21 ND
10/22/66- 38-0 ND
09/29/62- 13-7 ND


Player to Watch Out For: Tommy Rees (QB, Sr.)
The loss of Everett Golson extremely hurts the Irish offense. Now, Rees will get a second chance to prove he can handle the pressure.
Although he played well in closing out a couple big games for Notre Dame last year, the senior threw for just 436 yards with two touchdowns and two interceptions. Furthermore, he only completed 57.6 percent of his passes.
The Irish will be in every game this season because of their defense. However, it'll be up to Rees to determine whether those close games result in wins or losses.


Prediction
The Sooners just can't seem to solve Notre Dame. Last year's loss marked the seventh straight time the team has fallen to the Irish.
This season will be different.
A full week of preparation will be beneficial to the Oklahoma defense, who will be ready to shut down the Notre Dame ground game and force Rees into some bad throws. The secondary will have its coming-out party, snatching up four picks.
The Sooners' offense will struggle to break out against a tough Irish defense. However, tremendous starting field position will help the team get all the points they need.


Final Score: 16-10 Oklahoma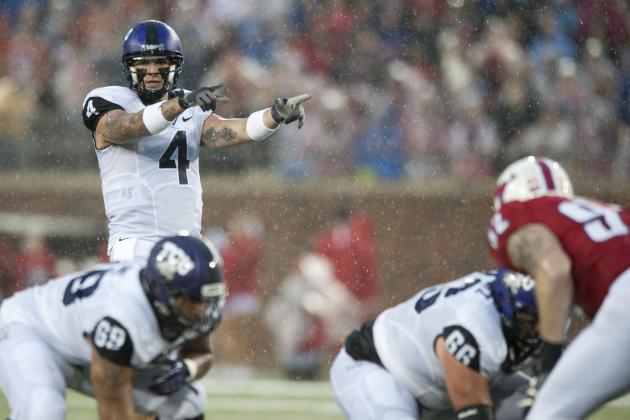 Cooper Neill/Getty Images
Pachall will proove himself in Oklahoma.
Overall Head-to-Head: 8-4 (2W)


Last Five Results
12/01/12- 24-17 OU
09/27/08- 35-10 OU
09/03/05- 17-10 TCU
09/12/98- 10-9 OU
09/07/96- 20-7 TCU


Player to Watch Out For: Casey Pachall (QB, Sr.)
The Horned Frogs will hope Pachall learned a lesson or two after being removed from the team in 2012 for a DUI and other off-the-field issues.
If he can get his act together, the senior will boost the offense tremendously. He threw for 2,921 yards to go along with 25 touchdowns and just seven interceptions in 2011 while leading TCU to a 11-2 record.
Pachall has the potential to lead the team to great things. But it all relies on how he carries himself off the field.


Prediction
At home and on the heels of a monumental upset, Oklahoma should really win this game. However, the Sooners will get caught looking ahead.
Sandwiched in between Notre Dame and Texas, this game against the Horned Frogs has all the signs of a trap game.
Expect Oklahoma to come out sluggish from what should be a physical defensive battle with the Irish the week before. Not to mention, the one game every Sooners player looks forward to—the Red River Rivalry—is the following week.
TCU should jump ahead early and hold on to deliver Oklahoma their first loss of the season, dropping them to 4-1.


Final Score: 24-14 TCU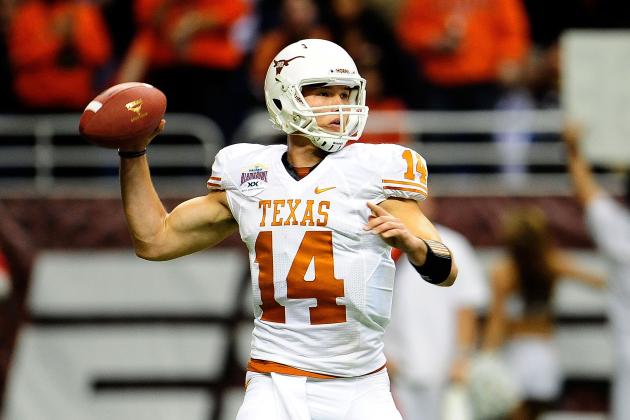 Stacy Revere/Getty Images
Ash just won't have enough to stop the Sooners.
Overall Head-to-Head: 40-52-5 (3W)


Last Five Results
10/13/12- 63-21 OU
10/08/11- 55-17 OU
10/02/10- 28-20 OU
10/17/09- 16-13 UT
10/11/08- 45-35 UT


Player to Watch Out For: David Ash (QB, Jr.)
The lack of a productive quarterback has led the Longhorns to drop the last three games in this series. The team hopes this year will be different.
After a rough freshman campaign in 2011—four touchdowns and eight interceptions—Ash recovered to throw for 2,699 yards with 19 touchdowns and eight picks in his sophomore year.
Now, as a junior, and with several returning starters on offense, Ash should be ready to get Texas back in the national spotlight.


Prediction
The Sooners will be coming off of a loss. And if history has taught us anything, it's that this team doesn't like losing.
In fact, Oklahoma hasn't lost back-to-back regular-season games since 1999—Bob Stoops' first year with the team.
Expect the Sooners to come out of the gate fast and play with tremendous intensity. Both the passing and running game will be at their best. The defense should be on its game as well, giving Ash no space to throw the ball.
It won't be as ugly as the last two years, but the Oklahoma seniors should still walk away with a 4-0 record against their hated rivals.


Final Score: 38-17 Oklahoma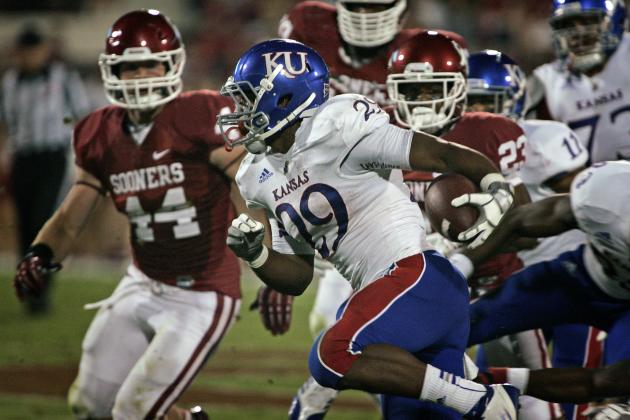 Brett Deering/Getty Images
Sims will struggle to get something going against Oklahoma.
Overall Head-to-Head: 69-22-6 (8W)


Last Five Results
10/20/12- 62-7 OU
10/15/11- 47-17 OU
10/24/09- 35-13 OU
10/18/08- 45-31 OU
10/15/05- 19-3 OU


Player to Watch Out For: James Sims (RB, Sr.)
The Jayhawks didn't have too many bright spots in 2012. However, Sims was definitely one of the few.
As a junior, he rushed for 1,013 yards and nine touchdowns on 218 carries. Along with fellow running back Tony Pierson—760 yards on 117 carries last year—Sims will be the leader of a potentially deadly ground attack.
With a first-year starter at quarterback, the rushing game will be pivotal for Kansas to maintain some level of integrity this season.


Prediction
This is the stretch of the schedule where the Sooners should play some of their best football. Against a Jayhawks team coming off a 1-11 season, this one could get out of hand very quickly.
Oklahoma will likely close in on 50 before the first half ends. The starters will then give way to the reserves to wrap this one up. Only in garbage time will Kansas finally put up their first touchdown of the game.
In their most complete game of the season, the Sooners paste the Jayhawks to move to 6-1 and close in on a top-10 ranking.


Final Score: 55-10 Oklahoma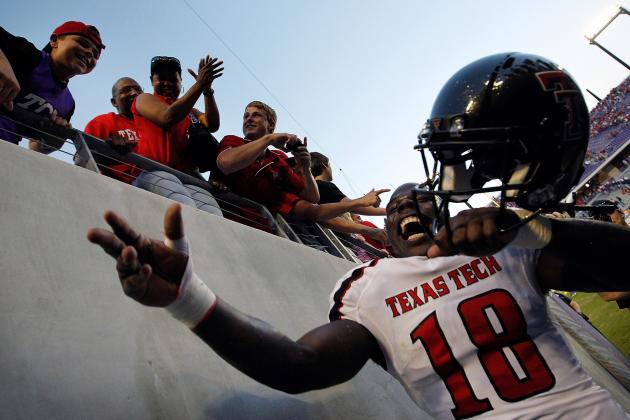 Tom Pennington/Getty Images
Ward gives the Red Raiders hope.
Overall Head-to-Head: 14-6 (1W)


Last Five Results
10/06/12- 41-20 OU
10/22/11- 41-38 TT
11/13/10- 45-7 OU
11/21/09- 41-13 TT
11/22/08- 65-21 OU


Player to Watch Out For: Eric Ward (WR, Sr.)
The Red Raiders' passing game is as close to a sure thing as there is. Ward certainly helps the cause.
In 2012, the senior brought in 82 passes for 1,053 yards and 12 touchdowns. He is one of the early favorites for Big 12 All-Conference honors and will be looking to boost his NFL scouting report this season.
Although Texas Tech doesn't have a lot of experience among their receivers, Ward's production will help keep the team's offense rolling.


Prediction
The two teams have alternated victories over the last several years. However, that pattern comes to an end this year.
Oklahoma will face a little difficulty against a Red Raiders defense that surprisingly ranked 38th in the nation last season. It's very likely that the first half could be a low-scoring affair.
But in the second half, after a couple adjustments on both sides of the ball, the Sooners should take off and move to 7-1 on the year.


Final Score: 38-21 Oklahoma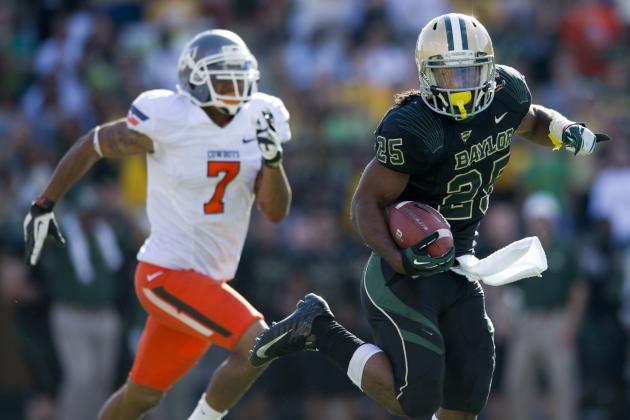 Cooper Neill/Getty Images
Seastrunk will give Baylor the punch to knockout Oklahoma.
Overall Head-to-Head: 20-1 (1W)


Last Five Results
11/10/12- 42-34 OU
11/19/11- 45-38 BU
11/20/10- 53-24 OU
10/10/09- 33-7 OU
10/4/08- 49-17 OU


Player to Watch Out For: Lache Seastrunk (RB, Jr.)
With a new quarterback, the Bears will rely heavily on their rushing attack. As a result, Seastrunk will likely be the focal point of the offense.
In 2012, the junior led the team with 1,012 yards and seven touchdowns on 131 carries. His 7.7 yards per carry ranked second in the nation.
Now that he'll be receiving more touches, Seastrunk should have a breakout season for Baylor.


Prediction
If it weren't for Robert Griffin III, Oklahoma would have a perfect 21-0 record against the Bears.
This year, Baylor won't have RG3. However, the team will still have enough to pull off the upset for the second time in three seasons.
The Sooners are a very young and inexperienced team. A late-season collapse is almost expected. Especially on a nationally televised Thursday-night game.
Expect Seastrunk and the Bears' rushing attack to take advantage of Oklahoma's front seven.
The offense will keep the Sooners in it. But the team will eventually succumb in a nail-biter, all but snuffing out their slim national-title hopes.


Final Score: 41-38 Baylor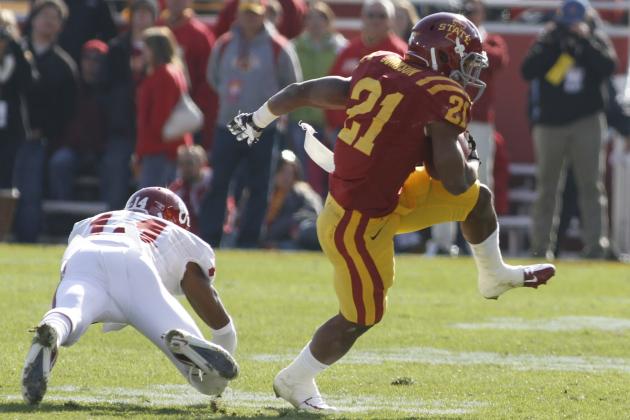 Matthew Holst/Getty Images
Johnson will help, but it won't be enough.
Overall Head-to-Head: 70-5-2 (14W)


Last Five Results
11/03/12- 35-20 OU
11/26/11- 26-6 OU
10/16/10- 52-0 OU
10/20/07- 17-7 OU
10/14/06- 34-9 OU


Player to Watch Out For: Shontrelle Johnson (RB, Sr.)
The Cyclones won't blow anyone away with their offensive firepower. However, Johnson should certainly help on the ground.
The senior led the team in carries last season with 115, rushing for 504 yards and two touchdowns. He'll be featured alongside running back James White—505 yards and two touchdowns on 99 caries.
Johnson will hope to improve on his efforts from last year.


Prediction
The Sooners have won 14 straight against Iowa State. There's no reason that should change this time around.
Coming off a heartbreaking defeat, Oklahoma will give its best performance of the season. What else would be expected after a week of being run into the ground by Bob Stoops at practice?
This shouldn't be close at all. The Sooners move to 8-2 and keep their hopes of a conference title alive.


Final Score: 62-13 Oklahoma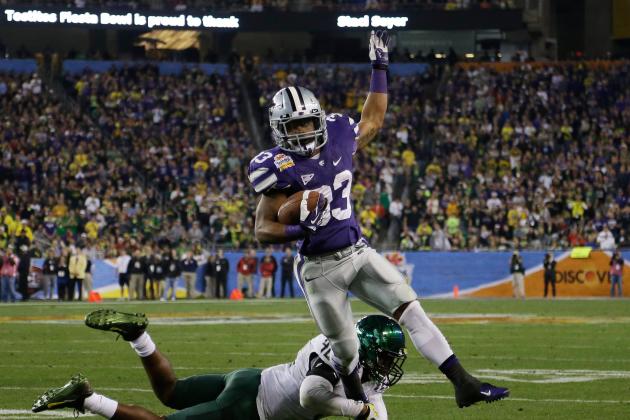 Ezra Shaw/Getty Images
Hubert will be a bright spot for the Wildcats.
Overall Head-to-Head: 70-18-4 (1L)


Last Five Results
09/22/12- 24-19 KS
10/29/11- 58-17 OU
10/31/09- 42-30 OU
10/25/08- 58-35 OU
10/01/05- 43-21 OU


Player to Watch Out For: John Hubert (RB, Sr.)
The Wildcats aren't expected to repeat last season's success. However, Hubert will guarantee that the team still remains competitive.
In 2012, the Waco, Texas product totaled 947 rushing yards and 15 touchdowns on 189 carries. That includes a 130-yard performance with a touchdown against Oklahoma during last year's 24-19 win.
Kansas State will be introducing a new quarterback into their system in 2013. Hubert's productivity on the ground will certainly help make the transition easier.


Prediction
The Sooners will certainly have revenge on their minds.
Expect Oklahoma to focus on the Wildcats' first-year quarterback, forcing them to run the ball. Sure, tempting Hubert isn't the best option, but it does make Kansas State one-dimensional.
Offensively, the Sooners should take advantage of the fact that the Wildcats will be without their top seven tackle leaders. That should open up lanes for the running game.
Kansas State will keep it close, but Oklahoma will never really be threatened, moving to 9-2 on the year.
Final Score: 28-17 Oklahoma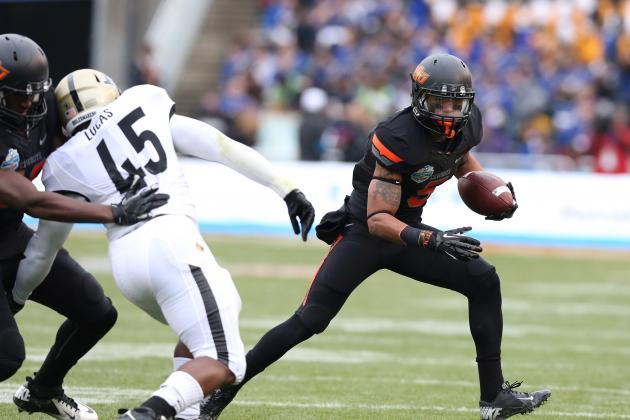 USA TODAY Sports
Stewart will be the key to the Cowboys getting past the Sooners.
Overall Head-to-Head: 77-17-7 (1W)


Last Five Results
11/24/12- 51-48 OU
12/3/11- 44-10 OSU
11/27/10- 47-41 OU
11/28/09- 27-0 OU
11/29/08- 61-41 OU


Player to Watch Out For: Josh Stewart (WR, Jr.)
The Cowboys arguably boast the best receiving corps in the Big 12. Stewart is a big reason for that.
Last season, the junior brought in 101 passes for 1,210 yards and seven touchdowns. He ranked 15th in the nation in receiving.
Stewart will go a long way in ensuring that the quarterback's job is a whole lot easier in 2013.


Prediction
Oklahoma State is the favorite to win the Big 12 this year. They might also be the favorite to win Bedlam as well.
The Cowboys are absolutely loaded at receiver and should create nightmares for the Sooners' secondary. Not to mention running back Jeremy Smith looks more than ready to take over for Joseph Randle.
Points will come easy for Oklahoma State, but they'll give them up almost as easily. The Cowboys ranked 64th in scoring defense last season.
Expect a back-and-forth contest with both sides holding the lead. However, Oklahoma State will pull away in the fourth.
The loss will drop Oklahoma to a respectable 10-3.


Final Score: 54-45 Oklahoma State
For complete coverage and everything Sooners, you can follow Sebastian on Facebook and on Twitter