Texas Football: Meet the Longhorns' 5 New Starters for 2013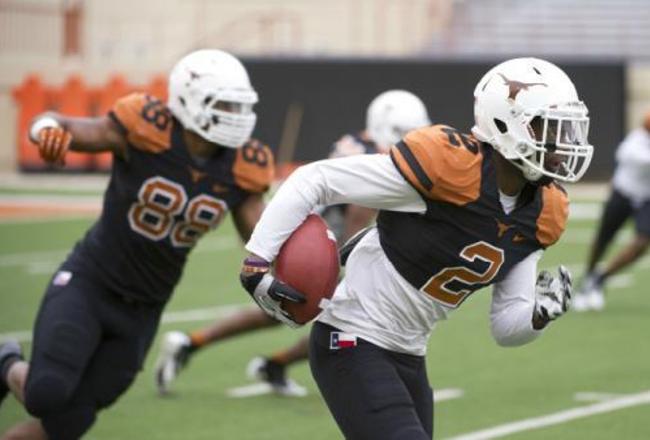 mackbrow-texasfootball.com

Experience means so much in college football, and the Texas Longhorns will have plenty of it in 2013.
In fact, the Longhorns, who return 19 starters from last season, are one of the most experienced teams in the FBS going into this season. But with a new season comes the emergence of new players.
The list of new starters is short, but each position has big implications for the season ahead.
Replacing defensive end Alex Okafor and Safety Kenny Vaccaro will be daunting tasks to undertake, but the Longhorns do have the quality to pull it off. How quickly it happens, we will have to wait and see.
Cedric Reed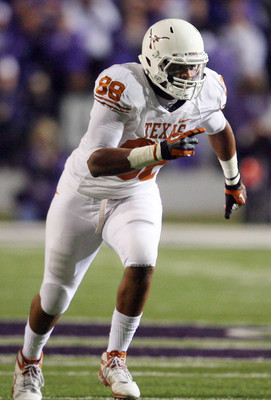 Scott Sewell-USA TODAY Sports
Junior defensive end Cedric Reed absolutely exploded at the end of the season, picking up six tackles for loss and 1.5 sacks in three games.
The momentum generated in the Alamo Bowl win carried into the spring, summer and fall, and it has slotted Reed ahead of senior Reggie Wilson as the projected starter opposite to Jackson Jeffcoat.
Reed, a 6'6", 260-pound end is about as long as they come, and he will be looking to pick up right where he left off in December.
Desmond Harrison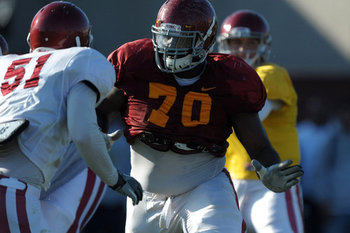 Kirby Lee / US-Presswire
Desmond Harrison just recently re-joined the team after a semi-lengthy academic dispute with an online class he took at BYU, according to Tom Fornelli of CBSSports.com.
But now that the matter is firmly in the past, Harrison can get back to business.
The 6'8", 310-pound offensive tackle practiced just once with the team before learning about the issue with his transcript. Harrison was able to suit up on Tuesday in shorts and will have to go through two more practices in shells and another two in full pads before he is allowed to join the team in full capacity.
Harrison is big, but his footwork and strong hands are telling characteristics that have created some success early in his college career. Alabama and Oklahoma were among some other schools looking to bring Harrison in their programs, but with the 'Horns winning out, they could be looking at some added depth to an offensive line that desperately needs it.
The expectation is that Harrison will be named the starting left tackle, which will force the Longhorns to shift some pieces.
In more ways than one, Harrison is exactly what Texas needs up front this season.
Geoff Swaim
247sports.com
The 'Horns may finally get some production from the tight end position.
Junior college transfer Geoff Swaim was already well-regarded for his solid blocking, but he has proven his worth as a pass-catcher so far in camp.
With M.J. McFarland taking a knee setback, it allowed Swaim to firmly take control of the position battle as the days before the season-opener dwindle.
His seat is by no means solid, as the 6'6" McFarland is too big of a passing target to miss. But with blocking that still needs more fine-tuning, Swaim is the go-to guy for now.
Mykkele Thompson
John Rieger-USA TODAY Sports
Shoring up the back end in the void left behind by Kenny Vaccaro will be Mykkele Thompson, who joins Adrian Phillips as a projected starting safety.
Thompson played quarterback, running back and wide receiver in high school and has yet to make the biggest leap as a legitimate safety. But with great athleticism, size and speed, the right mental approach could be the catalyst needed for a breakout season.
There is still plenty of concern around the safety position, however. With Phillips' struggles throughout the year, consistency and discipline are big talking points as the season looms closer.
Kendall Sanders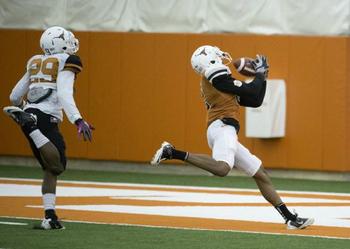 mackbrown-texasfootball.com
When Marquise Goodwin vacated a starting spot at receiver, nobody really knew who could snatch it up.
Veterans like Bryant Jackson and John Harris have had opportunities, but the list of proven contributors was paper thin.
Kendall Sanders and Cayleb Jones emerged as legitimate contenders, but the ship for Jones has since sailed, leaving Sanders the expected winner of the No. 3 spot behind Mike Davis and Jaxon Shipley.
Sanders caught just two passes for 15 yards last season, but with Davis and Shipley missing some time recovering from offseason surgery, Sanders has gotten the extra looks as David Ash's top option in camp. Those reps have built confidence, and many expect Sanders to become a big part of the offense in 2013.
Keep Reading

Texas Longhorns Football: Like this team?