NFL Draft 2014: Previewing Top Offensive Playmakers in Talented Class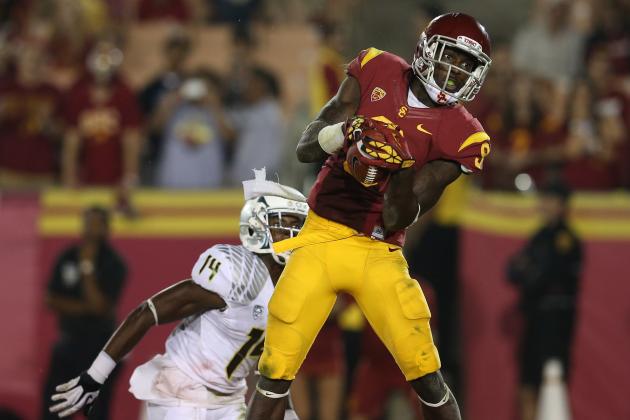 Stephen Dunn/Getty Images

The 2013 NFL draft's biggest story was the lack of skill players selected high in the draft. Only wide receiver Tavon Austin was selected in the top 10, and only one quarterback, EJ Manuel, was a first-round selection.
While the 2014 NFL draft has the best players in the offensive and defensive lines so far, much like last year, there are skill players looking to make an impact, both in college and at the next level.
The top five skill players in the draft encompass all the offensive positions, rather than just wide receiver, which the case appeared to be last year. All have their strengths and weaknesses, and as long as they address the weaknesses this year, all should be first-round selections.
Begin Slideshow

»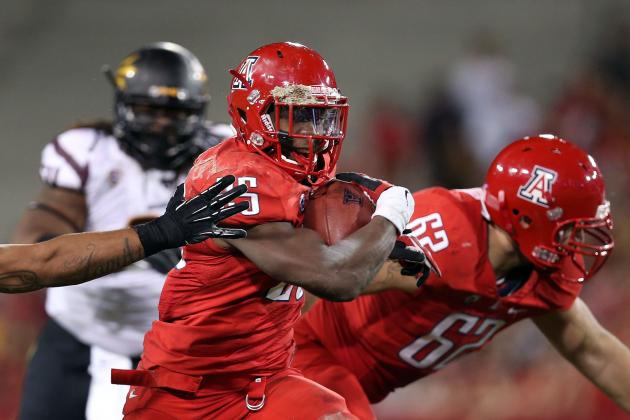 Christian Petersen/Getty Images

You could ask many different NFL draft pundits who the best running back is, and they will likely be split between three players: Baylor RB Lache Seastrunk, Oregon RB De'Anthony Thomas and Arizona RB Ka'Deem Carey.
My selection is Carey, who ran for 1,929 yards and 23 touchdowns at Arizona this past season. Needless to say, he can put up the numbers without difficulty. In fact, his rushing yards led the NCAA, and since Arizona will have a new starting QB next season, they will be relying on Carey even more.
Carey's strength comes in running in the open field, where he can break for monster gains. He also has a better size for the NFL than Seastrunk or Thomas. He is not as good at the line of scrimmage, however.
The biggest issue he will have to resolve is the label of the system running back. Arizona head coach Rich Rodriguez had a nearly identical running back in Steve Slaton, who was a monster in college, but could not transition to the NFL.
Carey is the type of player where watching film and viewing his abilities at the combine could be more important than the numbers he puts up at Arizona, though having another great year certainly will not hurt him.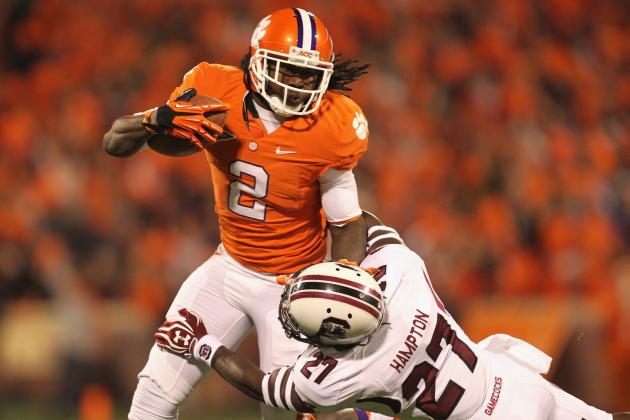 Streeter Lecka/Getty Images

DeAndre Hopkins put up monster numbers at Clemson and became a first-round draft pick as a result. It's particularly impressive, considering Hopkins may not have been the best wide receiver on the team.
That title now belongs to Sammy Watkins, who had a big freshman year before playing second fiddle to Hopkins in 2012, finishing the year with 708 receiving yards. He will be Tajh Boyd's prime target in 2013 and could be a big splash.
Watkins nearly has track team speed and can be a force both after the catch and in the return game. He's a more athletic receiver who can play in the slot, but can also be used for more creative plays, such as sweeps and reverses.
His main weakness heading into 2013 is that he isn't all that physical at the line of scrimmage. Sure, he has the athleticism to beat out defensive backs, but that's something he has to work on if he wants to transition to the NFL. If he doesn't have a scrimmage move, he'll be kept down at the next level.
The big thing for Watkins this year, aside from more physicality, will be evading the double-team and making plays where there are none. Since Hopkins is now in the NFL, teams will be concentrating primarily on Watkins, and how he responds to the pressure could mean a day's worth of difference come draft time.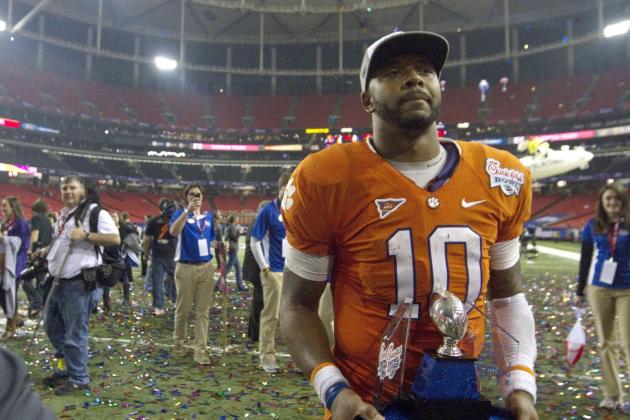 USA TODAY Sports

Tajh Boyd went from being simply a prolific passer in 2011 to a talented one in 2012, leading Clemson to a top-10 ranking and completing over two-thirds of his passes for nearly 4,000 yards in the process.
Boyd can be athletic, but he is a passer first and foremost. Being that well-rounded will translate well to the NFL. While he has put up great numbers at Clemson, he has also had talented wide receivers in DeAndre Hopkins and Sammy Watkins, and that may make him look better than he is.
The best thing about him is that he has that natural ability. As such, his floor in the NFL is high, and it would be difficult to see him being a bust at the next level. He can throw the ball quickly, has a solid arm and can make people miss, which is good since he would likely have a poor offensive line if drafted early.
At 6'1", Boyd is slightly undersized for the NFL. That can be worked around, but that's not an entirely fixable weakness. A fixable weakness is that he tends to choose to run too quickly at times. It's fine to do when there are no options, but he has to be a bit more focused in the pocket and make the tough plays.
Boyd should have little trouble establishing himself as a first-round talent, since he has done all he can really do. Taking snaps from the shotgun and being a slightly shorter height are not things he can fix.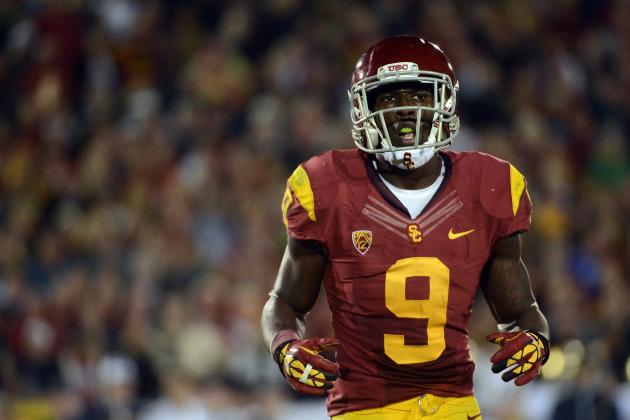 Harry How/Getty Images

Marqise Lee has only been at USC two seasons, yet is so polished already that he could have been a late Round 1 pick had he declared for the draft this season. That's how high his ceiling is.
In 2012, he had 118 receptions and 1,721 yards to go with 14 touchdowns. He won't have Robert Woods alongside him heading into 2013, but it should not cause too many issues for him.
Lee is, perhaps, the most athletic wide receiver in college since A.J. Green. He can utilize speed, physicality and can leap for the slightly inaccurate passes without much difficulty. While he is 6'1", he plays bigger than he is, and I would not consider his size a weakness in the NFL.
The only thing Lee has to look out for is playing with a new quarterback and wide receiver. If he struggles with new pieces around him, it could hurt his draft stock. If he thrives, however, then he could very well be a top-five pick in 2014, as his raw skill set is just that great.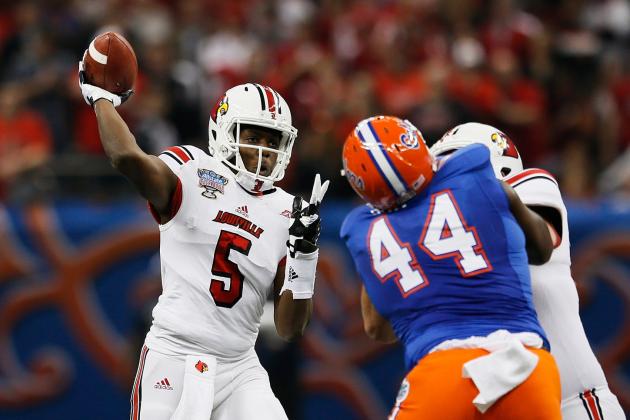 Kevin C. Cox/Getty Images

Two years ago, the NFL draft had Andrew Luck. A year before, it had Cam Newton. Now, Teddy Bridgewater is looking to make the first overall selection a quarterback once again.
Bridgewater had a modest freshman season, but threw for over 3,700 yards and completed well over two-thirds of his passes for Louisville this past season, and with a relatively easy schedule this year, he should be dominant.
He is a great size for the NFL at 6'3", and more importantly, he is a very polished quarterback. He takes snaps from under center, can throw the ball well and is able to run if needed. He has great awareness of defenses on top of that.
He has had a few injuries in the past, and while he is not injury-prone, NFL teams are going to be keeping a close eye on him throughout this season. If he ends up missing time, it could hurt his draft stock big time. If not, he could be battling Jadeveon Clowney for the No. 1 selection.