Indianapolis Colts backup quarterback Chandler Harnish hits Fox sideline reporter Pam Oliver in the head with a pass during pregame warm-ups.
UPDATE -- Sunday, September 1: Oliver told the New York Daily News she suffered a concussion and had to spend five days in a dark room after the incident.
After waking up that Monday her head hurt so much she had to hold it. "The sensitivity to light started and some nausea too," she said, "my whole body was sore." Oliver went to the doctor. The CT Scan came up clean, but she was diagnosed with a concussion. Oliver spent the next five days in a dark room inside her home.
--- END OF UPDATE ---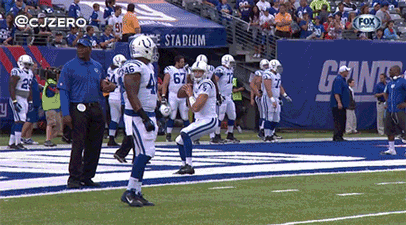 You can watch the full video on NFL.com.
Harnish later apologized on Twitter for the throw.
Would like to take this time to apologize to Pam Oliver, for the bad pass to the face.. Be expecting flowers in the mail soon! #ToughLady

— Chandler Harnish (@C_Harnish) August 19, 2013
Thanks to @cjzero for the GIF.