FC Barcelona: 7 Things Lionel Messi Will Teach Neymar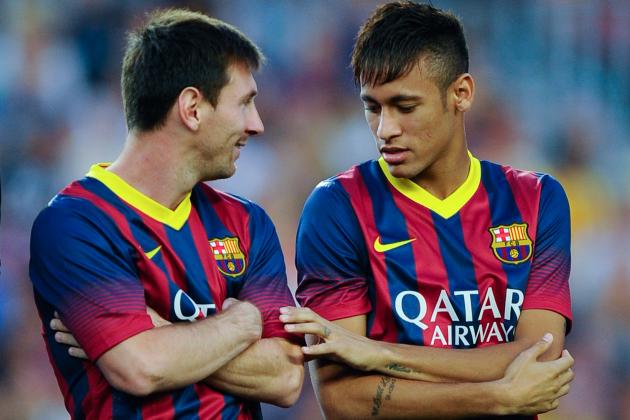 David Ramos/Getty Images

The football world is excited to see the pairing of Lionel Messi and Neymar this season. But it is also important to note that not only will the duo compete together, they will also learn from each other.
As the best player on the planet, Messi will have the opportunity to teach Neymar a lot about the game and life. Neymar's career will likely stem from the things he learns while playing alongside Messi.
In this article, we will take a look at seven things that Messi will teach Neymar and what those lessons will give the Brazilian as his career progresses.
Begin Slideshow

»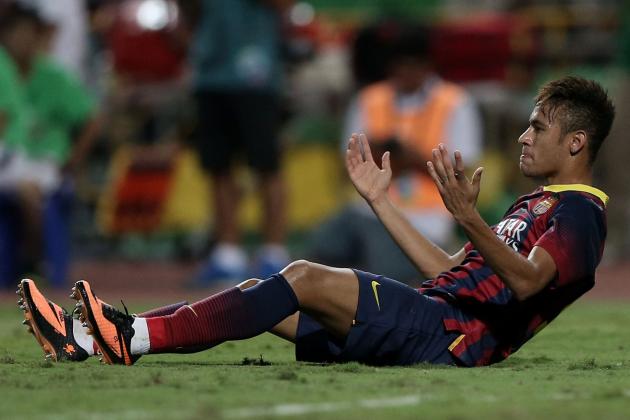 Chris McGrath/Getty Images

Messi and Neymar already have one major thing in common. They are both targets for defenders and take a beating every time they step on the pitch.
Neymar's new teammate has learned how to deal with a target on his back—and legs—and will learn a lot about how to accept this fact and how to respond to physical treatment.
One thing Messi is known for is the fact that it takes a lot to make him hit the ground. He is incredible at keeping his balance and often refuses to lose his footing. Neymar does not really have this trait at the moment.
The argument could be made that Neymar takes even more hits while on the pitch. But at the same time, some could even claim that Neymar takes the opportunity to dive when it seems profitable.
Playing alongside Messi will bring out the best of Neymar. The Brazilian will learn the respectable art of refusing to go down and will be all the better for it.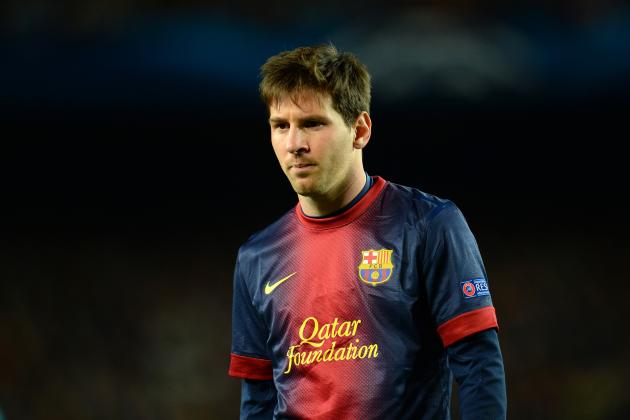 Shaun Botterill/Getty Images

As is the case with most young footballing talents, Neymar is still learning the art of patience. When the Brazilian has the ball at his feet he is always pushing forward with menace, but that is not always a good thing.
Messi has mastered the art of being extremely aggressive while also knowing when to calm down and slow the pace of play.
In Barcelona's tiki-taka system, it is vital for every player to be able to be still with the ball and look up for what should happen next. Putting your head down and pushing forward can disturb the way Barcelona plays, and Neymar will have to adapt.
Playing alongside Messi will teach Neymar how important it is to not go full speed all the time. Not only will that lesson benefit Neymar's Barcelona career, but it will also make him a better player overall.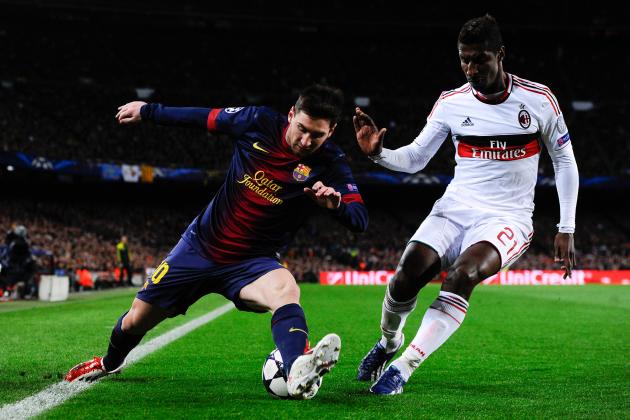 David Ramos/Getty Images

Work rate is a statistic that cannot be measured, but it cannot be overstated. Barcelona's pressing system relies on everyone being completely sold on winning the ball back and Messi's work rate has often led to goals.
Neymar has never really been the type of forward to track back, but it will be expected of him at Barcelona. Playing alongside Messi should cause him to see the importance of defending, and it will drastically improve Neymar's overall contribution.
Many top forwards in football are comfortable letting their teammates do all the hard work and get by just fine. But Neymar cannot be this way.
The forwards that are willing to work hard without the ball and help their teammates defend are a rare treat but are highly valued.
Messi will definitely teach Neymar how important it is to work with the team and win the ball back. It will give Neymar a new dimension to his game, and he will immediately improve because of this very important lesson.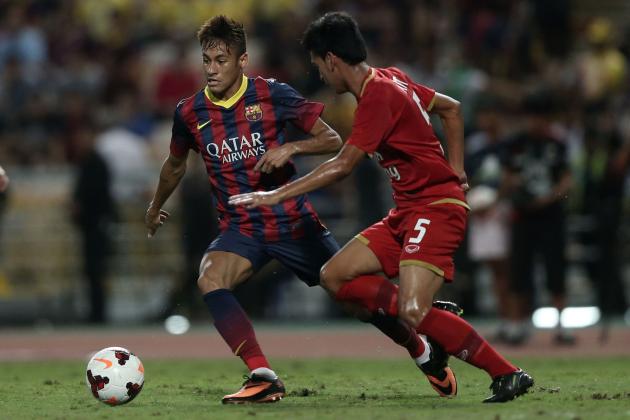 Chris McGrath/Getty Images

Both Leo Messi and Neymar are known as two of the best goalscorers in the world. But there is much more to being a great player than scoring goals.
Messi's ability to link up play and create chances has made him twice as deadly, and he is even regarded as one of the best passers in the game. Neymar may also be a strong passer of the ball, but he does not quite realize the importance of it.
Neymar is going to learn quickly that creating chances for his teammates and giving assists are just as important as scoring his own goals. And just imagine how much more deadly Neymar will be because of it.
Messi has given at least 18 assists in four of the last five seasons, according to ESPN, while Neymar has yet to give more than 14 in a single year. Expect that to change soon.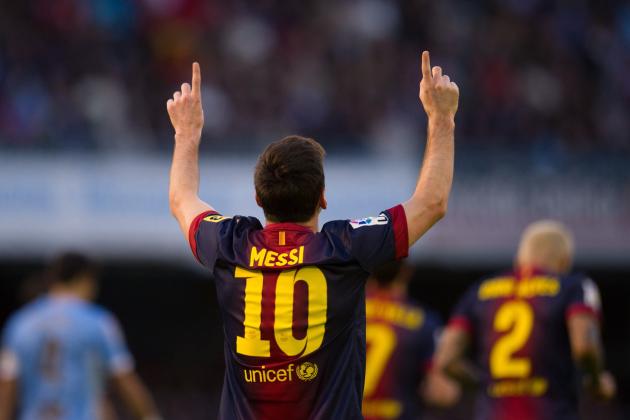 Denis Doyle/Getty Images

Every great player has a mixture of both pride and humility. But having the right balance of both often separates great players from the ones that will always be remembered for who they were as a person.
Neymar is entering the most important stage of his life as he is not only developing as a player, but also as a person. There is nobody better to help Neymar through this stage of life than Leo Messi.
Messi is going to teach Neymar that it is OK to take pride in your talent. It is often pride that brings forth confidence and belief that pushes one to be their absolute best.
But the Argentine is also going to show Neymar the importance of humility, which often brings a healthy respect of your opponents and realization that it is a gift just to be able to take a step onto the pitch every week.
It is with this healthy balance that Messi has won the hearts of millions. Neymar too can glean much from this outlook on life, and he will see it every day when he shares the locker room with Messi.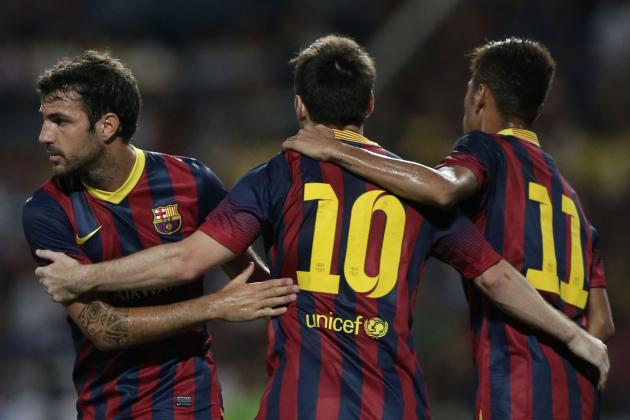 Chris McGrath/Getty Images

The dictionary defines synergy as the "interaction of elements that when combined produce a total effect that is greater than the sum of the individual elements, contributions."
To put it simply, synergy is the fact that the success of something as a whole is always more important than the success of those that make up the whole. This may be the most important lesson Neymar learns.
When it comes to football, as it is with any team sport, the goal is for the team to win. Individual success always plays a key factor in every team but is never more important than the team itself.
Messi is the best example around of what it means to be more committed to the team's success rather than his own.
Neymar will quickly learn from Messi what it means to sacrifice yourself and put others ahead of you. It will be the difference between the Brazilian having a great career and a legendary career. When Neymar truly learns to put the team above all else, it will be his defining moment.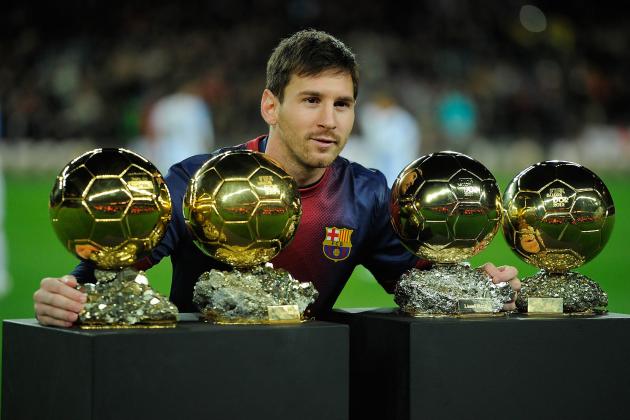 Gonzalo Arroyo Moreno/Getty Images

There is a difference between being a winner and being a legend. Some players will always stand the test of time because they not only knew how to be great athletes, but also because they were known for how they carried themselves in life.
Messi may be one of the best winners in football history. But what sets the four-time Ballon d'Or winner apart from others is how he wins and how he has become the best.
Neymar is already one of the most talented players of his generation and probably the best 21-year-old on the planet. But that will not make him great.
What Neymar will learn from Messi is how to be a great player and what it means to be a winner. It always requires maturity, but that is something that Messi will instill into his Brazilian protege.
Neymar is in a wonderful place for his career. He is already extremely talented, but he is also lucky enough to take his game to the next level by learning from Messi every day. If the former Santos man can learn and apply what Messi will teach him, then the sky really is the limit on his career.
What will Neymar learn from Messi? What is the most important lesson? Will Messi learn from Neymar as well? Leave your thoughts and comments below!
Tre' Atkinson. Follow me on Twitter for more discussions on Barcelona and all Spanish football.