How Do You Solve a Problem Like the Reem? 10 Possibilities for Alistair Overeem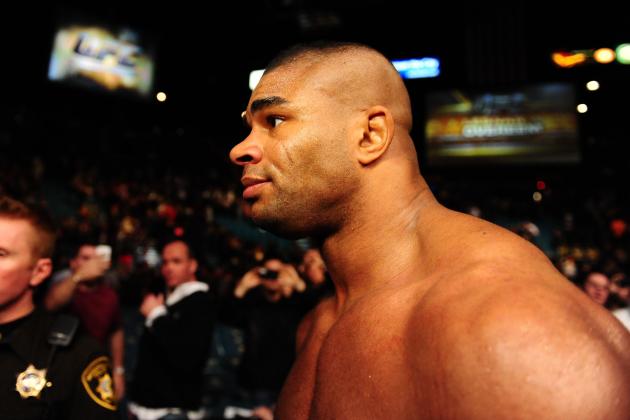 Mark J. Rebilas-USA TODAY Sports
UFC heavyweight Alistair Overeem.
How do you solve a problem like The Reem? Ah, that is the question.
Alistair Overeem is 1-2 in the UFC, with two upset knockout losses in a row. The first came to Antonio Silva at UFC 156, the second just last Saturday night to Travis Browne at UFC Fight Night 26 in Boston. Very few would have thought it possible when he rode a wave of combat dominance, narrative tension and cold, hard cash into the Octagon for the first time.
But times have changed. True, Overeem has looked dominant in his efforts. Also true that the dominance is flawed, because it only lasts until the very moment when he gasses, gets cocky and/or the opponent finds his chin. We can just call it "The Moment When He Gets Knocked Out" and call it even.
So there's a little bit of an asterisk there for the dominance, and it has him tumbling out of UFC contender status, and quite possibly into a gatekeeper or novelty role. But he's still a big name, a star in the sport, a proven combat champion and a physical and physically charismatic specimen.
He's also 33 years old, with multiple injuries on record, PEDs on his rap sheet, 64 total fights under his belt and, perhaps most importantly, one humdinger of a reportedly lucrative contract.
Never fear. This where I swoop in. Here are 10 solutions for the UFC to re-rail The Reem. Some of them are general, some are specific, some involve fight matchups, some involve other things. They are ranked in order of what I personally think the UFC should do.
And before you even ask, each and every one of these solutions is completely, deadly serious and certifiably feasible. So if you feel the need to comment, please proceed accordingly.
Begin Slideshow

»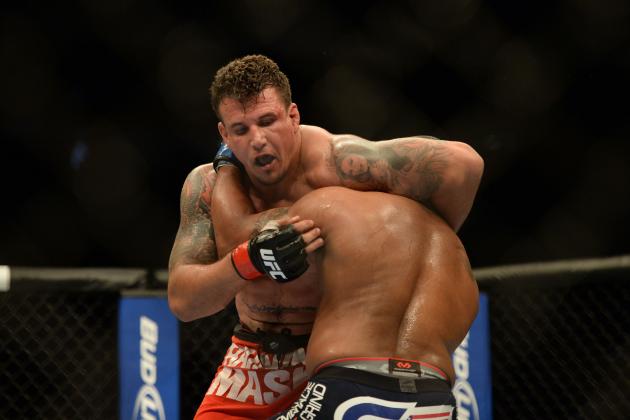 Kyle Terada-USA TODAY Sports
Frank Mir in a losing fight with Daniel Cormier.
This is a matchup for all those who still think Overeem is or could be viable at the top end of the division. This is for those who point to what Overeem has done right, rather than what he has done wrong. I don't happen to agree with that line of thought, but hey, we all have opinions in life.
It's entirely conceivable that the loser between Frank Mir and Josh Barnett may be on their way out of the limelight. When combined with their various career turmoils, that would land either fighter solidly in Overeem Country. The loser there would truly be facing the void.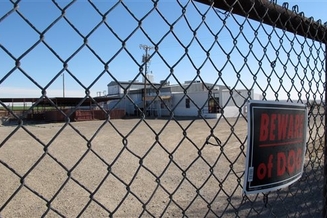 The Valley Meat Company (Photo credit: Jeff Clausing/AP File, via NBC News)
Earlier this summer, the U.S. Department of Agriculture quietly issued a decision that will echo through the ages, granting the Valley Meat Company of Roswell, N.M., a permit to slaughter horses for meat.
The flesh of the equine fueled Overeem's centaurian physique for some time. But ever since moving his camp to Florida last year, he hasn't been the same. His performance has been unenhanced, shall we say.
Help The Reem here, UFC. Let him wet his beak a little bit. Sure, you still can't legally sell or consume horse meat in the States. But get in touch with the good folks at Valley, guys. See what you can work out. I'm sure that Station Casino money makes a very convincing argument.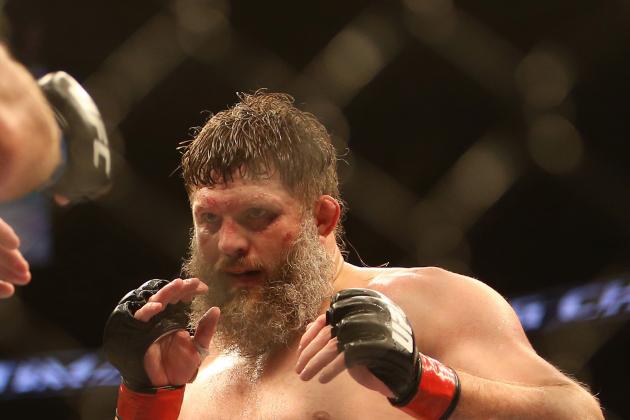 Tom Szczerbowski-USA TODAY Sport
UFC heavyweight Roy Nelson.
I'm a Roy Nelson fan. That's the way it is. But unless I'm very wrong, he's going to lose to Daniel Cormier at UFC 166 in October. Seems like a likely outcome.
Nelson and Overeem in the cage together? It would be like one of those oddball buddy comedies. Two guys, as different as different can be, thrown together in an unusual situation. Eventually, they come to realize that we're not so different, you and I. We both hit hard. We both get tired quickly. We both have too much faith in our chins. We'll both eat a horse, if we're hungry enough. Because it's all just meat, after all. You know?
I can't wait until it all hits its climax, and they refuse to fight each other at the beginning of the final round and walk off together, arm in arm, toward the nearest Burger King.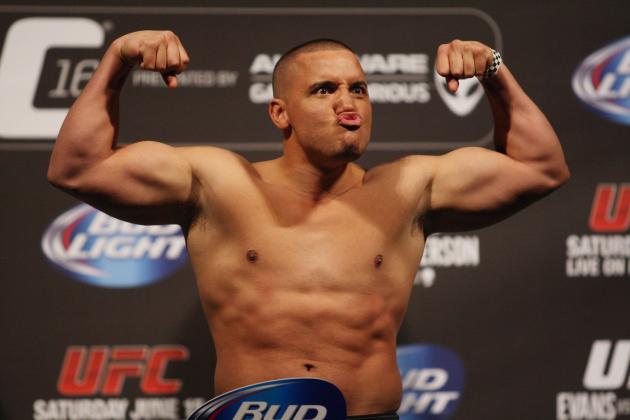 Bruce Fedyck-USA TODAY Sports
UFC heavyweight Pat Barry.
Loser leaves town? Maybe not. Barry, anyway, has sandbagged some good will with fans over the years.
Either way, neither man would be afraid to engage in a little in-cage mayhem. Two former K-1 kickboxers, both hungry for a win with their possible UFC tenures on the line? Yeah, I think I'd watch that.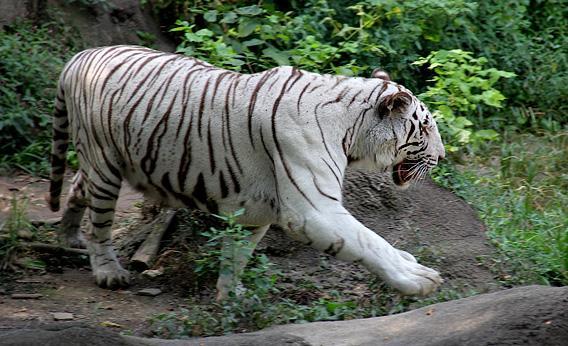 White Tiger. (Photo: Jim Larimore/Cincinnati Zoo)
Look upon it. So sleek. So exotic and white and dangerous.
Plus, this white tiger once shared living quarters with Mike Tyson (I assume). You're telling me you wouldn't be afraid to fight the magnificent white tiger? You wouldn't watch The Reem tangle with The Tiger? You don't think that would move units?
That's what I thought. We're running a business here, people. Never forget that.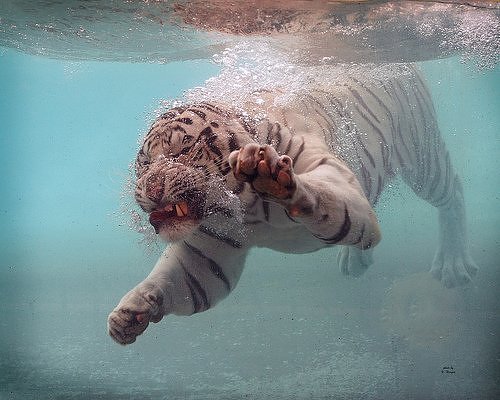 White Tiger. (Photo: Kristi Harper/Environmental Graffiti)
This fight would be exactly like the fight mentioned in the previous slide—except UNDER WATER.
Will there also be eels and things in the water? The answer will be available ONLY, as "Mean" Gene Okerlund used to say, ON A PAY-PER-VIEW BASIS.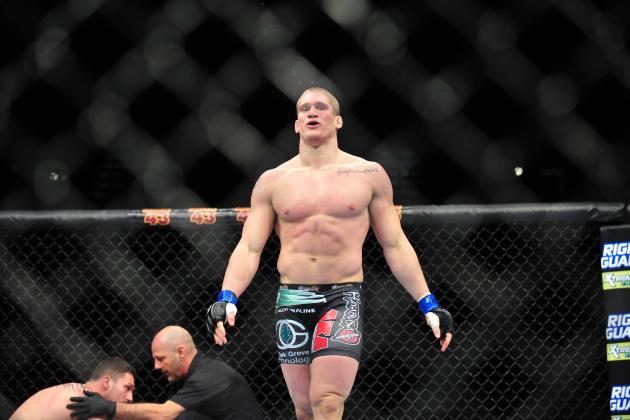 Gary A. Vasquez-USA TODAY Sports
UFC heavyweight Todd Duffee.
Todd Duffee would, to me, be the ultimate barometer for Alistair Overeem.
You may recall that Overeem trashed Duffee in 19 seconds back in 2010, just a few months after Duffee, a quick-draw knockout artist in his own right, was abruptly released from the UFC.
Duffee has had his share of drama outside the cage, but he did manage to make his way back to the UFC and win a stirring TKO victory over the immortal Phil De Fries last December.
If Overeem can't get past Duffee, one would think that would be quite a jarring sign for the former K-1 kingpin.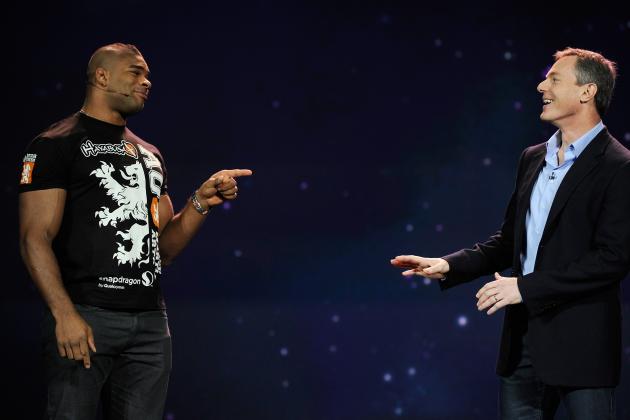 Kevork Djansezian/Getty Images

At the UFC Fight Night 26 post-fight news conference, UFC president Dana White was asked about the possibility of Chael Sonnen and Wanderlei Silva consummating their rivalry. White went on to explain that there were many options for Sonnen, possibly (and I got a little confused here) because The Media ranked him too low in their Media Rankings.
Apparently, The Media has a direct role in UFC matchmaking. Here, some delighted reactions:
Wow, Dana White is now putting the responsibility for UFC matchmaking on the media rankings. Interesting. They said it would have no impact

— Jonathan Snowden (@mmaencyclopedia) August 18, 2013
I finally have the power I've always wanted!! LOL! RT @mmaencyclopedia: Wow, Dana White is now putting the responsibility for UFC ....

— Steve Cofield (@stevecofield) August 18, 2013
So whenever the ballots come in for the new round of Media Rankings, just match Overeem up with whomever is closest to him in the top 10. Or, just ask the media point-blank what they want to do. If you're skipping directly to this slide for some reason, I'm voting for an underwater match with a white tiger.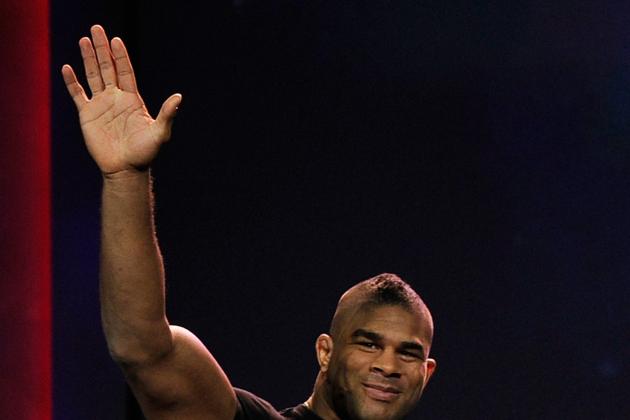 Kevork Djansezian/Getty Images

Go ahead. Cut him like a, uh, celery stalk, or what not.
The UFC has made it clear they are activists when it comes to cutting fighters, particularly those who underperform while raking in lucrative paydays.
If the UFC won't raise itself up to the level of an Old Heavyweights Royal Rumble, perhaps Bellator will. Ooh, or a ladder match! That's definitely pay-per-view material.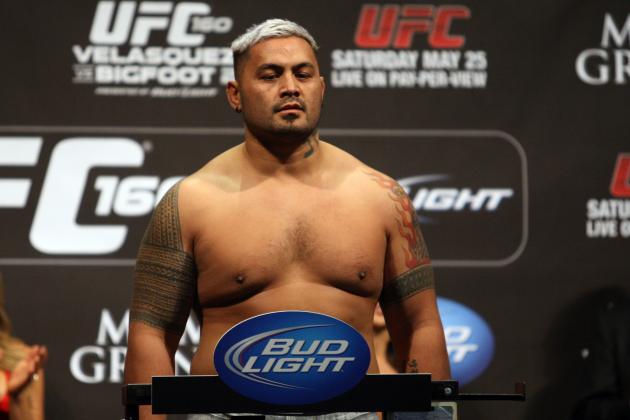 Bruce Fedyck-USA TODAY Sports
UFC heavyweight Mark Hunt.
It feels almost criminal to have Mark Hunt and Alistair Overeem under the same roof and not get them in the cage together.
Hunt is coming off that loss to Junior dos Santos and doesn't yet have a new opponent. So the logistics, on their face, would appear to line up. And speaking of faces lining up, someone's face may very well be highly askew after these heavy hitters finish their business.
___________________________
Scott Harris is a featured columnist and unrepentant slideshow writer for Bleacher Report. He also likes to talk MMA and other things on Twitter. Find him there @ScottHarrisMMA.