Who's Hot, Who's Not After NFL Preseason Week 2?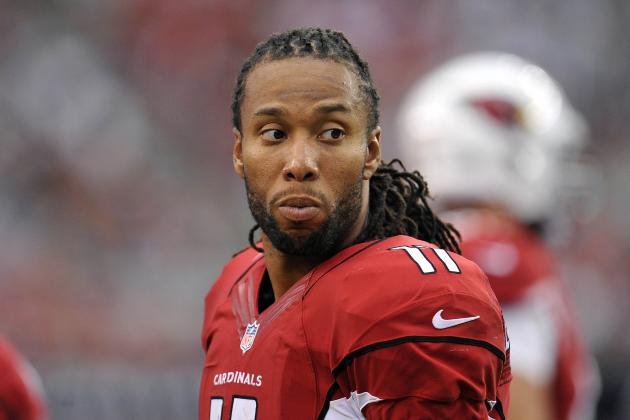 Gary A. Vasquez-USA TODAY Sports

In what seems like the blink of an eye, the 2013 preseason is halfway over.
For the starters, it's two-thirds over; they'll play the first half of their Week 3 game and then take a well-earned rest. So NFL fans have already seen most of what they're going to see from their favorite team's veterans and featured rookies.
So, who's hot? Who's looking good with their new team, with new teammates or in new systems? Which teams look strong? Who's taken their game to the next level? Which teams look set to bounce back from a disappointing 2012? Who's picking up right where they left off, and who's hitting a gear we didn't know they had?
Who's not? Who's "swimming" out there? Which teams look totally disorganized? Who's not clicking with their new surroundings, and who's taking a step backward? Which teams are supposed to be getting better but don't look any different than when we last saw them? Who's regressing when we didn't think they would?
With just days to go until the "dress rehearsal" for the action that really matters, here's who's hot and who's not after Week 2 of the NFL preseason.
Begin Slideshow

»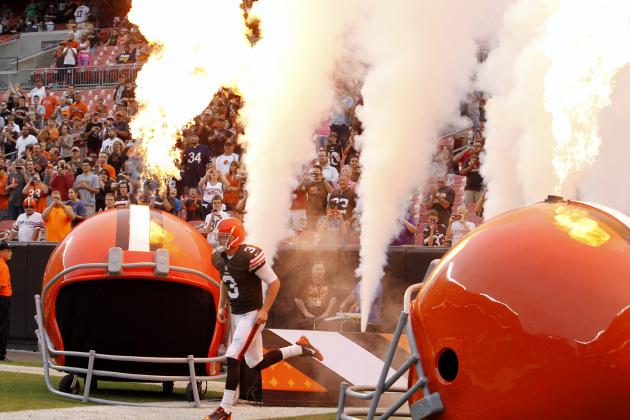 Ron Schwane-USA TODAY Sports

From the moment Brandon Weeden was drafted, NFL fans and media everywhere have rushed to say that it was a wasted pick.
The second-year quarterback, drafted No. 22 overall in last year's draft by the Cleveland Browns, turns 30 next month. His rookie season was inconsistent, and that's probably the most optimistic word you could use to describe it.
Two weeks into the 2013 preseason, though, Weeden is on fire, going 18-of-25 for 229 yards, three touchdowns and no interceptions. In two convincing Browns wins, Weeden has looked both competent and confident running new offensive coordinator Norv Turner's system.
He's outplayed younger, more experienced first-rounders Sam Bradford and Matthew Stafford. If Weeden can carry this form into the regular season, the Browns offense will take a lot of doubters by surprise.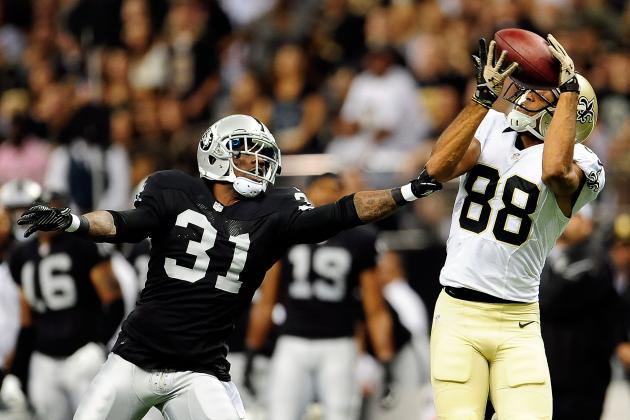 Stacy Revere/Getty Images

After holding Tony Romo and the Dallas Cowboys starters to just a field goal in the first quarter of Week 1, the Oakland Raiders defense was obliterated by Drew Brees and the New Orleans Saints.
Brees led the Saints on five straight scoring drives to open the game, completing 14-of-18 passes for 202 yards and a touchdown. The Saints exploded for 17 points in the first quarter, on the way to running up a 23-0 deficit in the second.
If the Saints hadn't turned it over three times after that, including a Seneca Wallace fumble on the 1-yard line the Raiders scored on, the final score would have been much uglier than 28-20.
Starting cornerback Tracy Porter suffered a "potentially significant" groin injury during the game, according to Vic Tafur of the San Francisco Chronicle. If Porter doesn't come back quickly, this Raiders defense is going to get worse.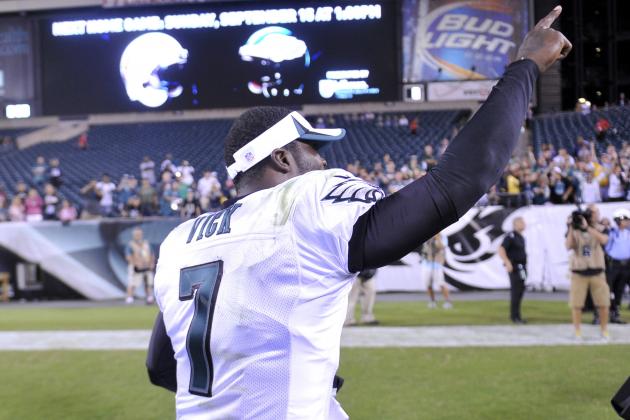 Joe Camporeale-USA TODAY Sports

Of all the quarterbacks in NFL history, perhaps none have flip-flopped between higher highs and lower lows than Michael Vick.
When Vick plays at his full potential—and he's only done so a for a handful of games in his 11-season career—he redefines, even transcends, the quarterback position. Right now looks like one of those times.
In two preseason games so far, Vick has been a perfect fit in head coach Chip Kelly's zone-read offense. He is 13-of-15 for 199 yards, one touchdown and one interception. For those counting at home, that's a stunning 13.3 average yards per attempt.
The touchdown, a 47-yard bomb to DeSean Jackson, was about as good as it gets. The interception was an end-of-half shot at the end zone.
Vick's threat to run forces defenses to account for him, opening big running lanes for LeSean McCoy. When he uses play action on zone reads, the defense has to respect both Vick and McCoy's running threat—giving the QB time and space to do maximum damage downfield.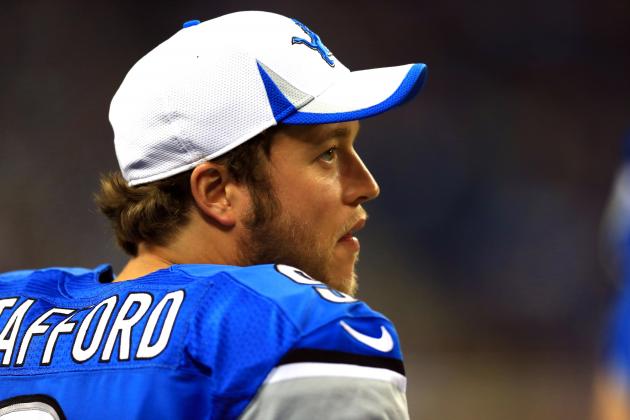 Andrew Weber-USA TODAY Sports

After a young, talented Detroit Lions squad made their long-awaited return to the playoffs in 2011, and a disappointing 2012 where nearly everything that could go wrong did, the Detroit Lions should be rebounding.
Instead, quarterback Matthew Stafford and the high-flying offense are still on the ground.
The offense is again moribund, having scored only one offensive touchdown in eight quarters of football—and that was with No. 2 quarterback Shaun Hill running the offense.
Stafford combined well with star receiver Calvin Johnson in Week 1 (three catches for 58 yards), but he has barely completed a meaningful pass to anyone else. When Johnson missed the second game, Stafford ran nearly the entire offense through new tailback Reggie Bush.
On the other side of the ball, the Lions have struggled against both the pass and the run. Brandon Weeden went 8-of-12 for 117 yards and two touchdowns, while Dion Lewis and Trent Richardson combined to average six yards per carry on 11 touches.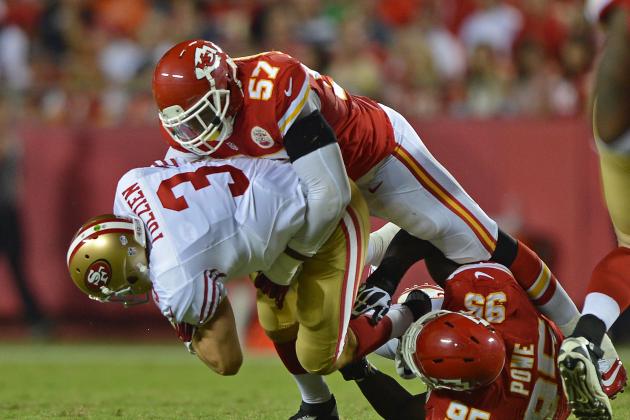 Peter Aiken/Getty Images

When new Kansas City Chiefs head coach Andy Reid took over, he immediately made his mark on the offense.
After trading for quarterback Alex Smith, signing tight end Anthony Fasano and wide receiver Donnie Avery, then drafting offensive tackle Eric Fisher No. 1 overall, Reid was giving himself the personnel to run his offense.
So far, the offense has sputtered, scoring just 26 points in the first two preseason games. Smith didn't fare well against his old team, completing just 8-of-16 passes for 62 yards and no touchdowns.
However, the Chiefs defense has stepped up.
Facing the San Francisco 49ers and New Orleans Saints, the Chiefs allowed just 15 and 17 points, respectively. They blanked the Saints in the first quarter and allowed just a field goal to the 49ers starters.
With eight sacks and five turnovers forced in these first two games, the Chiefs defense is serving notice to the rest of the AFC.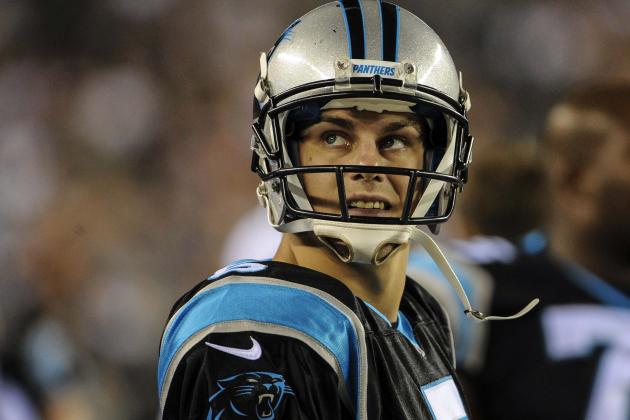 John Geliebter-USA TODAY Sports

Ever since quarterback Cam Newton shattered a slew of rookie passing records in 2011, the Panthers have been touted as an offense ready to take the next step.
This offseason, the Panthers drafted speedy tailback Kenjon Barner into the NFL's most talented stable of runners, led by DeAngelo Williams and Jonathan Stewart. With the otherworldly two-way talent of Newton under center and still-productive stalwart Steve Smith at receiver, the Panthers should have no trouble putting up points.
Instead, the Panthers struggled to a turnover-filled 24-17 win over the Bears in Week 1 (where Newton threw a touchdown pass to both teams in the first quarter). Then, they failed to score a touchdown at all in a 14-9 loss to the Philadelphia Eagles.
Newton, entering his critical third year, is 11-of-23 for 128 yards, one touchdown and one interception so far this preseason. He looked overmatched and ineffective against an Eagles defense that was poor last season and was demolished by the New England Patriots the week before.
When last year's 29th-ranked scoring defense switches to a new alignment, turns over its entire secondary in free agency, gets demolished in Week 1 of the preseason and then dominates you in Week 2?
That's a bad sign.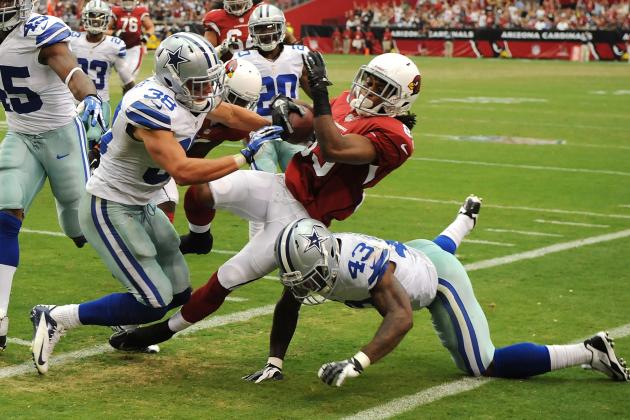 Norm Hall/Getty Images

If you just look at the box scores, you won't think much has changed in Arizona over the offseason. The Cardinals have scored 29 points over their first two games, which would surely have been two losses if their defense hadn't held opponents to just 12 combined points.
Carson Palmer's stats aren't much to write home about: Over the first two games, he went 11-of-21 for 143 yards, one touchdown and no interceptions. His backup, Drew Stanton, hasn't put up much better stats: 18-of-34 for 259 yards, one touchdown and one interception.
Don't let the numbers fool you, though; the Cardinals have been very effective throwing downfield. Palmer and Stanton have averaged 7.30 yards per attempt, a solid number, and their average yards per completion is through the roof at 13.9.
To put it in perspective, Cam Newton led the NFL in yards per completion at 13.8 in 2012. Newton also was more effective overall, with 8.0 yards per attempt, but let's go in baby steps here. Remember that in 2012, the Cardinals averaged just 5.6 yards per attempt and 10.0 yards per completion.
With Palmer and Stanton picking up yards in chunks between the 20s, the improvement the Cardinals passing offense has made so far this preseason is incredible. With a little better luck in the red zone, the scoring will come soon enough.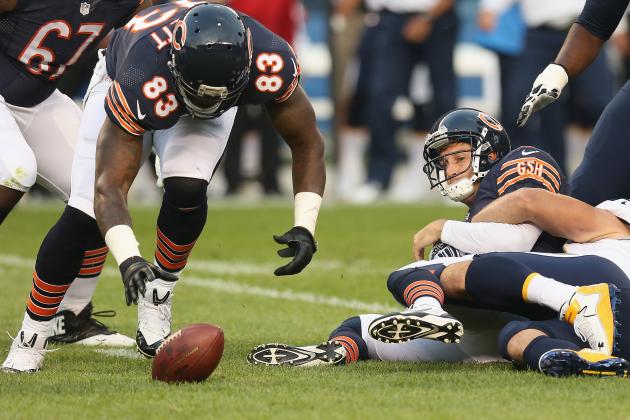 Jonathan Daniel/Getty Images

Quite a bit has been made of Jay Cutler's contract, and no wonder: The last year of the veteran quarterback's Chicago Bears contract is his first under new head coach Marc Trestman, and in a new offensive system.
If he plays to the best of his ability, he could lead the Bears back to the Super Bowl and command a Joe Flacco-sized contract out of them. If he doesn't improve significantly from 2012, the Bears are going nowhere, and Cutler's likely starting somewhere else in 2013.
In games against the Carolina Panthers and San Diego Chargers, Cutler's gone 10-of-13 for 94 yards, one touchdown and two interceptions. Against the Chargers, Cutler completed 4-of-5 passes, but all five targets went to his favorite receiver, Brandon Marshall.
If firing former head coach Lovie Smith and hiring Trestman, a well-respected offense and quarterback guru, was supposed to get the best out of Cutler, it's not happening yet.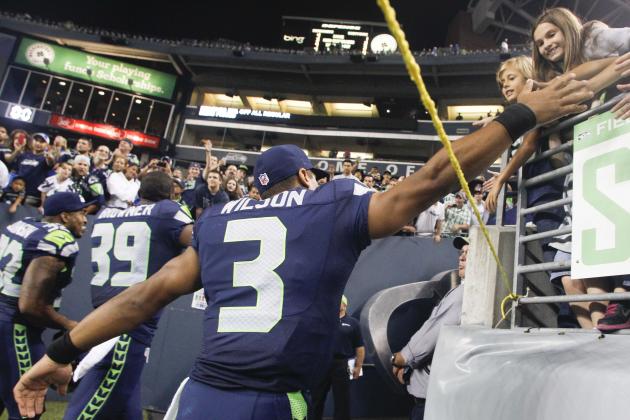 Joe Nicholson-USA TODAY Sports

The Seattle Seahawks beat the Denver Broncos 40-10.
That should just about cover it for "Hot," as the Broncos not only went 13-3 and captured the AFC's top seed last season, but they had one of the strongest offseasons in the NFL. It goes deeper than that, though: In two preseason games, the Seahawks have outscored opponents 71-20.
That said, the Week 1 game against the Chargers was just 7-3 at halftime. The 31-10 blowout came courtesy of some garbage-time heroics by backup Seahawks quarterback Tarvaris Jackson.
In Week 2, though, it was a complete team effort. Russell Wilson and the offense joined forces with the defense and kick return teams to hang 33 points on the board in the first half. The Broncos were helpless against Wilson, who completed 8-of-12 passes for 127 and two touchdowns.
The Broncos were flayed alive by returner Jermaine Kearse and cornerback Brandon Browner, each of whom added on a touchdown.
This matchup was my pick for this season's Super Bowl, and the Seahawks look like they're right on track to make me at least half-right.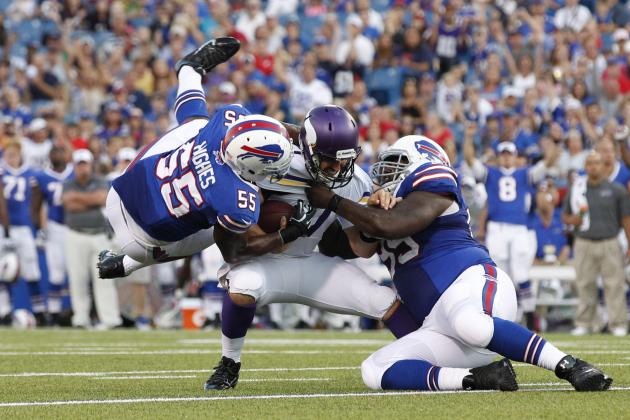 Kevin Hoffman-USA TODAY Sports

Last season, the Minnesota Vikings rode the legs of Adrian Peterson to a shocking playoff berth. That was after having been widely tipped to finish well behind the Green Bay Packers, Chicago Bears and Detroit Lions in the competitive NFC North.
This season, as Bill Barnwell of Grantland explained, it's going to take a truly legendary performance by Peterson just for the Vikings to avoid falling back into the cellar.
Assuming Peterson doesn't become the first back in NFL history to rush for over 2,000 yards and then gain significantly more the next season, the only way the Vikings will keep up playoff appearances is for quarterback Christian Ponder to step up.
After two preseason games, Ponder is 6-of-14 for 68 yards, no touchdowns and one interception.
Ouch.
Ponder later ascribed his poor performance to the "exotic" Bills defense, per the Bills official site. Apparently the number of fronts, looks and coverages made it hard for Ponder. If this happens when defenses aren't using their entire playbooks, Ponder and the Vikings are in big trouble.