WWE Summerslam: Grading Each Match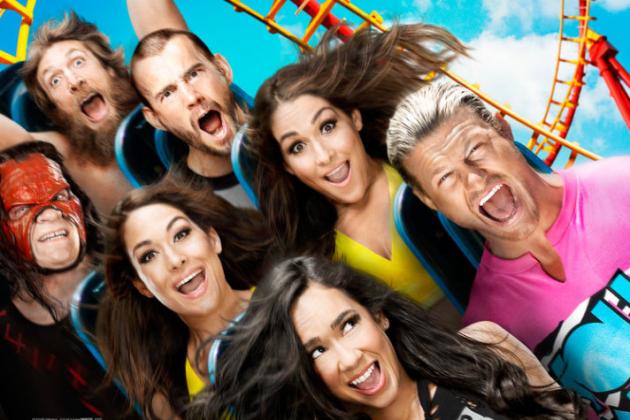 www.wrestlenewz.com
It's labeled as the biggest party of the summer. That's exactly the way it was treated, as SummerSlam got high-profile matches and it's own Axxess event, much like WrestleMania.
Headlined by John Cena and Daniel Bryan, the card is strengthened by Bray Wyatt's debut, a CM Punk-Brock Lesnar grudge match and everything in between.
Here are grades for every match on the card.
Begin Slideshow

»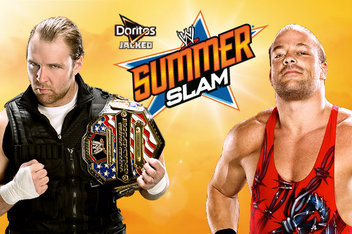 www.cagesideseats.com
The pre-show kicked off the card with a great United States Championship match between Rob Van Dam and Dean Ambrose of The Shield. It was a great match.
Van Dam's return to the WWE has seen some great matches. Add Ambrose's technical prowess and great ring psychology, and you had a great way to warm the crowd up.
There were some great spots like the leg drop from the apron to the barricade by RVD and the crossbody from the second rope. It ended by DQ, which likely would set up a bout between The Shield, Big Show and Mark Henry (and maybe RVD).
Grade: A-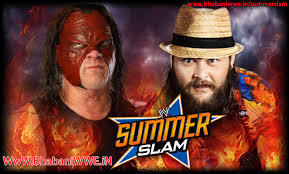 www.bhabaniwwe.in
If you are a fan of technical masterpieces like Savage-Steamboat, this Ring of Fire match may not have been for you. However, if you like good in-ring storytelling, Bray Wyatt-Kane would be right up your alley.
It wasn't a long match and you didn't get to see much of Wyatt's arsenal. That being said, the Wyatt Family continues to look like a dominant force that The Shield was not long ago.
Having Wyatt go over was obvious. However, getting his goons involved was big, showing Wyatt's psychology and pull that he has on them.
Can't wait to see them more on Raw.
Grade: B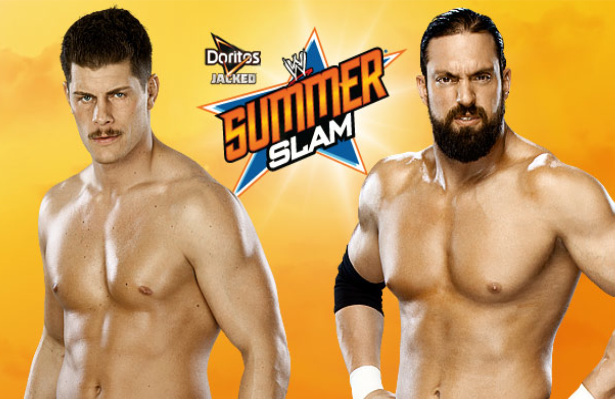 www.wrestlingrumors.net
Speaking of grudge match, former best friends Cody Rhodes and Damien Sandow put on one helluva match in a bout there was not much anticipation for.
This has been a great rivalry. My favorite spot of the match was the Muscle Buster Rhodes used about halfway through the match. It was a great power move for a guy not necessarily known for his strength.
Sandow taking the loss hurts him a bit, but having him cash in his Money in the Bank contract in the World Heavyweight Championship match would get him his momentum back. It would also get a huge pop from the fans.
Grade: B+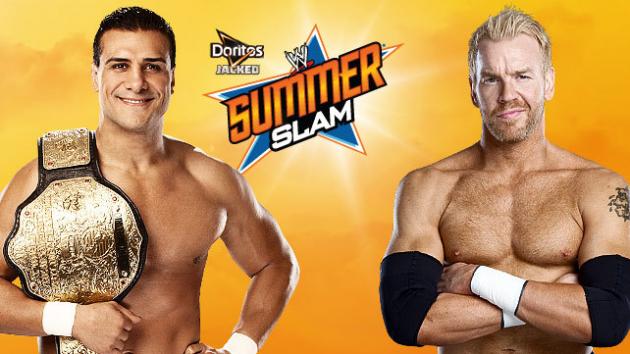 wwe.com
All I can say is, wow, what a match. Alberto Del Rio and Christian put on an amazing match that is going to rival any match for bout of the night.
My favorite spot was Christian going to the second rope, but Del Rio countering with a nasty Backstabber. These men have great chemistry, and this was the best match of the series they have recently had.
I am a little surprised Christian didn't snag the title, but Del Rio has been a solid heel champion. I wonder what's next, as I have a feeling this was a one-and-done feud.
In other news, I miss Ricardo Rodriguez.
Grade: A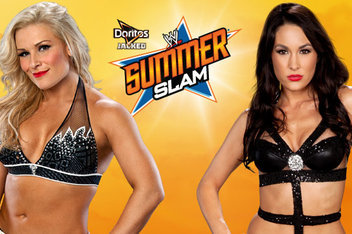 www.cagesideseats.com
Natalya with the win!
I really wish the WWE would give Natalya a great female wrestler to work with. The Bella Twins are terrible, in my opinion.
The best spot was the finish. Natalya nailed a beautiful Alabama Slam and used it to lock up the Sharpshooter. That was what earned the tap in a decent match.
I actually wish Eva Marie and the Bellas would leave WWE. Bring me some real lady wrestlers (Sara del Rey anybody?).
Also, it looks like Natalya is finally getting a push. That is awesome!
Grade: C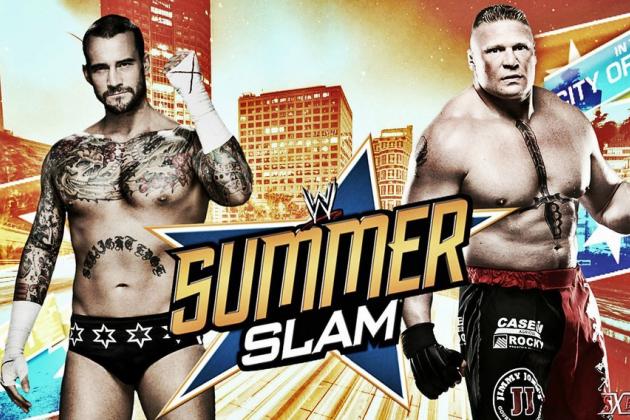 www.deviantart.com
I spoke too soon. CM Punk vs. Brock Lesnar may be the match of the night. That was an amazing display of athleticism, brutality, storytelling and brawling.
My favorite thing about the match was the mixed martial arts component. The armbar by CM Punk that he turned into a triangle choke was great, especially because Lesnar is a former world champion of MMA.
The chair shots were nasty. The no-DQ clause made this match even better than a normal singles match would have been. This rivalry isn't over, not by a long shot.
Grade: A+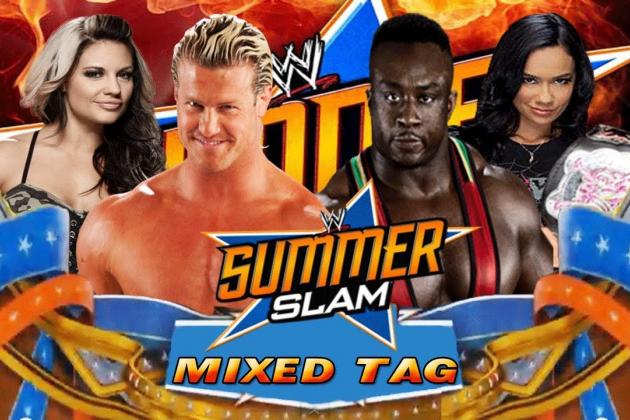 www.sportsdepth.com
There was some great athleticism on display in this match and some great chemistry between Dolph Ziggler and Big E Langston. Ziggler sold Langston's moves so brilliantly that he looked like an unstoppable force for a while.
Kaitlyn and AJ may have the best feud in the women's division in years. The spear that Kaitlyn nailed on the outside toward the end of the match looked like a Ray Lewis tackle.
In a bout that didn't get much promotion, this bout was solid.
Grade: B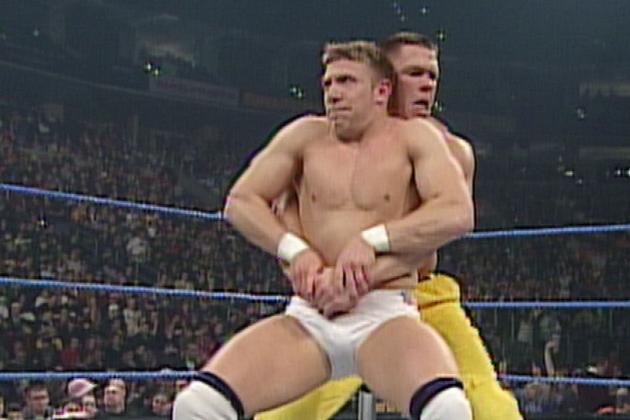 wwe.com
What a way to end a great card. Not only did Daniel Bryan win his first WWE title, Triple H turned heel and Randy Orton cashed in his Money in the Bank briefcase.
The match with John Cena was very good. Between the mat wrestling and power moves, they put out an "A" quality match.
After Bryan won, it looked like that was gonna be it. Then Orton came out and Triple H plasted Bryan with a Pedigree.
This is going to set up some great storylines down the line. Plus, don't be too mad. Bryan will likely get the title back at some point.
Grade: A