Miami Football: Game-by-Game Schedule Predictions for 2013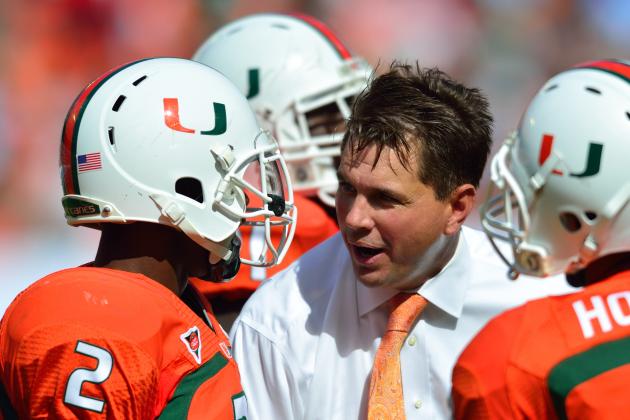 Steve Mitchell-USA TODAY Sports
Al Golden has done plenty of teaching this offseason; it's time to see it on the field.
The number of days left until the 2013 college football season is falling, but expectations for the Miami Hurricanes are rising.
Fortunately for Miami, its schedule is far less imposing than seasons past. The Hurricanes play nine games in the state of Florida, including home contests against Florida, Georgia Tech and Virginia Tech, so Miami plays most of its key games at Sun Life Stadium.
With that being said, the 'Canes must travel to division foe North Carolina and longtime rival Florida State for important Atlantic Coast Conference tilts.
Plus, when a team has high expectations, less-heralded conference opponents often target that matchup to pull off an upset.
Can the Hurricanes win an early game against a top-tier team and also avoid a bad conference loss?
Notes: Predictions based on both teams at full strength, subject to change. Statistics courtesy of NCAA.com.

Begin Slideshow

»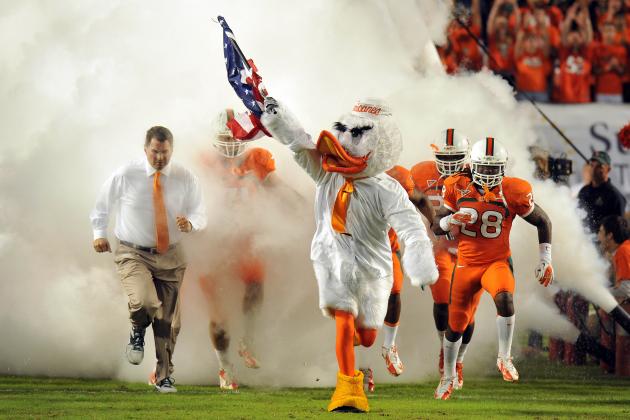 Steve Mitchell-USA TODAY Sports
The Hurricanes will finally run though the smoke when the team takes on FAU.
All of the work the 2013 Miami team completed during winter conditioning and weight-lifting, spring practice, offseason workouts and fall camp will finally be shown during the regular-season opener.
The Hurricanes kick off the year against Florida Atlantic, but Golden's team should not have many problems dispatching the Owls.
According to Dieter Kurtenbach of the South Florida Sun-Sentinel, FAU head coach Carl Pelini believes sophomore defensive back Cre'Von LeBlanc is the Owls' most important player.
But if the combination of Miami's offensive line, Duke Johnson and the Hurricanes' speed at wide receiver performs as expected, LeBlanc and the FAU defense are in for a long day.
Prediction: Miami 38, Florida Atlantic 9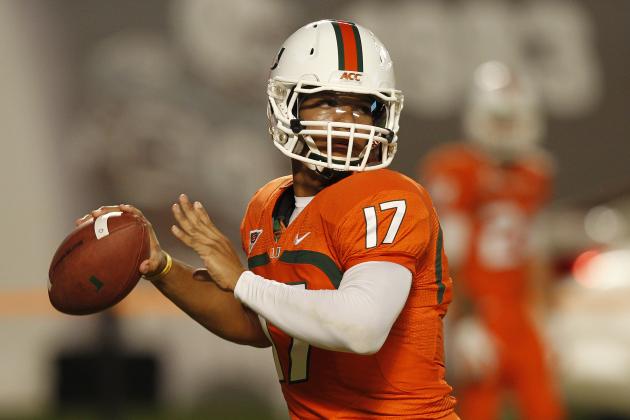 Joel Auerbach/Getty Images
Stephen Morris can use the Florida game to prove he is an elite college QB.
This highly anticipated matchup showcases one team's strength vs. another. Miami's offense and Florida's defense could each be one of the nation's top units, but the opposite counterpart for each team both leave something to be desired.
In 2012, Will Muschamp's team allowed 287.46 yards and 14.46 points per game—both of which ranked fifth-best in the nation. The Gators lost five starters to the 2013 NFL draft, but Florida constantly reloads its defense every year.
Conversely, Miami returns 20 of its top 22 offensive players from a team that averaged 440 yards per game one season ago.
A possible capacity crowd at Sun Life Stadium, the noon ET battle will be shown on ESPN, and the 'Canes offense will make just enough plays for Miami to upset the highly ranked Gators.
Prediction: Miami 24, Florida 23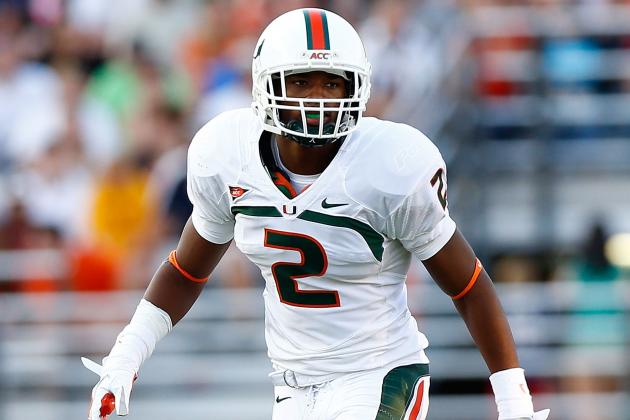 Jared Wickerham/Getty Images
Deon Bush could develop into the top safety on the team.
Fourteen days after the showdown with Florida, Miami welcomes a less-heralded opponent, Savannah State, to Sun Life Stadium.
For example, in 2012, Miami beat Bethune-Cookman 38-10, and Savannah State lost to the same BC team 49-7. Additionally, Florida State and Oklahoma State combined to score 139 points and allowed zero to the Tigers.
This contest is basically Savannah State's 2013 take-the-check-and-go game, and the Hurricanes simply will have no trouble with the Tigers.
Prediction: Miami 47, Savannah State 0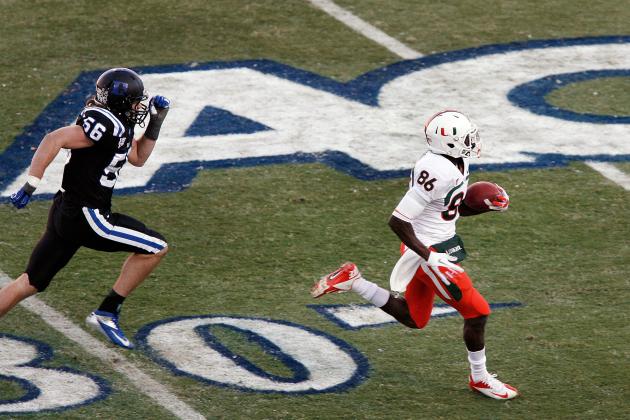 Mark Dolejs-USA TODAY Sports
Herb Waters exploded for 195 receiving yards over the last two games of 2012, including 130 against USF.
After an easy win against Savannah State, Miami travels to Tampa for its first road game of the 2013 season.
South Florida, likely quarterbacked by Bobby Eveld, has a new head coach in Willie Taggart, and former freshman All-American Aaron Lynch is eligible to play after sitting 2012 out due to NCAA transfer rules.
But the 'Canes thrashed USF 40-9 on senior day last season, and the September 28 matchup should not be much different. The Bulls will certainly have an improved defense and a decent offensive attack, but Miami is simply too talented for USF to keep up.
Prediction: Miami 33, South Florida 16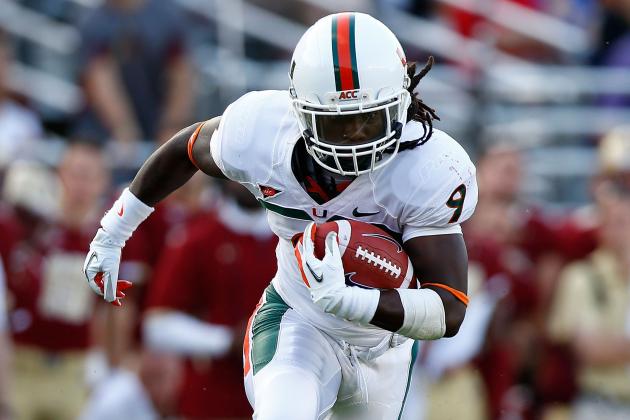 Jared Wickerham/Getty Images
Barring a setback, Malcolm Lewis will face the team against which he suffered his horrific injury.
The 2012 edition of this matchup was quite the roller coaster. After Miami took an early 19-0 lead, the Yellow Jackets rattled off 36 straight points, but the Hurricanes scored the final 23 points and emerged victorious in a 42-36 overtime thriller.
Vad Lee will spearhead Georgia Tech's option attack, and as a better passer than his predecessor Tevin Washington, the Jackets will be a slightly more diverse offensive team.
Also, Tech returns eight starters on defense, including defensive end Jeremiah Attaochu, one of the ACC's top players.
It is safe to expect another high-scoring defensive struggle, but, while neither result in this game would surprise, the 'Canes will not emerge victorious.
Prediction: Georgia Tech 34, Miami 30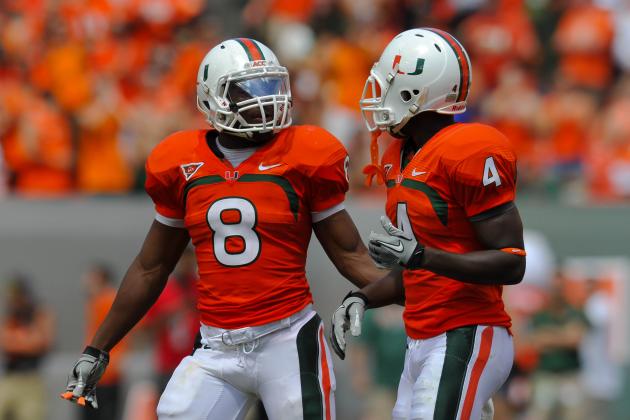 Steve Mitchell-USA TODAY Sports
Duke Johnson and Phillip Dorsett are two of the Hurricanes' many big-play weapons.
Twelve days later, the Hurricanes leave their home state for the first time during the 2013 season and head to Chapel Hill for a showdown with North Carolina.
Last season, a sensational Giovani Bernard accounted for 239 all-purpose yards and both UNC touchdowns in Carolina's 18-14 win.
Senior quarterback Bryn Renner will still command a formidable offensive attack for the Tar Heels, but a UNC defense without Sylvester Williams and Kevin Reddick will struggle with the Hurricanes' high-scoring offense.
ESPN will carry this Thursday night Coastal Division showdown at 7 p.m. ET.
Prediction: Miami 30, North Carolina 24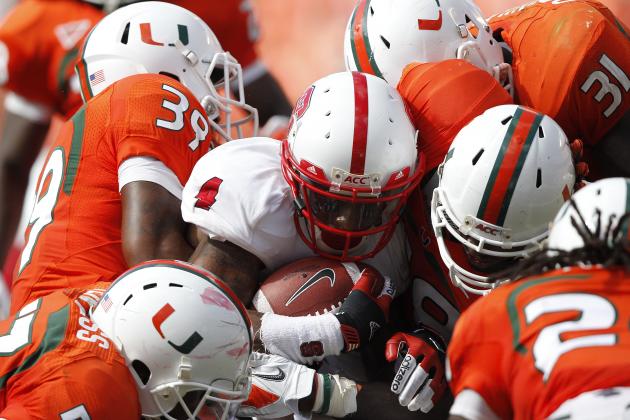 Joel Auerbach/Getty Images
Miami's defense will look to swarm Wake Forest.
Miami has not faced Wake Forest since 2009, so this matchup offers a whole lot of unfamiliarity.
And with Florida State lurking the next week, the Hurricanes must be careful to not overlook quarterback Tanner Price and the Demon Deacons.
Wake Forest's defense allowed a porous 5.77 yards per play in 2012—albeit better than Miami—so the 'Canes, led by Duke Johnson, will have a huge day.
The Demon Deacons, however, will find some holes in the Miami defense and keep the game close until the fourth quarter.
Prediction: Miami 31, Wake Forest 20
Robert Mayer-USA TODAY Sports
Can the 'Canes end a three-game skid to FSU?
Miami has won two of the last three games in Tallahassee, but no players other than redshirt seniors have experienced a win over Florida State. The Hurricanes had a real chance to take down Florida State last season, but the Seminoles were too much to handle in the fourth quarter.
In 2013, FSU did lose its defensive coordinator and four starters on the D-line, so the defending ACC champions must reload, while Miami brings back a plethora of offensive weapons.
Florida State's advantage, though, is that its offense should not skip a beat under the new leadership of Jameis Winston.
Although a 'Canes win would not be shocking in the least, FSU has a slight advantage in this rivalry game.
Prediction: Florida State 27, Miami 23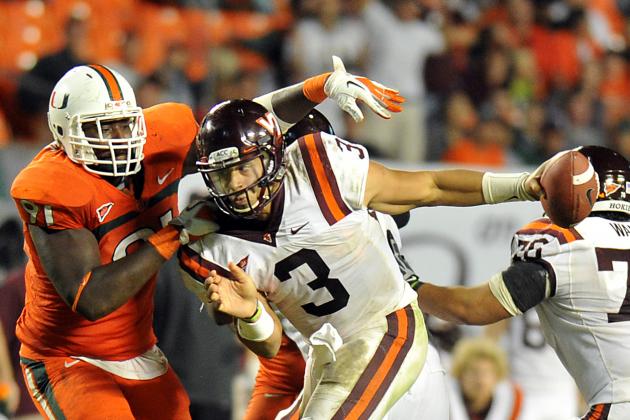 Steve Mitchell-USA TODAY Sports
Against Virginia Tech, the Miami defense played its best game of the 2012 season.
Miami had lost three straight to Virginia Tech before last season's 30-12 win, and the Hurricanes would start a mini-streak of their own with a win.
For the second consecutive week, Miami plays an important conference game against a rival.
Whether or not the 'Canes beat FSU will be irrelevant by the time Virginia Tech arrives at Sun Life Stadium, because this will be a pivotal Coastal Division clash.
The Hokies return nine starters on defense, but their offense, though led by senior Logan Thomas, does not show as much promise. Head coach Frank Beamer's team could certainly mesh as a unit, so this game is far from an easy win.
Prediction: Miami 27, Virginia Tech 19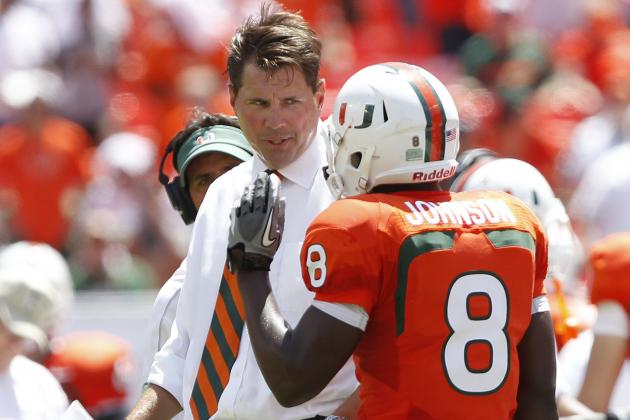 Joel Auerbach/Getty Images
Golden calls his star running back by his given name.
Due to conference realignment, the 'Canes will travel to Durham for the second consecutive season. Last year, Stephen Morris threw for 369 yards and three scores, Duke Johnson gained 176 yards and scored three touchdowns on the ground, and Miami won an offensive shootout 52-45.
The Blue Devils capitalized on the Hurricanes' vulnerable defense, including a 99-yard touchdown reception by Jamison Crowder, but Duke will not light up the scoreboard like last year.
Duke Johnson, the other Duke, will again run over, under, around and through the Blue Devils' defense, and Miami will win a very important conference game.
Prediction: Miami 42, Duke 24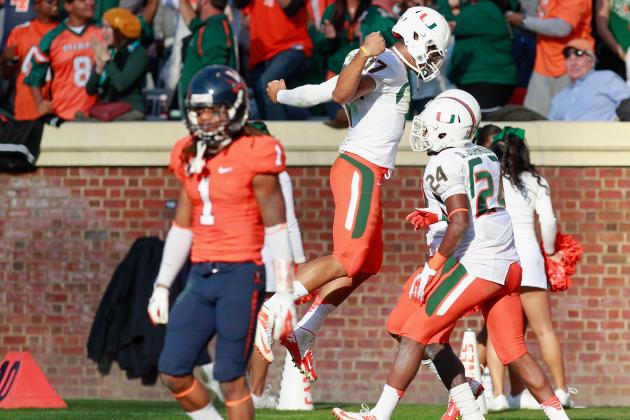 Geoff Burke/Getty Images
The 'Canes must beat Virginia this year if the team wants to win the division.
These darn Cavs, man.
Whatever Jedi mind-tricks UVa head coach Mike London possesses, he sure knows how to use them against the 'Canes. Miami has dropped three consecutive games to the Cavaliers, losing 24-19, 28-21 and 41-40 in 2010, 2011 and 2012, respectively.
Virginia, however, lost both Michael Rocco and Phillip Sims during the offseason, so redshirt sophomore David Watford takes the reins for 2013.
Despite the Cavs' recent control of Miami, the 'Canes must make 2013 the year they defeat Virginia.
Prediction: Miami 27, Virginia 17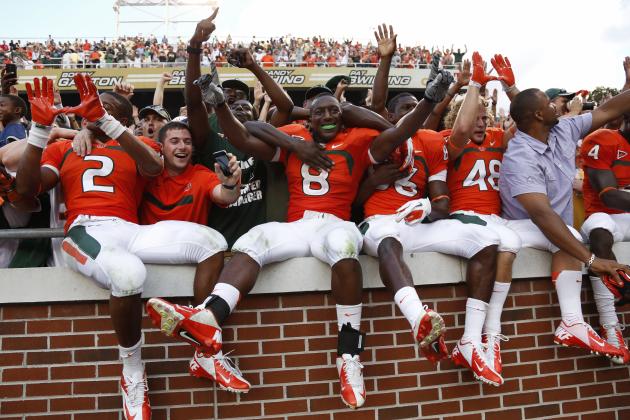 Joe Robbins/Getty Images
The 2013 season could be an exciting one for Miami players and fans alike.
The former Big East opponents squared off in 2010, and Miami dominated the nonconference game in a 31-3 win.
This matchup will have plenty of meaning for the 'Canes, though, because it could very well decide the Coastal Division.
Weather is likely to be a big factor in the first-ever ACC tilt between the teams, and the constant swirling winds of Heinz Field will cause both teams to ultimately rely on the running game.
The Hurricanes, as mentioned, have both a fantastic offensive line and running back. Pittsburgh does counter with a defense that ranked top 20 nationally in 2012, but Miami will hold on to a fourth-quarter lead to beat the Panthers, and ultimately win the division.
Prediction: Miami 23, Pittsburgh 16