Stock Up, Stock Down for Oakland A's Top 10 Prospects for Week 20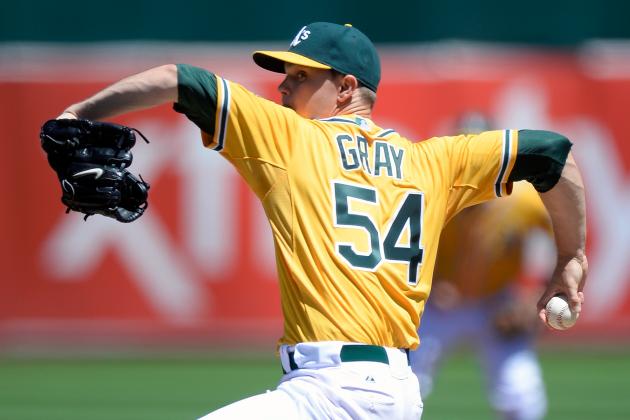 Thearon W. Henderson/Getty Images
Gray has been outstanding in two stints in Oakland.
The big boys on the Oakland A's had a decent week, but it was the prospects in the farm system who—for many of the Top 10—added to their already-awesome stat lines.
From No. 1 prospect Addison Russell to newly drafted Billy McKinney, many of the most recognizable and top-rated players continued to show they can handle their respective league. It's clear these guys are ready to move ahead. Still, other lesser-known Top 10 players saw struggles.
Check out who had "just another good week" and who wants to pretend Aug. 12 through the 18th never happened.
But first, a few notes.
No. 10 prospect Miles Head is currently injured and has not played since June 17. The third base prospect hit .196 before suffering the injury. No. 4 prospect Michael Ynoa, a pitcher out of the Dominican Republic, is currently on the disabled list. He has not pitched since Aug. 1. In 72.2 innings, he holds a 3.84 ERA.
Note: Top prospects are listed according to MLB.com's 2013 Prospect Watch List, written by Jonathan Mayo. All stats are from MiLB.com.

Begin Slideshow

»

Photo Courtesy of BJBoyd.com
2013 Stats
.296/.388/.459, 10 2B, 6 HR, 21 RBI, 27 BB, 50 K, 30 R
Overview
At this point Boyd has a tough road ahead of him. Oakland has a stacked outfield as is, and when guys like Chris Young, Seth Smith and Coco Crisp make their exits, Michael Choice is lying in wait. Even Michael Taylor and Shane Peterson are options. And then there's recently drafted Billy McKinney, who is younger and higher ranked.
Luckily for Boyd, he's only 20, so he's got plenty of time to develop and prove himself.
His stats so far aren't bad at all. He hits for average well, but hasn't flashed much pop. However, he does have some speed and he's knocking in runs at a decent rate considering the low amount of games he's played in.
It will be interesting to see what he does at the next level next year.
Last Week's Stats
.095 BA, 0 XBH, 0 HR, 0 RBI, 2 BB, 7 K, 1 R
Stock: Down
It's been a rough week for Boyd to say the least. Overall he's consistent, but this week has been particularly awful. Hopefully a new week brings a fresh start for Boyd.
2013 Stats
12 G (2 started), 0-3, 1.88 ERA, 9 BB, 19 K, 24.0 IP
Overview
Originally drafted by the Detroit Tigers out of high school in 2010, pitcher Nolan Sanburn instead went to the University of Arkansas for two years. Taken in 2012 by the A's, Sanburn has seen his stock rise since.
With the Vermont Lake Monsters last season, he went 0-1 with a 3.86 ERA in seven games.
He pitched four innings in rookie ball earlier in 2013, allowing just one run and one walk while striking out six. Now he's with the High-A Beloit Snappers.
Last Week's Stats
4.0 IP, 0 ER, 1 H, 0 BB, 4 K
Stock: Slightly Up
Sanburn is used about every four days or so, and four innings for the week isn't much. Still, he only allowed zero runs, walked none and struck out four. He barely pitched, but he pitched well.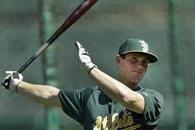 McKinney takes BP with the A's. Photo Courtesy of DallasNews.com
2013 Stats
.305/.374/.391, 5 2B, 2 HR, 16 RBI, 16 BB, 27 K, 24 R
Overview
The A's drafted the 18-year-old outfield prospect with their first pick in 2013 out of Plano West Senior High School.
So far in rookie ball, Billy McKinney has looked very comfortable at the plate. He may not be hitting for much power, but he's hitting consistently overall.
This much is true: He's definitely ready for the next level.
Last Week's Stats
.167 BA, 1 2B, 0 HR, 2 RBI, 3 BB, 3 K, 2 R
Stock: Slightly Down
You can't characterize a week in which McKinney walked as many times as he struck out as awful. Still, it wasn't good. In this stretch, he had one fantastic game and three terrible performances.
It happens to the best of them.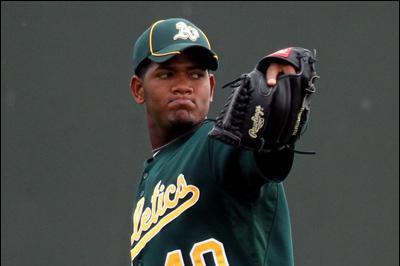 Photo Courtesy of Chris Lockard of Scout.com
2013 Stats
24 GS, 12-4, 2.82 ERA, 18 BB, 109 K
Overview
Raul Alcantara is another prospect who came over from the Boston Red Sox for Andrew Bailey. He's the third-best pitching prospect, only behind Sonny Gray and Michael Ynoa.
That's pretty good company.
He had a rough 2012. But in 2010 and 2011, he was a model of consistency. Best of all, he's flat-out dominated in 2013. Case-in-point: Alcantara went 7-1 with a 2.44 ERA in High-A, earning himself a call-up to the next level.
So far, it's more of the same: domination.
Last Week's Stats
1 GS, 1-0, 0.00 ERA, 6.2 IP, 2 H, 1 R, 3 BB, 5 K
Stock: Up
Alcantara turned in another solid performance, pitching two-thirds of the game and not allowing any earned runs. This kid is intriguing and should be watched closely by fans.
2013 Stats
.215/.322/.395, 26 2B, 17 HR, 75 RBI, 67 BB, 132 K, 56 R
Overview
The 19-year-old first base prospect drafted out of Parkview High School in 2012 is another prospect who's seen up-and-down production.
In his first year, between rookie ball and Low-A, he hit consistently across the board. This year, his average has dropped significantly, but his production has increased where it matters (power, runs batted in).
As the No. 1-ranked first baseman in the A's farm, he'll have a bit of leeway. Still, he has to hit better at such a low level.
Last Week's Stats
.167 BA, 0 XBH, 0 HR, 0 RBI, 1 BB, 10 K, 2 R
Stock: Down
It's been a week to forget for Olson. As if the lack of hits and production isn't enough, 10 strikeouts in a week should have management paying attention for the wrong reasons.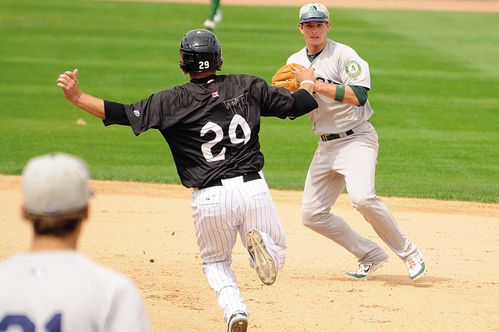 Robertson turns a double play. Photo Courtesy of BeloitDailyNews.com
2013 Stats
.272/.346/.389, 19 2B, 7 HR, 40 RBI, 36 BB, 73 K, 51 R
Overview
Drafted out of Upland High School in California during the 2012 draft, Robertson has played shortstop and third base in the minors.
He's only played in two seasons, and he's still only 19. Hence, he has an excuse for a career (minors) .266 average with little else production in terms of power and speed. With a guy like Addison Russell playing the same position, Robertson's road to the majors is going to be difficult.
Last Week's Stats
.296 BA, 1 2B, 1 HR, 4 RBI, 1 BB, 4 K, 3 R
Stock: Up
This is just another typical week for Robertson. It shows he's consistent, adding a bit of everything to his season stats.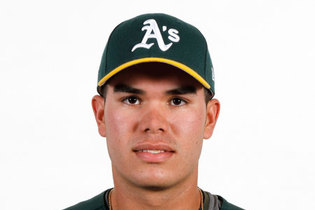 Photo Courtesy: BaseballAmerica.com
2013 Stats
.266/.311/.442, 24 2B, 19 HR, 83 RBI, 26 BB, 122 K, 66 R
Overview
Renato Nunez has been a bit up and down overall.
As a 17-year-old in the Dominican Republic Summer League, he hit decent by major league standards, but none of his stats were overwhelming. Then in rookie ball, he hit a whopping .325 and matched or increased the year prior's stats in fewer games.
This year his batting average may be back down to "average," but his power is impressive.
If there's a knock against him, it's his defense. Nunez owns a career .878 fielding percentage at third base. That, and his 122 strikeouts this season is a stat in the spotlight for the wrong reasons.
Last Week's Stats
.100 BA, 0 XBH, 0 HR, 1 RBI, 1 BB, 8 K, 1 R
Stock: Down
Nunez lowered his batting average, increased his strikeouts and added no runs or RBI. Last week was unkind to him for sure.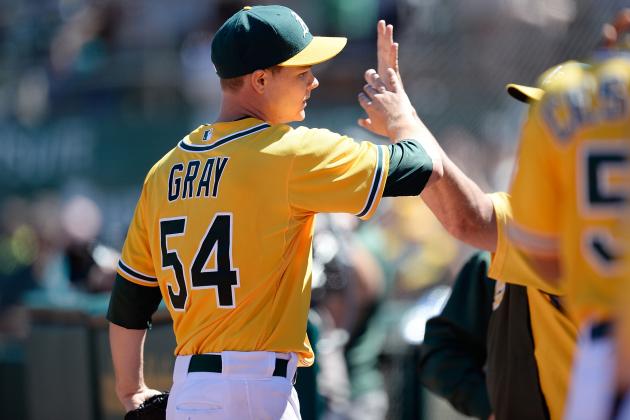 Thearon W. Henderson/Getty Images
Gray is the only Top-10 prospect who's been up this year.
2013 Stats
20 GS, 10-7, 3.42 ERA, 39 BB, 118 K, 118.1 IP (minors only)
Overview
Shockingly, Sonny Gray is not one of the Top-100 ranked prospects in Major League Baseball. Yet, the young pitcher has played as if he's the Athletics' No. 1.
With an outstanding K-BB ratio and majors-ready stuff, it's no wonder Gray has had two stints in Oakland this year. In 18 innings in the majors, he's allowed two earned runs, walked five and struck out 20.
Gray is still on the A's roster, but there's uncertainty what will be done with him once Brett Anderson returns. Even if he does go down, he's the No. 1 candidate to return in September call-ups.
Last Week's Stats
1 GS, 1-0, 8.0 IP, 4 H, 0 ER, 1 BB, 9 K
Stock: Up
It seems like every time Gray pitches he increases his stock. In his second big-league start, Gray nearly pitched a complete-game shutout. Granted, it was against the Houston Astros, but don't let that take away from the fact that Gray dominated a Major League Baseball team as a rookie.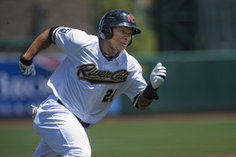 Photo Courtesy: SacBee.com
2013 Stats
.303/.390/.451, 24 2B, 14 HR, 82 RBI, 62 BB, 111 K, 83 R
Overview
Just cracking the Top 100, Michael Choice is playing like he's the next prospect to see time in Oakland, and soon.
After being drafted by the A's 10th overall in 2010, Choice got off to a slow start. He hit a combined .266 in rookie ball and Low-A. Then he blossomed. With the Stockton Ports, he hit .285, but more impressively, Choice knocked 30 home runs over the wall.
His power reduced in 2012, but his average just a bit to .287.
As Choice moves up the ranks in the organization, he's hitting better and remains consistent in all other categories. At 23 years old, it's not mandatory he come up soon, but with his play, A's fans might see him very soon.
Last Week's Stats
.280 BA, 1 2B, 0 HR, 4 RBI, 2 BB, 4 K, 3 R
Stock: Up
Last week was about average for Choice. Extended to the last 10 games and he's actually hitting .350. He may not have hit a home run in a while, but he's doing a little bit of everything else. Best of all, he's doing it so consistently. With his proven ability to maintain against Triple-A pitchers, it may be time to see what he can do at the next level.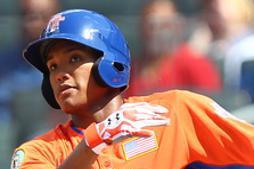 Photo Courtesy of MLB.com
2013 Stats
.276/.368/.510, 29 2B, 15 HR, 55 RBI, 51 BB, 106 K, 15 SB, 78 R
Overview
Taken 11th overall out of Pace High School by the Oakland A's in 2012, Addison Russel is the 20th-best ranked prospect overall according to MLB.com.
In three leagues last year, he hit a combined .369 with seven home runs and 45 RBI. He also stole 16 bases. So far this year, he's matched or exceeded most of those stats. Though he's had twice as many games to do so.
Russell shows plenty of power, but strikes out a ton.
Last Week's Stats
.296 BA, 0 2B, 2 HR, 6 RBI, 4 BB, 5 K, 7 R
Stock: Up
Russell continues to improve as he adds a couple of home runs to his tally and raises his batting average a bit more. He nearly walked as much as he struck out too. Single-A appears too easy for the young prospect who is proving he rightfully deserves the No. 1 designation.