Ranking the 10 Greatest Goalies in NHL History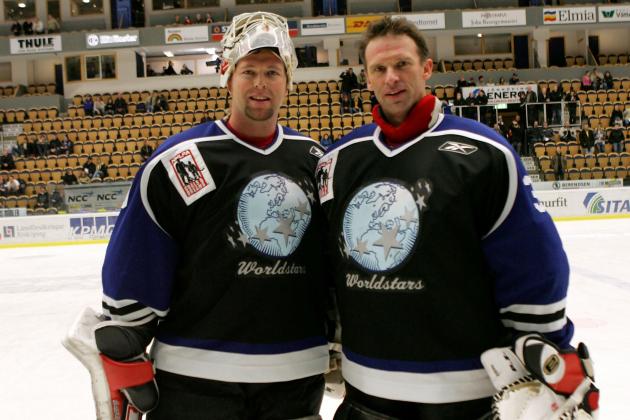 Bruce Bennett/Getty Images

Few jobs among athletes, if any, are more demanding than that of a hockey goalie, let alone an NHL starter.
To satisfy, let alone excel, you need the physical flexibility, awareness and persistence to recover on a loose rebound and salvage any available chance of keeping the opponent off the board.
You need the endurance to play the full 60 minutes in a majority of your team's games. That is, the 60 minutes of actual game activity, not counting the additional standing during stoppages of play, interrupted by nothing but two intermissions.
In the postseason, those single-night minutes can expand to an indefinite amount of overtime that will only end when you or your counterpart in the other crease lets a puck get through.
With all of this being said, outstanding netminders can speak for themselves with the way they habitually log minutes and earn more minutes by transforming them into saves, wins and team or individual trophies.
Some of the best goaltenders in NHL history have compiled a transcript and/or highlight reel that effortlessly explains their heavy influence on a successful squad. Others have had a career that makes one wonder how many more rings they would have earned if only their teams were better as a whole.
From perennial goals-against kings to positional innovators to the winners of multiple MVP prizes, here are the 10 all-time greatest padded pucksters who constitute the mere heart of their rigorous position's vast pantheon.
Unless otherwise indicated, all statistics, award information and past playoff results for this slideshow were found via hockey-reference.com
Begin Slideshow

»
Bruce Bennett/Getty Images

Although he only spent seven seasons (1943-1950) in the NHL, Bill Durnan amassed six Vezina Trophies. (At the time, the trophy was automatically bestowed upon the goaltender who allowed the fewest opposing goals.)
Each of those honors coincided with a First-Team All-Star accolade, and he also led the league in wins for four consecutive seasons, including 1945-46, when he missed 10 of Montreal's 50 games.
A two-time Stanley Cup champion and three-time finalist, Durnan is perhaps best remembered for the shutout streak he set during his penultimate campaign. From February 24 to March 9 in 1949, he kept the puck out of the Canadiens cage for 309 minutes and 21 seconds, a record that stood for nearly 55 years.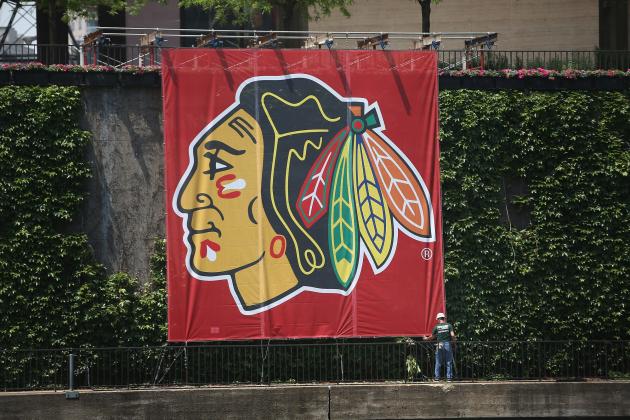 Scott Olson/Getty Images

The NHL started naming two All-Star teams in 1930-31 and Chicago's Charlie Gardiner was one of the two goalies selected in each of the next four seasons, making the first team three times.
Described as "one of the toughest netminders to face one-on-one" with "lightning quick" reflexes in his Hockey Hall of Fame bio page, Gardiner took on nearly the entire goaltending workload in each of his seven NHL seasons. He twice led the league in shutouts with 12 in 1930-31 and 10 in 1932-33 while finishing four seasons with a sub-2.00 goals-against average.
His career playoff transcript consisted of a 12-6-3 record with five shutouts and a 1.43 GAA. The last of those victories and whitewashes came in a 1-0, double-overtime triumph over Detroit to clinch the Blackhawks' first-ever Stanley Cup in 1934.
Tragically, at the age of 29, Gardiner succumbed to an illness he had been playing through two months after that victory.
Precisely one-third of the first 48 Conn Smythe Trophies have gone to a goaltender. The first, and still only, one of those netminders to win it in consecutive years was Philadelphia's Bernie Parent.
Returning to the Flyers after a one-year stint with the WHA's Philadelphia Blazers in 1973, Parent led the NHL in regular-season games, minutes, wins, shutouts and goals-against averages.
He followed up in the playoffs by authorizing only 35 goals in 17 games to help Philadelphia to its first Cup. Highlights of that run included an overtime clincher to sweep the Atlanta Flames, another OT victory to tie the Stanley Cup Final at a game apiece and a 1-0 Game 6 Cup-clincher over Phil Esposito, Bobby Orr and the Bruins.
Parent practically duplicated everything in 1974-75, once again leading all netminders in wins, GAA and shutouts. In the playoffs, he went 10-5 with four shutouts and a 1.89 GAA.
Once again, he sealed the deal with a Game 6 goose egg, blanking Buffalo, 2-0, before clutching the Conn Smythe and the Cup yet again.
The Flyers' bid for a three-peat collapsed at the hands of the Canadiens, who swept them in the 1976 championship round. Due to injury, Parent only mustered 11 regular-season and eight playoff appearances that year.
Still, Parent later led the league in shutouts once more in 1977-78 and finished among the top three in GAA in each of his final two seasons. Before that, he appeared in his fifth and final All-Star Game in 1977.
Like Durnan before him, Ken Dryden had a relatively short NHL career exclusively in Montreal but made the most of it.
Two years removed from Cornell University, a 23-year-old Dryden spent the bulk of the 1970-71 campaign with the AHL's Montreal Voyageurs. But in a sparse six appearances with the parent club, he made a sound first impression with six wins and only nine goals against.
The Habs put him in the crease for the subsequent 1971 playoffs, and the move paid instantaneous dividends. While his overall numbers were not pretty (26 goals against in six games), Dryden did enough to derail the defending champions from Boston in the first round.
A subsequent six-game triumph over Minnesota and a Game 7 victory at Chicago Stadium delivered a Cup to the Canadiens. It would be Dryden's first of six titles in nine professional seasons, including four in a row leading up to his retirement in 1979.
In addition to the championships, Dryden collected five Vezina Trophies and led the league in shutouts and wins four times apiece.
A six-time shutout leader and 11-time All-Star, Glenn Hall played a crucial role in getting the NHL's first modern expansion class off the ground. Barely 11 months after the St. Louis Blues made him their first pick in the 1967 expansion draft, Hall garnered the 1968 Conn Smythe as a reward for bringing the Blues to the Stanley Cup Final.
Hall would also play for portions of the 1969 and 1970 playoffs as the St. Louis franchise capped each of its first three seasons of operation with a trip to the Cup final. While each of those runs ended in defeat, Hall had some more triumphant moments in his prime, particularly a 1961 championship with the Blackhawks.
To give that one some historical perspective, it was the only Cup between 1942 and 1969 not to go to the dominant troika of Detroit, Montreal or Toronto.
During that run, Hall backstopped a triple-overtime, 2-1 win to take a 2-1 series lead and then posted back-to-back shutouts to clinch the semifinal and end Montreal's record five-year reign as champions. From there, he limited the Red Wings to 12 goals in six Cup final matches.
Hall's secret to success? Well, there was his innovative "butterfly" style of netminding that gained traction over the ensuing decades.
Then there was an uncanny durability that allowed Hall to play in 502 consecutive games. In an era where seasons lasted 70 games, that meant dressing and scraping the blue paint every night for more than seven full seasons in a row.
Although he was not the league leader every season from 1950-51 to 1954-55, Terry Sawchuk was the only goaltender to keep his GAA below 2.00 in each of those five years. Furthermore, he never had any more than one specimen of company in that regard.
Currently No. 6 on the NHL's all-time wins list with 447, Sawchuk was first on the leaderboard for 30 years until Patrick Roy surpassed him on Oct. 17, 2000. Two seasons later, Roy broke another enduring Sawchuk record with his 972nd appearance in an NHL game.
Sawchuk's career record of 103 shutouts lasted nearly a full four decades, eventually dropping down the leaderboard on Dec. 21, 2009, when Martin Brodeur garnered his 104th.
Were those quantities of wins and shutouts helped by Sawchuk's long-unsurpassed number of NHL appearances? Certainly to some extent, but the first five seasons of his career offer plenty to supplement those numbers.
From 1950 to 1955, Sawchuk consistently led the league in wins, twice retained an NHL-best 1.90 GAA, led the league in shutouts three times and broke double digits in the shutout column four times.
Furthermore, he bolstered the Red Wings to three Stanley Cups in that span and later earned himself a fourth ring with the Maple Leafs in 1967. He might not have been as sharp in his second decade of professional playing, but that run proved he still had something to offer even in his late thirties.
Hall's colleague in St. Louis for two seasons, a 40-year-old Jacques Plante turned in a mesmerizing 1968-69 campaign after being out of the game for the previous three seasons. He retained a league-best 1.98 GAA over 37 regular-season appearances and then posted an unsurpassed eight wins and three shutouts in 10 playoff games.
Two years later, while charging up a 24-11-4 record as a Toronto Maple Leaf, Plante finished first yet again with a 1.88 GAA.
All of this evoked memories of his primal years with the Canadiens, when he backstopped the entire aforementioned five-year Cup dynasty from 1956 to 1960. Plante was the league's regular-season and playoff GAA leader in each of those five seasons and also posted an unsurpassed nine shutouts in 1956-57, 1957-58 and 1958-59.
Later, on the heels of a 70-game run that saw him lead the league with 42 wins and post as many ties as losses with 14 apiece, Plante became the fourth goaltender to ever earn the Hart Trophy.
Not unlike Hall, Plante was a stylistic innovator. As one biography from ESPN.com reads, "He intercepted opponents before they could shoot, reduced the angles on shots, swirled back and forth behind the net and threw long breakout passes to quicken Montreal's transition game."
That combination of energy and durability was all the more impressive given that Plante constantly battled asthma.
The New Jersey Devils had three indispensable constants during a period that saw them rise to revered status with three Stanley Cups in 1995, 2000 and 2003. They were general manager Lou Lamoriello, captain Scott Stevens and goaltender Martin Brodeur.
While Brodeur has not been nearly as dazzling or durable in this decade as he was in the 1990s and the 2000s, he closed out the latter in style. The 2009-10 season saw him lead the league in wins (45), shutouts (nine) and minutes (4,499) en route to his fifth and likely final William Jennings Trophy.
By then, he had also secured his spot at the top of the all-time wins and shutouts list.
More importantly, beforehand, he had twice led the league in wins four years running (1997-2001 and 2002-07) and backstopped four runs to the Stanley Cup Final. He added a fifth in 2012, shortly after turning 40, in what will likely go down as his last moment of glory.
In addition to his sheer goaltending prowess, Brodeur also made headlines with his enviable puck-handling qualities. If an assertive offense makes a good defense, then Brodeur is one of the best all-around "third blueliners" of all time with two goals and 42 assists on his regular-season transcript plus a 1-12-13 scoring log in the playoffs.
That unique skill supposedly brought on the infamous trapezoid behind the net and the informally dubbed "Brodeur Rule" that came with it in 2005.
The fact that Patrick Roy, a contemporary of Brodeur's for a full decade, held many of the records that Brodeur eventually claimed speaks to the similarities of their resumes.
When it comes to protecting the puck and converting defense to offense on his own, Roy has one more career regular-season point than Brodeur with 45 helpers in 191 fewer career games.
As for pure crease patrolling, Brodeur won his most recent of five Jennings Trophies at the age of 37. Roy won his last of five Jennings Trophies, which tie him for the most all time, at the age of 36.
Roy was a little less durable and dominant than Brodeur in the regular season, never playing more than 68 games and "only" leading the league in save percentage four times and shutouts three times. But his playoff resume helps to balance the scales.
That resume, in short, consists of four Cup titles in five Cup final appearances, an unsurpassed three Conn Smythes and an unsurpassed 151 playoff wins. His career playoff record of 151-94 translates to a winning percentage of .611, which eclipses the .551 success rate of Brodeur.
In addition, there are some ice chips of irony in the fact that Roy's last two career games were playoff losses in the first round to Minnesota in 2003.
He went 38-15 overall in playoff overtime games, including a 29-14 romp even if you delete his 1993 Cup and Conn Smythe victory. That was one of his nine playoff runs to last at least three rounds while another four went to the second round.
While Brodeur and Roy top many statistical charts and combine for an otherworldly host of postseason success, Dominik Hasek would probably have a similar transcript if he just had better teams playing in front of him.
His switch from the Buffalo Sabres to the Detroit Red Wings in 2001-02 and the results that brought to his resume is one solid indicator of that notion.
During the 1990s, Hasek had compiled five Vezina Trophies in six years, along with back-to-back Hart Trophies as league MVP, an unprecedented achievement for a netminder. He had won an Olympic gold medal in 1998 and subsequently helped the Sabres to the third round of the playoffs and then the Stanley Cup Final in 1999.
Immediately after adding a sixth Vezina to his trophy case, Hasek transferred to a team that was better equipped to reward his efforts with team hardware. The dividends were immediate, as he led the NHL in regular-season wins for the first time in his career with 41 and then won the Cup with six shutouts as part of the requisite 16 victories.
Two of those shutouts came in back-to-back must-win situations against the reigning champs from Colorado. In Games 6 and 7 of the Western Conference Final, a 37-year-old Hasek outclassed a 36-year-old Roy as the Wings took the two contests by an aggregate score of 10-0.
Later, after year-long hiatuses in 2002-03 and 2004-05, Hasek retained a .925 save percentage and 2.09 GAA with Ottawa in 2005-06 at the age of 41.