Eintracht Frankfurt vs. Bayern Munich: 6 Things We Learned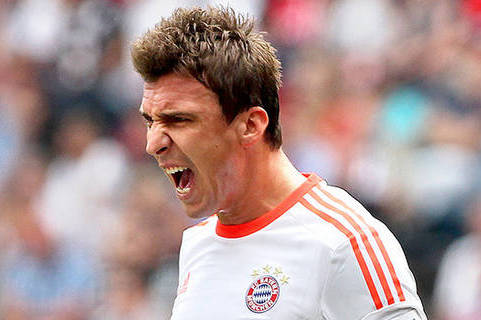 Image courtesy of Foxsport.com
This weekend, Bayern continued their 100 percent record in the Bundesliga under new coach Pep Guardiola with a comfortable 1-0 win over last season's dark horses, Eintracht Frankfurt.
Although the Eagles reached great heights last term, Armin Veh's side have had a rough start to the new season. They suffered an opening day massacre at the hands of Hertha Berlin as the capital side marched on to a 6-1 trouncing of the Frankfurt side.
Yet the hosts did give a better account of themselves.
Within Bayern's second win of the season, they'll likely take some encouragement from ensuring a similar scoreline didn't haunt them for the season week in a row.
Take a look at everything we picked up from Saturday's fixture.
All stats are courtesy of Whoscored.com
Begin Slideshow

»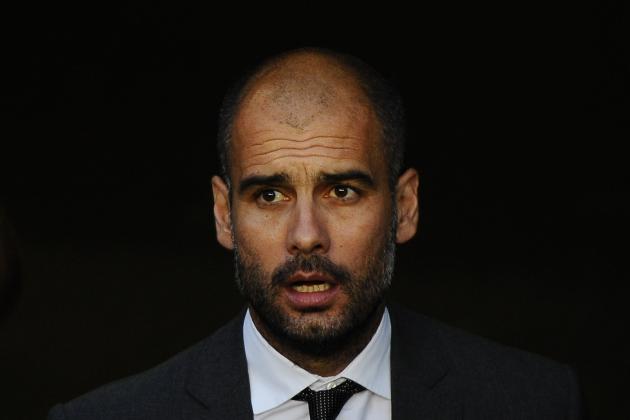 David Ramos/Getty Images

Despite alternating between the 4-1-4-1 formation and the 4-5-1 formation during the past couple of weeks, Pep Guardiola chose to tackle the problem of Eintracht Frankfurt with his preferred tactic.
Such a system meant that Bastian Schweinsteiger was given the role of designated defensive midfielder and chief playmaker, whilst Javi Martinez didn't feature in the side at all.
In front of Schweinsteiger, Guardiola decided to opt for Xherdan Shaqiri and Toni Kroos, with Thomas Muller and Franck Ribery on either wing, accompanying Mario Mandzukic up front.
Image courtesy of Eurosport
Although Frankfurt were far from the worst side that could have challenged Bayern on the day, the Bavarian champions were quite notable in their determination to play the ball around in a certain manner.
The Bundesliga holders were no strangers to high possession stats last season, but Saturday's game hit a new high. It turned out that Pep's side had accounted for no less than 70 percent of the total possession throughout the game.
Another stat that stood out was the manner in which they chose to pass the ball.
Last week when Bayern kicked off the new season at home to Gladbach, their retention of the ball was very impressive. The amount of short passes that worked their way through the team stood at 77 percent. In Saturday's game, Guardiola's side reached a new level with a dependency on short passes which reached an astounding 85 percent.
A notable emphasis on possession and short passes. I wonder which team that reminds us of?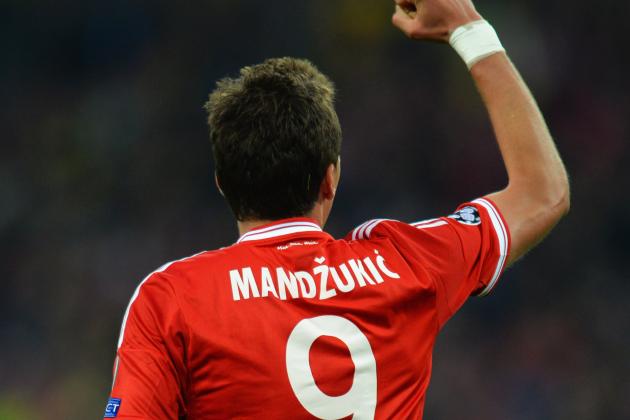 Shaun Botterill/Getty Images

With the return of Mario Gotze from injury last week, Munich was alight with rumours speculating just which player Pep Guardiola would chose to play up front for the weekend's game.
With the arrival of both Mario Gotze and Pep Guardiola this summer, the media have gone simply mad in their constant harassing of the new coach, trying to find out where the darling of German football will fit in to this superteam.
One person who obviously isn't waiting around to find out is Mario Mandzukic. His solitary goal proved to be enough to part Frankfurt from a share of the spoils. The striker now takes his tally to two goals in two for the new season.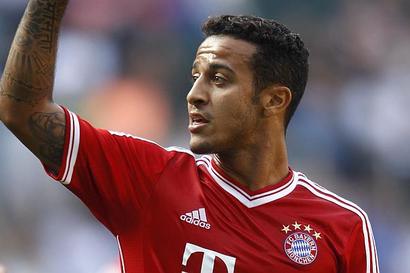 Image courtesy of BBC
Despite rumours to the contrary surrounding last weekend's game against Gladbach, Thiago Alcantara returned to the side after missing a week's worth of action with a genuine injury, rather than a petty fallout with new coach Pep Guardiola.
As expected, the young starlet flourished upon replacing Xherdan Shaqiri on the 65th minute and began dictating play from the offset.
In fact, despite making around a quarter as many passes as Bastian Schweinsteiger throughout the game, Thiago actually had a better passing ratio than the German midifielder, with a tally of 96 percent to Schweinsteiger's 95 percent. The youngster also outshined Toni Kroos(91 percent) in the same department, as well as fellow substitutes Arjen Robben(88 percent) and Rafinha(80 percent).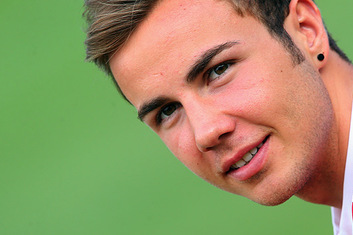 Image courtesy of Bundesliga.com
This is a problem most managers could only dream of having.
Yet unfortunately for the Catalonian coach, the Bundesliga limits him to three substitutions per game. As such, Bayern fans were faced to wait at least another week to see Mario Gotze make his Bundesliga debut in the dark Bavarian red of Bayern Munich.
Of course, all joking aside, this situation could well be a genuine point of concern for the new coach as he does his best to juggle his squad of stars and distribute equal amounts of playing time before anger and resentment seep in.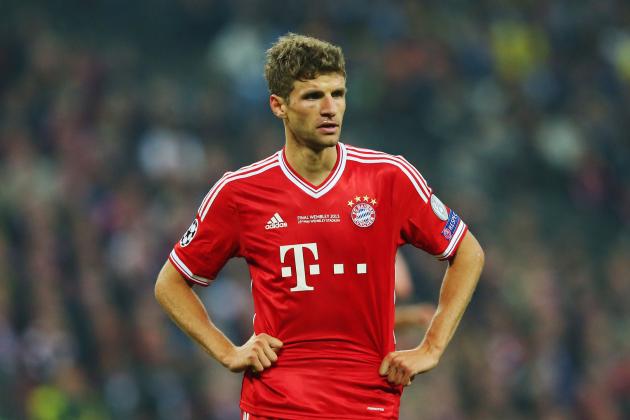 Alex Livesey/Getty Images

A minor point that has come up in Bayern's first two games in the Bundesliga is the amount of goals that the side are scoring at the moment—or rather, the lack thereof.
Last season, Jupp Heynckes truly had the Bavarian machine pumping on all cylinders. The club marched to a new title scoring just under three goals per game.
Yet the more important note here is not how many goals the side are scoring, but rather how many more they are scoring than the opposition.
Bayern finished last season with a comfortable lead over Dortmund, yet the real giveaway to the gulf between the two sides was just how much stronger their goal difference(plus-70) was compared to that of Jurgen Klopp's side (plus-39).