Real Madrid vs. Real Betis: 6 Things We Learned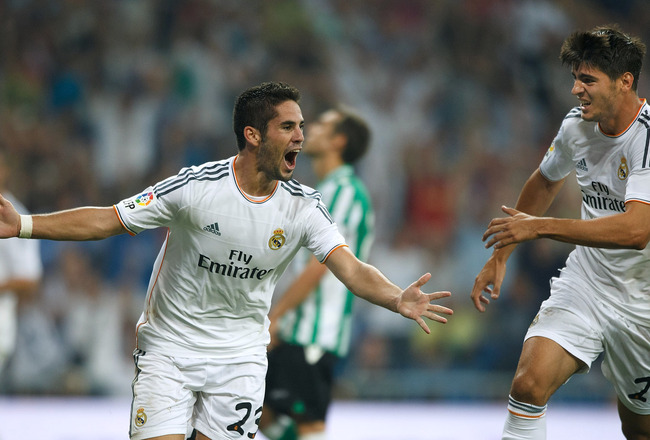 Real Madrid defeated Real Betis 2-1.
Gonzalo Arroyo Moreno/Getty Images
Isco saved Real Madrid from a draw in La Liga opener. The recently-signed attacking midfielder proved himself at the Santiago Bernabeu.
Cristiano Ronaldo could not score in his 200th game with "Los Blancos" despite having a handful of opportunities to take some pressure off his team.
Real Betis was a worthy rival and it actually seemed like Pepe Mel's boys were going to take a point from "Los Merengues".
Let's take a look to six things we learned from this game.
Carlo Ancelotti Sent a Mesage to the Media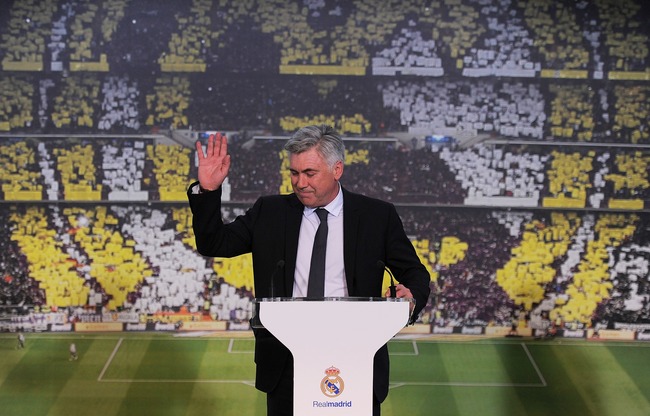 Carlo Ancelotti has won the Premier League, Serie A and Ligue 1.
Denis Doyle/Getty Images
Carlo Ancelotti sent a message by leaving Iker Casillas and Fabio Coentrao on the bench. Media or fans will not pressure the Italian, at least for now.
Of these decisions, the one that may be criticized is Coentrao's dismissal. Real Madrid's backbone was a mess.
Real Betis Cedrick created so much danger through the left sideline that Madrid looked really bad.
Cedrick Mabwati Was Refreshing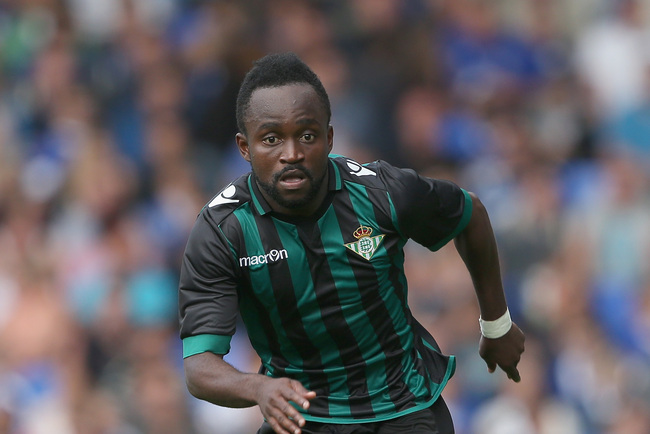 Cedric Mabwati comes from Segunda Division team Numancia.
Clive Brunskill/Getty Images
The Congolese footballer came to Real Betis in a €1.20 transfer from Segunda Division club Numancia.
In his debut, Cedrick Mabwati had an assist and the chance to score. Furthermore, he proved that his speed, creativity and fine touch will be key factors in Real Betis success this season.
Daniel Carvajal Struggled a Lot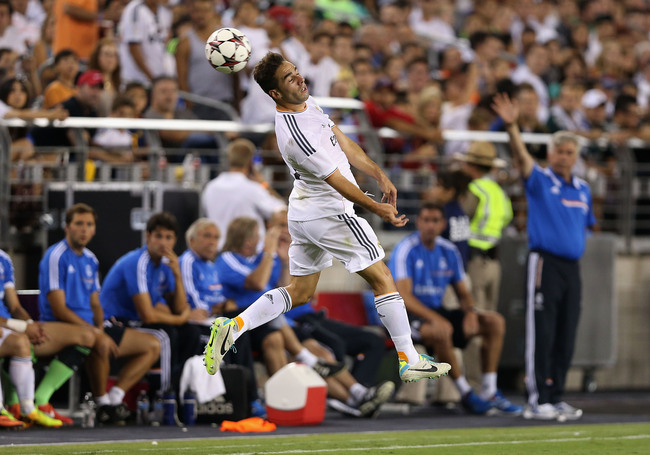 Daniel Carvajal's debut in La Liga was far from impressive.
Christian Petersen/Getty Images
Daniel Carvajal received the boss's confidence to start La Liga opener and did not perform as expected.
Newcomer Cedrick Mabwati exposed the 21-year-old Spanish defender. Carvajal has to work in his speed but also needs to get used to La Liga.
With Bayer Leverkusen, Dani was considered one of the best right-backs of Bundesliga.
Isco Has a Bright Future with Real Madrid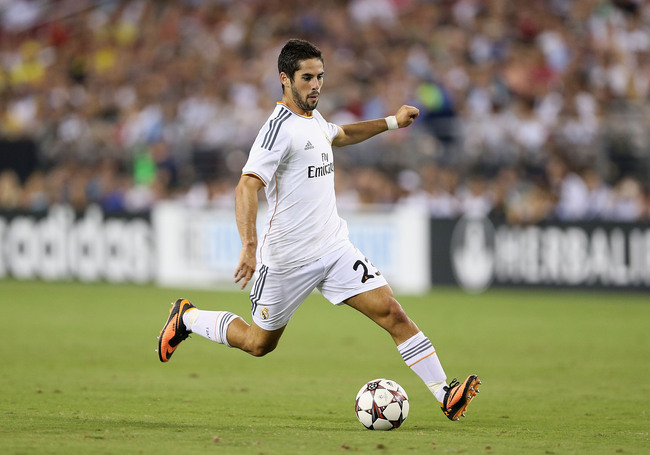 Isco scored and assisted in his first La Liga match with Real Madrid.
Christian Petersen/Getty Images
At age 21, Isco has proved to be ready to become an undisputed starter with Real Madrid.
The former Malaga footballer assisted Karim Benzema in the first goal and gave his team the winner with less than five minutes on the clock.
The future for this kid will be bright. It is true that he was not spectacular, but he showed that he knows how to move inside and outside the box plus he does not forgive when he has a clear opportunity.
This is especially important because Cristiano Ronaldo was not as sharp as expected.
Jorge Molina Has to Work Harder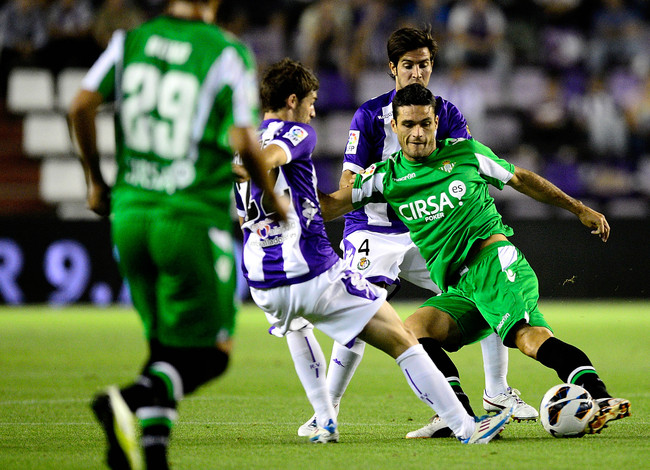 Jorge Molina has worn the Betis jersey 93 times.
Gonzalo Arroyo Moreno/Getty Images
The Spanish striker scored early in the match and grabbed the lead for Real Betis. However, Jorge Molina was not very sharp.
Ruben Castro, Betis top scorer last season, was not on the pitch due to a hamstring injury, so Pepe Mel put Molina as his first man.
Despite his efforts, Jorge could not finish at least two clear opportunities, and during the second half his physical condition was questionable.
Real Madrid's Defense Needs to Be Tighter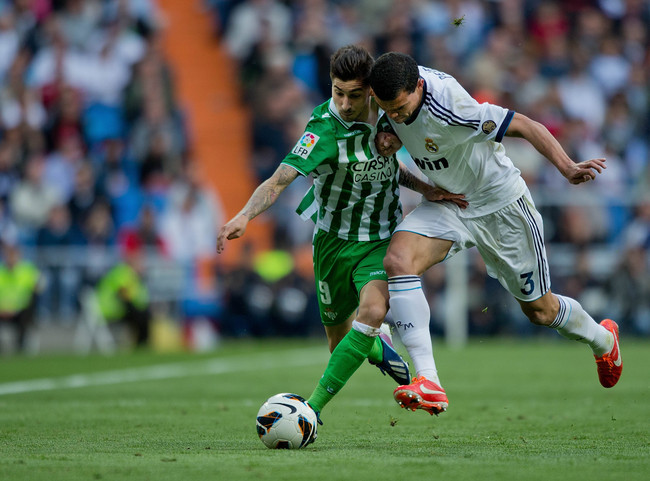 Pepe is playing his seventh season with Real Madrid.
Gonzalo Arroyo Moreno/Getty Images
Sergio Ramos and Pepe struggled in the back. Jorge Molina and Cedrick Mabwati gave them a hard time. It did not help that Daniel Carvajal was not at his best either.
It is true that this is just the opening match, but Ramos and Pepe did not partnered as they usually do. Pepe also seemed distracted and did not have good communication with Diego Lopez.
Carlo Ancelotti might want to bring Fabio Coentrao back and work harder with Ramos and Pepe.
Keep Reading

Real Madrid: Like this team?