Premier League Weekend in 20 Pictures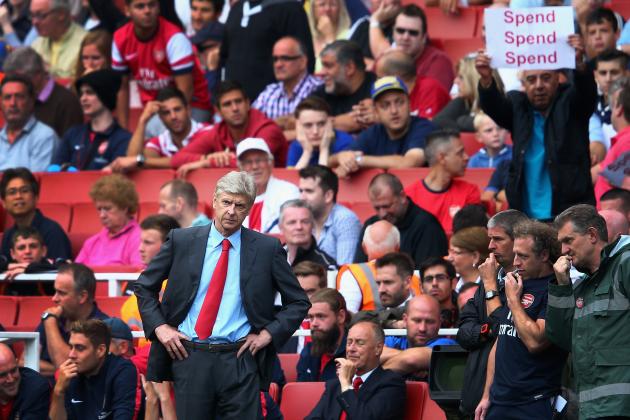 Clive Mason/Getty Images

Everything feels better now the Premier League is back, right?
Well, unless you're Arsene Wenger. The new season is just one weekend old, but already, a number of telling photos underline the story so far. We've seen emphatic wins, disappointing losses and enough quality goals to satisfy the summer lull.
Let's recap the first round of Premier League fixtures in visual form.
Begin Slideshow

»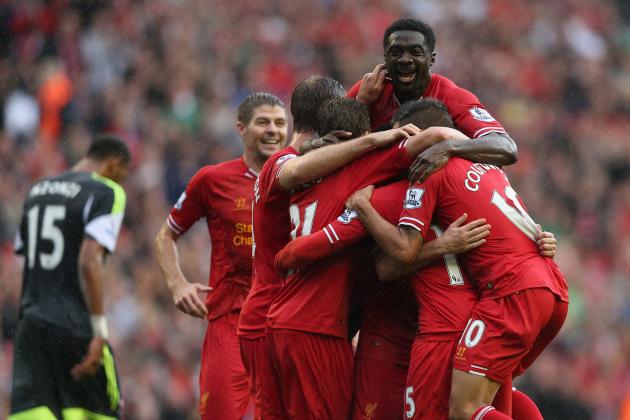 Clive Brunskill/Getty Images

It took 37 minutes for the first goal of the 2013-14 season to emerge.
Daniel Sturridge has enjoyed an excellent start to his Liverpool career and, in the absence of Luis Suarez, fired his side to a 1-0 victory over Stoke City with a brilliant finish from outside the area. Sturridge's teammates swarmed to congratulate him, as Kolo Toure's screaming face summarises.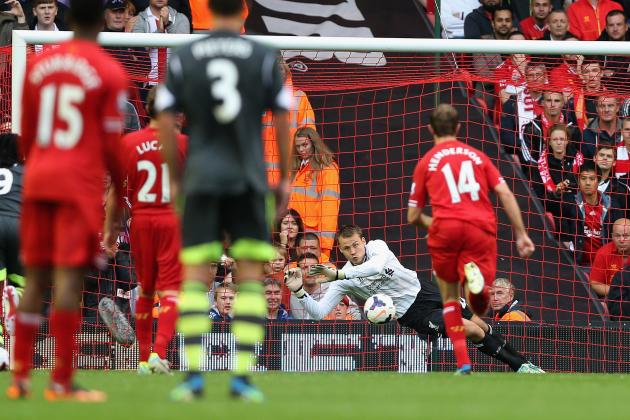 Clive Brunskill/Getty Images

Despite flapping at a few crosses and generally looking shaky throughout his Anfield debut, Simon Mignolet became an instant hero with a fine save from Jonathan Walters' last-minute penalty.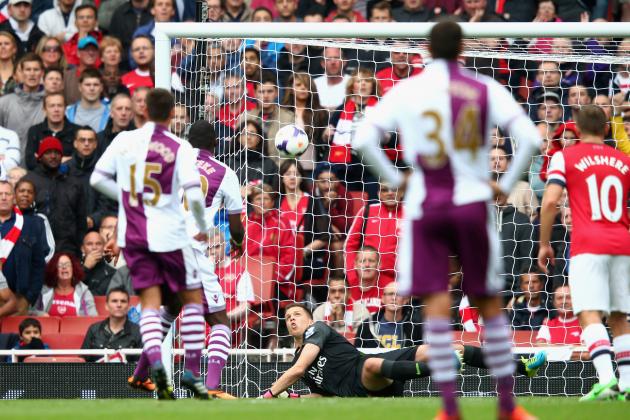 Clive Mason/Getty Images

Speaking of penalties, Christian Benteke was fortunate to see his saved effort float towards his head for an easy rebound in Aston Villa's 3-1 win against Arsenal.
The Belgian forward's slick of luck summed up a game that would have Paul Lambert pinching himself. A couple of dodgy penalty calls, alongside a Laurent Koscielny red card, saw the Midlands side secure a stunning first day win, with Benteke netting twice.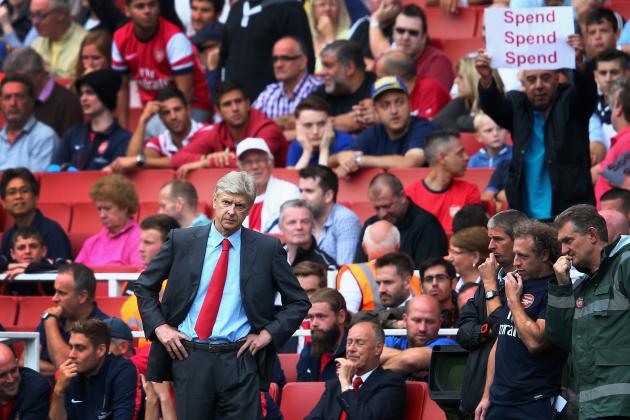 Clive Mason/Getty Images

Cutting a forlorn figure in the Gunners dugout, Arsene Wenger should perhaps turn around and check the message from a frustrated fan.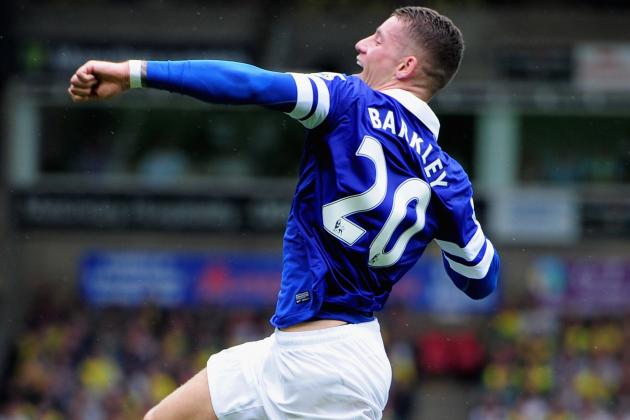 Jamie McDonald/Getty Images

Ross Barkley has threatened to highlight his talent for quite some time. Everton fans were finally treated to a summary of his potential with the 19-year-old's stunning display in the 2-2 draw with Norwich City.
The youngster not only powered home a terrific 25-yard shot, but he also successfully completed 96.2 percent of his passes, as recorded by Whoscored.com.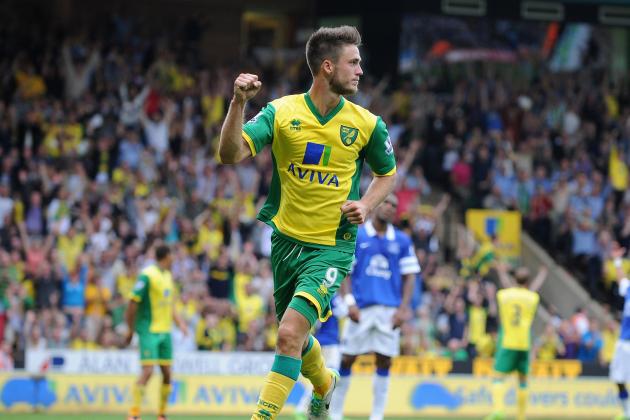 Tony Marshall/Getty Images

Not wanting to be outdone on his Premier League debut, Ricky van Wolfswinkel scored a late equaliser to ensure the Carrow Road side went home with a decent draw against the Toffees.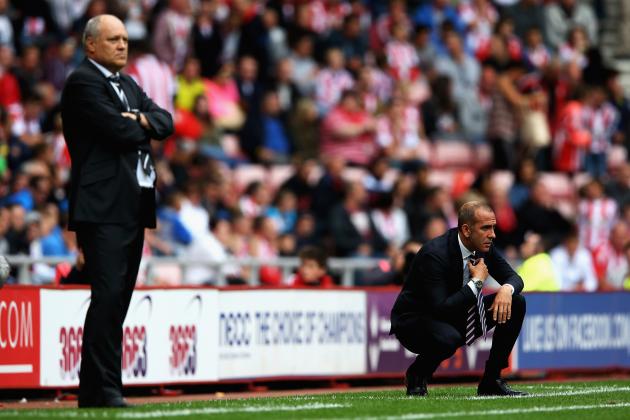 Matthew Lewis/Getty Images

Is Paolo Di Canio readying himself to go on as a substitute?
The Italian loosened his tie during a difficult moment for his Sunderland side. Although Di Canio's new-look team played well, the Black Cats suffered a 1-0 home defeat against Fulham.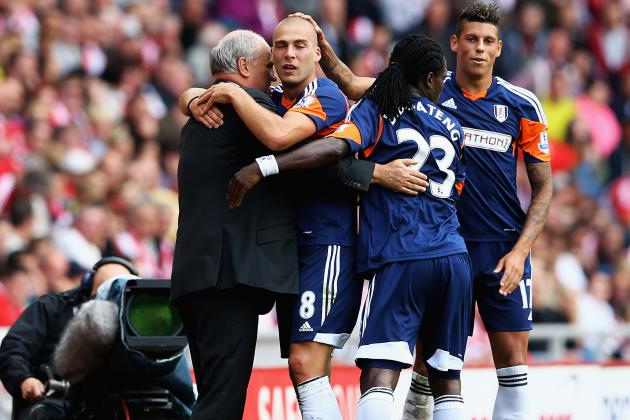 Matthew Lewis/Getty Images

The 21-year-old Pajtim Kasami was a surprise inclusion in Martin Jol's Fulham lineup. With 52 minutes on the clock, he repaid his manager's faith with his first goal for the club.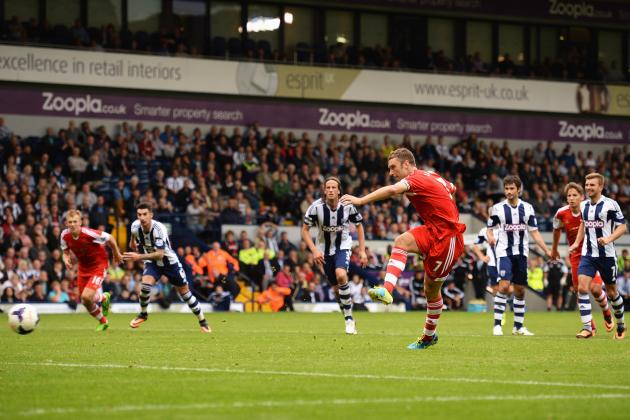 Michael Regan/Getty Images

Rickie Lambert has had one hell of a week.
Not content with coming off the bench to score the winning goal against Scotland on his England debut, the Southampton hero lashed home a last-minute penalty to nab a 1-0 win at the Hawthorns.
The only bad point? This goal wasn't with his first touch.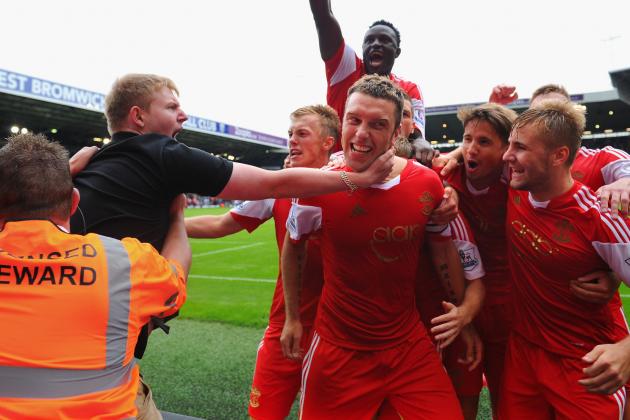 Michael Regan/Getty Images

Clearly excited from the commotion, a Southampton fan risks the wrath of the stewards to celebrate with his idols.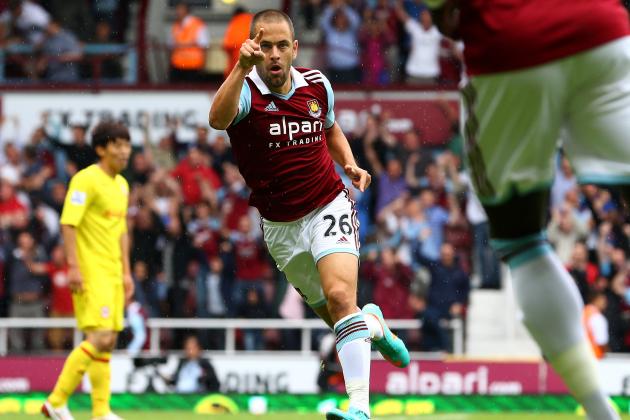 Jan Kruger/Getty Images

Although Joe Cole is only 31 years old, it feels like an age since he performed match-winning duties in the Premier League.
His goal saw West Ham United overcome Cardiff City 2-0 at the Boleyn Ground, sending the locals into passionate celebration.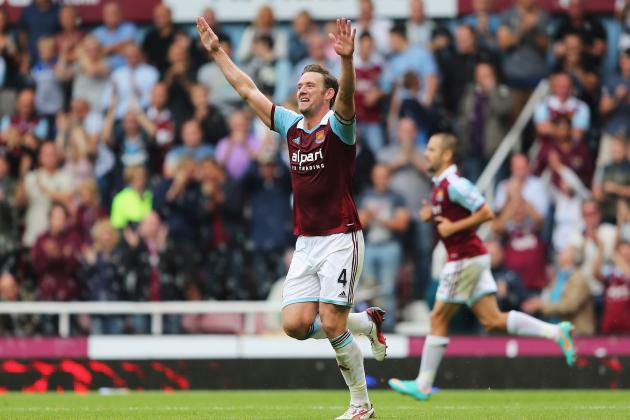 Warren Little/Getty Images

A more regular sight for Hammers fans is that of Kevin Nolan celebrating a goal. The captain scored West Ham's second and confirmed victory with a salute to the crowd.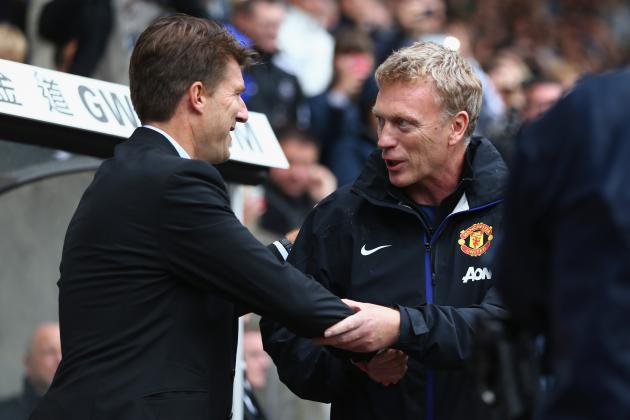 Michael Steele/Getty Images

David Moyes heads to the bench for his first Premier League match as Manchester United manager. Swansea City boss Michael Laudrup greeted the Scot and saw his team beaten 4-1 by the Red Devils.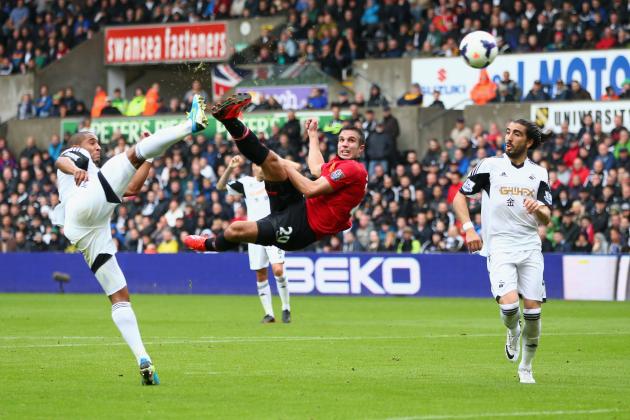 Michael Steele/Getty Images

New manager, same result.
Robin van Persie scored two goals during his side's Community Shield win over Wigan Athletic and added another brace against the Swans. His acrobatic effort opened the scoring for a dogged United team that showed cutting edge to overcome the exciting Welsh outfit.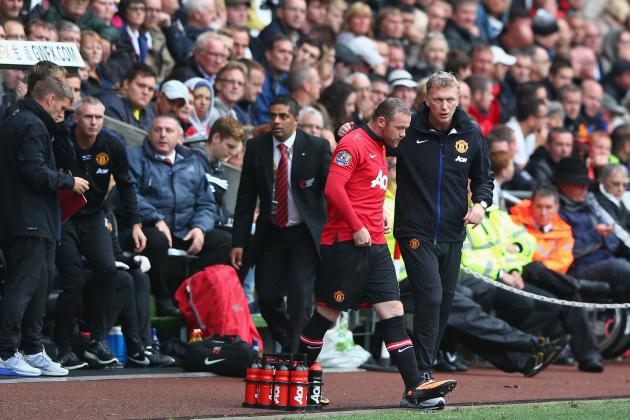 Michael Steele/Getty Images

Should Wayne stay or should he go?
Whatever your opinion of Mr Rooney, he came off the bench to excellent effect for Moyes' men. The English forward looked noticeably trim as he headed onto the pitch and did well to produce assists for Robin van Persie and Danny Welbeck.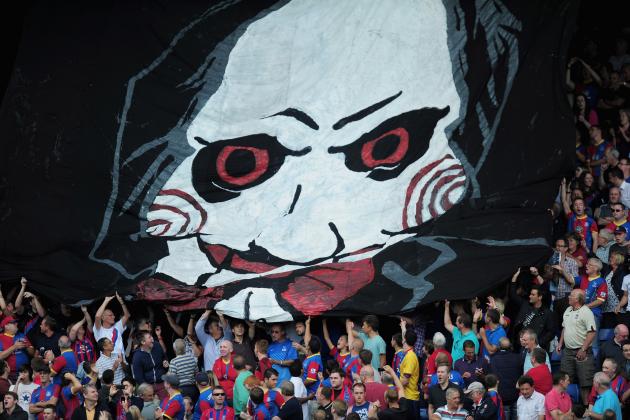 Jamie McDonald/Getty Images

Crystal Palace fans may need a sense of humour this season, so it's good to see the London club enter their Premier League reappearance with an interesting parody of the Saw films.
Billy the Puppet is so intimidating he has managed to scare Gareth Bale into an irritating silence, as reported by Mike Giles of the Express.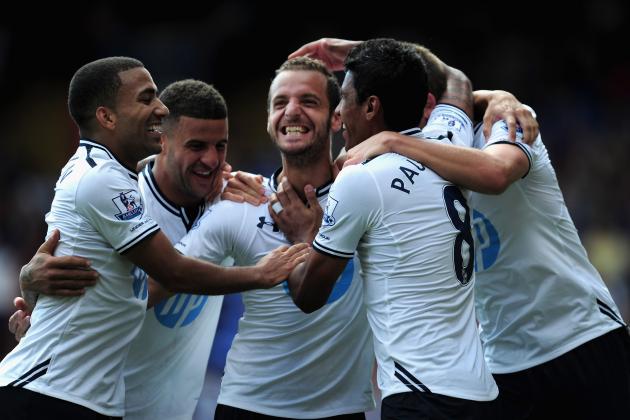 Jamie McDonald/Getty Images

Even without Bale, Spurs looked more than equipped to challenge for a Champions League place.
Although Andre Villas-Boas' men need to quickly find their shooting boots, Roberto Soldado's successful penalty in the 1-0 win against Crystal Palace underlines a squad that possesses real depth.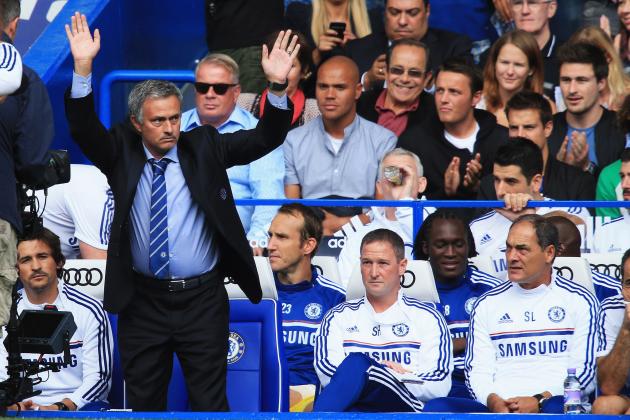 Richard Heathcote/Getty Images

Stern-faced and slightly emotional, Jose Mourinho's return to Stamford Bridge was a professional one.
Not wanting to let the occasion become overruled by his presence, the Portuguese manager showed a business-like lethality during his side's 2-0 win against Hull City.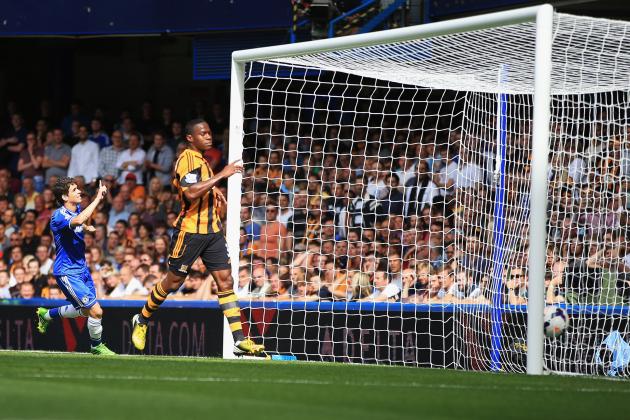 Richard Heathcote/Getty Images

A photo of contrasts.
After scoring Chelsea's opener, Oscar's joyous celebration is met by Maynor Figueroa's knowing disapproval as he collects the ball from Hull City's net.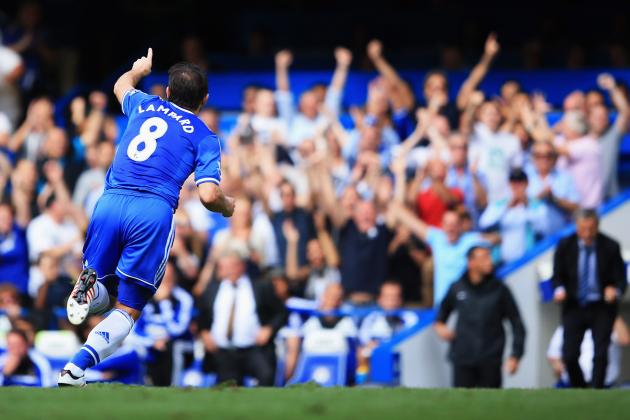 Richard Heathcote/Getty Images

Frank Lampard may have seen his penalty saved by Allan McGregor, but it didn't take long for the ever-present Englishman to net his first goal of the season.
A thunderous free-kick dipped towards McGregor, who could do nothing but palm it straight into the net. Did Lampard mind? Not one bit.