Until Sunday, the preseason had been largely disappointing for Juventus. After Sunday, the Bianconeri had yet another trophy for their ever-expanding collection.
Two-time defending Serie A champions Juventus rode a second-half surge to a 4-0 victory over Lazio in the Supercoppa Italiana on Sunday at Rome's Stadio Olimpico, setting the early tone for another challenge for honors both domestic and abroad. The victory clinched Juventus' second straight Supercoppa title.
Paul Pogba, Giorgio Chiellini, Stephan Lichtsteiner and new signing Carlos Tevez scored for Juventus, who led just 1-0 at halftime. Lichtsteiner added two assists in a strong performance.
Following a tightly contested first half, Juve tore Lazio apart with three goals in a thrilling four-minute stretch shortly after the break.
Not sure how everyone likes their eagle served but today it's well done.

— Juventino (@juventus_fc_fan) August 18, 2013
This year the Italian Super Cup returned to Rome's Stadio Olimpico for the first time since 2001. In 2012, Juventus defeated Napoli 4-2 after extra time in Beijing, which also hosted in 2011 and 2009.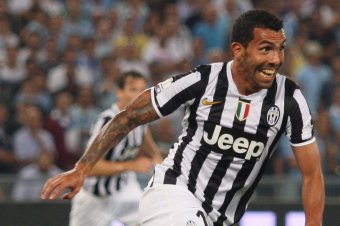 Paolo Bruno/Getty Images
Bianconeri boss Antonio Conte handed a starting berth to Tevez, who was partnered in the attack by Mirko Vucinic. Two more recent additions, striker Fernando Llorente and defender Angelo Ogbonna, took places on the bench. Meanwhile, Lucas Biglia started for Lazio after signing from Anderlecht over the summer.
Pogba opened the scoring in the 23rd minute, moments after entering the match as a substitute for the injured Claudio Marchisio. Andrea Pirlo played a free kick quickly to the right, where Stephan Lichtsteiner collected and crossed into the middle. The ball deflected to Pogba, who turned and powered the ball into the net.
If Pogba forces his way into this Juve XI, you know the kid is going to be world class. Incredible talent.

— Jack Rathborn (@jackrathborn) August 18, 2013
2' 35" - Paul #Pogba has scored 2 minutes 35 seconds after coming in as a substitute. Well-timed. #JuveLazio #Supercup

— OptaPaolo (@OptaPaolo) August 18, 2013
Lazio's Stefan Radu tried his luck from long range in the 34th minute, but his sweetly hit shot was pushed away by Juventus goalkeeper Gianluigi Buffon.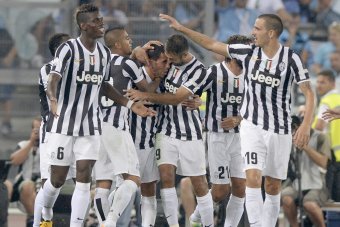 Claudio Villa/Getty Images
The match changed rapidly in the early minutes of the second half. Juventus moved forward in numbers in the 52nd minute, with Arturo Vidal passing to Lichtsteiner on the right. Lichsteiner cut inside and passed to Chiellini, who had surged forward from his spot in the defense to tap in for a 2-0 lead.
Two minutes later, it was 3-0.
This time, Lichsteiner was the scorer after playing a one-two passing combination with Vucinic. The Swiss international then finished past Federico Marchetti with the outside of his foot.
Lichtsteiner, unquestionably Man of the Match, already settled by 60th minute. Goal, 2 assists, shot led to 4th goal. A train on the flank.

— Aaron Giambattista (@agiamba) August 18, 2013
Two more minutes later, it was 4-0.
In the 56th minute, Juventus had two shots blocked, only for Tevez to poke home for his first strike in Juventus colors.
"In the Press conference yesterday I said I was relaxed because I know my players and above all what they are like as men," Conte told Rai Sport (via Football Italia) after the match. "I knew we'd face this one-off match in the right way. It is one game; there is no tomorrow and you have to do it today. We continue to write history, these players put in a great performance and it was a deserved victory."
In his post-match remarks, Conte also addressed his side's performance in the International Champions Cup, which saw Juventus lose three matches—two on penalties.
"Don't forget we only actually lost one match in 90 minutes, against LA Galaxy," he said. "We know that we still have to shake off the heavy pre-season training work, but we deserved the win and I'm very happy."
Lazio threatened late in the second half but could not score. Miroslav Klose rounded Leonardo Bonucci to set himself up for a one-on-one chance with Buffon, but Buffon saved the German's effort.
In the closing minutes, @FootballItalia reported racist booing from portions of the Lazio supporters.
Some racist booing heard from the stands aimed at Juve players in these final minutes. Warning to be read over loudspeaker.

— footballitalia (@footballitalia) August 18, 2013
With the victory, Juventus move onto six Supercoppa titles, tied for most all-time with AC Milan.
The Serie A season begins next weekend. Juve visit Sampdoria on Saturday, and Lazio host Udinese on Sunday.