The Top 10 Greatest Cricket Sledges of All-Time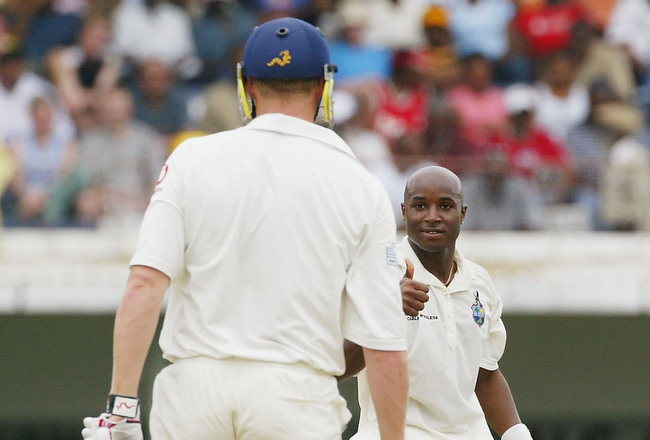 Tom Shaw/Getty Images
Who are the best sledgers in the cricketing world and who are the meek victims walking back to the pavilion having been talked into getting out?
Espncricinfo's glossary describes the aforementioned act as:
[T]he act of verbally abusing or unsettling a batsman, in an attempt to make him lose concentration and give his wicket away. Often offensive, occasionally amusing, always a topic of conversation.

As per the definition, sledging can take different forms.
It can be humourous, aggressive, clever, stupid or sometimes just plain bizarre. Some players partake frequently, using it to pump themselves up or maintain concentration. Others stay as quiet as a mouse and remain in the zone.

Although the majority of sledges stay on the pitch, a few have left the field of play and gone on to become part of the folklore of the game.
Here are the top ten greatest sledges of all-time.
Sir Viv Richards vs. Greg Thomas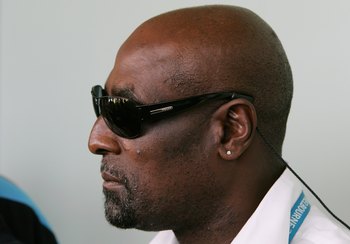 Robert Cianflone/Getty Images
During his spell for Somerset in County Cricket, Sir Viv Richards produced a legendary retort.
After playing and missing at successive deliveries, Glamorgan paceman Greg Thomas made the brave decision to give Viv some verbals as to the appearance of the ball.
"It's red, round and weighs about five ounces, in case you were wondering."
Of course, the next ball was launched out of the ground by the West Indian legend accompanied with the following words:
"Greg, you know what it looks like. Now go and find it."
Adam Gilchrist vs. Mohammad Kaif
During the fourth Test of Australia's tour of India in 2004, and with the game in the balance, Adam Gilchrist was convinced that Mohammad Kaif had gloved one behind.
Given "not out" by umpire Rudi Koertzen, the Aussie wicket-keeper and a legendary walker himself, could hardly contain his indignation and told the Indian batsman what he thought.
After the next ball, Gilchrist, always a class act, can clearly be letting Kaif know the gravity of the situation in an extremely Australian way:
"The whole world is watching Champ."
Andrew Flintoff vs. Tino Best
England legend Freddie Flintoff has been involved in numerous incidents of sledging and on-field communication.
But perhaps his greatest moment in this regard came in a Test Match against the West Indies at Lord's in 2004.
Playing on Tino Best's charismatic ego, the Lancastrian all-rounder issued the fast bowler a tongue-in-cheek warning about the dangers of big-hitting in such an antiquated ground:
"Mind those windows, Tino."
Cue next ball, Best skips down the wicket, misses a wild swipe at the ball and is comprehensively stumped.
Flintoff—1, Best—0.
Denis Lillee vs. Batsmen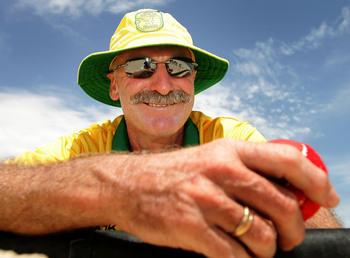 Paul Kane/Getty Images
This one is as simple as they come from Aussie fast bowling legend Dennis Lillee.
As mentioned by Talksport.com, the Western Australian had a stock line that he used against most batsman throughout his career.
"I can see why you are batting so badly, you've got some s**t on the end of your bat."
At this point the batsman would usually flip his bat over and examine the end, to which Lillee would respond, "Wrong end mate."
Robin Smith vs. Merv Hughes
Merv Hughes and Robin Smith were combatants tailor-made for each other and duly enjoyed a series of cricketing duels.
The mustached madness of Hughes, charging in to bowl like an out-of-control freight train, bullying and threatening opposition batsman.
The mustached cool of Smith, staring down fast bowlers with his iconic grill-less helmet, savaging anything short of a length with great power.
As reported in the Independent, during one memorable encounter, the English batsman had played and missed at a ball to which Hughes had retorted:
"You can't f***ing bat".
Smith didn't respond but despatched the next ball to the boundary and offered the choice riposte:
"Hey Merv, we make a fine pair. I can't f***ing bat and you can't f***ing bowl".
Daryll Cullinan vs. Shane Warne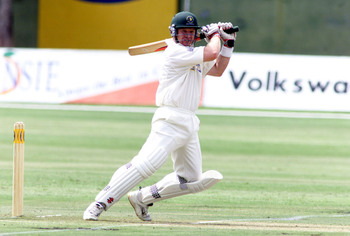 Getty Images/Getty Images
South African batsman Daryll Cullinan averaged more than 44 at the end of his Test career but that number dropped to 12.75 when Australia were the opponents.
The main reason was the presence of the legendary leg-spinner Shane Warne, who dismissed him on four occasions in seven matches.
The Aussie may have had the last laugh but he didn't have it all his own way.
As featured on Foxsports.com, after returning to the side from a prolonged absence due to injury, Cullinan arrived at the wicket to be met by a drooling Warne who told him:
"I've been waiting two years for the opportunity to humiliate you in front of your own crowd".
However, quick as a flash the South African replied:
"Looks like you spent it eating".
It's good to know basic schoolyard bullying is alive and well in South Africa.
Fred Trueman vs. the World
Dyed-in-the-wool Yorkshireman Fred Trueman, took an astonishing 2304 first-class wickets and probably delivered twice as many sledges.
When playing for England during a tour down Under, an Australian batsman was walking onto the field, opened the gate and before he could shut it, Fiery Fred remarked:
"Don't bother shutting it, son, you won't be there long enough".
On another occasion his own team-mate Raman Subba Row was on the end of the Trueman show after allowing an edge to go through his legs when fielding at slip. Row's comment of, "Sorry Fred, I should've kept my legs closed," was met with a classic Truemanism of, "So should your mother."
Shane Warne vs. Everyone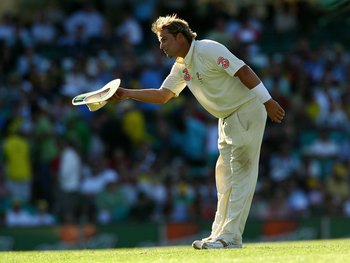 Mark Nolan/Getty Images
Whenever a list of cricketers is compiled, whether it's a collection of geniuses and bad boy's, the adored and the detested or the great and the controversial, Shane Warne's name always seems to be on it.
And things are no different when it comes to sledging.
Two famous incidents from the highly-volatile atmosphere of when England played Australia stand out.
When Paul Collingwood, who had received an MBE for his efforts in his country's 2005 Ashes success despite playing just one game, arrived at the crease in the return series, he probably knew he was in for some treatment.
According to the Daily Mail, there was no beating around the bush from Shane.
"You got an MBE, right? For scoring seven at the Oval? That's embarrassing."
And in the return Ashes, when England got crushed in Australia, Warne memorably christened Ian Bell as the Sherminator after the successful American Pie film series, inflicting another psychological blow for the Baggy Greens.
Mark Boucher vs. Tatenda Taibu
When Tatenda Taibu was trying to bat his Zimbabwe side out of trouble in a Test match against South Africa there was a little voice in the back of his mind constantly highlighting his doubts.
Only it wasn't his subconscious. It was mouthy wicket keeper Mark Boucher.
Whether sarcastically congratulating a push into the offside, or wondering aloud what the batsman's average was, the barrage was obviously a device for putting the Zimbabwean off his game.
But did it work? Taibu was caught by Boucher for 13.
Jimmy Ormond vs. Mark Waugh
John Gichigi/Getty Images
They don't make them like Jimmy Ormond anymore. The portly but consistent county performer earned a place in the England team for the final Test of the 2001 Ashes series.
Arriving at the crease for his first ever England innings, he was met by the incredulous Mark Waugh, brother of Steve Waugh, who took one look at him and said:
"Look who it is. Mate, what are you doing out here? There's no way you're good enough to play for England."
Ormond responded:
"Maybe not, but at least I'm the best player in my family."
Keep Reading