Predicting Awards Honors for the Minnesota Vikings' 2013-14 Season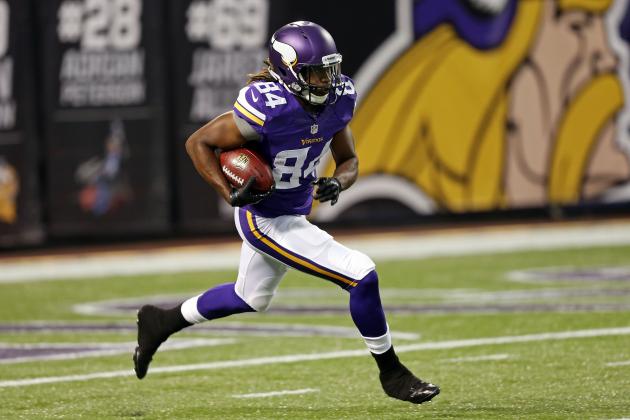 Jesse Johnson-USA TODAY Sports

The 2013 season has the potential to be an extremely exciting one for the Minnesota Vikings. After a surprising 10-6 finish and a trip to the playoffs, Vikings fans are chomping at the bit for the NFL season to get underway—especially with how the team has fared so far in the preseason.
The team returns the reigning NFL MVP, running back Adrian Peterson, who rushed for the second-most yardage total in NFL history with 2,097 yards. He also led the Vikings in total yards from scrimmage and total touchdowns scored with 13.
They can also boast the reigning Pro Bowl MVP, tight end Kyle Rudolph. Last season he led the Vikings with nine touchdown catches—second among tight ends in the NFL.
There's also plenty of excitement surrounding the three first-round draft picks the Vikings added. Expected to make significant contributions as rookies are defensive tackle Sharrif Floyd, cornerback Xavier Rhodes and wide receiver Cordarrelle Patterson.
Even before the roster has been finalized, here's a look at who will be the Vikings' top players this season.
Begin Slideshow

»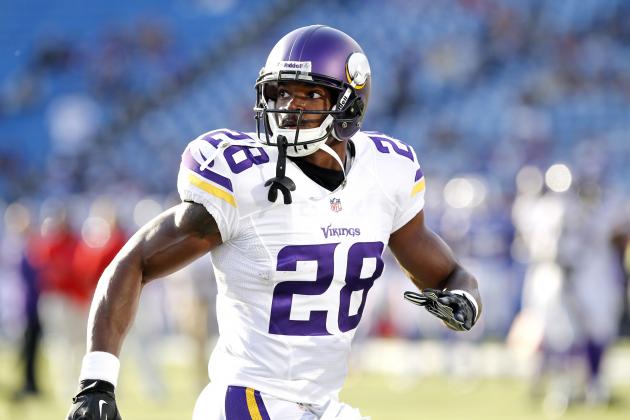 Kevin Hoffman-USA TODAY Sports

Last year Adrian Peterson was not only the best player on the Minnesota Vikings, he was the league's MVP. Down the stretch last season, he picked up the team and single-handedly carried it to the playoffs.
After Percy Harvin went down with an ankle injury in Week 9 against the Seahawks that ultimately ended his season, Peterson raised his play to a another level. Over the first eight weeks of the season he averaged 96.9 yards per game. In the final eight games without Harvin, he increased his average to 165 yards per game—a 70 percent increase.
Without his superhuman performance, the Vikings would not have won 10 games, and made the playoffs.
There's no reason to look any further on the Vikings roster for another candidate as the team's most valuable player. Already the franchise leader in rushing yards and touchdowns, averaging 1,475 yards and 13 touchdowns per season, Peterson is one of the best players ever to wear purple.
Even if he only achieves his average numbers in 2013, he will still deserve the team's MVP award.
Winner: Adrian Peterson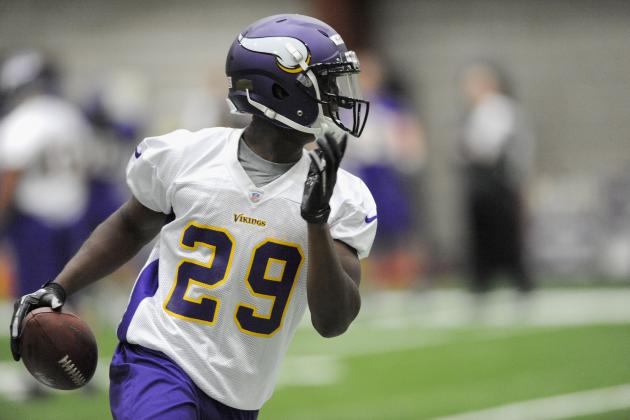 Hannah Foslien/Getty Images

There's plenty of buzz surrounding the Vikings' rookie class of 2013. Wide receiver Cordarrelle Patterson is getting the most attention as the player directly replacing Percy Harvin on the roster. It didn't hurt that the first time he touched the ball, it was good for a 50-yard kickoff return to open the preseason.
Patterson comes to the Vikings after playing only a single season of Division I-A football. He made the most of that season, leading the Tennessee Volunteers with 1,858 all-purpose yards. He also led the team in touchdowns with 10, catching five touchdown passes, rushing for three touchdowns and returning both a punt and a kickoff for a touchdown.
The Vikings' top draft pick, Sharrif Floyd is being groomed to take over for six-time Pro Bowler Kevin Williams. Currently listed third on the depth chart behind Williams and Christian Ballard, Floyd will have plenty of opportunities to show what he can do. Look for him to eventually take over as the starter this season.
There's a scenario that has Floyd utilizing his size and speed in passing situations, playing next to Everson Griffen on the inside, with Jared Allen and Brian Robison rushing from the outside. With opposing offenses focusing on the other three linemen, don't be surprised if Floyd surpasses his career-best of three sacks as a junior last season at Florida.
The one rookie that could find himself in the most difficult situation this season might be cornerback Xavier Rhodes. There's no place else on the football field where a player is more isolated than when he lines up wide in man-to-man pass coverage.
This is exactly where the Vikings hope Rhodes ends up.
The Vikings like Rhodes' size and physicality—something desperately needed against the big receivers of the NFC North, like Calvin Johnson and Brandon Marshall.
If Rhodes' does his job well it might not necessarily show up on the stat sheet. Projected to play cornerback opposite Chris Cook on the field, quarterbacks will do their best to pick on the rookie. If he can slow down opposing receivers a little bit, it will go a long way to improving the defense.
A couple other rookies to get some consideration may be one of the two Penn State linebackers. A lot will depend on how quickly Desmond Bishop is able to recover from his torn hamstring and pick up the Vikings' 4-3 scheme. Right now both rookies are listed third on the Vikings depth chart. Michael Mauti finds himself behind Erin Henderson and Audie Cole in the middle, and Gerald Hodges is behind Marvin Mitchell and Bishop on the weak side.
Winner: Xavier Rhodes. Not to take anything away from Patterson, but Rhodes will be starting in Week 1.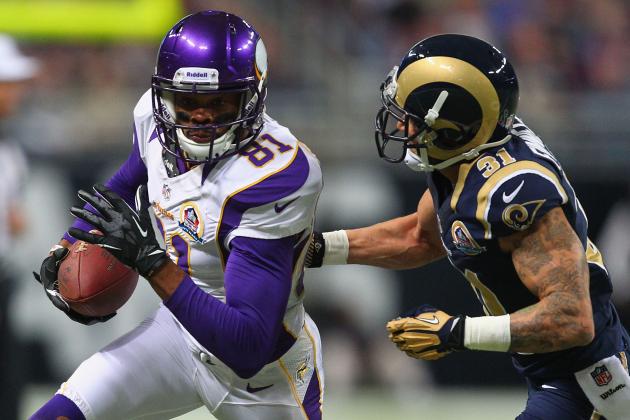 Dilip Vishwanat/Getty Images

Surprisingly there are plenty of candidates for this award—provided they all make the final 53-man roster.
Wide receiver Stephen Burton is battling with Joe Webb for the final wide receiver spot on the roster. In the unlikely event the team decides to carry six receivers, then these two could be battling for the most improved player as well.
Webb might have a bit of an advantage considering he has no receiving stats from last season. So anything he can contribute will be an improvement. Of course with only seven career receptions in two seasons with the Vikings, it won't difficult for Burton to show some improvement either.
Another player that will have a great chance to show some improvement is tight end John Carlson. Before missing all of the 2011 season with a shoulder injury, he averaged 46 receptions over three seasons with the Seahawks. Last year he caught just eight passes for 43 yards. With Kyle Rudolph coming on strong, and an improved receiver corps of Greg Jennings and Cordarrelle Patterson, there may not be a lot of passes being thrown to Carlson.
Jerome Simpson, playing under his second consecutive one-year contract, needs to have the kind of year the Vikings expected when they signed him as a free agent from Cincinnati. In 2011 he caught 50 passes for 725 yards and four touchdowns, last season for the Vikings he only had 26 catches for 274 yards and no touchdowns. A back injury that led to weakness in his legs caused a lot of his problems last season.
This year Simpson finds himself competing for the starting split end position with the rookie Patterson breathing down his neck. so far this preseason Patterson is leading the Vikings with six receptions for 73 yards through two games. Simpson, who has not played very much, has only one catch for 15 yards.
Turning away from the receivers, Christian Ponder can go a long way to earning this award by playing a little more consistently than he did last season. He only averaged 183.4 passing yards per game—with three games passing for less than 100 yards. On the positive side, he also had four games with a passer rating greater than 105.
If he can play much more consistently, with the results a bit higher than his average of last season, not only does he win the award, but the Vikings will be a much better team for it.
Winner: Jerome Simpson. There's plenty of incentive for him to play better, and he has the chemistry with Ponder that helps. Look for Simpson to finish with more than 50 receptions.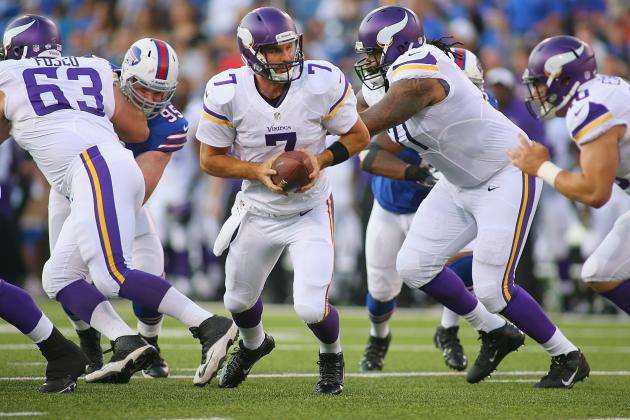 Rick Stewart/Getty Images

This one could go one of two ways for Christian Ponder—he plays more consistently, as outlined in the previous slide, and leads the Vikings to the playoffs, or he completely falls apart and is benched by Week 4—either way it could be a huge surprise.
In the case of the latter, Matt Cassel could wind up being the biggest surprise of the year—especially if he can replicate either one of the good seasons he had in New England or Kansas City.
In 2008, his only year as a starter with the Patriots, he finished 10-5 as the starter with 21 touchdowns and 11 interceptions. Two years later in Kansas City, he matched that 10-5 record. He threw a career best 27 touchdowns and only seven interceptions. All he needs is a shot to get in a game—and that could be very difficult after how adamant head coach Leslie Frazier has been in backing Ponder as the starter.
Another player that really isn't sneaking up on this award is Everson Griffen. With only one start on the season he finished third on the team with eight sacks, only a half of a sack behind Brian Robison. As the Vikings continue to try and find ways to keep him on the field, including a failed switch to linebacker last preseason, don't be surprised if they promote him ahead of Robison as the starting left defensive end.
Expect the Vikings to take a long hard look at Griffen this season. They need to decide what to do at defensive end with Griffen, Robison and Jared Allen all set to become a free agents at the end of the season. At only 25 years old, Griffen is the youngest of the bunch, and has the greatest upside from here forward.
Another player that could surprise a lot of people is someone that is not getting a lot of attention right now—wide receiver Jarius Wright.
Wright, who is being overshadowed by Greg Jennings and Cordarrelle Patterson, did not get into a game last season until after Percy Harvin was injured in Week 9. He played in the final seven games and made one start. He took advantage of his playing time, finishing with 22 catches for 310 yards and two touchdowns. He had the Vikings' longest reception of the season with a 65-yard catch against the Packers in Week 17, when the Vikings needed a win to make the playoffs.
Winner: Jarius Wright—he'll take advantage of all the attention paid to the other receivers and his numbers will quietly be surprising.
If Adrian Peterson is the team's MVP, he should certainly be the Vikings' offensive player of the year as well.
Putting aside the argument for a moment, let's make this award for the best offensive player from this planet—that would make Peterson ineligible.
The offense has been adequately recognized in the two previous slides with Jerome Simpson earning the Most Improved Player and Jarius Wright the Biggest Surprise of the Year. That kind of thins down the list of potential candidates, provided we don't name any repeat winners.
One unlikely candidate might second-year left tackle Matt Kalil. If Kalil does his job well, most people won't know it. Offensive linemen get noticed mostly when they are flagged for holding, or if they get beaten by a defender for a sack. According to Pro Football Focus (subscription required) Kalil only allowed two sacks in 1,056 snaps in 2012 and was penalized only six times.
Certainly, quarterback Christian Ponder is a candidate for this award, provided he can settle down and play consistently throughout the season. Last year he opened the season strong, leading the Vikings to a 4-1 record. He was key in victories over the Jaguars, 49ers, Lions and Titans. His passer rating in these games was 95.4 with six touchdowns and only two interceptions.
In the only loss of the that stretch, Ponder finished with his highest individual passer rating of the year at 114.6. He completed 27 of 35 passes for 245 yards and two touchdowns.
Over the next seven games, the Vikings would go 2-5, and Ponder's performance would correlate precisely. During this stretch his passer rating dropped to 68.1 with eight touchdowns and nine interceptions.
He rebounded for the last four games, leading the Vikings to a 4-0 finish. His passer rating was better at 88.4, as he would throw four touchdowns and only one interception.
If he can avoid another midseason swoon, the Vikings will be in great shape for another playoff run.
One of Ponder's favorite targets has been tight end Kyle Rudolph. The two came into the league together at the Vikings' top two draft picks in 2011. In two seasons Ponder has thrown 32 touchdowns, and 12 of them have gone to Rudolph.
After Percy Harvin was lost for the season in the Seattle game in Week 9, Rudolph led the Vikings with 26 receptions and four touchdowns over the final seven games. His accomplishments for the season were recognized when he was named to the Pro Bowl as an replacement for Tony Gonzalez. He earned the game's MVP honors, finishing with five receptions for 122 yards and a touchdown.
With the addition of Greg Jennings, a healthy Jerome Simpson and rookie Cordarrelle Patterson commanding a bit more attention from the defense this season, Rudolph should find himself open for plenty of passes to come his way.
Winner: Kyle Rudolph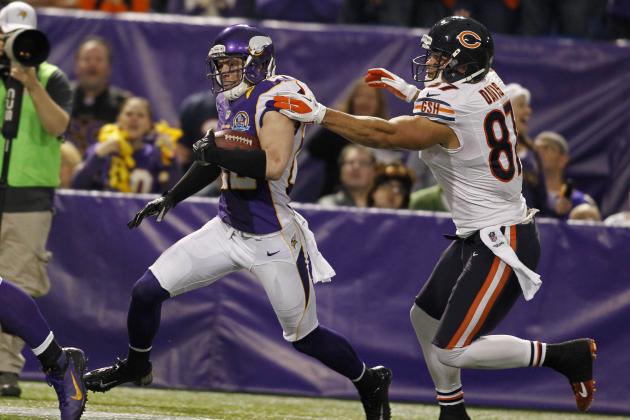 Bruce Kluckhohn-USA TODAY Sports

One of the top candidates for the defensive player of the year of the Minnesota Vikings is their perennial leader in tackles—strong-side linebacker Chad Greenway. He has led the defense in tackles the last five seasons. Since breaking into the starting lineup in 2007 he has averaged 127.5 tackles per season.
As previously mentioned, the Vikings' top three defensive ends have extra incentive to perform this season—they're all playing in the last year of their contract. While Jared Allen doesn't need to compete for anything this preseason, Brian Robison and Everson Griffen might just be competing not only to see who will be the starter, but who re-signs with the Vikings.
Allen has led the Vikings in sacks every season since joining the team in 2008, averaging 15 sacks per year. He also owns the Vikings single-season record for sacks with 22.0, set in 2011.
The Vikings' defense improved from 31st in points allowed in 2011 to 14th in 2012. A lot of that can be attributed to one major change in the Vikings' defensive backfield—safety Harrison Smith. Smith finished tied with the Antoine Winfield for the team lead in interceptions with three—returning two of them for touchdowns. He also finished second on the team in tackles behind Greenway with 104 tackles.
Winner: Harrison Smith—he takes his game to the next level in 2013.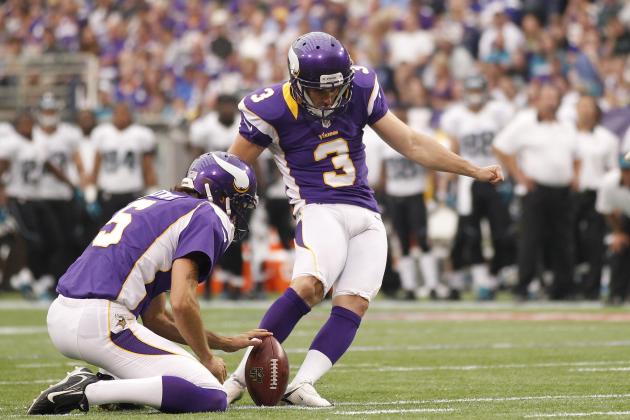 Andy King/Getty Images

The honor of being the Special Team Player of the Year is a tough one to judge. There is no good way to compare statistics.
Last year Blair Walsh made the decision easy after setting the NFL record for 50-yard field goals made in a season. What made the feat that much more impressive is the fact he was perfect from greater than 50 yards.
Other candidates for the award are punt returner Marcus Sherels, kick returner Cordarrelle Patterson, rookie punter Jeff Locke and any number players covering on the coverage teams.
The main battle for this award will be between Walsh and Patterson. If Patterson can come close to replicating what Percy Harvin did for the Vikings returning kicks, it might actually be a close call for this one.
However, in the end, Walsh won more games for the Vikings last season, with his long field goals and deep kickoffs, than Harvin did with five kickoff returns for a touchdown in four seasons.
Winner: Blair Walsh