The World Athletics Championships 2013 has concluded, and as always there are some notable results and highlights from Day 9 in Moscow.
Usain Bolt was looking to become the most successful athlete in the history of the World Championships. He got his chance in the 4x100-meter relay. Jamaica came away with the victory, and the world can celebrate Bolt as the greatest runner in the history of the event.
There were other takeaways outside of Bolt's brilliance. Here's a look at the results from Day 9, followed by the highlights of the final day.
Results
Medal Results

| | | | | |
| --- | --- | --- | --- | --- |
| Event | | Gold | Silver | Bronze |
| Javelin Throw | W | Christina Obergfoll (GER) | Kimberley Mickle (AUS) | Maria Abakumova (RUS) |
| Triple Jump | M | Dimitrios Tsiamis (GRE) | Pedro Pablo Pichardo (CUB) | Will Claye (USA) |
| 1500m | M | Asbel Kiprop (KEN) | Matthew Centrowitz (USA) | Johan Cronje (RSA) |
| 800m | W | Eunice Jepkoech Sum (KEN) | Mariya Savinova (RUS) | Brenda Martinez (USA) |
| 4X100m relay | W | Jamaica | United States | Great Britain |
| 4X100m relay | M | Jamaica | United States | Canada |
iaaf.org
*For full standings of each event, visit the IAAF World Championship's official website
Highlights
Usain Bolt Does It Again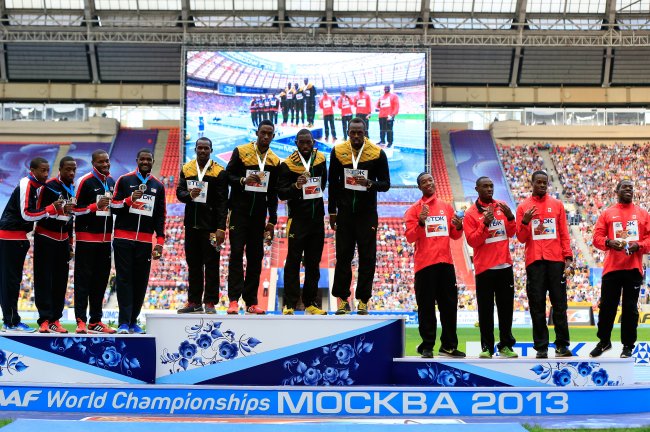 Jamie Squire/Getty Images
The 26-year-old is the fastest man on the planet, and he continued to add to his legacy.
After winning three gold medals in Moscow, Bolt enters the record books as the most successful athlete in the history of the World Championships.
Jamaica's team consisted of Nesta Carter, Kemar Bailey-Cole, Nickel Ashmeade and Bolt. After qualifying with the fourth-fastest time, Jamaica was ready to go when the race began.
The group's mark of 37.36 seconds was good enough to outlast the United States, who finished with a time of 37.66 seconds. Canada were awarded third after Great Britain were disqualified, according to BBC.co.UK.
Bolt now has 10 medals—eight golds and two silvers—at the World Championships. Carl Lewis and Allyson Felix each have 10 medals as well. However, they both had eight golds, one silver and one bronze.
It was a great performance by Jamaica, and Bolt can now add another accomplishment to his impressive career.
Shelly-Ann Fraser-Pryce Joins Bolt with 3 Gold Medals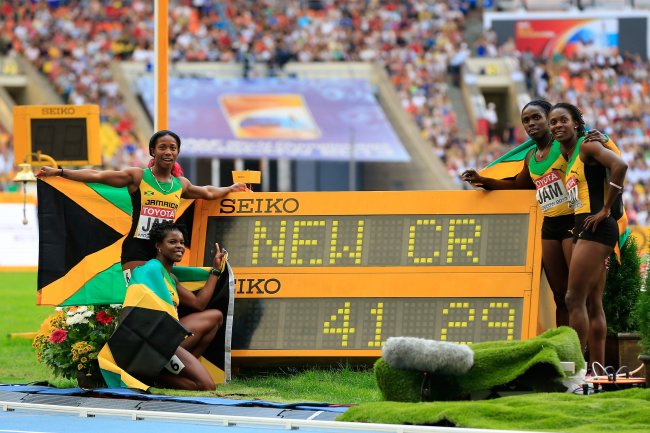 Jamie Squire/Getty Images
Before Bolt got his chance at history, Jamaica was able to win another gold medal. This time it was the women who came through.
Carrie Russell, Kerron Stewart, Schillonie Calvert and Shelly-Ann Fraser-Pryce teamed up to post that fastest time. Their mark of 41.29 seconds easily won as the United States settled for runner-up with a time of 42.75 seconds.
This time Great Britain benefited from a disqualification. An issue with France's baton exchange caused the French to be disqualified, and Great Britain managed to grab a bronze medal as a result.
Fraser-Pryce also won the 100-200-relay triple, and she became the first woman to sweep the sprint events at the World Athletics Championship.
Jamaica's runners were the story of the day. They made history with relay victories, and they did it in impressive fashion.
*All information is courtesy of the official website of the IAAF World Championships