UFC Fight Night 26 Results: Is Matt Brown a Welterweight Contender?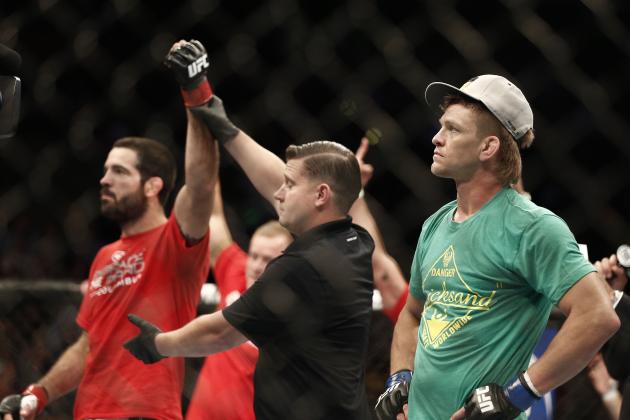 Winslow Townson-USA TODAY Sports

"The Immortal" Matt Brown may be the hottest fighter on the planet right now. A six-fight winning streak has resurrected Brown's career from the lowest depths possible.
Not only has Brown won six straight fights, but he's done so by finishing five of the six opponents he's faced. What's made Brown's winning streak even more impressive is the fact that he's finished two notoriously tough fighters in Mike Pyle and Mike "Quick" Swick.
He also happened to win both those contests on national television, thus becoming a trendy pick to be put in the mix for a welterweight title shot.
But does Brown deserve to be placed in title contention? The answer is a bit more clouded than a simple yes or no.
Begin Slideshow

»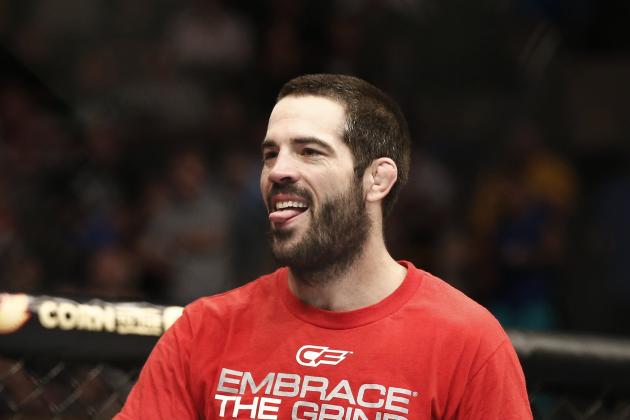 Winslow Townson-USA TODAY Sports

How do you deny a guy who's won six straight fights?
Not only has Matt Brown won six straight, but he's also finished five of six opponents. Included in those wins were two vicious KO's of Mike Pyle and Mike Swick and a Fight of the Night performance against Jordan Mein.
Not only has Brown won six fights in a row, but he's also been an extremely entertaining fighter in the process, something that seems to be on the decline as fighters continue to "fight safe" in order to keep their jobs.
If the simple basis of winning fights moves you up the rankings, it's hard not to imagine Brown getting a top contender in his next fight out. He's definitely earned it by virtue of putting together a very impressive winning streak.
He may be reaching a bit by calling out Georges St-Pierre, but Brown definitely deserves to be featured in a high-profile, "in the mix" type of matchup.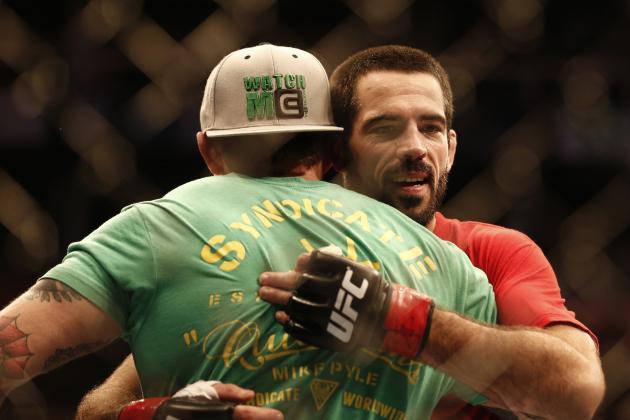 Winslow Townson-USA TODAY Sports

Matt Brown's six-fight winning streak may be his greatest bargaining chip, but it's also the biggest source of criticism.
Yes, Brown has won six straight fights, but look at the level of competition he's faced. Six wins are an impressive feat without a doubt, but does anyone think Brown can handle some of the top welterweights in the UFC?
None of the fighters Brown has defeated were anywhere near the top 10, and it's hard to say he's truly ready for to-level competition after beating a slew of low-level fighters. He's yet to face a high-level wrestler, and his ground game remains a question mark—something that would be pointed out if he were to face some of the better welterweights in the UFC.
Brown is definitely a feel-good story, but fans should think twice about putting him against a top-five guy in his next contest.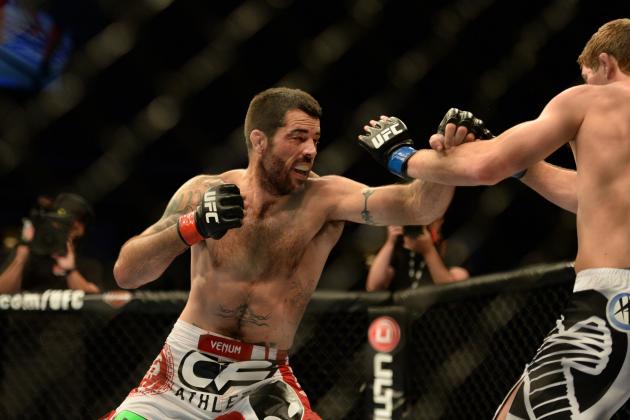 Kyle Terada-USA TODAY Sports

Personally, I wouldn't mind seeing Matt Brown in the mix. I understand the argument against vaulting him up so high due to facing lower-tier competition, but with so many familiar faces in the welterweight title picture, it'd be nice to see a new face in the title picture.
Brown has done his part by winning six straight, and has done so in impressive fashion. In the spirit of MMA still being more sport than spectacle, you'd have to say Brown deserves a chance to fight a top-10 opponent.
Do I think he can beat some of the better welterweights in the world like Carlos Condit or Rory MacDonald? I'm not sold on that idea just yet, but I am sold on the idea of letting him prove me wrong.