Biggest Winners and Losers From NASCAR Sprint Cup Series at Michigan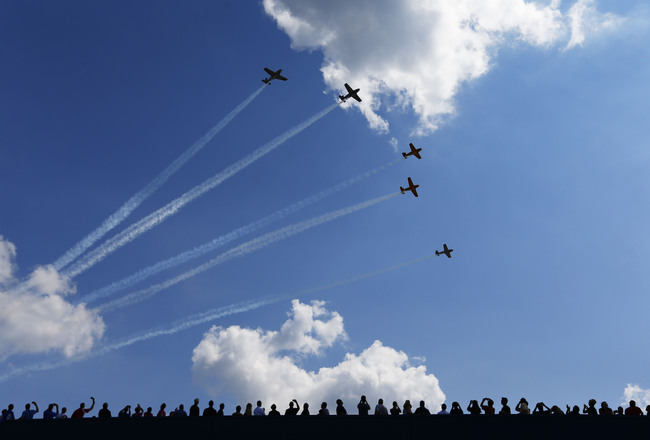 Blue skies and high-flying speeds greeted fans at Michigan International Speedway on Sunday.
Tom Pennington/Getty Images
Got speed?
Michigan International Speedway certainly does. Since being repaved prior to the 2012 season, the two-mile race track has become one of the fastest on the NASCAR Sprint Cup Series circuit with average lap speeds routinely exceeding 210 miles per hour during qualifying and more than 200 mph during the actual races.
Sunday's Pure Michigan 400 at MIS was no exception. Some of the biggest names in the sport battled in close quarters at those high speeds with predictably mixed results.
In the end, as always, there were winners and losers.
Loser: Jimmie Johnson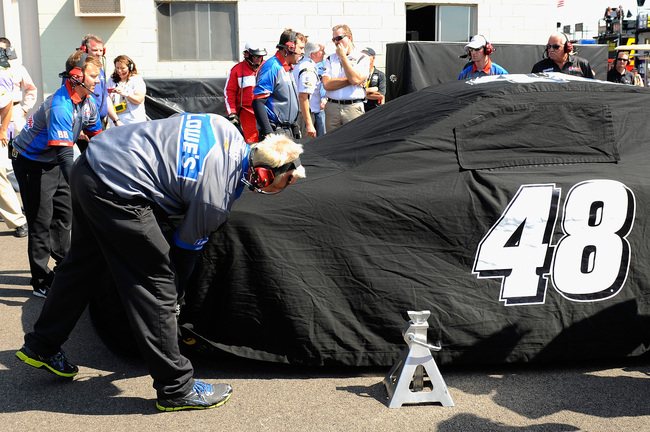 There was a black cloud over Jimmie Johnson's team again at a track that always seems to give him trouble.
Jared C. Tilton/Getty Images
Michigan International Speedway is one of just five tracks on the current Sprint Cup circuit where Jimmie Johnson has never won. The driver of the No. 48 Chevy for Hendrick Motorsports had hoped the Pure Michigan 400 would be different.
He was fast in qualifying—one of five drivers to exceed 213 miles per hour—and was fastest during the final pre-race practice before crashing and being forced to start from the rear in a backup car for the Sunday race.
Even then, the five-time Cup champion seemed poised to overcome his own past history at the two-mile track. He drove from 43rd to first during the first 45 laps and was running eighth 10 laps later after pitting when his engine suddenly went sour. That ended Johnson's day.
He was credited with a 40th-place finish, by far his worst of the season. His worst finish of the season prior to Sunday was 28th—also at Michigan, back in June.
Winner: Roger Penske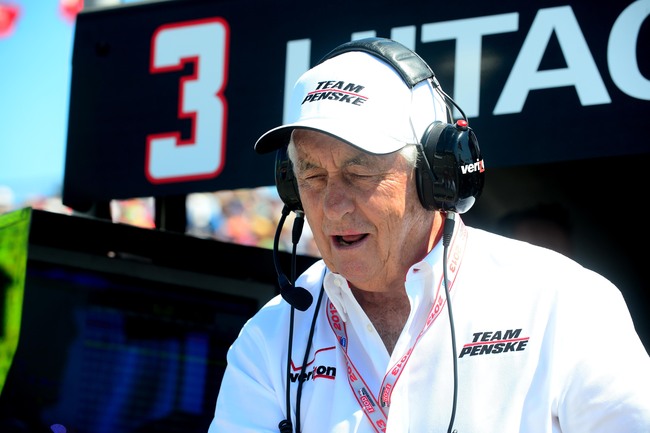 Team owner Roger Penske closed his eyes had his wish come true Sunday.
Andrew Weber-USA TODAY Sports
Roger Penske used to own the Michigan track. Now he owns Penske Racing, which fields the cars of Joey Logano and defending Sprint Cup champion Brad Keselowski—neither of whom had ever won at MIS until Sunday.
There was plenty at stake for Penske, who drew some criticism for announcing this season's manufacturer switch from Dodge to Ford in the middle of last year's championship run for Keselowski. He still calls MIS his "home track" and knows how much it means to manufacturers to win there.
Throw in the fact that his two teams had yet to win a single race this season, and the pressure was on to perform well. Logano went out and won the pole and then went on to win the race, while Keselowski rallied to finish 12th after pit strategy worked against his No. 2 team in the late going.
All in all, a good day for the man they call The Captain.
Loser: Junior Nation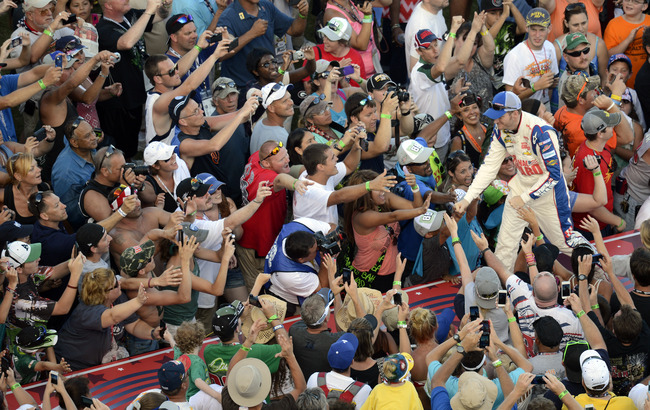 Like Elvis, Dale Earnhardt Jr. left the building too early on Sunday.
John David Mercer-USA TODAY Spor
Once again, this was supposed to be the place where Dale Earnhardt Jr. silenced all of his critics and ended his latest winless streak. After all, the only two Sprint Cup wins he's earned in the past seven years have come at Michigan.
Alas, Junior Nation was fooled again.
NASCAR's most popular driver disappointed NASCAR's most rabid fanbase yet again after toying with their emotions by briefly driving to the front during the Pure Michigan 400. Earnhardt was still in contention, running seventh, when he appeared to have a right front tire go down. His No. 88 Chevy quickly drifted high and slammed into the outside wall in troublesome Turn 2, effectively ending his day even though he later returned to the track after repairs were made.
The collective groans of the vast Junior Nation seemed to drown out all other noise at MIS, if only for a moment, as their hopes and the hopes of their hero were dashed in all-too-familiar fashion.
Winner: Ford Racing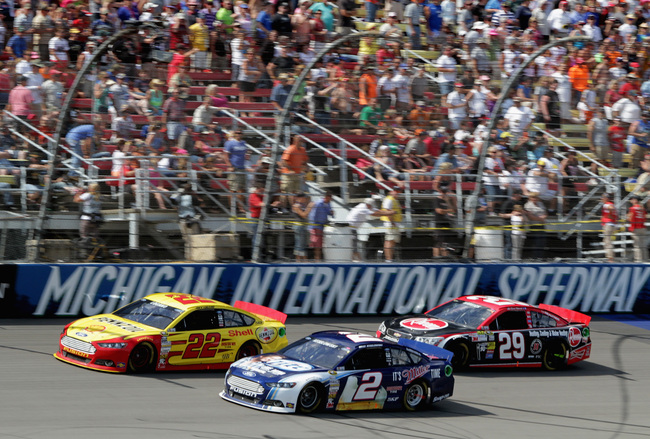 Winning at Michigan always means more for Ford Racing.
Jerry Markland/Getty Images
No matter which manufacturer is able to win at Michigan, in the backyard of America's Big Three automobile companies, it's a huge deal.
For the Big Two currently left running in NASCAR—Ford and Chevrolet—perhaps it's a bigger deal than ever. The outsider amongst the manufacturers competing in the Sprint Cup Series, Toyota, just likes to win at MIS to rub it in the others' noses.
Ford Racing came out the big winner with Joey Logano, who drives a Ford for Penske Racing, capturing the checkered flag on Sunday. It's not just that Logano won for one of the most respected car owners in the garage in Roger Penske, it's that he did it in a year that has been marked by struggle for Penske's organization after a controversial switch in manufacturers from Dodge to Ford.
Remember, Penske driver Brad Keselowski drove to the Cup Championship last year in a lame-duck Dodge. After Ford lured Penske into its stable with a lucrative offer that Dodge was in no position to match at the time, all eyes have been on the two Penske drivers this year. Sunday marked the first time either of them had made it to Victory Lane for Ford Racing—and while it could have come sooner, it could not have come at a better place.
Loser: Jeff Gordon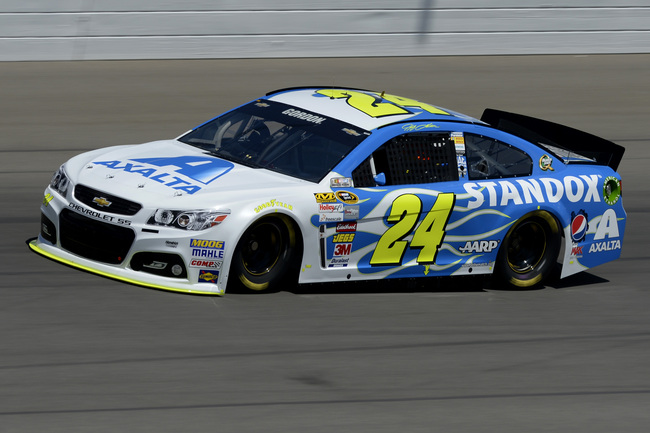 Jeff Gordon's pre-race optimism wasn't matched with results at Michigan.
John Harrelson/Getty Images
Jeff Gordon boasted on national television prior to the race that he had a fast car, expected to run well and that his team could afford no more mistakes if it is to make the Chase for the Sprint Cup cutoff.
Well, his day could not have gone a whole lot worse. Gordon never was fast enough or had a car that handled well enough to run up front and get in contention for the win. About the only thing good that could be said about his afternoon is that he eventually drove his butt off just to finish 17th.
With only three races left now before the Chase cutoff, Gordon finds himself in the familiar if unenviable position of failing to make the playoffs. He's 14th in points, and each of the four drivers ahead of him in the point standings has at least one win.
The four-time champ is in trouble heading down the home stretch, and his No. 24 Chevy team seems at a loss to stop the free fall this time around.
Winner: Stewart-Haas Racing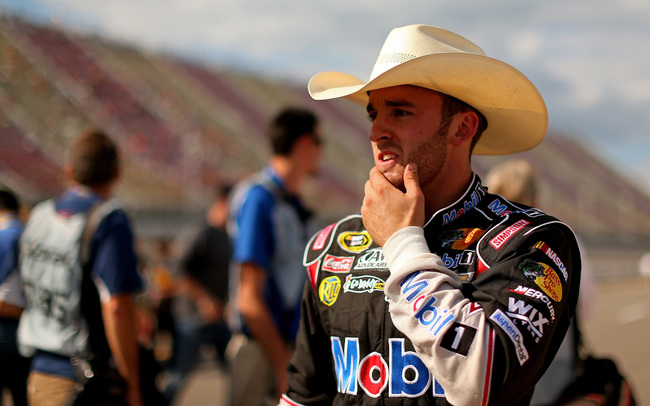 Austin Dillon encountered difficulty figuring out Michigan International Speedway Sunday.
Mike Ehrmann/Getty Images
Austin Dillon remains a Sprint Cup star in waiting. But on Sunday he made another subtle step toward completing that bridge from Camping World Truck Series champion and Nationwide Series contender to being a real player on the bigger stage.
Subbing for injured driver/owner Tony Stewart in the No. 14 Chevrolet fielded by Stewart-Haas Racing, Dillon was running hard behind J.J. Yeley on Lap 14 when Yeley spun in front of him. Dillon had no time to check up and ended up spinning himself, and then he compounded the problem by speeding on pit road in a subsequent attempt to keep from going one lap down.
From there, Dillon went to work. He eventually earned his lap back and drove to a respectable 14th-place finish. With the choice for the No. 14 sub next week now apparently between Dillon and Mark Martin (who also ran well and likely will sub for Smoke at Bristol as long as he gains permission from Michael Waltrip Racing) according to David Newton of ESPN.com, SHR seems solidly set to maintain solid footing in the owners' point standings.
Loser: Hendrick Motorsports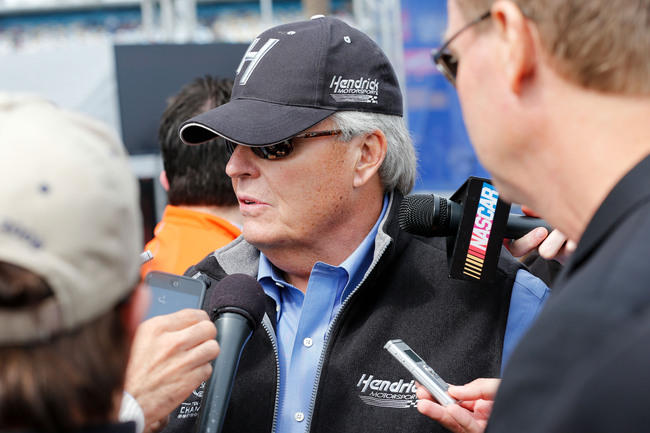 Team owner Rick Hendrick was hoping for better across-the-board results Sunday.
Sam Greenwood/Getty Images
Rick Hendrick, proud owner of Hendrick Motorsports, has enjoyed success in the past at MIS. Jeff Gordon had won there twice for him, as has Dale Earnhardt Jr.
But on Sunday, it started going bad after the first 50 laps when Jimmie Johnson first blew an engine and Earnhardt slammed into the Turn 2 wall—after both drivers had driven to the front earlier. Meanwhile, Gordon struggled all day.
When it was all over, Kasey Kahne's seventh-place finish was the best any of the Hendrick cars could muster. It was clear that the entire organization not only had missed the right setups at the speedy track, but Johnson's problems brought into question the durability of the HMS engines as the Chase beckons.
All in all, a day Mr. H would rather forget.
Winner: Clint Bowyer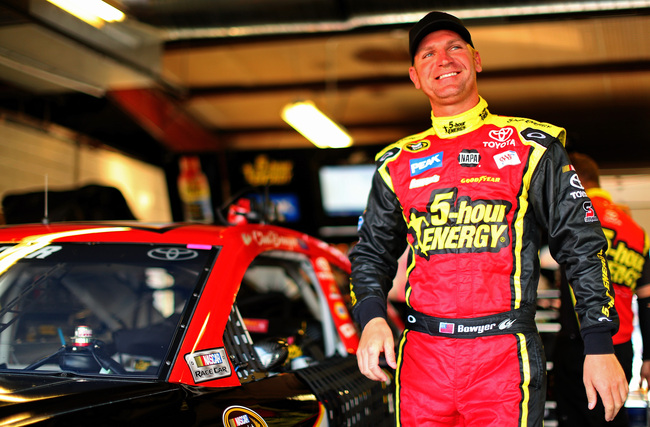 Clint Bowyer had reason to smile after finishing fifth.
Mike Ehrmann/Getty Images
When he spun out and ended up a lap down on the very first lap Sunday, it looked as if Clint Bowyer was in for a long day.
Bowyer, however, saw it differently. He figured he simply had more time to make up for lost ground. He was patient, kept working his way back toward the front and eventually came away with a fifth-place finish that enabled him to hold onto his second-place position in the point standings behind leader Jimmie Johnson.
In doing so, Bowyer displayed the kind of resolve that will be required for him to compete for a championship once the Chase commences. It would help if he also could find a little more speed in his No. 15 Toyota, as he has yet to win a race this season.
After Michigan, though, only Johnson and Kyle Busch have more top-five finishes this season.
Loser: Rodney Childers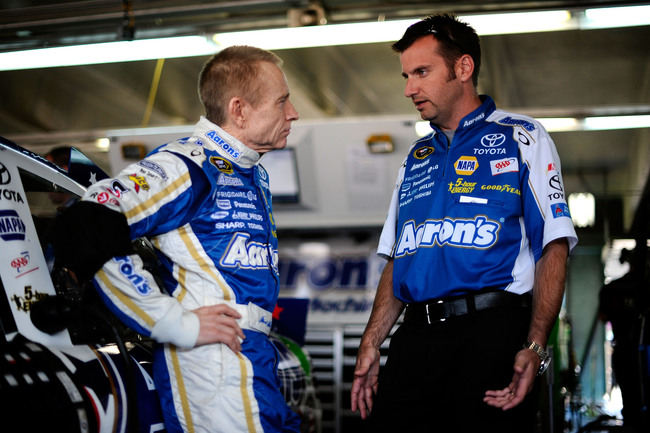 Crew chief Rodney Childers, right, gambled and lost Sunday with driver Mark Martin.
Jared C. Tilton/Getty Images
It's difficult to call Rodney Childers, one of the most talented and underrated crew chiefs in the Sprint Cup garage, a loser in any respect on any day.
And no one can blame him for the way he rolled the dice with driver Mark Martin toward the end of Sunday's race. After all, Martin is a part-time driver and the duo was going for the win in large part because they didn't have to worry about points racing.
But the fact is that Childers gambled on fuel mileage and lost, leading to Martin's 27th-place finish for a car that was among the fastest on the track and appeared dominant before having to pit for fuel with three laps to go.
Childers took a chance that a caution would come out in the closing laps, allowing Martin to save fuel. But the fact is that it would have taken nearly a miracle for Martin to save that much gas.
Winner: Joey Logano
Joey Logano started first and finished first, giving his Chase hopes a giant boost.
Jared C. Tilton/Getty Images
It's been a long time since Mark Martin called Joey Logano "the real deal."
Until Sunday, it also had been a long time since Logano visited Victory Lane after taking the checkered flag in a Sprint Cup Series race. Although he won once last season while with Joe Gibbs Racing, he entered Sunday's event having struggled mightily this season—his first with Penske Racing and his first driving a Ford.
In starting from the pole and winning the Pure Michigan 400, Logano may not have silenced all his Cup critics (no one doubts his ability in NASCAR's lesser Nationwide Series), but he at least took a huge step in that right direction.
Making the Chase for the Sprint Cup seemingly out of nowhere might complete it. Sunday's victory suddenly made that seem possible for Logano, who jumped to 13th in the point standings and is only 17 points out of 10th. Moreover, his win puts him in position to challenge Martin Truex Jr. for the final Chase wild-card spot with three races remaining before the Chase cutoff.
Keep Reading