UFC Fight Night 26 Post-Fight Stock Report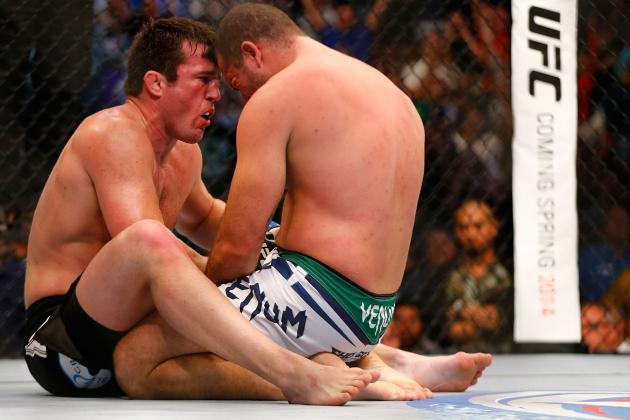 Jared Wickerham/Getty Images

UFC Fight Night 26 kicked off Fox Sports 1 in grand fashion. Including the two-hour prelims, 10 fights were featured on the new 24-hour sports network, and the event delivered on virtually all fronts.
Chael Sonnen got back into his winning ways with a submission victory over Shogun Rua. The No. 9-ranked middleweight was previously on a two-fight losing streak to two of the greatest fighters in history—Anderson Silva and Jon Jones.
In the co-main event of the evening, Travis Browne picked up a knockout against Alistair Overeem. The win puts Browne into the mix at heavyweight, and it is the second straight KO loss for Overeem.
There were plenty more in action, and there was a lot of shuffling across all divisions. Some fighters enhanced their stock, and others drastically hurt theirs. Per usual, it was a mixed bag.
This is your post-event stock report.
Begin Slideshow

»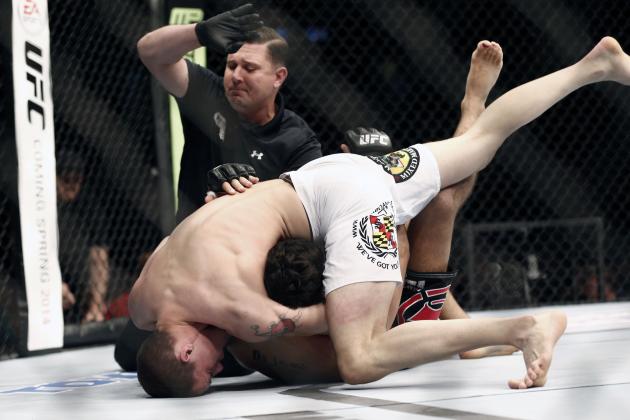 Winslow Townson-USA TODAY Sports

James Vick made a splash on The Ultimate Fighter with a knockout of Daron Cruickshank. He made it to the semifinals where he was knocked out by Michael Chiesa.
His official record, however, was still unblemished. At 4-0 he entered UFC Fight Night 26 looking to make a statement against fellow TUF alum Ramsey Nijem. He did just that.
Nijem wanted to put Vick on his back early, but he left his neck exposed. Vick opened the card with a quick guillotine submission not even in a minute into the bout.
The win will make Vick a prospect to watch. His striking was already notable, but now he is developing some submissions to go along with it. The rangy, 6'3" Texan can pose a lot of problems in the division, but the youngster still has a ways to go. Regardless, this was a great debut for the 26-year-old lightweight.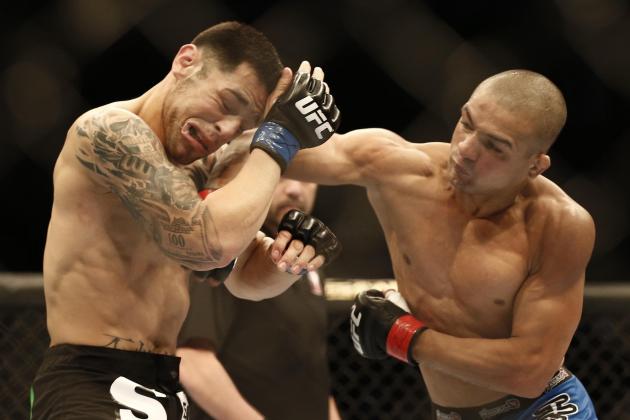 Winslow Townson-USA TODAY Sports

Diego Brandao picked up his third consecutive victory with a unanimous decision victory over Daniel Pineda, but the featherweight showed he still has major holes to fill before contending with the upper echelon of the division.
Brandao's previous outing, versus Pablo Garza, showed growth for the former Ultimate Fighter winner. It looked like he was righting some of his wrongs and developing into a legitimate prospect.
Saturday was a step back.
Brandao showed his cardio is still a long ways off, as he looked noticeably gassed in Rounds 2 and 3 against Pineda. The young Brazilian has the tools to become something special, but he needs to add a good bit of conditioning to truly become a threat.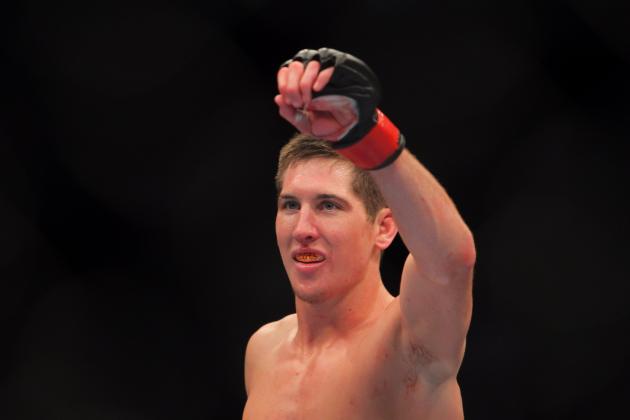 Brad Penner-USA TODAY Sports

Steven Siler entered the evening 4-1 in the UFC. However, the one loss looked like a blueprint for opponent Mike Brown to use.
Siler was thoroughly controlled by Darren Elkins in his lone UFC loss, and Mike Brown had the strength and wrestling to do the same. Siler never allowed Brown the chance.
Brown came forward and Siler clipped him with an uppercut. The talented featherweight quickly followed up with strikes. A good diving shot put Brown's lights out 50 seconds into the bout. Siler has now started another streak inside the Octagon.
More performances like the one on Saturday will shoot Siler up the ranks in a stacked division.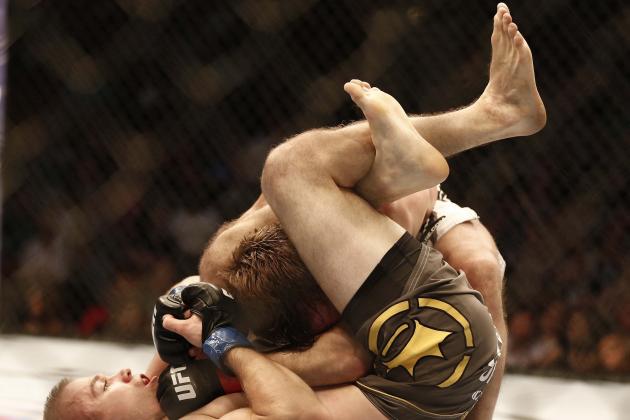 Winslow Townson-USA TODAY Sports

At 22 years old, Michael McDonald is already a former UFC title challenger. Impressive.
His title shot against Renan Barao didn't go as planned in February. Still, it was a great learning experience for the talented youngster, and he showed at UFC Fight Night 26 he has learned well.
McDonald took one of the toughest veterans in the division to task. He pummeled Brad Pickett in the first round and finished the fight beautifully in the second. The transition to the triangle choke was seamless and the performance earned McDonald two fight bonuses on the night.
The No. 5-ranked bantamweight was outgunned against the No. 3-ranked McDonald. He showed that he will be challenging for a title again in the near future. Michael McDonald is championship material.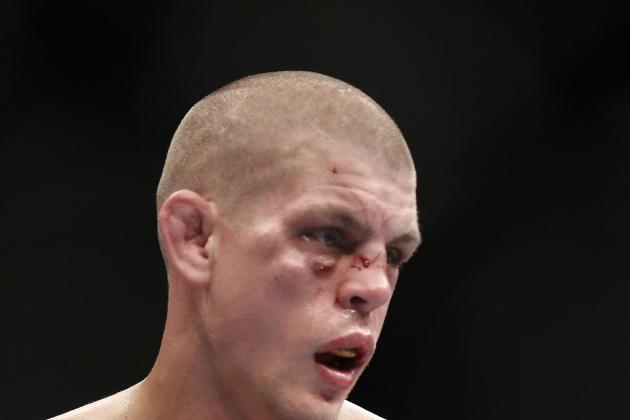 Winslow Townson-USA TODAY Sports

Joe Lauzon looked to have a favorable matchup Saturday night. When discussions about the fight took place it was all about Lauzon, his history of bonus money and his destruction of Gabe Ruediger the last time he fought in Boston.
Lauzon looked awful to kick off the main card.
It was a combination of Michael Johnson looking phenomenal and Lauzon looking helpless against him. Lauzon stood in front of Johnson and took a beating in front of his home crowd.
Lauzon has fought his way up the ranks before but always come up short against top-level competition. Saturday's performance may have relegated him to fighting mid-level fighters the rest of his career. It was bad.
A significant drop-off for Lauzon.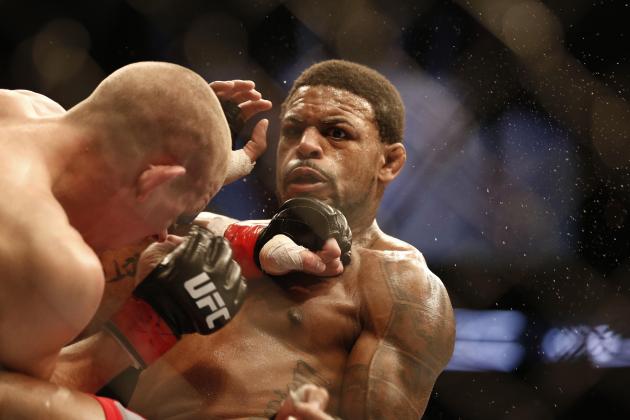 Winslow Townson-USA TODAY Sports

Michael Johnson opened 2012 with three straight wins. It looked like his time with the Blackzilians was paying off, and the former TUF cast member was becoming a strong lightweight.
Unfortunately, Johnson regressed his last two fights, losses against Myles Jury and Reza Madadi.
Johnson returned to peak form at UFC Fight Night 26. He looked the best he ever had—like a legitimate threat in the lightweight division. He was quick and accurate with his strikes, he put together excellent combinations, and he busted up one of the better lightweights in the division.
Johnson will need to prove himself with consistency, but the Michael Johnson who fought on Saturday will be a tough out for most anyone.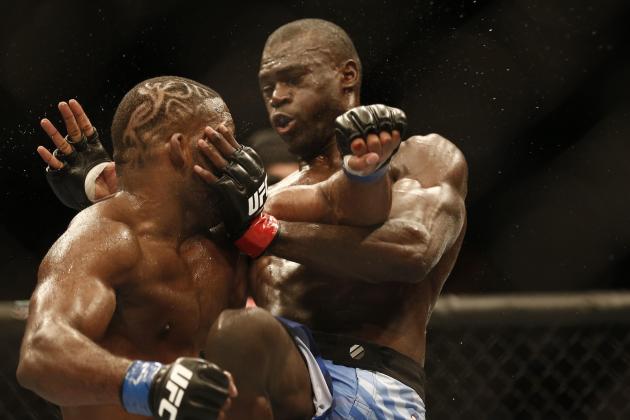 Winslow Townson-USA TODAY Sports

Uriah Hall made a name for himself on the most recent edition of The Ultimate Fighter and then subsequently underperformed at the finale.
Saturday in Boston was supposed to right the ship for the middleweight prospect. It did not.
Hall was once again gun shy. His devastating striking ability on the show has failed to show up under the bright lights of the UFC. It calls into question if he actually has what it takes to compete among the sport's elite, or if he is made out for the regional circuit.
The pressure on Hall's shoulders is now gone—no one expects anything big from him anymore. One of the bigger disappointments from The Ultimate Fighter in company history.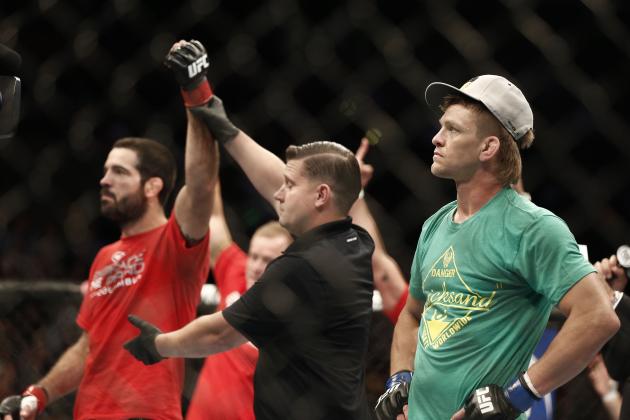 Winslow Townson-USA TODAY Sports

Matt Brown is riding up the welterweight ranks in one of the most improbable runs in UFC history.
Brown has always been tough and exciting. However, he was never seen as a legitimate top-tier welterweight. That has all changed.
Brown took care of two talented prospects in his trek up the welterweight division in Stephen Thompson and Jordan Mein, and took care of veteran Mike Swick, too. On Saturday, Brown dispatched tough veteran Mike Pyle in under 30 seconds. Impressive stuff from the Ohioan.
Brown now has six wins in a row and he should be considered for a top-10 ranking. With another win against top-flight competition, it may be hard to deny him a shot (or, a shot at the shot) for the welterweight championship. Incredible story.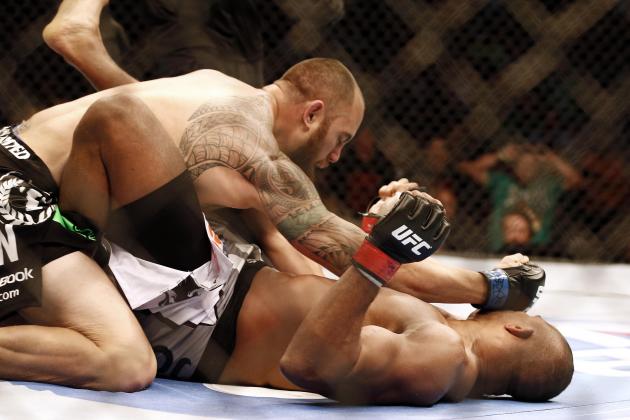 Winslow Townson-USA TODAY Sports

Alistair Overeem made his name outside the UFC by beating up a sizable list of (mostly) no-names and winning the K-1 Grand Prix.
His UFC debut went well. He took care of former UFC heavyweight champion Brock Lesnar with ease. Then came commission troubles and a KO loss to Antonio "Bigfoot" Silva in his return. This was his chance to come back strong.
Travis Browne had other plans. He weathered an Overeem storm and then tested his questionable chin. Overeem now has back-to-back knockout losses. He is probably done contending in the heavyweight title picture.
The hype and mystique behind the Reem is gone. This is certainly not what Overeem wanted, and now his future with the organization is likely up in the air.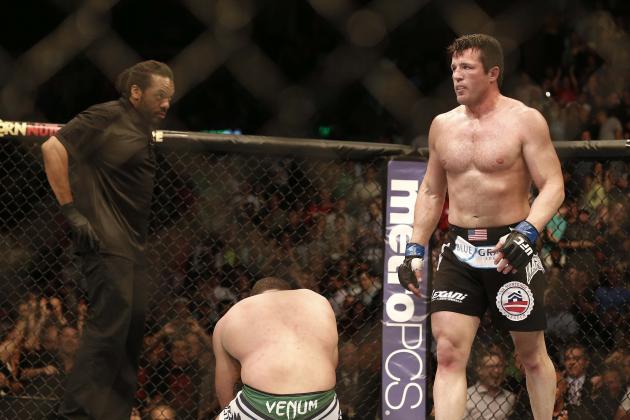 Winslow Townson-USA TODAY Sports

Chael Sonnen started the week as the favorite, but the betting lines eventually moved him to underdog status.
His matchup against Shogun Rua was an interesting one. His wrestling would go up against Shogun's striking and submissions. But no one expected Sonnen's submission game to finish the fight in the first five minutes.
Once he had Shogun's neck, he felt that he had the choke. Sonnen sat down with the choke, and finished the fight just before the end of the first round.
After losing back-to-back fights, Chael Sonnen's future was in question. Would he do enough against Shogun to show he could still compete against the best? Sonnen answered that emphatically. The former title contender is still one of the best and shouldn't be too far off another title shot back down at middleweight.