Chelsea 2-0 Hull City: 5 Things Learned from Jose Mourinho's Return Game
Clive Mason/Getty Images
Jose Mourinho made a triumphant return to the EPL with a comfortable 2-0 win over newly promoted Hull City. It was not a head turner on paper, but the question of whether or not title favorite's Chelsea would win was never in doubt.
Oscar opened the Chelsea title march with a smart finish, following some brilliant build-up play in the 13th minute. Frank Lampard continued to add to his goal scoring record with a 35-yard screaming free kick after missing a penalty earlier in the match.
Hull is not exactly the team to mark your quality against if your Chelsea, but it was three points nonetheless.
Here are five things learned from the routine win.
The Defensive Formation is back to Normal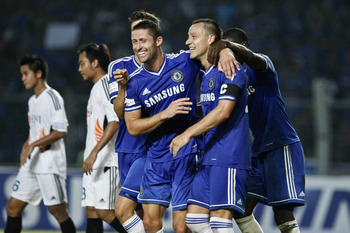 Ulet Ifansasti/Getty Images
From here on out I will refer to the "dark ages" as every twit with clipboard and whistle who tried to make the bullying back four of Chelsea into a fluid and attacking high line. Weak-minded and uncreative personalities see Barca and Spain do what they do and try to mimic it without the same type of players.
Not anymore!
Mourinho put things back in place, starting with Branislav Ivanovic on the right with Gary Cahill, John Terry and Ashley Cole all to his left. These four not only look eerily similar to the back line Mourinho initially assembled in his first go around with the Blues, but also bring Chelsea back to their hard-nosed style of defense.
Terry and Cahill rarely ventured beyond the half line, preventing any sort of quick break or fortunate long ball that can get behind. Cole and Ivanovic went forward, but only in support and when permissible. Defense was always their first thought—preventing and turning any kind of turnover in midfield into a counter that gets the defense all out of sorts.
Playing a team like Hull City, it's only smart to go this way. The best chance they have to score is catching Chelsea on their heals. Not to mention there is more than enough firepower up front to justify keeping the defenders back.
Yet even against top sides, I can't imagine the defense looking much different. Chelsea won the league twice under Mourinho this way and it's been proven over the years that with these defenders it's the best way to play them.
Fluid, Formidable Front Line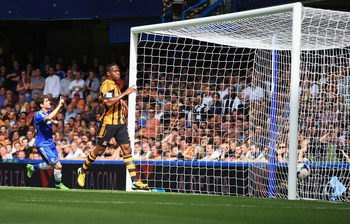 Richard Heathcote/Getty Images
I don't think anyone is shocked Chelsea had the attacking performance they did, but the way they went about it should be noted.
While they lined up in a RW-CAM-LW midfield spearheaded by a striker, they rarely stayed in those positions once the ball got into the final third. It was constant revolving motion with overlapping runs and slick ball movement.
This is what makes this Chelsea team unique: Hazard, De Bruyne, Oscar—all under the age of 23—as comfortable in each other's position as their own. There are not many ways to defend this much talent, especially when their preferred play is borderline organized randomness.
There is no doubt that its effectiveness against Hull was based on it being somewhat against Hull, but at the same time it worked to perfection and gave them an easy win, as opposed to other London-based teams playing newly promoted ones.
Torres Absent on the Stat Line Not a Problem
Richard Heathcote/Getty Images
Once again, Fernando Torres was absent on the field in terms of what the numbers indicate, but what he provided was exactly what he needs to do.
Today you had Frank Lampard, Eden Hazard, Oscar, Kevin De Bruyne and even Ramires out on the field, all players who over the past year have proven to be better league goal scorers than Torres. There are enough goals on the field that Torres does not need to be the main man.
His off-the-ball runs, challenges in the air and hold-up play were exactly what Torres needs to do to prove his worth. Him coming off in the 76th minute was not at all a slight in his performance.
But take this with a grain of salt. As competition improves, everyone who is capable of scoring goals will be expected to. For the time being, he needs to be gaining his own confidence and that of the fans.
Mourinho's Return Makes Immediate Impact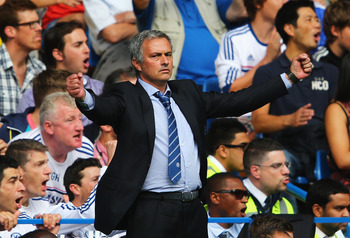 Clive Mason/Getty Images
I don't know why I am shocked in the slightest, since what has made Mourinho "The Special One" is how he has an immediate impact wherever he goes, but still I am.
So many facets of the Chelsea game had his fingerprints on it, everything from the style of play to the team selection. (Not many coaches would open the season with arguably the league's best player on the bench.)
But perhaps what is the most comforting is to see the players' attitudes. The swagger they had from walking out of the tunnel to the final whistle was as bright as the sheen of the EPL trophy they chase. There was no lackluster energy nor overexertion given their opponent—just confidence and trust in their boss.
So much of the Dark Ages was defined by malice and gossip, that their play on the field was defined by style rather than result. But this is not so today.
Just look at Lampard's afternoon: Missed penalty, his second in last three tries, followed by a brilliant 35-yard free kick no more than 20 minutes later, followed by another 70 in holding role, responsibly seeing out the game. No fuss from him and only smiles in the end.
It's a new era at the bridge, luckily it feels a lot like the old days.
Soccer Joining the 21st Century Pays off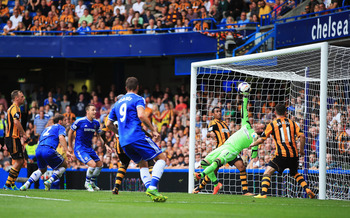 Richard Heathcote/Getty Images
We almost went a whole weekend without having to take a look at the Premier League's new Hawkeye goal line technology, but just before the half Ivanovic thundered a header right into the chest of Allan McGregor, deflecting upward and over his head before he palmed it away.
If this was a year ago, you would have one of the saddest sights in sports: a poor lonely referee surrounded by 22 dopes claiming it was and wasn't a goal at the same time. Instead, thanks to common sense finally outweighing stubborn traditionalism, we get Jose Mourinho smiling with the fourth official and Steve Bruce.
To be fair, though, had the score been anything less in favor of his side, there would have been a much different scene.
Follow me on Twitter: @thecriterionman
Keep Reading

Chelsea: Like this team?