LLWS 2013: Teams Most Likely to Run the Table in Williamsport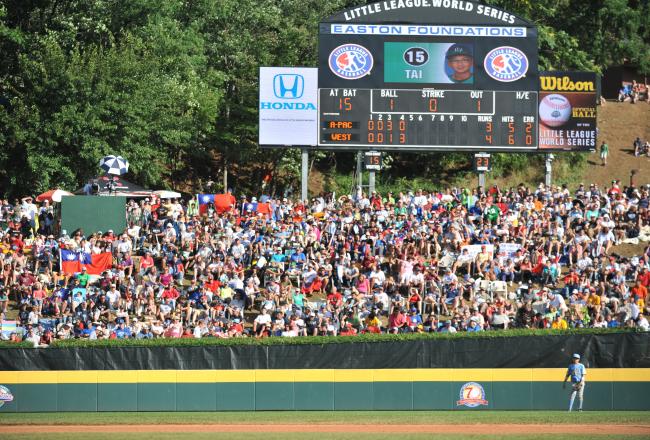 Larry French/Getty Images
The 2013 Little League World Series is heating up, and the West is one of the teams most likely to run the table in Williamsport, Pa.
There have already been several entertaining games. Dominant pitching has been the story for several teams, so the offenses are going to have to take advantage of the scoring chances they get.
Four teams have already been eliminated from title contention. Sunday's slate will feature teams that won their first games, so there should be plenty of quality matchups.
Now that the top squads are battling each other, the brackets will begin to shape up.
Here's a list of teams that are most likely to go undefeated in Williamsport.
Chula Vista, Calif. (West)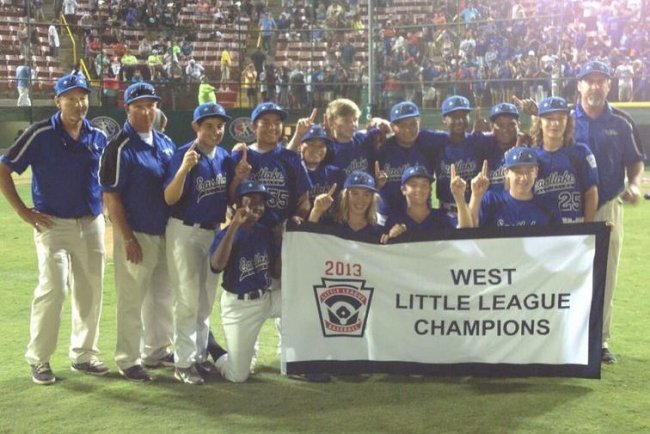 The West already put together the performance of the tournament. Pitcher Grant Holman was able to go seven innings without allowing a hit in a dominant performance in the team's first game.
INCREDIBLE! California P Grant Holman throws extra-inning no-hitter vs. Michigan in Little League World Series. Final line: 7 IP, 13 K.

— SportsCenter (@SportsCenter) August 16, 2013
It would have been a shame had he allowed a hit in the seventh inning, but his teammates finally scored runs for him to help him make history.
The team from Chula Vista has used a combination of dominant pitching and timely hitting to get to this point. It posted three shutouts in its last five games of qualifying to get to this point, including in the final game. The West has allowed an average of only one run per game in the last seven games.
Although the offense took a while to show up against Michigan, it has put up big numbers, averaging 11 runs per game in qualifying.
This is one of the most balanced groups in the tournament. The pitching is good enough to carry the team, but production at the plate will be crucial.
Westport, Conn. (New England)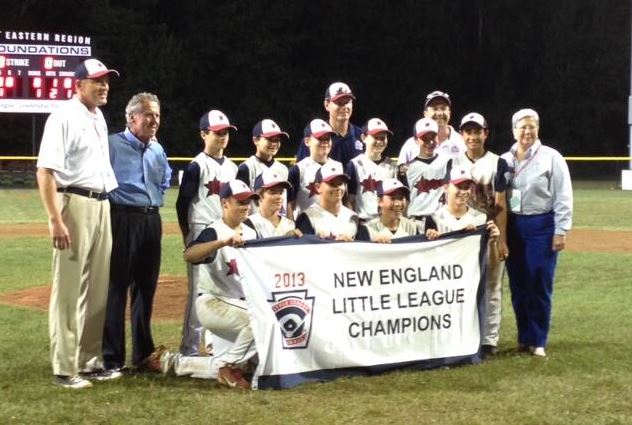 Like California, Connecticut used a combination of strong pitching and effective hitting to get to Williamsport.
The team had three shutouts in qualifying on its way to a perfect 6-0 record, and the pitchers have allowed 1.4 runs per game in their last seven games.
Offense shouldn't be overlooked in this tournament, though. Westport scored at least eight runs in each of its first four games of the New England regional.
Connecticut is dangerous because it has shown that it can win different types of games. It was able to power past its opponents early in qualifying, but it has been able to win tight contests as the schedule became more meaningful.
The Northwest, which plays New England on Sunday, will be tough to beat. Connecticut must continue to excel on the mound and at the plate.
Chinese Taipei (Asia Pacific)
Asia Pacific was able to use a strong offense to get to Williamsport, scoring at least nine runs in four of its six games in qualifying.
Which team is most likely to run the table at the LLWS?
The team didn't allow an opponent to score more than three runs in any game during qualifying, but the offense was the story.
A dominant outing against Canada in its opening matchup at the Little League World Series shows that Asia Pacific is going to be tough to beat.
Asia Pacific will get a showdown with Japan on Sunday. The winner of that game will be the favorite to go up against the top team from the United States. Both teams have played well leading up to the game, but Asia Pacific's offense has been better than Japan's.
Running the table will require solid pitching as well, so Asia Pacific looks like it is in good shape with a balanced roster.
*All information is courtesy of the Little League World Series' official website
This article is
What is the duplicate article?
Why is this article offensive?
Where is this article plagiarized from?
Why is this article poorly edited?