Ole Miss Football 2013 Team Program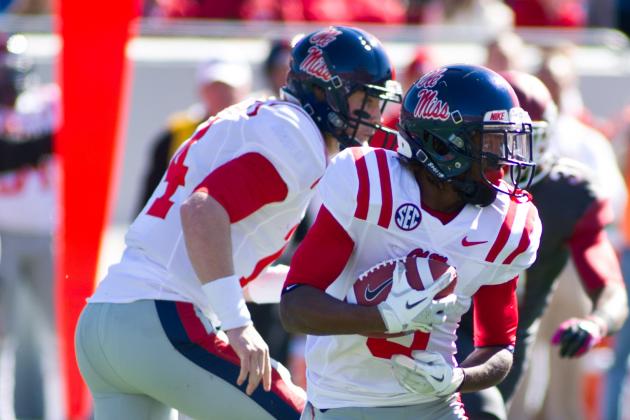 USA TODAY Sports

If there is a team that is on the rise in the SEC, it would have to be the Ole Miss Rebels.
After winning only two games in 2011, head coach Hugh Freeze took over the program in 2012 and led them to a seven-win season.
Now with a recruiting class coming in that could potentially be the best in school history, Ole Miss is looking to do some big things in 2013.
But with a schedule that features Alabama, Texas and Texas A&M, can the Rebels take the next step forward or can will they take two steps back?
Here's a full preview of the Rebels' 2013 season.
Begin Slideshow

»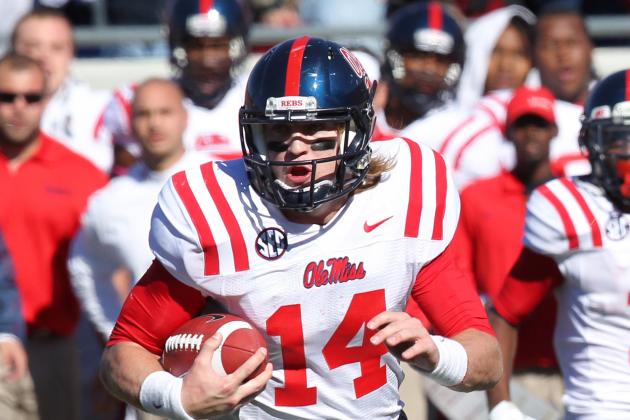 Nelson Chenault-USA TODAY Sports

The Rebels came out the gate winning their first two games of the season as they took down Central Arkansas and UTEP. But they suffered their first defeat of the year in the third week of the season against Texas 66-31.
Ole Miss bounced back with a 39-0 win over Tulane before getting thumped by Alabama and Texas A&M the following weeks. They went on to defeat Arkansas and Auburn before losing their next three games to Georgia, Vanderbilt and LSU.
In the season finale, Ole Miss came away with a 41-24 win over Mississippi State and a 38-17 win over Pittsburgh in the BBVA Compass Bowl.
The reason for the turnaround was a much-improved offense from years past. The Rebels averaged 423 yards per game, which was fifth best in the SEC. They were also one of seven teams in the SEC to average over 30 points per game.
The weakness for the Rebels last year was the defense, which surrendered 27 points per game, ranking ninth in the conference.
Regardless, it was a good season, and they hope they can build on it for the 2013 campaign.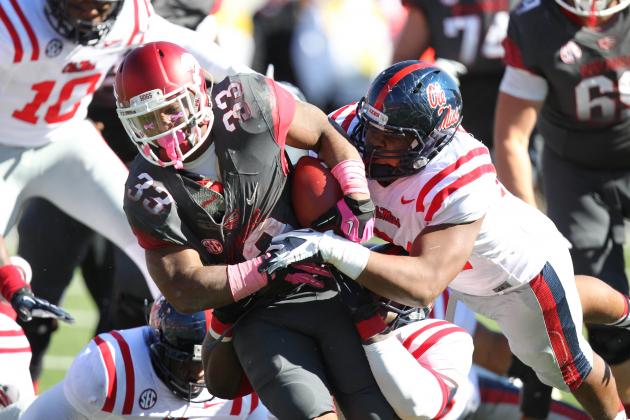 Nelson Chenault-USA TODAY Sports

Returning starters in bold: offense 8, defense 7.

Offense
Quarterback
1. JR Bo Wallace 6'4", 209
2. SR Barry Brunetti 6'0", 223
3. SO Maikhail Miller 6'2", 234

Running Back
1. SR Jeff Scott 5'7", 167
2. SO Jaylen Walton 5'8", 168
3. FR Mark Dodson 5'10", 189

Wide Receiver
1. JR Donte Moncrief 6'3", 226
2. SO Cody Core 6'3", 191

Wide Receiver
1. JR Vince Sanders 6'1", 185
2. SR Jordan Holder 5'11", 179

Wide Receiver
1. SR Ja-Mes Logan 6'3", 183
2. SR Korvic Neat 5'9", 166

Tight End
1. SR Jack Nuismer 6'3", 243
2. SR Justin Bigham 6'1", 232

Left Tackle
1. SR Emmanuel McCray 6'5", 320
2. SR Derrick Wilson 6'2", 335

Left Guard
1. JR Aaron Morris 6'5", 360
2. SR Jared Duke 6'7", 386

Center
1. SR Evan Swindall 6'4", 299
2. JR Austin Douglas 6'2", 320

Right Guard
1. SR Patrick Junen 6'7", 332
2. SO Justin Bell 6'3", 345

Right Tackle
1. SR Pierce Burton 6'6", 296
2. FR Robert Conyers 6'3", 286

Defense
Defensive End
1. JR C.J. Johnson 6'3", 230
2. JR Carlos Thompson 6'4", 240

Defensive Tackle
1. JR Byron Bennett 6'2", 281
2. JR Lavon Hooks 6'4", 302

Nose Tackle
1. SO Issac Gross 6'1", 250
2. SO Woodrow Hamilton 6'3", 300

Defensive End
1. SR Cameron Whigham 6'3", 255
2. SO Channing Ward 6'4", 260

Middle Linebacker
1. SR Mike Marry 6'3", 256
2. SR D.T. Shackelford 6'1", 246

Outside Linebacker
1. SO Denzel Nkemdiche 5'11", 207
2. JR Serderius Bryant 5'9", 215

Outside Linebacker
1. JR Keith Lewis 6'1", 220
2. SR D.T. Shackelford 6'1", 246

Nickel
1. SO Mike Hilton 5'8", 189
2. JR Cliff Coleman 5'10", 186

Cornerback
1. JR Senquez Golson 5'9", 188
2. SO Anthony Standifer 6'1", 175

Rover
1. SO Trae Elston 6'0", 190
2. SO Chief Brown 6'1", 200

Free Safety
1. JR Cody Prewitt 6'2", 214
2. SR Brishen Mathews 6'0", 193

Cornerback
1. SR Charles Sawyer 5'11", 178
2. SR Dehendret Collins 5'10", 185

Specialist
Place-kicker
1. SR Andrew Ritter 6'3", 225
2. FR Andy Pappanastos 5'11", 193

Punter
1. SR Tyler Campbell 6'2", 230
2. SR Chris Conley 5'8", 209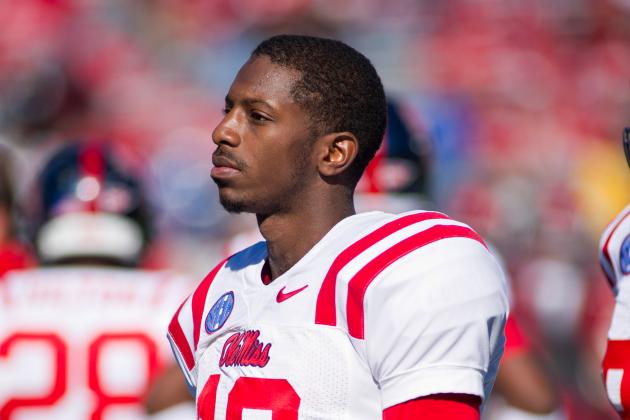 USA TODAY Sports

The only major injury the Rebels have suffered is to Vince Sanders, who was the team's second-leading receiver last year.
Sanders suffered a broken collarbone earlier this month and is expected to miss six weeks.
The loss of Sanders could mean true freshman Laquon Treadwell could get some reps at the starting Z-receiver position. Treadwell was ranked as the No. 1 wide receiver in the country, according to 247 Sports.
It's possible that Sanders could return on September 14 against Texas. If he can't go, then he should be back for the September 28 game against Alabama.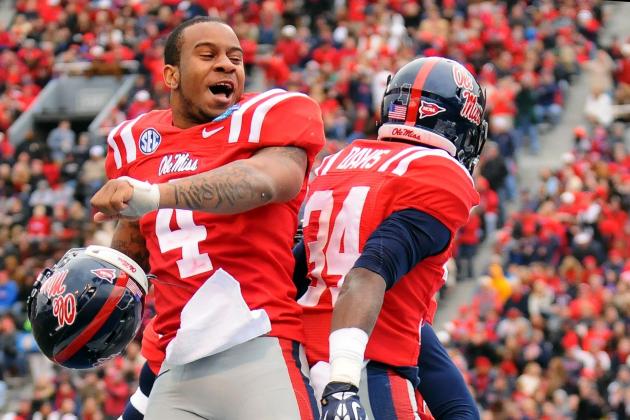 USA TODAY Sports

There are a few Rebels to watch as they try to be on top of the SEC West in 2013.
Quarterback Bo Wallace is coming off offseason shoulder surgery and is looking to duplicate the same success he had in 2012. Wallace threw for 2,994 yards and 22 touchdowns last season.
Another offensive player to watch is running back Jeff Scott. The running back from Florida rushed for 846 yards and six touchdowns last year. Scott is fast and elusive, and that's perfect for the offense the Rebels run.
Linebacker Denzel Nkemdiche was the team's best young player last year. He led the Rebels with 82 tackles, four forced fumbles and three interceptions. Per Hugh Kellenberger of The Clarion-Ledger, the coaches want him to be more of a leader this season despite only being a sophomore.
Defensive end C.J. Johnson started 10 games for the Rebels last year and notched 6.5 sacks. After recovering from a broken leg he sustained earlier this year, Johnson looks to have 10 or more sacks, which would not be unrealistic if his leg is 100 percent.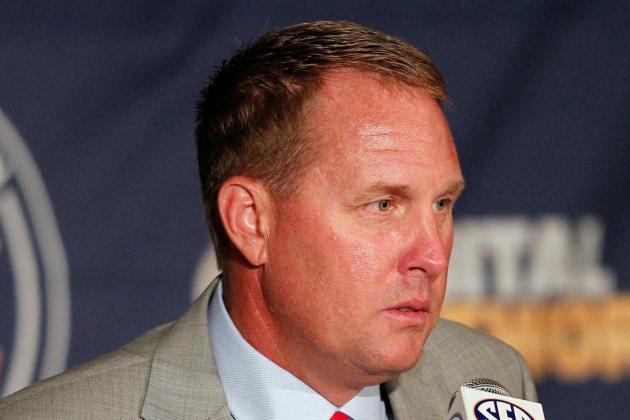 Marvin Gentry-USA TODAY Sports

Head Coach: Hugh Freeze
Linebackers/Special Teams Coordinator: Tom Allen
Tight Ends: Maurice Harris
Wide Receivers: Grant Heard
Co-Defensive Coordinator/Defensive Backs: Jason Jones
Defensive Line: Chris Kiffin
Assistant Head Coach/Co-Offensive Coordinator/Offensive Line: Matt Luke
Running Backs: Derrick Nix
Co-Offensive Coordinator/Quarterbacks: Dan Werner
Associate Head Coach for Defense/Defensive Coordinator/Safeties: Dave Wommack
For the most part the same coaching staff from last season is back for the 2013 year.
The Rebels did make one change in their staff as they hired Jason Jones to be the co-defensive coordinator as well as coach the defensive backs.
Jones has spent the last five seasons at Oklahoma State where he coached the cornerbacks. He helped Perrish Cox and Brodrick Brown become All-Big 12 players. Jones is replacing Wesley McGriff, who is now coaching with the New Orleans Saints.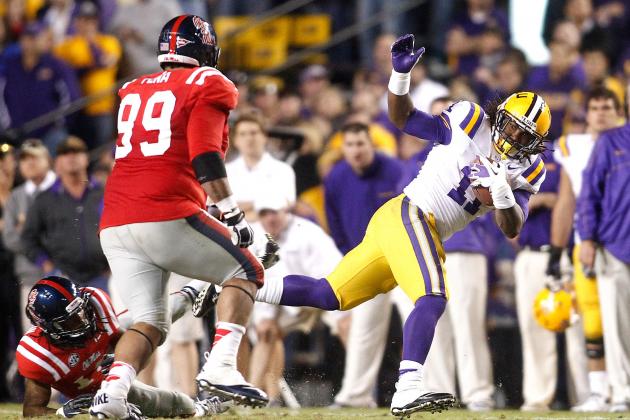 Crystal Logiudice-USA TODAY Sports

Conference games in bold.
August 29 at Vanderbilt
September 7 vs. Southeast Missouri State
September 14 at Texas
September 28 at Alabama
October 5 at Auburn
October 12 vs. Texas A&M
October 19 vs. LSU
October 26 vs. Idaho
November 9 vs. Arkansas
November 16 vs. Troy
November 23 vs. Missouri
November 28 at Mississippi State
The Texas and Alabama matchups are very important for the Rebels because it gives them an opportunity to see where they are as a team, as well as if they have made strides from last year.
Texas A&M and LSU are two more games to give the Rebels challenges. But with both of those games being played at home, the Rebels have a shot of winning at least one of them, possibly both.
The Egg Bowl against rival Mississippi State is always a big game for the Rebels. This year could have more meaning to it than in years past because both teams are looking to make a run at the SEC West.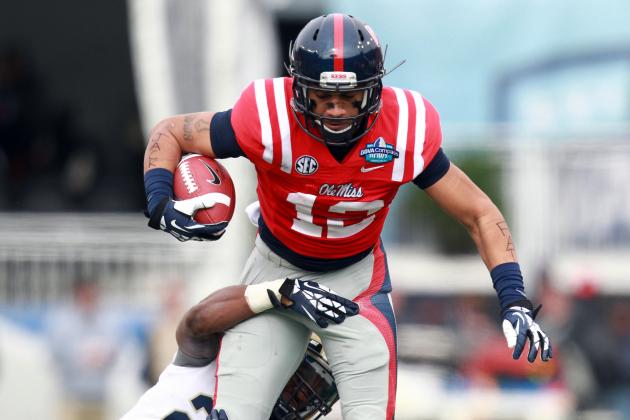 USA TODAY Sports

The Rebels offense likes to run multiple fronts because it want to keep the defense on its toes.
Last year, it ran 962 plays, which was the second-most offensive plays ran in the conference. The combination of Bo Wallace, Jeff Scott and Donte Moncrief is as good as any quarterback/running back/wide receiver trio in the country.
Moncrief was especially great last year, as he caught 13 passes for 334 yards and five touchdowns in the Rebels' final two games of the 2012 season.
But the key to the offense's success is the play of the offensive line. Four starters return, and four freshmen will be in the mix for playing time, including Laremy Tunsil, who comes to Oxford as the one of the best offensive prospects in the country.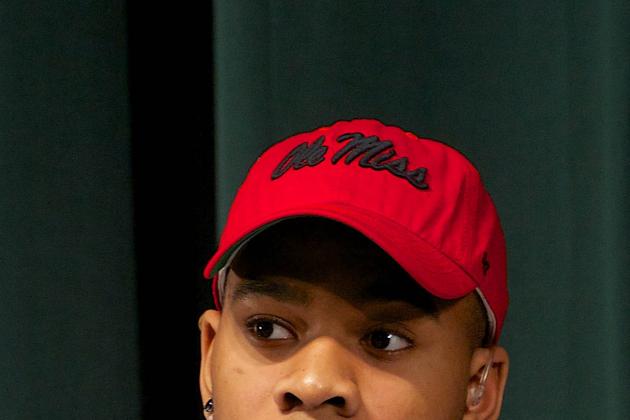 Dale Zanine-USA TODAY Sports

Like the offense, the defense will run out of multiple formations because defensive coordinator Dave Wommack likes the youth and talent he has on the roster.
Denzel Nkemdiche was one of those young players who performed well for Wommack, as he led the team in every major defensive category last season except for sacks.
But his brother, Robert, is a true freshman and comes to Ole Miss as the No. 1 prospect in the country, per 247 Sports.
Robert is expected to make an impact right away and is listed as a preseason freshman All-American, according to Craig Haubert and Tom Luginbill of RecruitingNation (subscription required).
The defense for the Rebels was solid, as it led the conference in tackles for loss (103) and was second in sacks (38). With the return of seven starters and the addition of very talented young players, the Rebels defense will be much improved from last season.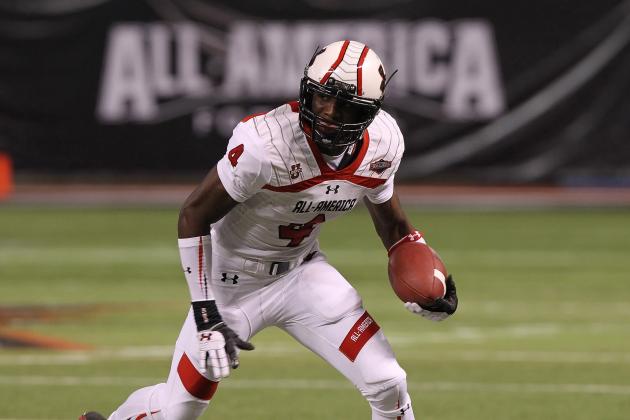 Kim Klement-USA TODAY Sports

There are two players who will be X-factors for the 2013 season.
On offense, Laquon Treadwell has a chance to do some big things for the Rebels. Treadwell has been working with the first-team offense during fall camp, and Coach Freeze has been pleased with his performance, per Per Hugh Kellenberger of The Clarion-Ledger. If Treadwell plays like he's been practicing, the offense will be dangerous all season long.
The same thing can be said about the defense if Robert Nkemdiche can get things going at defensive end.
Nkemdiche is the consensus No. 1 recruit in the country and has all the tools to be an All-American player.
Per Edward Aschoff of ESPN.com, the young defender has been impressing coaches during fall camp, and they believe he can contribute right away.
Freeze would like to have more pressure off the edge, and that's what he's hoping he can get from Nkemdiche. The talent is there for the defense to take the next step. But if Nkemdiche can have an impact, they will contend for the SEC West title.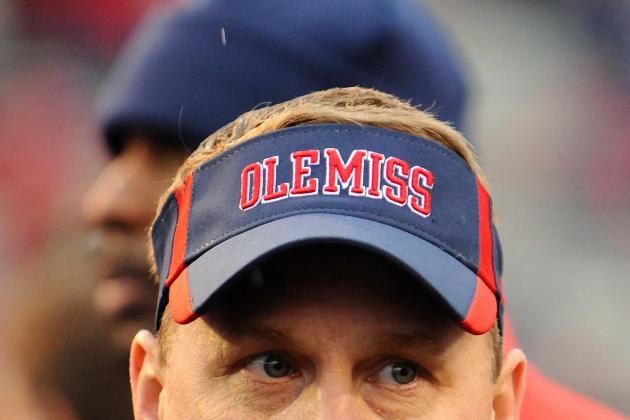 USA TODAY Sports

Because of the improvement the Rebels had last year and the success they had in recruiting, there are plenty of storylines to watch for this season.
The first is the play of Bo Wallace. He is coming off a solid 2012 season and is looking to do better in 2013. Can he keep the good times rolling in Oxford or will he not progress the way Freeze and the coaching staff would have liked him to?
Robert Nkemdiche, Laquon Treadwell and Laremy Tunsil are true freshmen who are expected to do big things this year. Can they live up to expectations or will they not make the impact that was expected out of them?
Freeze has lit a fire under the Rebels community, and Ole Miss is no longer the bottom-dweller of the SEC. Can it take the next step and be a true SEC contender or was last year a one-hit wonder?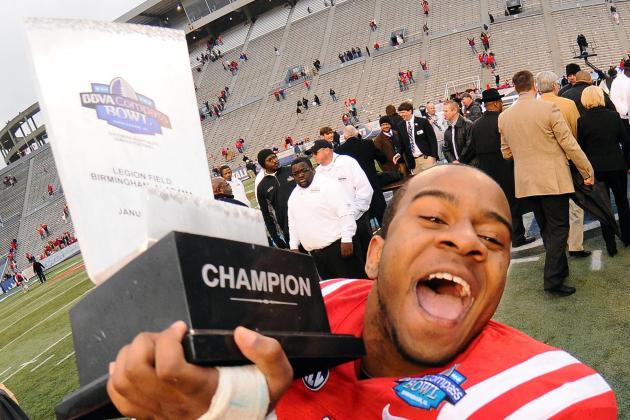 USA TODAY Sports

Based on the talent they have returning and the new talent coming into the mix, the Rebels will finish with an 8-4 record, 4-4 in the conference.
They will be a better team in 2013, but they will not be good enough to overtake Alabama, LSU or Texas A&M in the SEC West.
With the 8-4 record, they will likely make a trip to the Music City Bowl. Not the bowl they would like to go to, but if they win their bowl game, that will give them a nine-win season, which is something they haven't done since 2009.
The Rebels are a team on the rise. They won't be the kings of the SEC West in 2013, but this season will be another building block for where they want to be in the long run.