Ranking the 10 Most Shocking Moments in College Basketball History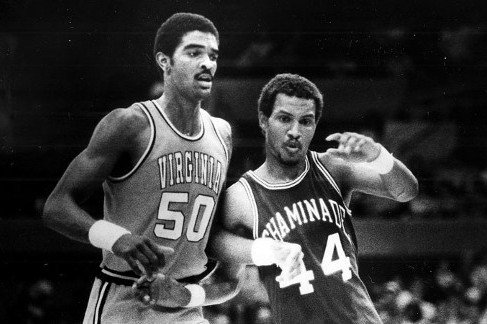 espn.go.com
Every year, college basketball has amazing moments that lead to league championships and postseason success.
Record-breaking performances and school-best achievements help make collegiate hoops one of the greatest spectator sports in the country.
Beyond the standard action, we are occasionally treated to astonishing instances that will grab places of distinction in sports history.
The following is a list of the 10 most shocking moments in college basketball history. (This list was created primarily choosing surprising outcomes and some extraordinary occasions.)
Here we go!
Begin Slideshow

»
Some players are known for their outstanding performances in big games.
Others have hit big shots to beat the buzzer.
Not Georgetown's Fred Brown.
Even though Brown was one of the best guards in Hoya history, he will forever be known for an inadvertent, accidental pass at the end of the 1982 NCAA Championship game.
Brown threw a pass straight to UNC's James Worthy. No one pressured him. Worthy did not make a stellar defensive play.
This pass, in the final seconds of Georgetown's heart-breaking, national championship loss to Michael Jordan's North Carolina Tar Heels, cost his team the 1982 NCAA title.
Even though Brown played a key role when the Hoyas did win it all in 1984, he is more acknowledged for this outrageous moment.
Richmond is one of several mid-major programs that, over the years, have caused heartburn for their "big school" opponents.
They have knocked off ranked teams that possibly assumed that they were going to squash the Spiders.
Richmond knocked off a Charles Barkley-led Auburn team in 1984 and beat defending national champion Indiana in 1988. Another of those teams was the No. 2 Syracuse Orange in the 1991 NCAA tournament.
Jim Boeheim's bunch had won the Big East and ran up a 26-5 record coming into March Madness. Even though the Spiders did not even win the Colonial Athletic Association title, they were not intimidated and were not overwhelmed by the Orange.
Richmond coach Dick Tarrant knew that he had to do something to level the court. The strategy he chose was throwing multiple defenses at Syracuse:
We changed defenses up. We played some zone, played some man-to-man, played some press, played some bluff press. We changed defenses out of bounds on the side, under, after field goals, after free throws. I think we kept them off-balance.
By keeping the Orange guessing, the Spiders were able to control the tempo and, ultimately, pull off a major upset, 73-69.
In doing so, Richmond became the first No. 15 seed to win an NCAA tournament game.
When Texas Western squared off against Kentucky in the 1966 NCAA championship game at Cole Field House on the University of Maryland campus, a paradigm shift took another big step forward in college basketball.
Racial integration had already begun in college athletics. But, this contest marked the first time when a school fielding an all-white starting lineup (Kentucky) faced a school running out an all-black starting lineup (Texas Western) in a college basketball championship game.
In today's media environment, this facet of the game would have been extensively covered. According to ESPN's Frank Fitzpatrick:
There was so little madness surrounding the contest, in fact, that its starting time was 10 p.m., it wasn't carried by a major network, and it was televised only on a tape-delayed basis in several American cities.
In spite of many of the inaccurate stereotypes of the day, Don Haskins' Miners used persistent defense and a disciplined, ball-control attack to knock off the Wildcats, 72-65.
The University of Texas at El Paso (formerly Texas Western College) website provides further insight into this historic moment:
Haskins, a humble and private man who does his best to avoid the public spotlight, has always said that color of skin was never an issue when he put his Miners on the court against Kentucky.

"I was simply playing the best players I had. It was what I had done all year," Haskins said.
While Haskins was trying to put his best players on the court, many coaches would have caved in to the pressure to do what was socially expected during that era, which was to start at least one white player.
It is interesting to note that, during the college basketball season following this game, Perry Wallace of Vanderbilt, was "the first black person to play varsity basketball in the SEC," the conference that Kentucky played in and still plays in to this day.
Winning a championship one year does not guarantee success the following year.
UCLA discovered that the hard way when they squared off against Princeton in the opening round of the 1996 NCAA tournament.
The Bruins' program legacy speaks for itself, not to mention that they were the defending champs.
However, Pete Carrill and the Tigers were not conceding anything.
Rather than trying to compete with UCLA on a raw talent level, Princeton came ready to play its distinctive brand of ball, with back-cuts and plenty of ball movement on every possession.
You might think that the Ivy League champs would have had to play a near-perfect game to keep this close. Not so, because the Tigers shot 17-of-46 from the floor.
The game was tied at half and UCLA had a seven point lead with under five minutes to play. But, the Bruins did not score another point, and the Tigers refused to give up.
In a perfect Princeton moment, Gabe Lewullis scored the go-ahead basket off of a back-door layup with just seconds to go.
David took down Goliath.
It's these kinds of amazing moments that make March Madness one of the best sporting events every year.
Northern Iowa's men's basketball program does not exactly have a storied history.
The Panthers have only made it into the NCAA tournament six times since entering Division I.
Ben Jacobson's 2009-10 squad was a gritty group that won the always competitive Missouri Valley Conference.
But do you really think that anyone in Cedar Falls thought that UNI was going to make big noise during March Madness? Me neither.
But, Ali Farkhmanesh's unconscious shooting down the stretch made a way for a miracle to take place, as UNI knocked off Kansas, 69-67.
ESPN's recap of this remarkable victory said:
Winning the tempo tug-of-war, ninth-seeded Northern Iowa (30-4) grounded the high-flying Jayhawks with in-their-jersey defense, then withstood a furious rally to become the first team to beat a No. 1 seed in the second round since UAB and Alabama did it to Kentucky and Stanford in 2004.
ESPN's Stats and Information stated that:
The Panthers also became the first MVC team since 1962 to defeat a top-ranked opponent (Kansas finished the season ranked No. 1 in both polls).
The 1983 Houston Cougars were one of the most mesmerizing teams in college basketball history.
Phi Slamma Jamma was the UH's hoops fraternity led by Clyde Drexler and Hakeem Olajuwon.
They were the unanimously recognized No. 1 team in the country. They dominated and dunked their way through the regular season and the opening rounds of the NCAA tournament.
But the Cougars ran head-on into a team of destiny: Jim Valvano's North Carolina State Wolfpack.
NC State had lost ten games in the regular season. No team had ever lost that many games and won it all.
The Wolfpack barely made it into The Dance. Once in, Valvano's squad took care of business.
In the championship game, NC State took control from the onset, holding an eight-point lead at the half.
But, Houston did not roll over. They came out in the second half and put together a game-changing 17-2 run.
With a little over a minute to go, the game was deadlocked at 52. NC State had the ball, and Valvano decided to hold for the last shot (pre shot-clock era).
North Carolina State guard Dereck Whittenburg handled the ball for most of the final possession. As the clock was running down, NC State scrambled to get up a decent shot. Whittenburg threw up a desperation 35-footer that came up way short.
Fortunately, for the Wolfpack, Lorenzo Charles retrieved the ball and put it in the basket, beating the buzzer and locking up the victory.
The George Mason Patriots were one of the last at-large teams selected as the No. 11 seed in the 2006 NCAA tournament.
Jim Larranaga's rag-tag crew rolled into March Madness lacking size and athleticism in comparison with some of the big-time teams that they would eventually play.
GMU's first NCAA tournament victory ever was an upset against Michigan State, a Final Four team the previous season. The Patriots' next win was a beyond belief triumph over defending champion North Carolina.
After George Mason beat Wichita State in the Sweet 16, they were faced with going up against No. 1 seeded Connecticut. The Huskies had four future first-round NBA draft picks on their roster.
The Patriots were down by nine points at half. They clawed their way back, sending the game into overtime. They battled to the final buzzer, beating UConn 86-84 in OT.
The ESPN recap of the game pointed out that GMU was:
...only the second double-digit seed to make the Final Four, matching LSU's run, also as an 11th seed, in 1986. They are the first true outsider to crash the quartet since Penn and Indiana State both got there in 1979.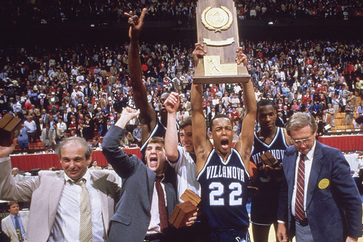 trutv.com
Teams that are No. 8 seeds are not supposed to make deep runs in the NCAA tournament.
They are expected to possibly win their opening round game and then go home after being defeated by the No. 1 seed in their region.
No one told this plan to the Villanova Wildcats when they entered the Big Dance of 1985.
Rollie Massimino's squad did not hit the tournament with lots of momentum. They actually stumbled through the final games of their regular season and the Big East tournament, barely making it in on Selection Sunday.
An opportunity was all that Villanova needed.
They played their way through one game after another, until they found themselves facing a dominating Georgetown team, led by future Hall of Famer Patrick Ewing.
Villanova did not play like they were just glad to be there. The Wildcats came out firing, ready to give it their best shot.
In fact, the Wildcats hit a miraculous 79 percent from the floor and held the Hoyas in check from start to finish, beating Georgetown, 66-64.
Nearly three decades later, Villanova remains the lowest seeded team to cut down the nets during March Madness.
Duke's Christian Laettner was one of the most productive college basketball players of all time.
The Blue Devils' post player competed in four consecutive Final Fours (1989-92), winning back-to-back NCAA championships in 1991 and 1992.
As a junior, he was selected as the Final Four Most Outstanding Player. As a senior, he won just about every national player of the year award for 1992.
But, the moment that Laettner will forever be known is "The Shot."
In one of the greatest college basketball games ever, Duke and Kentucky battled ferociously in the East Regional Finals from start to finish. The Blue Devils led at half 50-45. The Wildcats pulled even at the end of regulation, 93-93.
Back and forth, neither of these two teams would give in or give up.
With less than three seconds to go in overtime, Duke took the ball out underneath the Wildcats' basket.
Grant Hill made a pin point, three-quarters court pass to Laettner, who caught the ball, turned and fired his historic 17-foot buzzer-beater.
The dagger of all daggers, "The Shot" launched Duke into the Final Four and a national championship.
The most shocking moment in college basketball history happened on Dec. 23, 1982 when Chaminade University, an 800-student NAIA school from Honolulu, stunned No. 1 Virginia, 77-72.
Virginia, led by 7'4" three-time Player of the Year Ralph Sampson, had already racked up some impressive wins early in the 1982-83 season.
USA Today's Jaymes Song provided the context for this staggering occasion:
The game was supposed to be a pit stop in paradise for Virginia, which was returning home from playing two games in Japan. At 8-0, the Cavaliers seemed on their way to a return trip to the Final Four.

Even without an ill Sampson in Tokyo, Virginia beat Utah and an explosive Houston squad led by Akeem Olajuwon and Clyde Drexler.

Before traveling to Asia, Virginia won by 13 points at Duke and beat Georgetown and Patrick Ewing in a matchup of superstar centers billed "The Game of the Decade."

The Silverswords, meanwhile, were coming off a loss to Wayland Baptist.
Between actual weariness and a lack of mental readiness to compete, UVa allowed Chaminade to stay in the game that was tied at half.
ESPN's Patrick Dorsey recounted that Sampson was held to 12 points by 6'8" Tony Randolph, who scored 19 points in the most outrageous upset of all time in college hoops.
Richard Haenisch led the Silverswords in scoring with an eye-popping 38 points.
Because of the limited media coverage of the game, this shocking moment has an added layer of intrigue attached to it.
For additional information, Sports Illustrated's Alexander Wolf gave extensive perspective around "The Greatest Upset Never Seen."