6 Reasons Other Teams Should Fear the US at the 2014 World Cup
Jared Wickerham/Getty Images
The United States men's national team is currently dominating the CONCACAF region.
They have a stranglehold atop the Hexagonal Round of World Cup Qualifying and are fresh off winning the 2013 CONCACAF Gold Cup with relative ease.
As the 2014 World Cup in Brazil continues to creep closer, here are six reasons why other teams should be fearful of the United States men's national team next summer in South America.
Experience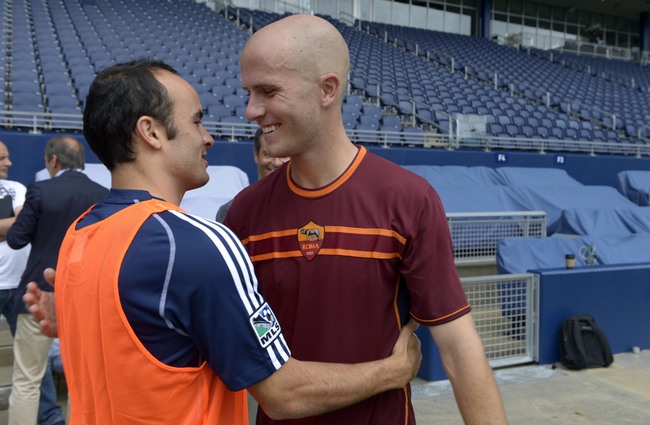 John David Mercer-USA TODAY Sports
Jurgen Klinsmann will not be taking a group wet behind the ears to Brazil next summer.
The Yanks will be stocked with players that have experience at World Cups. Some at more than one. Players like Landon Donovan, Clint Dempsey, Michael Bradley, Jozy Altidore and DaMarcus Beasley have all played in massive games in World Cups.
They know what it takes to win in these types of high-pressure situations. They also realize how rare the opportunity is to represent one's country in the most prestigious international tournament in world football.
They will be fully prepared and the moment will not faze them.
Dangerous Offensive Players
Jozy Altidore is developing into a world-class striker and will only get better during his second go-round in the English Premier League.
Clint Dempsey has proved he can score goals at any level. Landon Donovan is an explosive talent that can provide multiple weapons in attack for the USMNT.
Not to mention that Michael Bradley has developed a set of distribution skills that make him a threat to drop an incisive pass from anywhere on the field.
In short—the Yanks have quality attacking players that are proved against the world's elite. This U.S. side will find a way to the back of the net next summer.
Tactical Flexibility
Evan Habeeb-USA TODAY Sports
Jurgen Klinsmann has showed off his tactical acumen during his team's 12-game winning streak. The German manager has proved he can adjust at halftime (Bosnia-Herzegovina match) and shown a willingness to bring on new talent and fit them in accordingly.
The U.S. has had great managers in the past, but Klinsmann appears the perfect man for the job right now. He will know his team's strengths and figures out the best way to attack his opponent's weaknesses.
He is a serious asset for the Yanks.
Savior Between the Pipes
Having a goalkeeper the likes of Tim Howard is a massive advantage for the USMNT this summer in Brazil.
Howard's record of bailing out the Yanks' back four is well-known.
He consistently comes up with brilliant saves and is the type of goalkeeper that can keep the U.S. in any game against any team. USMNT fans can surely feel cozy with Tim Howard as their last line of defense.
Great Fan Support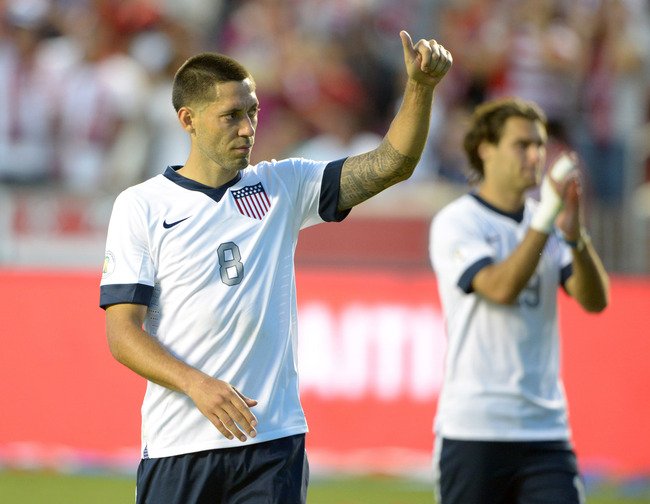 USA TODAY Sports
The U.S. fanbase is growing rapidly.
According to the Washington Post, Americans bought the most tickets to the 2010 World Cup in South Africa and it is a safe bet to assume that the U.S. faithful will be out in full force once again this summer in Brazil.
The U.S. is no longer a nation that can skate by in soccer without people noticing. The added pressure and support will do wonders for the USMNT next summer at the World Cup.
A Top Seed?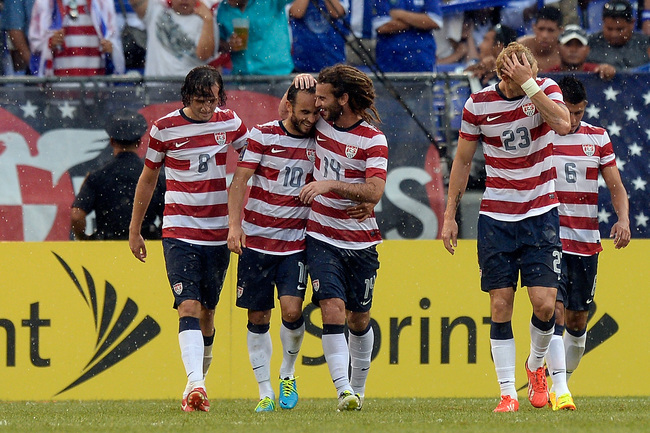 Patrick McDermott/Getty Images
If the U.S. continues its 12-game winning streak in its upcoming qualifiers, then there is a shot that the Yanks will nab one of the top eight seeds when the World Cup groups are determined.
That means that the road to advancing far in the tournament might not be as daunting as it could be for other nations.
Should the U.S. be placed in one of the easier groups in the tournament, they could be poised for a deep run.
Keep Reading

United States (National Football): Like this team?