Dustin Keller Injury: Updates on Miami Dolphins TE's Knee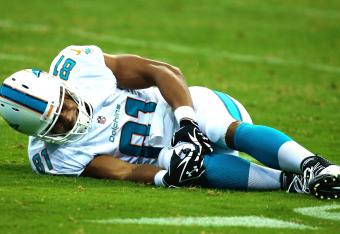 Miami Dolphins tight end Dustin Keller suffered a right knee injury in the second quarter of Saturday's preseason game against the Houston Texans in Reliant Stadium.
At the very end of a 14-yard reception from QB Ryan Tannehill, rookie Texans safety D.J. Swearinger came up to make the hit on Keller, whose leg bent awkwardly as he went to the ground.
The AP's Tim Reynolds captured the ominous image below:
This is how Dustin Keller's knee went one way, and lower leg went another. pic.twitter.com/LrkeIJoqBb

— Tim Reynolds (@ByTimReynolds) August 18, 2013
UPDATE: Wednesday, Aug. 21
USA Today's Jim Corbett reports that Tony Gonzalez is very unhappy about the hit that Keller took:
Atlanta Falcons tight end Tony Gonzalez says there is no place for the career-threatening hit Houston Texans rookie safety D.J. Swearinger delivered in Saturday night's preseason game that shredded Miami Dolphins tight end Dustin Keller's knee.

"That was ridiculous on his part. It should be a fineable offense. That's just not part of football -- hitting a defenseless player in his knee, that's something we all dread as players. That's my nightmare,'' Gonzalez told USA TODAY Sports. "Hit me in my head (instead).

"Any player who does that, I don't like it at all. I have no respect for that."
UPDATE: Wednesday, Aug. 21
Keller tweeted his appreciation:
I just wanted 2 thank everyone 4 keeping me n their prayers, u never really know how much support u have until something like this happens

— Dustin Keller (@DUSTINKELLER81) August 21, 2013
..and I have the best support group anyone could ask for..I'm so grateful for all of you..and I will come back stronger because of y'all!!!

— Dustin Keller (@DUSTINKELLER81) August 21, 2013
UPDATE: Tuesday, Aug. 20
From the Miami Dolphins:
Roster Moves | TE @DUSTINKELLER81 has been placed on the Reserve/Injured list and the team has signed LB Nathan Williams.

— Miami Dolphins (@MiamiDolphins) August 20, 2013
UPDATE: Tuesday, Aug. 20
NBC Sports' Mike Florio passes along a statement from Dustin Keller's teammate, Brian Hartline, who responded to D.J. Swearinger's reasoning for the low hit:
'It's crap,' Dolphins receiver Brian Hartline told WQAM's The Joe Rose Show regarding the explanation. 'I mean I think that, me personally, if you're telling me, 'Oh, I'm so worried about going high or hurt[ing] the head,' you consciously went low then, is what you're trying to tell me.'
UPDATE: Sunday, Aug. 18
From Ian Rapoport of NFL.com:
Dolphins TE @DUSTINKELLER81 emailed me: "I want everyone to know that as disappointing as this is I don't want anybody feeling sorry for me"

— Ian Rapoport (@RapSheet) August 19, 2013
1 more from @DUSTINKELLER81: "I'd like to thank all my family, friends and teammates for their prayers and support." Thanks support system

— Ian Rapoport (@RapSheet) August 19, 2013
UPDATE: Sunday, Aug. 18
From ESPN's Adam Schefter:
Dolphins TE Dustin Keller tore his ACL, MCL, PCL and, as if that weren't enough, dislocated his knee, per source.

— Adam Schefter (@AdamSchefter) August 18, 2013
UPDATE: Sunday, Aug. 18
From Alex Marvez of Fox Sports:
Filed to @FOXSports confirming what we thought: @MiamiDolphins TE Dustin Keller (knee) out for season, FOX Sports has learned. Next man up.

— Alex Marvez (@alexmarvez) August 18, 2013
Deepi Sidhu of HoustonTexans.com has the latest from D.J. Swearinger, who also took to Twitter to wish Keller the best following the game:
"You know, I never go hit somebody to injure them at all, so I told him good luck after the hit, but I was just playing within the rules," Swearinger said after the game. "I wish him all the luck and I wish him a speedy recovery."
Everybody pray 4 justin keller....i pray you have a speedy recovery bro...and kill it when you get back.... DEFINITELY wasnt intentional..

— DJ Swearinger (@JungleBoi_Swagg) August 18, 2013
UPDATE: Sunday, Aug. 18
Armando Salguero of the Miami Herald has the latest from Joe Philbin on Dustin Keller:
Dolphins coach Joe Philbin, who has a curious habit of not even fielding questions about injuries, had no choice late Saturday but answer questions about the right knee injury to tight end Dustin Keller.

Philbin said it is too early to determine the seriousness of Keller's injury, although sources within the team are fearing the worst. Philbin said he's hopeful the club gets Keller back sooner rather than later.
UPDATE: Sunday, Aug. 18
NFL.com provides video of Keller's injury (Warning: video contains gruesome footage):
UPDATE: Saturday, Aug. 17
From ESPN's Adam Schefter:
Dolphins TE Dustin Keller, who suffered what looked like a gruesome knee injury, is undergoing an MRI tonight.

— Adam Schefter (@AdamSchefter) August 18, 2013
Original Text
Jeff Darlington of the NFL Network noted that Keller was carted off the field and that his teammates were all out there to support him:
Dustin Keller, who took a shot to the knee that sent it in a very awkward direction, is being taken off on cart. Teammates all out on field.

— Jeff Darlington (@JeffDarlington) August 18, 2013
In leaving the AFC East division rival New York Jets and signing with the Dolphins this offseason, Keller was presented with an opportunity to face his former team twice during 2013.
Unfortunately, it looks as though his year could be prematurely cut short, which has to be even more frustrating considering he missed eight games due to injury a season ago.
When healthy, the former first-round pick is a dynamic pass-catcher at the tight end position. In his last full season in 2011, the 28-year-old Keller posted career bests with 65 catches and 815 yards, while also matching his previous high of five touchdowns.
Keller was one of the several notable acquisitions made by GM Jeff Ireland to revamp the Dolphins roster.
With a young, developing quarterback in Tannehill entering his second year, Ireland provided his new face of the franchise with a plethora of playmakers consisting of Keller and wide receivers Brandon Gibson and Mike Wallace.
It appears that Tannehill and Co. are jelling, as he exited Saturday's game having completed 10 of 15 passes for 141 yards and a touchdown.
Keller's potential absence is a huge loss for Miami. He has the athletic ability and reliable hands to stretch the middle of the field, and his backups on the Dolphins depth chart are Charles Clay and Michael Egnew.
Clay has caught a combined 34 passes over the past two seasons, while Egnew is a speedy, intriguing athlete but has been a bit of a disappointment as a 2012 third-round selection. Egnew appeared in only two games as a rookie and didn't catch a pass.
This article is
What is the duplicate article?
Why is this article offensive?
Where is this article plagiarized from?
Why is this article poorly edited?