WWE SummerSlam: Logic and Surprises Make SummerSlam Exciting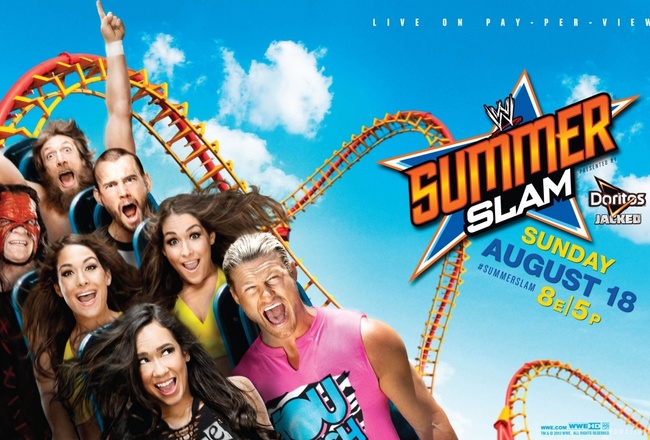 wwe.com

WWE has an absolute abundance of talent on its roster right now, and the only stumbling block to a hugely entertaining and successful product is how that talent is used.
In what WWE views as the second-biggest pay-per-view of the year, we are set to enjoy two huge main events and an undercard with real storytelling and well-thought-out feuds.
The clever combinations of talent in meaningful feuds has been the key reason to making SummerSlam a hugely anticipated PPV this year.
CM Punk and Brock Lesnar have looked back upon their best in opposition of each other, Cena and Bryan have made the WWE title look hugely important after a few dull months, and the McMahon's growing story has added a layer of intrigue, even to those who are not fans of their on-screen presence.
But really, what will make SummerSlam a wonderful event is the fact you could conceivably see a whole host of outcomes in the majority of matches and see logical reasons why each could come about.
Whereas some PPVs begin and you feel like the outcomes are never in question, most of these matches are a real 50/50 split for either competitor, and there's added excitement with the Money in the Bank briefcases waiting to be cashed in.
Heck, the only two matches that seemed nailed on are the Bray Wyatt vs. Kane encounter—at least that has the intrigue of Wyatt's character and the Ring of Fire—and the Brie Bella vs. Natalya match, which I imagine a few of us will not even concentrate on.
So, where are the twists and turns?
Dolph Ziggler and Kaitlyn vs. Big E Langston and AJ Lee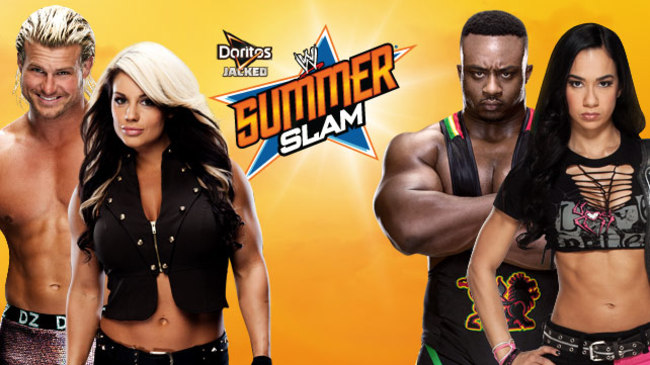 WWE.com

Whilst I may not exactly be pleased to see this become a mixed tag, there is no way of saying this is a definite win for either side.
To focus on the Divas, AJ is still in the early stages of a title run. Kaitlyn has been her only foe, and AJ brings far more interest to the division than her rival.
Yet, AJ has been consistently a step behind Kaitlyn of late, and this would usually mean the PPV is her time to shine.
It is also a likelihood that dirty tactics will thrive in Big E and AJ. Layla could very well make her presence known.
However, Kaitlyn could be due a win to keep this feud heading for one more PPV.
Not only that, but Ziggler is also clearly the big name, and "The Showoff" is on a different level compared to Big E.
Ziggler needs to move on from this feud, and the best way to do that is to win this, giving the crowd something to cheer about early, with the added bonus of laughing at an AJ Lee breakdown.
Cody Rhodes vs. Damien Sandow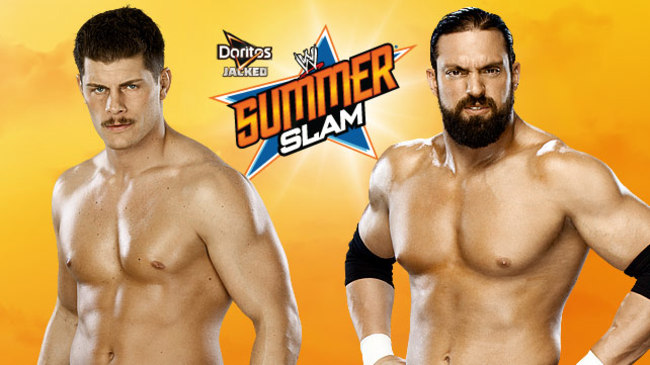 WWE.com

This feud has been really enjoyable and has done wonders for both of these men, as they embark on new paths in the WWE.
For a feud that is at the least fourth down the pecking order, WWE have made the effort to give it prominent screen time on SmackDown and build the rivalry between each man. A story has been told, and that is refreshing.
In terms of a winner, well, it's another open one.
As both men follow these new paths, both need strong momentum.
For Cody Rhodes, we could see the emergence of babyface who can have a real impact on the product in the coming months.
For Damien Sandow, that briefcase almost guarantees him a World Championship title, and at the very least, he will be involved in a World Championship feud.
Focusing entirely on the match, Sandow has all the brains to win dirty, whilst Rhodes will look to read his old friend's moves before he even attempts them.
With the added possibility that even with a defeat, Sandow could cash-in later in the night to turn his night into a hugely successful one. It is another open match which should keep us on our toes until the finish.
The Best vs. The Beast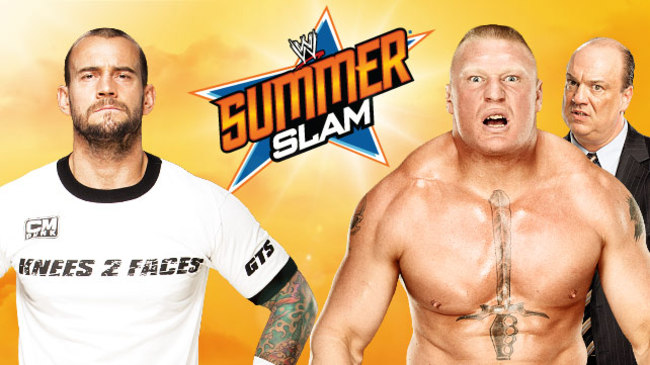 WWE.com

Two titans of the modern industry meet in one of the most exciting matchups we will witness this year in one of the hottest feuds going.
And it is really hard to pick a winner.
"The Best" vs. "The Beast". The tagline itself shows just how equal this is.
Both are legitimate winners in the ring, and both are logical winners in the grand scheme of story.
I don't think this is the last time these two will meet in the ring, and I don't think this is the end of the CM Punk and Paul Heyman animosity.
As such, the storyline told will be about the continuation of this feud.
A clean Brock Lesnar win would give Punk a setback, give Heyman the upperhand and fuel Punk's desire to prove himself, as well as an intriguing long-term story of how he finally overcame the beast.
Some dirty tactics resulting in a Lesnar win would fuel Punk's injustice, present Punk as a cheated hero and make him hate Heyman even more. This scenario probably gives Punk the chance to carry on his fight with Heyman in Lesnar's contractual absence.
A Punk victory gives the hero his moment and builds a massive victory over Lesnar. It also brings him a step closer to a chance to hurt Heyman and to begin a likely building up for a Lesnar comeback down the line for a rematch.
This is clearly about more than just Punk vs. Lesnar. There will be Paul Heyman involved, there could be Curtis Axel and there could even be a new "Heyman Guy."
Aside from all that, the natural ability of these men makes the match an extremely exciting prospect.
Alberto Del Rio (c) vs. Christian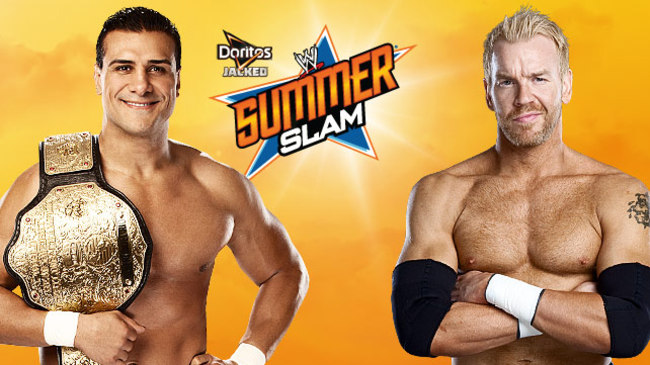 WWE.com

This World Heavyweight Championship feud is the first of the two main titles that could change complexion completely once the match is over.
Men with briefcases will be at the forefront of the fans' thoughts during these two fights, and it will start here with Alberto Del Rio's World Heavyweight Championship defence against Christian.
This is another match that either man could win.
Alberto Del Rio looks to build himself as a more menacing heel and one who gets heel heat for the right reasons. The ever-popular Christian would be a good man to go over on that quest.
Christian, on the other hand, is still presented as a real threat at this level on the roster and is a man the company can trust to be a strong face champion.
It would freshen up that title scene and open up the possibility of a Damien Sandow cash-in.
This cash-in could, in theory, come on either man, although it seems more likely to be used to put heel Sandow over a face champion, both for reaction and for the initial feud.
We could see Sandow come down to the ring if Christian takes the win, we could even see him come out to the ring only to be thwarted once more by Cody Rhodes, an outcome that could lead to a multi-man feud with Del Rio, Christian, Rhodes and Sandow if WWE felt compelled to go in that direction.
And do not forget Del Rio's wronged friend, his one-time ring announcer Ricardo Rodriguez. Layers of intrigue add to the feud.
John Cena (c) vs Daniel Bryan (with Triple H as Special Guest Referee)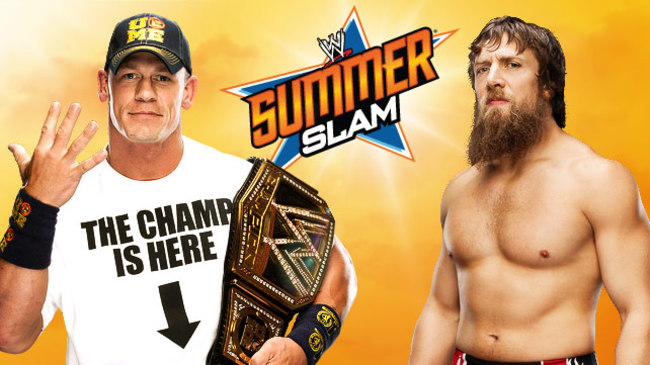 WWE.com

In my opinion this is the hardest match to call on the card, and one of the hardest in recent history. WWE has muddied the waters with involvement of so many different angles.
Whether rightly or wrongly, the different aspects within the feud makes this match too hard to call.
We could have a clean win for either man and no cash-in.
We could have a clean win for either man and a cash-in.
The cash-in could be under Vince's instructions, it could not.
Triple H could have a big hand in the match or the cash-in attempt. He could do this on purpose or accidentally. And he could do it in favor of either man as a face move or a heel move.
Vince McMahon could have a huge hand in the match or the cash-in attempt.
Whilst I don't think we will see a Cena heel turn in this one, this match could give us a heel turn for Daniel Bryan, Randy Orton, Triple H, Stephanie McMahon or a full and final turn from Vince.
Even Stephanie McMahon could appear on this one. And let's not forget our Raw GM Brad Maddox.
I do not even need to write this in meaningful paragraphs, the list of outcomes keeps the match so open.
There is no way I will be losing concentration at any point in this match; there is too much that could happen.
We may even see one of the times during the year that Cena proves he can hang in the ring with anyone, whilst we may be witnessing Daniel Bryan confirm his place as a main-event star in WWE.
Every reason on the slide and the aforementioned slides makes me more excited about this SummerSlam than I have been for SummerSlam in years.
I raise my glass to WWE for using logic to build up understandable twists and turns in its storylines. That is the way to hook your audience.
As stories before have proven, shocks for shocks' sake leave people confused.
On the other hand, twists and turns with plot teases and forthcoming ramifications is the spice of WWE life.
Keep Reading