Alex Rodriguez's Lawyer Says Yankees Hid Injury from Star Slugger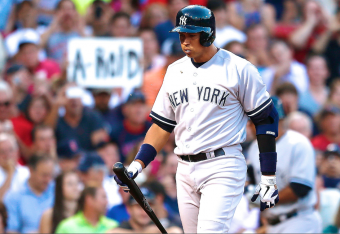 The rocky relationship between the New York Yankees and Alex Rodriguez appears to have taken a turn for the worse.
The star third baseman's newly retained lawyer, Joseph Tacopina, is raising accusations that the club attempted to shorten A-Rod's career by playing him when he was injured, per Steve Eder of the New York Times.
During the 2012 playoffs, Tacopina said, the Yankees hid from Rodriguez that a magnetic resonance imaging test had revealed that he had a torn labrum — essentially a hole in his hip — and continued to play him, even though he was struggling mightily.

"They rolled him out there like an invalid and made him look like he was finished as a ballplayer," Tacopina said.
UPDATE: Wednesday, Aug. 21
ESPN's Andrew Marchand reports that Alex Rodriguez has instructed his legal team to let him focus on playing:
Alex Rodriguez has instructed his legal team to quiet down the rhetoric with the New York Yankees and Major League Baseball because he wants the focus to be just on baseball, according to a source in Rodriguez's camp.
UPDATE: Monday, Aug. 19
Andrew Marchand of ESPN New York reports a new development in the Yankees vs A-Rod battle:
Alex Rodriguez's legal team is preparing to file a medical malpractice suit against the Yankees' team doctor, a source in A-Rod's camp told ESPNNewYork.com.

Rodriguez and his lawyers believe they have evidence that supports their contention that Chris Ahmad, the Yankees' team doctor, misdiagnosed A-Rod's hip injury during last October's playoffs. They have yet to file the suit as they continue to put together their case.
The report details how A-Rod spoke with doctors after Game 3 of the ALDS against the Tigers:
After the game, Rodriguez told the team his previously injured right hip felt off. He went for an MRI, and the focus of the exam was the original injury. It turned out that Rodriguez, who previously had surgery on his right hip, needed an operation on his left hip.

"He blames Dr. Ahmad for missing his hip injury? He missed his own hip injury," a Yankees official told ESPN New York's Wallace Matthews last month. According to records provided by A-Rod's team to ESPN New York, the radiologist working with Dr. Ahmad on Rodriguez's MRI on Oct. 11 reported, "Stable postoperative appearance of the right hip with no evidence of labral re-tear, stable degenerative change, and only minimal gluteus medius insertional tendinosis. Partial evaluation of left hip revealing superior labral tear with small parabal cyst."
UPDATE: Sunday, Aug. 18
Andrew Marchand of ESPNewYork.com has the latest on the controversy surrounding Alex Rodriguez.
Alex Rodriguez's lawyers contacted the Major League Baseball Players Association earlier this month to formally begin the grievance process into claims that the New York Yankees have mishandled his medical treatment since last October's playoffs, sources familiar with the communications between the two parties told ESPNNewYork.com.
UPDATE: Saturday, Aug. 17
ESPN's Wallace Matthews and Andrew Marchand have the Yankees' response to A-Rod:
New York Yankees team president Randy Levine on Saturday challenged Alex Rodriguez to release his medical records to support assertions by Rodriguez's lawyer that the Yankees had misled their $275 million third baseman about the extent of his injuries in the hopes Rodriguez would be unable to play again.

"Alex should put up or shut up," Levine told ESPNNewYork.com in a telephone conversation Saturday afternoon.
Original Text
Tacopina goes on to accuse Yankees president Randy Levine of telling Dr. Bryan T. Kelly, a prominent surgeon, that he didn't want to see the controversial slugger on the field ever again.
Of course, the Yankees aren't going to let Tacopina make those kind of accusations without issuing a response. Levine has already called the lawyer's comments "specious and completely false," per Eder.
Tacopina went on to allege that the Yankees and Major League Baseball commissioner Bud Selig have been trying to force Rodriguez out of the game so that Selig can make him the "poster boy" for doping and the Yankees can find a way out of the $86 million remaining on his massive contract.
Rodriguez was recently suspended for 211 games by MLB for violating the league's antidoping rules with his involvement in the Biogenesis scandal. It's the longest suspension in league history for that type of violation.
MLB executive vice president Robert Manfred criticized Rodriguez's representation for skirting the issue as to whether or not their client ever used performance enhancing drugs, telling Eder:
The bottom line on this, I have yet to see Alex Rodriguez or any of his representatives say that Alex Rodriguez didn't use P.E.D.'s. They've adopted a strategy to make a circus atmosphere of irrelevant allegations.
Regardless of which side is right, this is a development that surely will put even more stress on the already tense relationship between A-Rod and the club he's spent the last decade with. Rodriguez, who could play out the rest of the season while he waits for the appeal process to unfold, is hitting .286 with one home run and four RBI this season.
This article is
What is the duplicate article?
Why is this article offensive?
Where is this article plagiarized from?
Why is this article poorly edited?