Western & Southern Open 2013: Nadal, Sharapova and Other Winners and Losers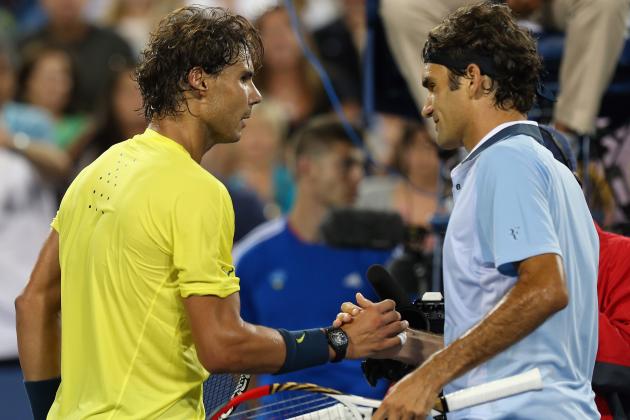 Ronald Martinez/Getty Images

Rafael Nadal continued his historic summer hard-court streak with the 2013 Western and Southern Open title. He is the first player since Andy Roddick in 2003 to pull off the sweep of Canada and Cincinnati.
There were interesting off-court stories in the WTA, failed opportunities and a long overdue announcement from U.S. Open tennis.
All this and more in this week's edition of "Winners and Losers," where we comment on the unusual, disappointing and triumphant happenings in professional tennis. We will also hand out the debut award The Golden Breadstick to counter the weekly Burnt Bagel.
Begin Slideshow

»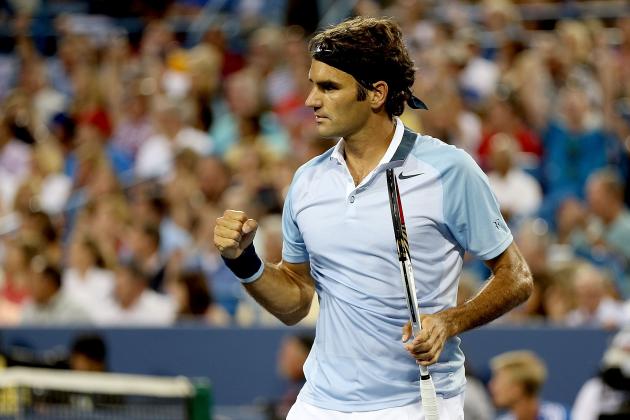 Matthew Stockman/Getty Images

Yes, Roger Federer lost in the quarterfinals of Cincinnati's Southern and Western Open to archnemesis Rafael Nadal.
He lost 820 points in the ATP Rankings because he was unable to defend his title. He has slid to No. 7 in the world, his lowest place on the totem pole since October 2002 just after Pete Sampras had captured the U.S. Open.
There is plenty of sunshine, however, that makes Federer one of the biggest winners of the week:
He is using his old racket, which will at least simplify things for now in his stretch to win the U.S. Open. He was able to get in three good matches of work.
His back seems to have healed, and his serving was much better against Nadal. A few inches on some of his shots and perhaps he would have pulled off a major confidence booster. He gave Nadal one of his four toughest matches of the year on hard courts.
The odds seemed long that Federer could legitimately contend at the U.S. Open, but he has shown that he has a chance. He is a contender as long as the back holds up.
Federer told Oliver Brown of The Telegraph that "I know that my body's fine and my mind's OK, and I can definitely take more from this week than I could for the last three months."
The U.S. Open could not be happier, and tennis fans concur.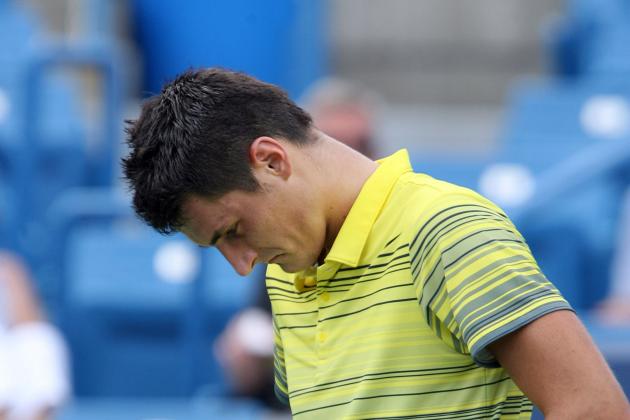 Mark Lyons/Getty Images

Back in January when the new year Down Under had dawned with Bernard Tomic's first ATP title at Sydney, it seemed that the brash young 20-year-old would be headed for greatness, or at least the top 10, if you asked him. He said, through ABC.net.au "I would like to reach the top 10 by the end of the year." It was a lofty goal considering his ranking was at No. 52.
After a nice Wimbledon run in reaching the fourth round, Tomic's next goal was to crack the top 32 and receive a seed for the U.S. Open, according to ninemsn.com. He was still talking about the top 10 and winning Grand Slam titles someday.
But he lost in the first round at last week's Canada Open.
Heading into this week's Masters 1000 tournament in Cincinnati, Tomic had to get through qualifying rounds but could not even make the first round after losing in two quiet sets to Robby Ginepri.
His ranking has now dropped to...No. 52.
Tomic might want to let his racket lead the discussions instead of proclaiming his ambitions to the media.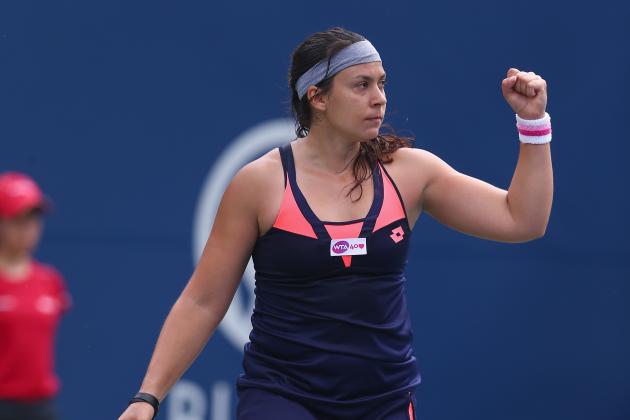 Andy Lyons/Getty Images

Newly minted Wimbledon champion Marion Bartoli followed up her greatest victory with retirement. The reaction from tennis fans ranged from shock to supportive understanding. Above all, there is great respect for her accomplishments, spirit and charisma.
At 28 years old, she was battling injuries. She had achieved her life's dream and was unwilling to go through the motions in showing up and cashing in a few more checks.
She may disappear from professional tennis for a number of other pursuits, like classical ballet, according to Matt Cronin's report. Or she may end up as a Fed Cup captain or TV commentator overseas. Tennis always has room for her personality.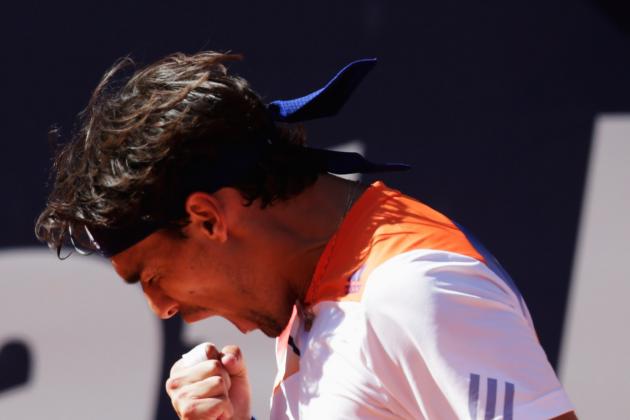 Joern Pollex/Getty Images

A few weeks ago, Fabulous Fabio Fognini was closing in on three straight clay-court titles. He mowed through second-tier draws like David Ferrer's alter ego. He was as ready as ever to take his talents to hard courts and run with the big dogs.
Uhhh, not so fast, Fognini. Welcome to life without clay, where hard knock lessons do more than jar the body.
He was crushed by Ernests Gulbis in the third set of Montreal's Canada Open. Then he was doubled up by old journeyman Radek Stepanek, 6-2, 6-4.
His final game was one of the worst meltdowns since Chernobyl. He double-faulted twice. He received a code violation and loss of a point by slamming the ball. Then he foot-faulted twice in a row to end the match.
Stepanek could have sat in a lawn chair and folded his arms. He did not need to return a single point.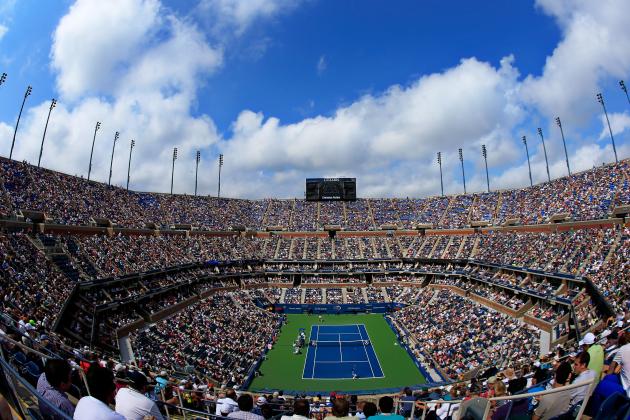 Chris Trotman/Getty Images

Better late than never. Maybe the rain gods were just angry that the U.S. Open had been dragging its feet to build a roof for Arthur Ashe Stadium. After all, five straight years had washed away the Sunday finish for the men's final.
The cheap solution was to pencil in the U.S. Open men's final for Mondays. It was like pretending to be happy with a failing economy. Not everybody was pleased, and the ATP opposed the switch.
So now, the U.S. Open has decided to slap down more than $100 million to keep water away from 264 square meters.
It's about time, even if the projected completion date is not until 2017. By then, it might give tennis fans a reason to pack the stadium as the Big Four of men's tennis could be getting into line to fill out some retirement papers.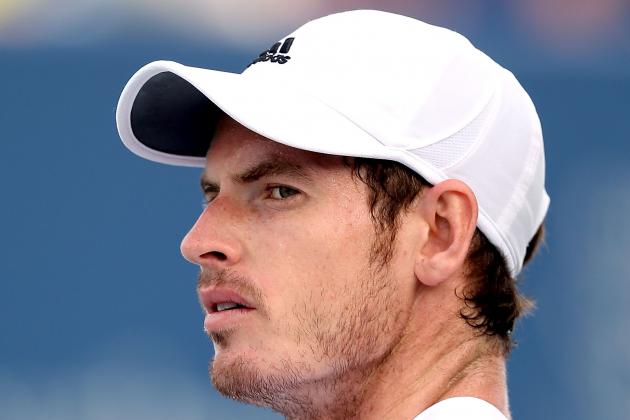 Matthew Stockman/Getty Images

Andy Murray is not playing like the defending U.S. Open champion.
He does not have his Wimbledon urgency.
He will need to create his own momentum. At least he doesn't appear worried.
Murray told The Independent that he doesn't have to "feel a bit like a loser" anymore if he loses big matches.
He certainly didn't play at Montreal and Cincinnati with a winner's mentality.
Maybe Murray has decided he can only put forth his entire package of energy and fire at Grand Slam venues. Regardless, it's a dangerous precedent to set if he feels he can turn the energy switch on and off at will.
Everyone has waited for Grigor Dimitrov to emerge into a tennis star. He is inconsistent but dangerous, and he often waves his racket like a magical wand.
He won a second set against Rafael Nadal in the Western and Southern Open, assisted by an incredible underhanded, air-stepping stroke in reply to the Spaniard's overhead smash.
Do we call it the stair-step submarine special? Better yet, watch it a few times and enjoy the artistry. Some things were meant to be more visually poetic than hindered by words.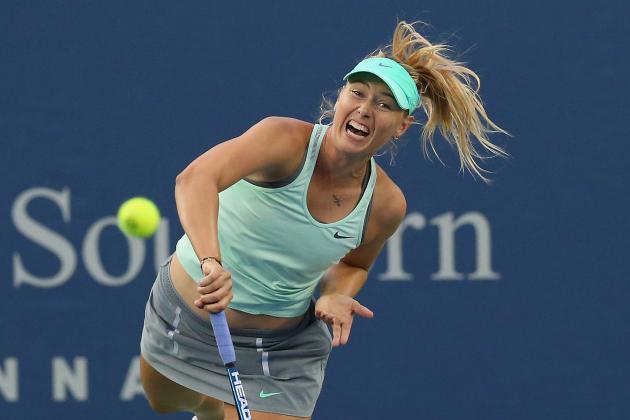 Ronald Martinez/Getty Images

Apparently, one match does indeed define a coach-player relationship.
It took a single loss for the dream team combo of Maria Sharapova and Jimmy Connors to file for divorce. Even Dennis Rodman and Carmen Electra lasted a whopping nine days before their annulment.
While there were questions about what Connors could do to help Sharapova's game, it's likely his older curmudgeon's facial mutterings from the stands did not endear himself to the headstrong Sharapova.
Whatever, this one falls squarely on Sharapova. She either made a poorly thought-out choice to select a coach, or she doesn't mind upstaging Lewis Carroll's Queen of Hearts.
Could she have at least gambled for some Connors magic at the U.S. Open?
Sharapova needs to bite into a burnt bagel, because she is this week's easy winner.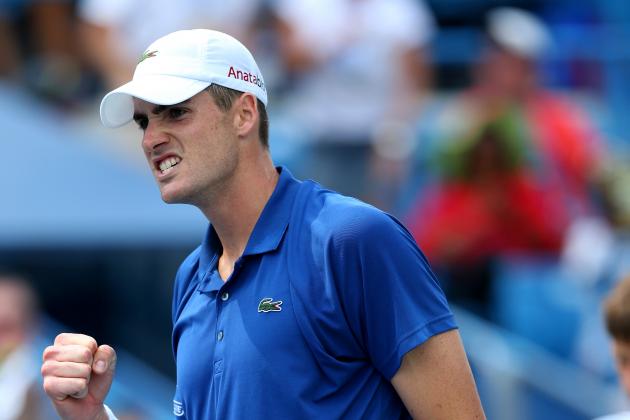 Ronald Martinez/Getty Images

Big John Isner is this week's version of Milos Raonic. He rode his enormous serve and was opportunistic in breaking Novak Djokovic and Juan Martin del Potro. At least he outclassed Raonic's effort against Rafael Nadal in a Masters 1000 final, which meant that he showed up for more than the coin toss and photo shoot.
The big picture is that Isner has turned around a poor 2013 season with a great run on North American hard courts, including a title at Atlanta and runner-up at Washington, D.C.
Could he be this year's Tomas Berdych and make a run at the U.S. Open semifinals? The draw will determine a lot, but some of the power at the top has been vulnerable.
If Big John can keep throwing thunderbolts and somehow seize the banner of U.S. tennis, perhaps he can turn Arthur Ashe Stadium into a Jimmy Connors concerto. Although this would probably invoke a scowl from Maria Sharapova.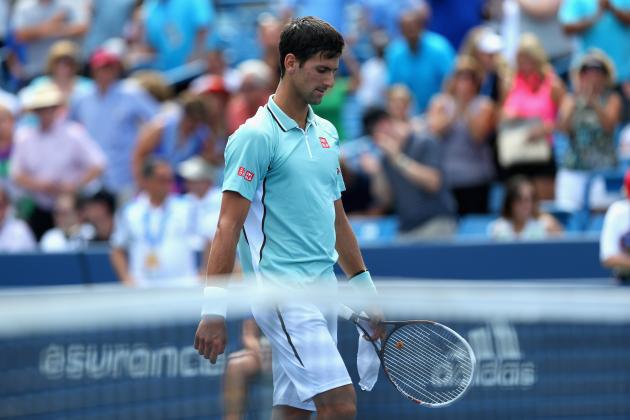 Ronald Martinez/Getty Images

Someone needs to call a plumber because Novak Djokovic's ATP No. 1 ranking is leaking points. Last week, his tough semifinal loss at the Canada Open to Rafael Nadal cost him 640 points. This week, the damage was a loss to John Isner in the quarterfinals, which will reach into his pockets for another 420 points.
Meanwhile, rival Rafael Nadal is storming ahead with gains of 2,000 points after two weeks of hard courts. Even cement dancer Andy Murray is now trailing the King of Clay by fading behind Nadal at No. 3.
The race is tightening up faster than anyone could have reasonably expected and Djokovic's run for a third straight year-end ATP ranking at the top is not going to be easy. It's always his goal to win every Slam, so the pressure of the ranking wouldn't figure to be any different. But he blew a big opportunity to stave off Nadal this week.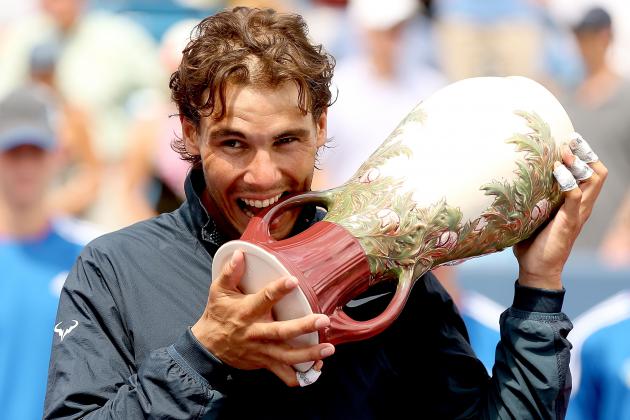 Matthew Stockman/Getty Images

What else can tennis fans say about the Sultan of Cement? A perfect 15-0 record has temporarily upstaged his clay-court exploits. In other words, only Nadal on hard courts could overshadow Nadal on clay. (OK, not to get carried away with a two-week window in North America, but still mighty impressive.)
In pulling off the Canada-Cincinnati double, Nadal joins Andy Roddick (2003), Patrick Rafter (1998) and Andre Agassi (1995). (Only Agassi failed to go on and win the U.S. Open, falling to rival Pete Sampras.) Not even Roger Federer and Novak Djokovic have pulled off the two weeks Nadal just completed.
The chase for the No. 1 ranking just tightened up dramatically. The newly minted No. 2-ranked Nadal can catch Djokovic by winning the U.S. Open title if Djokovic does not make the final.
These accomplishments might have seemed impossible just two weeks ago, but Nadal has reached out to capture the The Golden Breadstick award. He deserves it.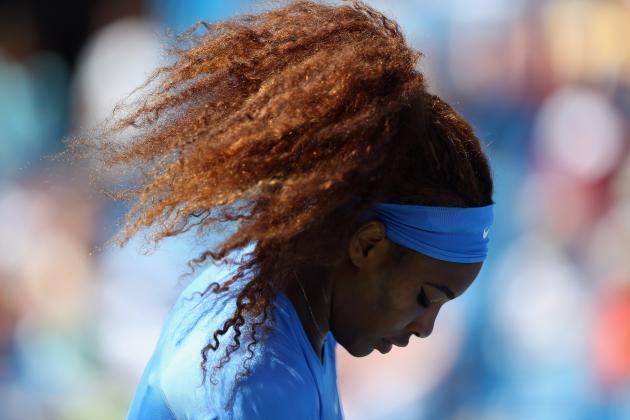 Ronald Martinez/Getty Images

Usually Serena Williams is climbing the winner's podium as this column is getting finished. It seemed like any ordinary WTA final as she crushed Victoria Azarenka in the first set of the Cincinnati Masters, 6-2.
Give credit to Azarenka for battling back with the same lopsided result in the second set. Eventually, the World No. 2 outdueled Williams in the third-set tiebreaker to take the title.
Williams still holds a dominating 12-3 career record against Azarenka, but she has now lost two of three matches to Azarenka in 2013, both on hard-court venues (Doha and Cincinnati).
This could be the shot of confidence Azarenka needs to dethrone Williams for the U.S. Open crown. She lost 7-5 in the third set a year ago at Flushing Meadows but may be ready to take it all.
Eventually age will slow down Williams. She is still the clear favorite to win the U.S. Open, but she may have opened the door a little too much for her nearest rival.