Argentina vs. South Africa: 6 Things We Learned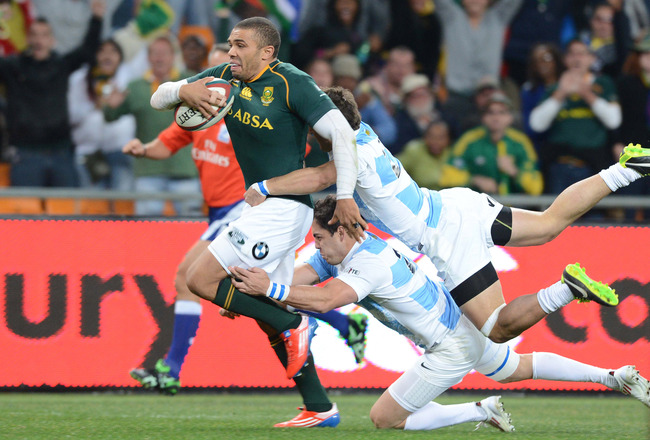 Gallo Images/Getty Images
Prior to the beginning of this summer's Rugby Championship, there was the hope for many of those rooting for the underdog that Argentina would be able to close the gap on the rest of the Southern Hemisphere's best and brightest.
After the first outing of their 2013 competition, it seems the necessary improvements for that to happen perhaps haven't been made.
The Pumas fell victim to a 76-13 battering at the hands of South Africa, eclipsing the record 45-point margin the Springboks managed to beat Australia by in the 2008 Tri Nations.
However, a win of this kind can give the side dishing it out as many lessons as the team on the receiving end.
1. Morne Steyn Will Be Vital in Battle of the 10s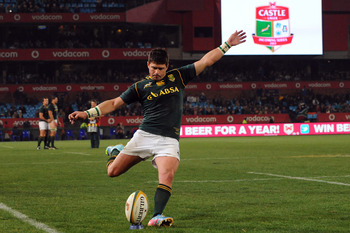 Gallo Images/Getty Images
For the past decade, Morne Steyn has surreptitiously gone about his business with the Blue Bulls, gradually establishing himself as one of the most consistent fly-halves in rugby union.
Only four years ago was the Stade Francais star given his opportunity to shine on the international stage, however, since going on to repay that show of faith in kind.
Against Argentina, the 29-year-old kicked 28 of his side's 76 points, equating to almost a third of the massive tally.
Slotting eight conversions of a possible nine and kicking all four of his attempted penalties, it's clear that Steyn's boot is up to scratch with the rest of what world rugby has to offer.
However, the Pumas found out firsthand that Steyn has a lot more to his game than just a solid right peg, performing admirably in defence and releasing the rest of his back line in catalyst fashion.
Although Argentina will be by far the easiest task that the Springboks will face in the coming weeks, Steyn's opening encounter was one of massive standards he can only hope to replicate against New Zealand and Australia.
2. Argentina Remain Miles off Pace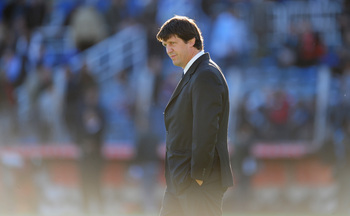 Santiago Phelan
Stu Forster/Getty Images
Of course, while considering just how much of a boon Steyn's performance will have been for Argentina, one also has to take into account just how damning the 76-13 result was of the Pumas' current ability.
Even with Graham Henry coming on board the technical staff in a larger capacity, the South Americans still appear to be acres behind their fellow Rugby Championship participants in terms of quality.
Though being involved in such a tournament will undoubtedly benefit them in the long run, Argentina are likely to continue suffering on the scoreboard for the time being, it would seem.
While one can't account for how the remainder of the competition will carry out at this early stage, it would seem a safe bet that the Pumas will finish up on the bottom of the pile.
3. Winning Rout Puts Spring in Boks' Step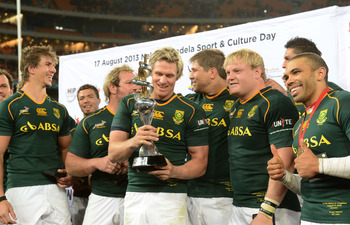 Gallo Images/Getty Images
Widely considered favourites to strip New Zealand of their Rugby Championship title if anyone can, South Africa proved a couple of people right in the run to their seventh consecutive win under Heyneke Meyer.
The Springboks now have two ways in which they can react to such a win, however: either they use the morale-boosting win as just that but still pay attention to what they may have done better, or they get complacent in their victory and slip up against future opposition.
In a way, getting the easiest opponents out of the way early on is the best thing for a side, but it's also easy to understand how one might rather finishing up with some easier fixtures.
Irrespective of their schedule, South Africa head into next week's reverse fixture with plenty to feed off of thanks to their hammering of the tournament's minnows; it's now a question of how they react.
4. Argentina Defence Near Non-Existent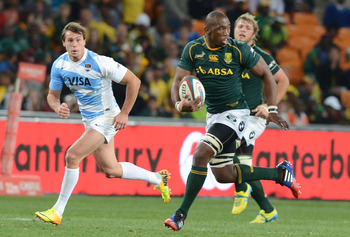 Gallo Images/Getty Images
When conceding 76 points in a match, defence is almost always going to be the aspect of a side in greatest need of critiquing, as is the case in this scenario.
Jean de Villiers, Bryan Habana, JJ Engelbrecht, Willie le Roux and others all found it far too easy to make line breaks through Santiago Phelan's defence on Saturday evening in far too unprofessional a manner.
Instead of South Africa actually putting in the graft of a world-class side and earning the ground made, Meyer's men were waltzing through a series of missed tackles and weak challenges, a far cry from the Pumas side that drew 16-16 with the Boks last year.
Considering seven of South Africa's nine tries were conceded in the second half, Argentina actually held up pretty well in the first period, but it was simply a case of not enough pedigree in the end.
Not to say that the South American nation were too much more impressive when with the ball, but defence is surely the sorest aspect in need of attention right now.
5. South Africa Squad Runs Extremely Deep
Gallo Images/Getty Images
Again, this point is hard to validate against such weak opposition, but titles are decided on more than just a strong starting XV, and South Africa can bank on having that right now.
In the second half, Meyer was able to make no less than eight changes to his side, many of whom performed as respectably as the players they replaced.
Bismarck du Plessis, Fourie du Preez, Pat Lambie and Flip van der Merwe all stood out after appearing from the substitutes' bench, along with others introduced later on in the fixture.
The fact that the Springboks can rely upon such strong assets outside their starting lineup only bodes well for a team now looking to topple bigger sides, and they will certainly need decent reserves to call upon in coming weeks.
6. Felipe Contepomi Swan Song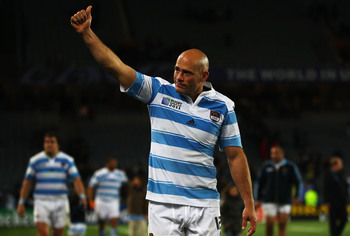 Phil Walter/Getty Images
One of the most impactful players Argentinian rugby will ever be lucky enough to call upon, this weekend saw Felipe Contepomi begin his last international tournament, with the veteran set to move back to his native homeland at the end of the summer.
Even at the age of 35, the Pumas captain continues to show that he's worthy of such a high standard, though, albeit not pushing his nation's success on as much as he might have hoped to.
In the midst of such a disappointing defeat, Contepomi was the only person to score for Argentina, bagging one try, a conversion and two penalties for his side.
The beginning of the end for what's been a remarkable career, Contepomi continues to exude class on the international stage.
Keep Reading