Darren Barker Upsets Daniel Geale to Claim Middleweight Title in a Slugfest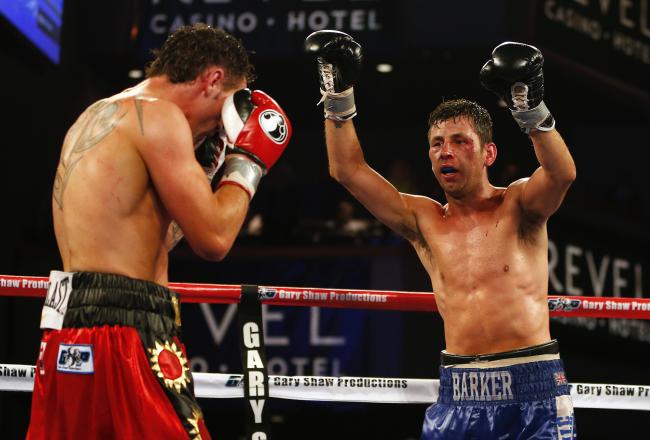 Darren Barker captured the IBF Middleweight Championship from Daniel Geale on Saturday in Atlantic City.
Rich Schultz/Getty Images
Darren Barker overcame an absolutely devastating sixth-round knockdown to upset Daniel Geale by split-decision on Saturday night, and claim the IBF Middleweight Championship in Atlantic City, New Jersey.
Scores were 116-111 and 114-113 for Barker and 114-113 for Geale.
Both men threw punches with mean intentions from the opening bell, but in the early rounds it was Barker who was more precise and crisp with his punches. Geale, as is his style, was quirky and threw a lot of wide, winging punches that were easily blocked.
In the sixth round, Geale connected with a right hand on the top of Barker's head, followed by an absolutely devastating left to the body that felled the challenger. He rose, barely, at the count of nine and appeared on the verge of being stopped.
But Barker showed the heart of a champion, and came back to not only compete, but to take over the remaining rounds down the stretch and earn a deserved victory.
The evening opened with a bang, with Kiko Martinez (29-4, 21 KO) securing his first world championship by stopping Jhonatan Romero (23-1, 12 KO) in the sixth round of an entertaining scrap.
The 27 year old Martinez utilized a blistering attack along the ropes to systematically breakdown Romero, and with the former champion eating a steady diet of huge power punches, referee David Fields was forced to step-in and end the contest.
That'll do it for us tonight fight fans.
Two new champions crowned in Atlantic City in two extremely exciting contests.
Darren Barker SD 12 Daniel Geale (Barker claims IBF Middleweight Title)
Kiko Martinez TKO 6 Jhonatan Romero (Martinez claims IBF Super Bantamweight Title)
As always, stay tuned to us here at Bleacher Report for all your post-fight coverage.
You just won me over Darren Barker.

— Brian Campbell (@BCampbellESPN) August 18, 2013
The class and humility of this guy makes it impossible to root against him.
Just a real good guy and a real tough fighter. He got a deserved victory tonight and won himself a ton of new fans.
I don't think saying Darren Barker has guts comes close to doing that justice. This guys is made of titanium.
And we head to the scorecards...
114-113 (Geale), 116-111 (Barker), 114-113 for the winner by split-decision...
DARREN BARKER!!!!!
R12: Give the final round to Geale, 10-9. We have the fight for Barker, 115-112.

— ESPN Boxing (@ESPNBoxing) August 18, 2013
Had it exactly the same way. But who knows what the judges favored?
Very close and exciting fight. Both guys are tough as nails, but a special shoutout to Barker who came back from something very few fighters have overcome.
He deserves this win.
A knockdown here could be absolutely crucial for Geale. He's behind on most cards, but not out of it by any means.
Barker appeared hurt there in the center of the ring with just over a minute to go. But Geale didn't press the advantage. That could be a huge mistake.
I think Geale needs a big 12th, I get the sense Barker is ahead.... #boxing #GealeBarker

— Steve Kim (@stevemaxboxing) August 18, 2013
There should be little doubt. But it's been a tough, quirky and hard to score fight.
Could see a split-decision, majority-decision or even a draw.
Darren Barker has taken over this fight. He takes the 11th to open a wide 106-102 lead on my card.
But it's a very close fight, and could see wide differences in scoring.
Both guys have a complaint if they lose.
Both guys have tons of heart, skill and determination. I'd love to see this one again.
Effort! Guts! Determination! Come on Barker you're winning this... Big finish!

— Carl Froch (@Carl_Froch) August 18, 2013
Some words of encouragement.
Barker is having a hell of a 10th round #boxing @HBOboxing

— Douglass Fischer (@dougiefischer) August 18, 2013
Daniel Geale may need a knockdown/knockout to win this fight.
Daniel Geale is in some serious trouble here as we end the 10th round. It seems that the knockdown took more out of him than Barker.
The challenger hasn't lost a round since being one second away from being stopped in the sixth.
He has a seven to three lead in rounds on my card and is up 96-93 on points.
Wow that was a devastating combination to the body from Darren Barker. You could hear the sickening thud of those punches.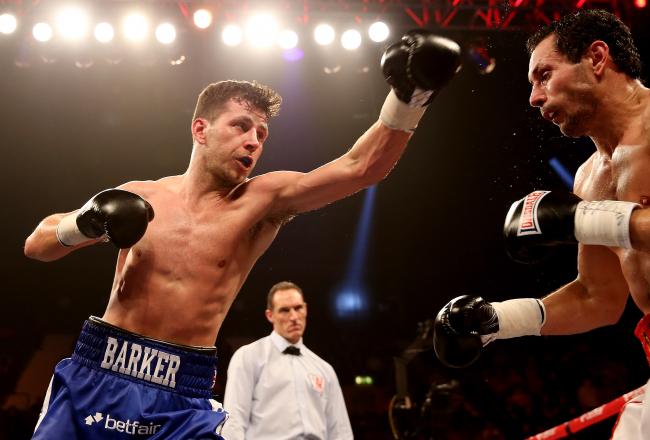 Sheesh.
These are some tough rounds to score. Gonna be a wide variety of scorecards if this goes the distance.
Barker takes his third straight on my card. He hasn't lost one since being dropped.
He leads six to three in rounds and 86-84.
Four punch combo there by Barker. He's seized control in this fight since that insane sixth round.
I have to admit, I didn't think Barker had this kind of performance in him. I have been calling him a "tough out." He might just be tough.

— Brian Campbell (@BCampbellESPN) August 18, 2013
Geale has to be getting frustrated in there. He can't get this dude outta there.
If you're not watching this, get to a TV and turn on HBO. NOW!
Coming back from an absolutely devastating knockdown, Darren Barker has won the last two rounds on my card to pull back ahead.
Five rounds to three. 76-75 for Darren Barker.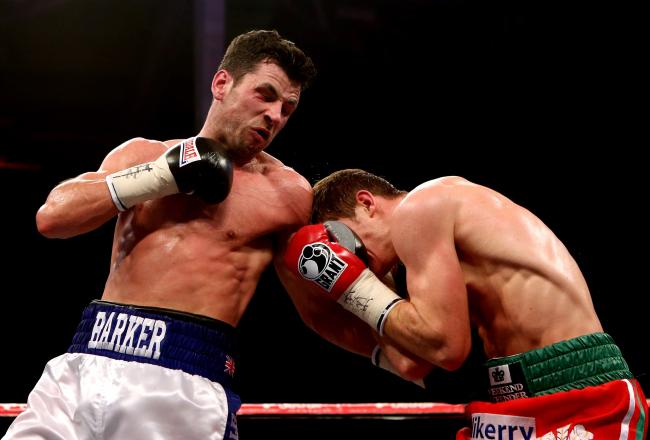 Both guys throwing bombs.
This is one of those fights that you might've decided to skip, but when you read about it you'll immediately regret it.
Geale and Barker leaving it all in the ring.
ROUND 8: Geale pouring it on here but Barker is countering back with heavy blows. No rest for the weary.

— ESPN Boxing (@ESPNBoxing) August 18, 2013
Neither guy is willing to back down an inch. An absolutely great fight.
I'll tell you this much...regardless of who wins this fight...I want to see both guys again and fast.
Boy. For Barker to not only GET UP from that body shot, but to then fight on even terms and win the seventh round to pull even.
He's one tough SOB.
Seventh round goes to Barker 10-9.
Even fight 66-66 going into the eighth.
What a 6th round. Barker down and then comes back! #boxing

— Dan Rafael (@danrafaelespn) August 18, 2013
Geez what a fight!!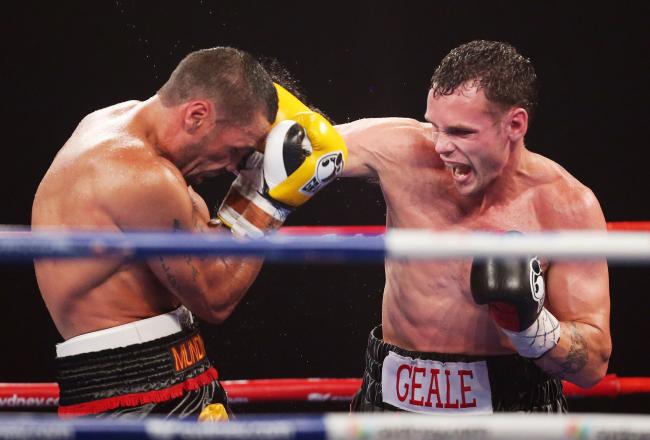 WOW!
What a sixth round!!!
Geale comes out of nowhere to drop Barker with a hard right hand and then a huge left to the bodyand seemed about to end the night. Referee Eddie Cotton appeared about to step in when Barker completely turned the tide and found a way to not only survive but to hurt the champion.
Crazy stuff!
Geale takes the sixth 10-8 and pulls ahead 57-56.
This article is
What is the duplicate article?
Why is this article offensive?
Where is this article plagiarized from?
Why is this article poorly edited?