Stock Watch for All of the Top Stars in Boxing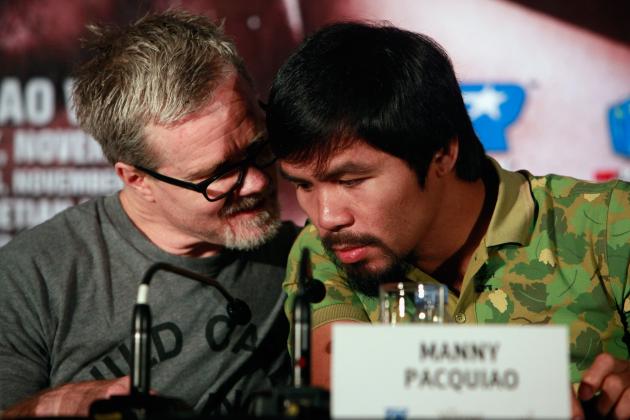 Kevin Lee/Getty Images

The summer is coming to a close, and the boxing schedule is picking back up. Many of the sport's biggest stars have fights already scheduled or in the works for the last quarter of 2013.
Top-level prizefighters are very much like corporations on a stock index. Boxing fans and media look to their past performance and their likely future prospects when deciding whether or not to buy shares of their stock.
Some stocks are blue chippers and always a smart investment. Some stocks are undervalued and a good bet to climb. Others are overhyped and set to fall.
Begin Slideshow

»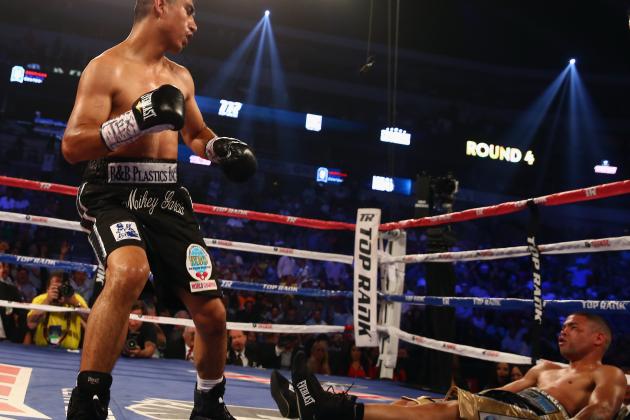 Tom Pennington/Getty Images

Mikey Garcia is currently regarded as The Ring featherweight champion, although he lost his WBO 126-pound belt on the scales when he failed to make weight against Juan Manuel Lopez last June. Still, despite losing his belt, Garcia once more looked sensational beating the former champion by brutal Round 4 TKO.
Garcia's one-sided, technical-decision victory over Orlando Salido last January has been one of 2013's most eye-opening performances. Garcia knocked Salido down three times and gave the tough veteran the worst beating of his career.
Garcia, 25, has now compiled a perfect 32-0 record with 27 stoppages. He is a patient yet ruthless assassin in the ring and clearly one of the hottest young stars in boxing.
The only thing truly keeping down the value of Garcia's stock at this point is a lack of a truly compelling opponent. The biggest fight for him at 126 would be Abner Mares, but that's not going to happen since Mares is signed with Golden Boy and Garcia is with Top Rank.
A fight with undefeated Indonesian Chris John would be interesting but probably not enough so for either Top Rank or HBO to be interested in going all the way to Indonesia to make it happen.
Garcia has the frame to climb up to super featherweight or even lightweight, and I expect his stock will continue to rise in value as he goes up in weight.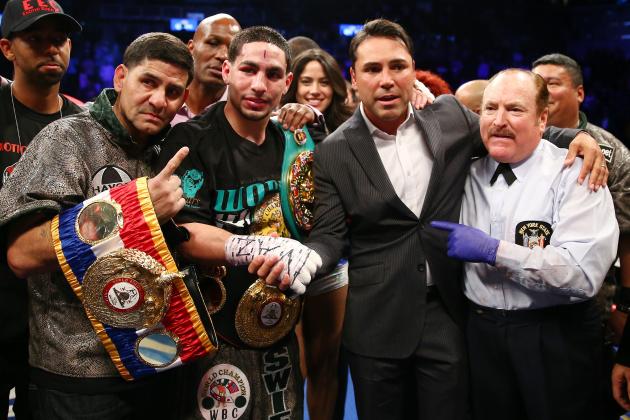 Elsa/Getty Images

Lucas Matthysse and Danny Garcia are scheduled to fight for Garcia's WBA and WBC junior welterweight belts as the co-main event on the Saul Alvarez-Floyd Mayweather card. Although they are getting second-billing, this is the fight that many hardcore fans are truly looking forward to.
Garcia had one of 2012's biggest breakout performances when he dispatched Amir Khan by Round 4 TKO in July. That win was sandwiched between two victories over future Hall of Famer Erik Morales.
So far this year, Garcia has added a win over Zab Judah in April.
Matthysse, meanwhile, has been a wrecking machine since two contested split-decisions losses to Judah and Devon Alexander in 2010 and 2011. He's stopped six straight opponents, including his stunning three-round TKO of Lamont Peterson last May.
Matthysse and Garcia have been two of the hottest emerging stocks in the sport over the past two years, and their one-night merger should be something special.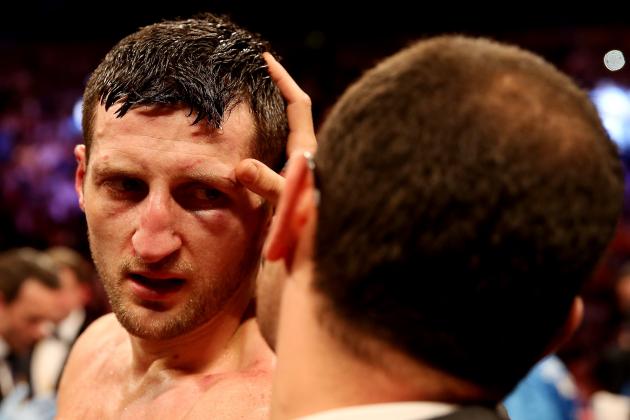 Scott Heavey/Getty Images

After losing a one-sided decision to Andre Ward in the finals of the 2011 Showtime Super Six Super Middleweight title, Carl Froch has rebounded with three straight wins, including an exciting victory over Mikkel Kessler last May, which avenged his only other professional loss.
The streak has turned Froch into the top prizefighter in the United Kingdom. He's become the kind of popular star who can sell out a Soccer stadium in less than a day.
As Froch's value on the boxing stock market has surged, he has reveled in his increased popularity. On a media call I participated in prior to the Froch-Kessler bout, Froch was very honest about his appreciation of the advantages that come from fighting before a wildly enthusiastic hometown crowd and his hesitancy to leave that behind to go on the road again.
According to a July 23 report from The Guardian, Froch has agreed to a fight with unbeaten George Groves for either November or December. The domestic clash will thrill fans in the UK but will also interest all boxing fans across the globe.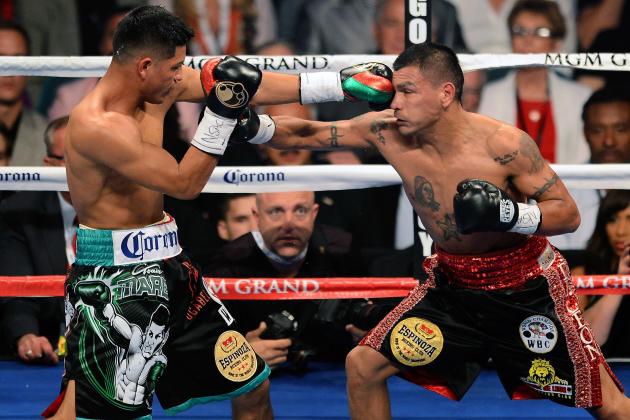 Ethan Miller/Getty Images

Over the past three years, Abner Mares has proved beyond a doubt that he is one of the sport's true blue-chip stars. He's fought a murderers' row of opponents while collecting world titles at bantamweight, super bantamweight and featherweight.
At 118 and 122 pounds, Mares specialized in winning fights by turning them into all-action brawls and then outhustling his opponents. But when facing the bigger Daniel Ponce De Leon last May on the Mayweather-Guerrero pay-per-view, Mares showed that he's a boxer, too.
He used straight punches to control the distance and keep Ponce De Leon turning and off balance before stopping him by Round 10 TKO.
As he told Showtime's Jim Gray during the broadcast: "I've got Mexican judo. Ju don't know if I'm going box or brawl."
Mares is a legitimate pound-for-pound top 10 at this point. Like Mikey Garcia, who should be his best potential rival, Mares' stock value is mostly limited by the fact that Golden Boy and Top Rank can't seem to come together to make fights.
Mares is set to fight Jhonny Gonzalez next week. That should be an exciting fight, but Mares' Mexican judo should be more than enough for Gonzalez.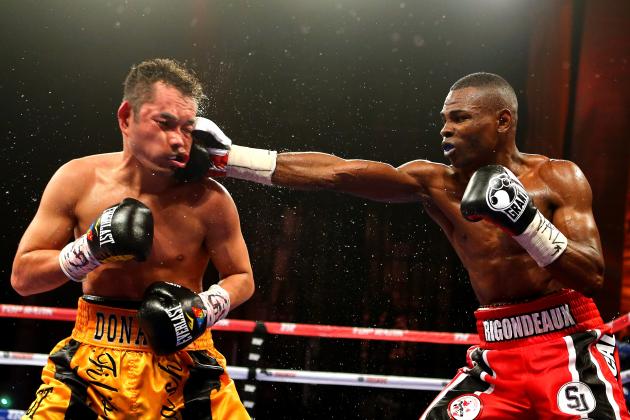 Al Bello/Getty Images

In April, Guillermo Rigondeaux put on one of the finest boxing demonstrations in recent years when he beat pound-for-pound star Nonito Donaire by one-sided unanimous decision. Given the significance of that win, which came in just Rigondeaux's 12th professional fight, he should be one of the fastest rising stocks in the sport.
But somehow things haven't exactly worked out that way. Rigondeaux has yet to set a return date.
In July, ESPN's Dan Rafael confirmed HBO's lack of interest in Rigondeaux, via tweet:
Contrary to comments made by Rigondeaux's manager, @HBOboxing still has no interest in putting on his next fight. #boxing

— Dan Rafael (@danrafaelespn) July 23, 2013
As of August 10, Boxing Scene was reporting that Rigondeaux's manager, Gary Hyde, was still unable to get Rigondeaux's next fight on HBO.
Rigondeaux has the best boxing skills in the sport aside from Floyd Mayweather, so it's embarrassing to see him getting this kind of popular reception. But when it comes to picking stocks, you always want to buy value when you see it going on the cheap.
Stock as solid as Rigondeaux's has nowhere to go but up.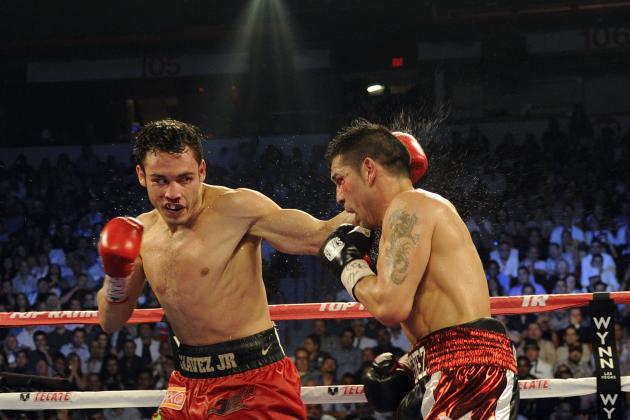 Jeff Bottari/Getty Images

Sergio Martinez has been one of the best fighters in the sports over the past decade. But in prizefighting there is a shelf life on even the most valuable stock, and I think Martinez has begun to reach his.
Last September, Martinez gave Julio Cesar Chavez Jr. a boxing lesson for 11 rounds before getting knocked down and nearly finished during a wild Round 12. Martinez had to undergo knee surgery following the fight.
Martinez returned to action in his native Argentina last April against Martin Murray. Martinez came away with a unanimous decision, but he hardly looked like a top pound-for-pound star. He was knocked down in Round 8 and was lucky a second knockdown in Round 10 was ruled a slip.
And once more, he had to go in for surgery after the fight. By the time Martinez returns to action, he will be 39 and coming off of two surgeries within the past year.
Age can catch up quickly on a speedy and athletic fighter like Martinez. A lot of people are continuing to keep him high in their ratings, out of respect for what he has accomplished in his career so far.
But to me, he looks like a stock on the drop.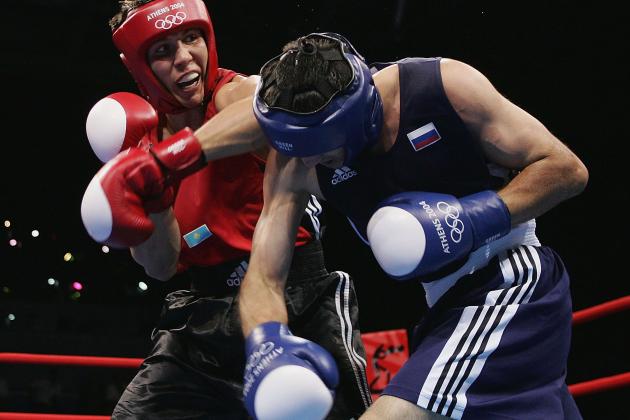 Al Bello/Getty Images

While Sergio Martinez's stock has been dropping, WBA middleweight champion Gennady Golovkin has seen his own skyrocket since making his U.S. debut last September. He has run his professional record to 27-0 with 24 KOs and has captured the imagination of boxing fans everywhere.
In June, he turned in the biggest performance of his career to date, overwhelming tough Matthew Macklin before stopping him for good with a Round 3, one-punch KO from a body shot.
Macklin had fought competitively against Sergio Martinez before going down by TKO in Round 11, and he had dropped a split decision to Felix Sturm in Germany that many observers thought he deserved to win. Against Golovkin, he was over his head and floundering almost from the opening bell.
Golovkin's next scheduled fight will be with hard-punching Curtis Stevens in November. While Stevens isn't really a true contender at middleweight, he is a tough guy who will look to trade with GGG, so that makes him an ideal opponent while Golovkin waits for a fellow champion to step up for a unification bout.
Stevens has been asking for this fight and has already been sparring with Golovkin fans on Twitter:
I SEE THE GGG FANS ARE MADD AT ME. WHO CARES 😘😜😘😝😆

— CURTIS STEVENS (@Showtime_curtis) August 17, 2013
This will be a fan-friendly fight and an exciting shootout while it lasts. But I don't expect it to last very long, and I expect Golovkin will emerge with his stock still on the rise.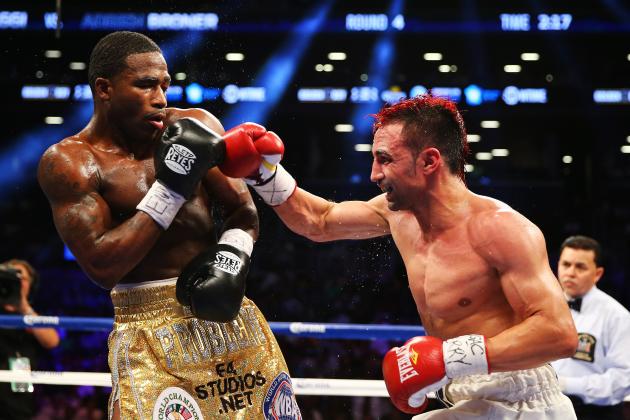 Al Bello/Getty Images

In June, Adrien Broner beat Paulie Malignaggi via split decision, capturing the WBA welterweight belt. It made him a three-division world champion at only 23 years of age.
So his stock should be at an all-time high. But I would argue that it's actually stalled out in its climb, at least temporarily.
I disagree with anybody who thinks Malignaggi deserved to win that fight. But Broner's performance against the light-hitting Malignaggi was hardly the sort of dominant effort that Broner had boasted about ahead of time.
This Ring, which is owned by Broner's promoter, Golden Boy, might still rate the Problem as a pound-for-pound top 10, but based on his performance against Malignaggi, not too many fans agree.
Still, according to Boxing Scene, Broner vs. Marcos Maidana is being discussed as a possibility for a November 9 pay-per-view event on Showtime.
It's a calculated gamble, in my opinion. A lot of fans will complain about a pay-per-view featuring a fighter still as untested as Broner is. At the same time, Maidana is exactly the sort of fighter who will come in looking to bust Broner's face up, and there may very well be an audience for that.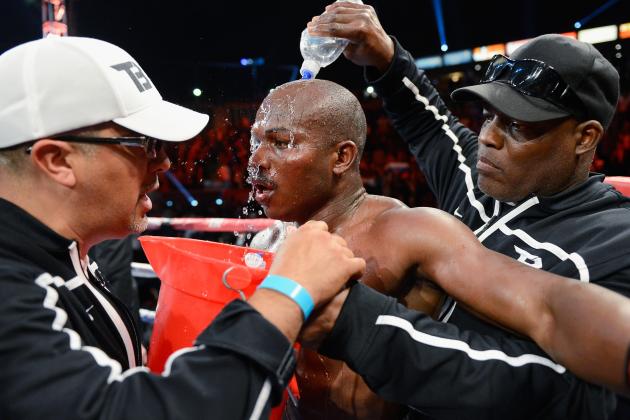 Kevork Djansezian/Getty Images

Juan Manuel Marquez won the biggest fight of his career last December, when he dramatically knocked out longtime rival Manny Pacquiao at the end of Round 6 in their fourth meeting.
Timothy Bradley won a dramatic war over Ruslan Provodnikov last March, in a bout that will show up on every Fight of the Year list come next January.
The two are scheduled to fight in October, in what should be among the most high-profile events of 2013. But in recent weeks, the fight has become threatened over controversy surrounding the drug testing protocols.
Marquez and promoter Bob Arum have been attempting to have only the Nevada Athletic Commission involved in the testing, while Timothy Bradley has insisted that VADA be used. In a late-July interview with Boxing Scene Bradley stated that his contract stipulated VADA would be involved and that the fight would be off if that wasn't observed.
But on August 7, Bob Arum told Boxing Scene that the issue had been resolved and that the Nevada Commission will be conducting tests that are even stricter than the VADA tests.
These are two fighters with very valuable stock, and their upcoming showdown could potentially push them both higher. But if unresolved drug testing controversy hangs over the event, that will probably reflect negatively on Marquez.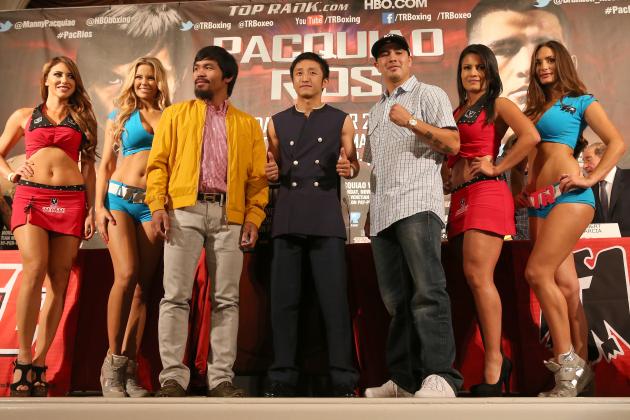 Stephen Dunn/Getty Images

Manny Pacquiao face down and asleep in the ring at the conclusion of Round 6 of his fight against Juan Manuel Marquez last year is the most iconic boxing image from 2012. And when a boxer ends his year by getting knocked out cold, his stock takes a drop by definition.
So while Pacquiao remains among the most famous and popular prizefighters on the planet, his stock in clearly in decline.
It's not clear to me that a fight against Brandon Rios can do anything to change the direction of Pacquiao's stock, either. Rios is an extremely exciting fighter, but he's coming off a loss himself, and few writers would even rate him inside the pound-for-pound top 25.
This is a fight that has very little upside for Pacquiao, aside from a big payday. If he loses the fight, he will be universally regarded as all done.
Still, by headlining a major pay-per-view from China, Pacquiao is once more putting himself on the cutting edge of the sport's history. The fight should be entertaining, and Pacquiao should win.
So Pacquiao does have a very good chance of ending 2013 with his stock at least back on the rise. And that's an improvement over last year.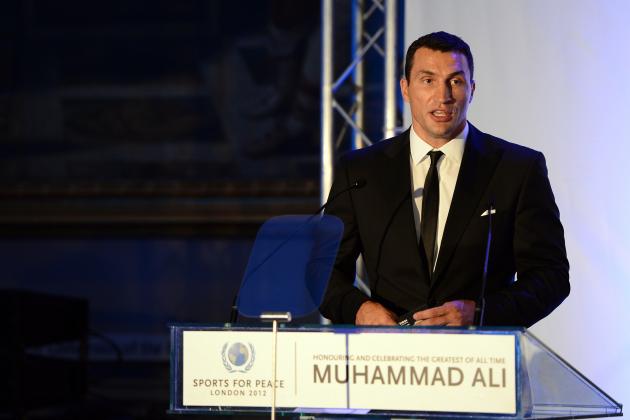 Ian Gavan/Getty Images

Wladimir Klitschko is a superstar in his native Ukraine, and in Germany, where his fights have the atmosphere of a rock concert, no matter who he is fighting. But in the United States, his stock has significantly less value.
But when he faces Alexander Povetkin in Moscow in October, the showdown will attract attention from around the globe. Povetkin has been rated the top heavyweight in the world, behind the Klitschko brothers, for most of the past five years.
So this will be the biggest heavyweight bout in years.
I expect Klitschko to win this fight with relative ease. But in the States, Deontay Wilder has begun to emerge as a truly buzz-worthy heavyweight. Wilder has now run his record to a perfect 29-0, with 29 KOs.
Wilder still hasn't fought anybody close to Klitschko's level, but he has continued to dominate as he has stepped up his quality of opposition. A few more performances like his Round 1 destruction of Siarhei Liakhovich earlier this month should create genuine interest in a Wilder-Klitschko showdown.
A legitimate challenger for Klitschko from the U.S. will definitely push his stock up here.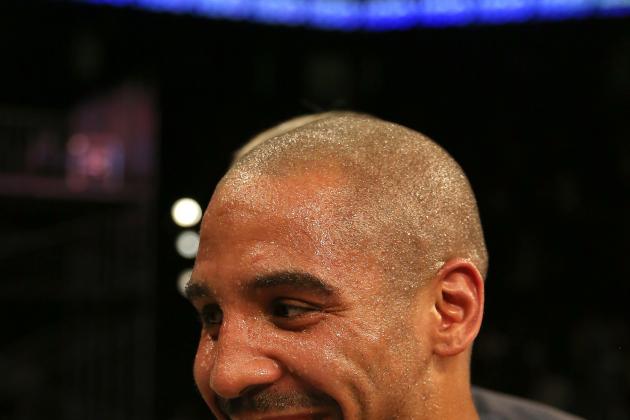 Ezra Shaw/Getty Images

Andre Ward is the top super middleweight fighter in the world, and most people rank him second in the pound-for-pound ratings, behind only Floyd Mayweather. But he hasn't fought since beating Chad Dawson by Round 10 TKO last September, and he still has nothing booked for the rest of the year.
Ward has been inactive largely as a result of a contract dispute with his promoter, Dan Goossen. Earlier this summer he tried to get the California State Athletic Commission to void his contract with Goossen, but it refused to do so.
Even when Ward returns to action, it could be difficult to find a compelling opponent for him. He has already cleaned out the super middleweight division.
But this past weekend may have yielded some good news for Ward in the form of Sergey Kovalev's dramatic four-round destruction of WBO light heavyweight champion Nathan Cleverly in Wales. Kovalev is a destroyer, and if pound-for-pound superstar Ward signs on to fight him, it will be among the most hotly anticipated fights of the year.
There should be enough time to fit it into the schedule for December.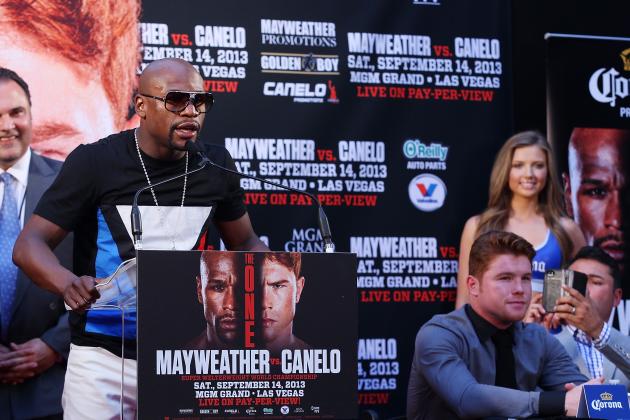 Mike Stobe/Getty Images

Floyd Mayweather and Saul Alvarez's pay-per-view scheduled for Mexican Independence Day Weekend this September has been like two major corporations merging. They've both seen their stock already driven to record highs.
At 23, Alvarez has already developed into one of the most popular boxing stars in North America. While Mayweather represents a huge step up in competition for him, he will enjoy a significant size advantage, and 13-year advantage in age.
It still seems unlikely to me that Canelo will have enough skill and experience to beat Mayweather. But if he can make a decent showing, it will drive his stock up in defeat.
Mayweather, meanwhile, is giving the fans the show they want to see. After years of failing to make a fight with Pacquiao, fighting the larger Canelo now has got his stock back on the rise.
In promoting this fight, Mayweather has largely eschewed his traditional, swaggering persona in favor of remaking himself into an elder statesman-like figure. Mayweather's spot in the all-time pound-for-pound ratings is always going to be hotly debated.
But I don't see how anybody can deny that he has been as good of a businessman as just about any fighter in history.