USA Rugby vs Canada World Cup Qualifier Live Blog: Scoring, Updates and Analysis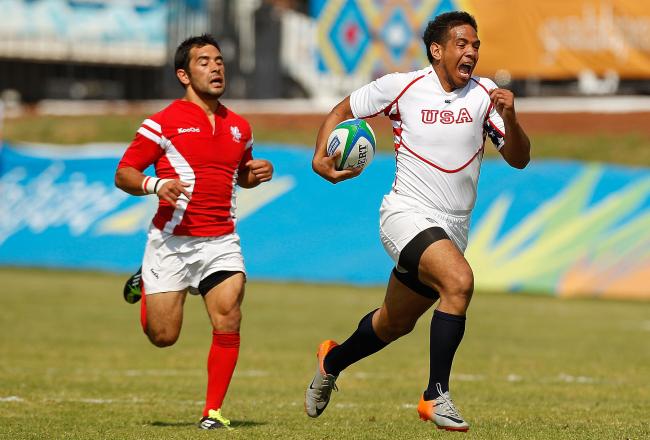 USA Rugby will battle Canada in World Cup qualifying on Saturday.
Mike Ehrmann/Getty Images
USA Rugby battles Canada on Saturday in a 2015 Rugby World Cup Qualifier, live from Charleston, and we here at Bleacher Report are going to be with you every step of the way.
Rugby fans around the world may have been engrossed in the Southern Hemisphere's contests this morning, but this afternoon we are ready for an absolute slobber-knocker in South Carolina.
As our complete match preview explained, Canada are bringing less than a full-strength squad to the first-half of this two-match World Cup Qualifying series, and the United States should enjoy a comfortable home-field advantage.
Whether that combination will be enough to see the 18th-ranked Eagles knock off the 15th-ranked Canadians, and take a crucial advantage with them to Toronto next week, is an open question
So sit back, relax and grab a cold beverage.
Its the USA Eagles versus Canada, in North America's biggest rugby rumble of the year.
Match Date: August 17, 2013
Match Location: Blackbaud Stadium, Charleston, S.C.
Kickoff Time: 6:30 p.m. EST
Canada Starting Lineup
1. Tiedemann, 2. Hamilton, 3. Marshall, 4. Sinclair, 5. Cudmore, 6. Ardron, 7. Moonlight, 8. Carpenter, 9. Mack, 10. Jones, 11. Van Der Merwe, 12. Blevins, 13. Hearn, 14. Evans, 15. Pritchard
Reserves: 16. Barkwill, 17. Dolezel, 18. Wooldridge, 19. Hotson, 20. Dala, 21. White, 22. Hirayama, 23. Mackenzie
USA Eagles Starting Lineup
1. Pittman, 2. Biller, 3. Fry, 4. Stanfill, 5. Manoa, 6. Lavalla, 7. Dahl, 8. Clever, 9. Petri, 10. L'Estrange, 11. Scully, 12. A. Suniula, 13. Kelly, 14. Ngwenya, 15. Wyles
Reserves: 16. Fenoglio, 17. Lamositele, 18. Thiel, 19. Doyle, 20. Dolan, 21. Sahw, 22. Niua, 23. R. Suniula

Match Information
Event: Match 1—2015 Rugby World Cup Qualifiers
Game Day: Saturday, August 17
Location: Blackbaud Stadium, Charleston, South Carolina
Kickoff Time: 6:30pm EST

Jeff Hull is a Featured Columnist for Bleacher Report.
To follow the author on Twitter, click on the link below.
Thanks for following this match live on Bleacher Report.
Please follow me on Twitter: @RugbyScribe
We'll be back to preview next week's game, and bring you all of the analysis you need on North America's World Cup Qualifier.
Until then, best wishes.
Final Score: Canada 27 - USA 9
Full-Time Analysis:
Canada will head back to Toronto knowing that they held the USA back from scoring so much as a single try. They will carry an 18-point advantage back to Toronto next Saturday, and look well and truly in control in this World Cup qualifying series.
The problem for the USA Eagles is failing to score tries is hardly something unique to this match. Canada's defence was clearly not the biggest obstacle.
The Americans have a defence that - when they are on their game - can hold other teams at bay, but scoring tries is what wins international matches.
Right now the USA Eagles are a team without an offence.
For Canada, they may well want to take the next week to experiment with combinations and rest some of their big guns like Jamie Cudmore.
One would suspect that he may not be needed for the Toronto encounter.
A place in World Cup Pool D looks to be Canada's for the taking (for all the good that will do them).
For now, they remain North Americas top rugby nation, a position which - for now - seems to be relatively unchallenged.
The full-time whistle mercifully brings this "display" of rugby to a close.
An awful looking game that was not helped by some terrible displays of basic skill.
Final Score Canada 27 - USA 9.
Match analysis to come.
The USA put forward their best attacking series of the match blasting Canada players backwards, as the American forwards drive into the Canada end; however, like all the others it ends in a knock-on.
Canada is in control as the clock goes into the game's final seconds.
Our Bleacher Report preview had this game down as a 21 - 15 win for Canada.
Its now 27 - 6, with 5 minutes left.
There is some chippy play going on at the moment.
The USA are going to take a kick at goal to try and narrow the gap, but surely they need a try.
Does anyone think they are going to fare better in Toronto next week?
The kick is good.
Now 27 - 9 for Canada with time running down.
Its an 18 point Canadian lead.
I'm sorry, that last blog post was a complete debacle.
Moving on.
There is 8 minutes left.
20 minutes left in this game, as Canada continue to try and attack.
The play is somewhat ragged, but since when hasn't it been?
One of the big things for Canada will be to see if they can fix their scrum over the last 10 minutes.
The Americans, sadly, will have more then a few big things to work on.
It looks to be a comprehensive win for the Canadians at this point.
8 minutes left.
Stu Forster/Getty Images
Todd Clever is down for the Americans, with 25 minutes left. He gets up slowly.
There are some commenting that Canadian scrum has gone downhill over the course of this game and they are right.
This was an area that one would have thought Canada would have had an advantage.
One of their few could scrums of the game leads to another worryingly simple pet-peice move that Nick Blevins breaks through on.
That arch Glasgow try-scorer DTH Van der Merwe finishes off a Canadian attack that looked far too easy.
Pritchard's conversion makes it 27 - 6 for Canada.
And now the benches truly empty.
A difficult scoreline for USA Rugby fans to endure at home.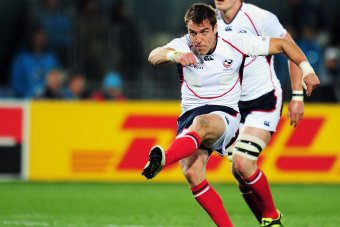 Shaun Botterill/Getty Images
Canada are penalized again, as Todd Clever attempts to negotiate a yellow-card against his opposing Captain Aaron Carpenter.
Chris Wyles is going to try and kick a penalty to give the USA a total of six points. One wonders why they feel this is the option to go with.
The kick is good, and so Wyles closes the gap.
The score is now 20 - 6 for Canada.
Canada begin to clear their bench with only 30 minutes left in the match.
Canada are penalized in their own end. Surely the USA will go for the corer here, and they do.
Kicks at goal are not a route back right now... not that they were making a lot of them anyway.
There are bodies lying all over the field after an series of play in which both teams enjoyed scattered attacking chances.
Its a water break, and why not.
There are players getting treatment everywhere, including Samu Manoa for the USA and James Pritchard for Canada.
Two players that will be needed by their teams next week. Watch for more substitutions soon.
Ben Hoskins/Getty Images
Phil Mack is putting his hand up for Man of the Match at present.
A USA clearing kick is returned by DTH Van der Merwe.
From the ensuing ruck, Mack begins a series of forward drives towards the USA line. They get within 5 meters when Harry Jones makes a kamikaze run at the line.
He bounces off two USA tacklers but carries it over the line successfully.
James Pritchard makes the conversion and it is now 20 - 3 for Canada.
A basic mistake for the USA... Again.
An offside call on a long USA kick see Canada drive a penalty kick of their own to the USA 5-meter line.
The subsequent line-out is butchered. Oh dear, this is not much of an advertisement for the sport I am afraid.
The USA will take a scrum on their 15 meter line.
Perhaps something in the way of an organized attack will emerge.
Perhaps...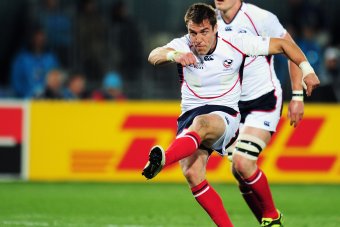 Shaun Botterill/Getty Images
Jamie Cudmore is out of the game for Canada. Ray Barkwill also in at hooker.
No obvious changes for the Americans.
Canada take a questionable penalty at the scrum Chris Wyles will try to make his first kick of the day and close the lead to 10 points.
The kick sails through, and the USA are on the board.
The score is now 13 - 3 for Canada, seconds into the second-half.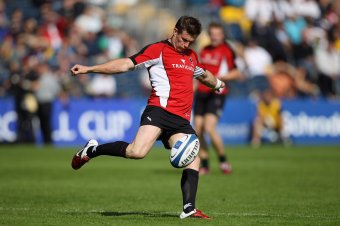 Warren Little/Getty Images
Half-Time Analysis:
One would praise the Canadians for all their attacking flair, but the truth is not as exciting as that.
Sadly, the USA have not looked anywhere near effective in attack, and their defence have not proved as suffocating as it did against Ireland earlier this summer.
If Mike Petri and Toby L'Estrange cannot find a way to use the small amount of possession the Americans are enjoying for effectively, then things may get out of hand for the Eagles in the second-half.
Remember, this is a two game series. If the USA are going to have a bad game, they still must fight to try and keep the scoreline as close as possible, so that they can try their best to stage a comeback next week in Toronto.
But for an obstruction call against Nick Blevins, Canada would have a 20 - 0 lead at the moment.
Todd Clever and his fellow USA forwards are having some success slowing Canada down at the breakdown area, but what good is that if the USA are completely unable to score points of their own?
Remember, for all their good work against Ireland they didn't score a try.
Perhaps their is a way back for the USA in the second-half, but one wonders where they will find a cutting edge that didn't seem to exist in the first.
For Canada fans, there were some positive signs, although there was also some very sloppy play.
On to the second-half we go.
Let us know your prediction by tweeting me @RugbyScribe or using the Bleacher Report forum below.
With time running out in this half, Canada will have one last attacking line-out in the USA end.
The line-out is stolen by the Americans, but it looks like that was done illegally.
Canada kick the ball out of bounds to end the half, and they'll take their 13 - 0 into the dressing room.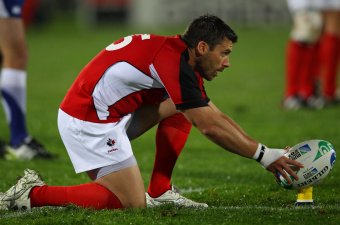 Alex Livesey/Getty Images
The USA are called for taking out Phil Mack, while he tried to get some sort of attack going for Canada.
James Pritchard will attempt a 45 meter kick for Canada, which he bangs in off the posts.
Perfect kicking by Pritchard right now, and Canada increase their lead.
13 - 0 for the Canadians.
A shocking kick from Toby L'Estrange goes straight up in the air. That pretty much sums up the first half for the USA.
They haven't really been able to string much together in this half.
Sadly, this game is losing its value as a spectacle at the moment, with knock-on after knock-on.
At least we are getting a good look at the new scrum laws.
Both teams holding their own in the scrum right now.
Jamie Cudmore has been called for playing a man in the air during a USA line-out.
That is a second call for "foul play", as Canada have already been called for a high tackle.
Canada are warned to clean up their act, or cards will come.
The USA break and attack, trying to use Samu Manoa and other to break the line, but again they try to engage Canada in a kicking duel.
It will take more then that from the USA today, if they are going to break Canada down.
Another USA knock-on ends what little pressure had been built.
We are 20 minutes into the first-half, and Canada look worthy of their 10 - 0 lead at the moment.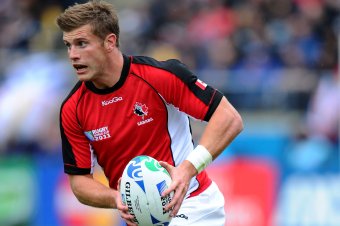 Mike Hewitt/Getty Images
Wyles misses his second kick of the day.
Six missed points for the Eagles so far.
And things go from bad to worse
Off a Canadian line-out at half-way, Matt Evans breaks through on a set-play and races down-field.
He offloads to Phil Mack for the try, but the match official has asked for the play to be reviewed.
The replay shows obstruction on the run from James Pritchard, but what will the video official decide?
NO TRY!
We are coming back for the obstruction call. But if you are the USA Eagles, you have to be worried about the speed and possession Canada are playing with at the moment.
Michael Regan/Getty Images
Pritchard's kick is good and Canada take a 10 - 0 lead into the 15-minute mark.
The USA are running around the field at full-steam, but don't seem to be able to organize themselves in attack or defence.
Another USA knock-on will see Canada enjoy another scrum at half-way.
Canada's second scrum of the game holds well and DTH Van der Merwe gets the first kicking exchange started.
The end result is a decent counter-attack by the Canadian back-three, but the USA usher it into touch.
From the ensuing line-out the USA decides to play from deep in their own end.
Things starting to open up here, as the USA drive into the Canada half.
Canada takes their first penalty of the game for a high tackle and the USA will have a kick at goal.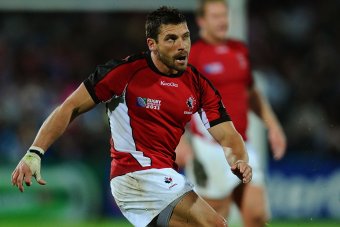 Stu Forster/Getty Images
A USA clearing kick goes out on the full.
It appears that the USA is really feeling the pressure early on.
Another penalty against the USA here, and Canada will have the option to kick at goal from 50-meters.
Instead they kick down-field towards the USA 22-meter line.
A scrappy line-out sees the USA battle on the floor for the ball and take yet another penalty.
Already the penalty count is mounting against the USA.
James Pritchard will take a shot at the posts for Canada.
Canada are up quickly in defence.
The Eagles seem rather disorganized in their attack early on. Ominous signs for Toby L'Estrange. We mentioned he'd be key today.
A knock-on for the Americans.
Canada will enjoy a put-in to the scrum in the USA end. Let's see how the new scrum laws affect things.
The Eagles regather possession of the ensuing kick-off and drive to within range for fullback Chris Wyles.
The Saracens misses wide-left, but Canada's clearance kick is terrible, and the Eagles catch and drive from the ensuing line-out.
Nerves early on for the Eagles.
Canada turnover the USA at the breakdown and break from deep. A penalty for Canada at half-way sees Harry Jones drive the ball into the USA end.
Off the opening kick-off Canada's new star scrum-half, Phil Mack, makes a stunning chip-and-chase break, recaptures his own kick, and touches down in the corner.
Shocking defence by the USA back-three, and Canada are fired-up early.
Try awarded after a brief review.
A nightmare start for the Eagles on their home turf.
James Pritchard's touchline conversion is good. A superb start from Canada. They lead 7 - 0 early on.
This article is
What is the duplicate article?
Why is this article offensive?
Where is this article plagiarized from?
Why is this article poorly edited?