San Diego Chargers 2013 Schedule: Win-Loss Predictions for Every Game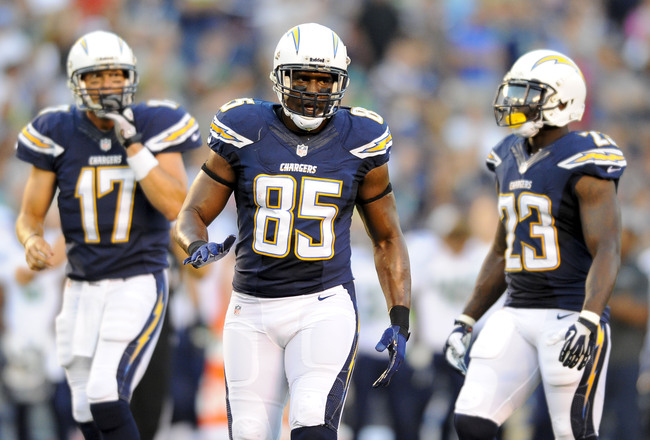 Christopher Hanewinckel-USA TODA
Under new head head coach Mike McCoy, the San Diego Chargers will look to move on from the Norv Turner era and put forth a more competitive showing than the 7-9 finish the team ended with last season.
San Diego will endure an easier schedule than it did in 2012 but there still remains a number of high level opponents on the 2013 schedule that should more than willingly challenge the Bolts on a weekly basis.
The Chargers schedule for the upcoming season is as follows:
The following are win-loss predictions for every game of the season with analysis. Keep in mind its still early and these aren't set in stone. Every season is different and brings all sorts of curveballs.
Feel free to voice your likes and dislikes below (don't worry, I can take it).
Week 1 vs. Houston Texans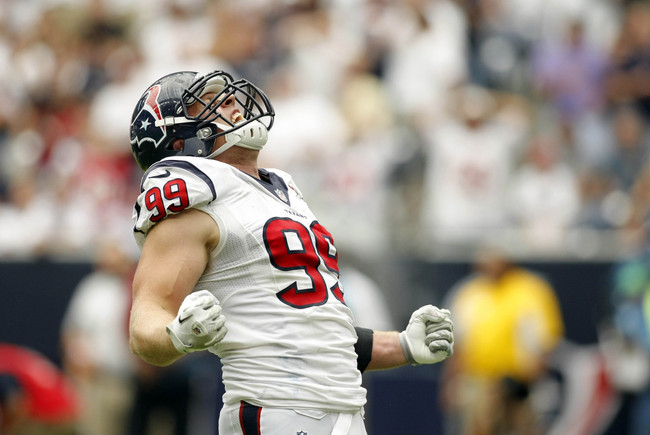 Brett Davis-USA TODAY Sports
For a second straight year, Monday Night Football will make its season debut at Qualcomm Stadium as the Chargers play host to the AFC South champion Houston Texans.
From an offensive standpoint, the Texans return a squad that ranked seventh in total yards last season (5,953) and two of the best at their respective positions in WR Andre Johnson and RB Arian Foster.
Houston's most valuable asset in this matchup, however, rests in its defense. Wade Phillips' unit tied for fifth best in the league with 44 sacks last season and its two defensive ends, J.J. Watt and Antonio Smith, combined for more than half of them (27.5).
With the Chargers still in the process of finding an offensive line capable of providing Philip Rivers with decent protection, Watt and Smith will be licking their chops at the idea of going up against first-year right tackle D.J. Fluker and either King Dunlap or Max Starks at left tackle.
Even if San Diego's defense can hold its own against Matt Schaub and this high-powered offense, the Chargers offensive line still has to give Rivers the time he needs to make good decisions with the football (a problem he has struggled with the past two seasons).
Against one of the favorites to contend for the Lombardi Trophy this season, it's highly unlikely the Chargers pull off the upset right out of the gate.
Prediction: Texans 34, Chargers 17 (0-1)
Week 2 at Philadelphia Eagles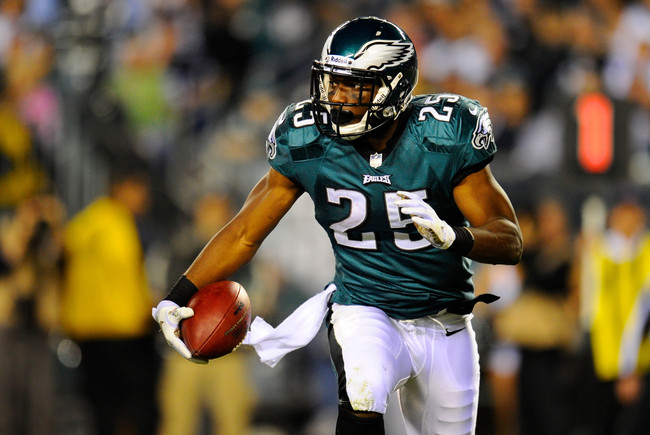 Dale Zanine-USA TODAY Sports
In Week 2, the Chargers will venture to the east coast to face the Eagles and Chip Kelly's uptempo offense.
By this point, Kelly will have already decided on a starter under center (hopefully) whether it be Michael Vick or Nick Foles. The focal point of Philadelphia's offense, however, is LeSean McCoy—and he'll be the player the Chargers will have to be most aware of when the Eagles offense takes the field.
Fortunately for the Chargers, Philadelphia's leading receiver from a year ago, Jeremy Maclin (69 receptions), won't be a factor in this one as he was lost for the season with a knee injury during training camp, but San Diego's secondary will still need to keep track of an equally dangerous threat in DeSean Jackson.
The good news for San Diego in this matchup is that Philadelphia ranked near the bottom in run defense last season and the secondary lost both starters, Nnamdi Asomugha and Dominique Rodgers-Cromartie, to free agency.
What that means for the Chargers is that Philip Rivers and Ryan Mathews will have a fighting chance in powering their team to a win on the road.
Still, the lack of a big-play receiver like Danario Alexander prevents San Diego from being able to take advantage of Philly's rebuilt secondary. This one is close but not in favor of the Chargers.
On a side note, the last four teams to face the Eagles in their home opener have gone on to win the Super Bowl the last four years, so maybe there's still hope for the Bolts?
Prediction: Eagles 24, Chargers 20 (0-2)
Week 3 at Tennessee Titans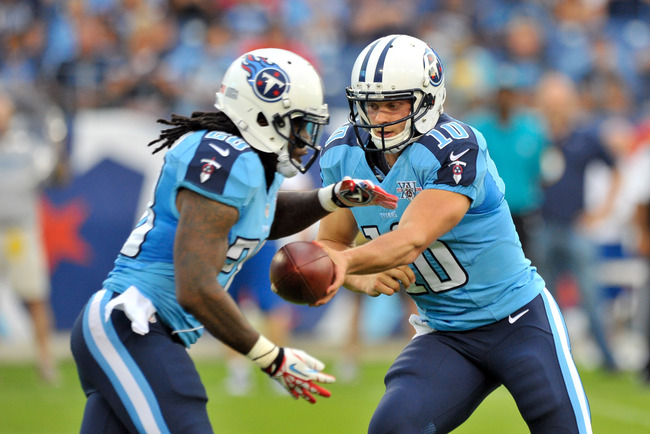 Jim Brown-USA TODAY Sports
When the Chargers head down to Tennessee to face the Titans it will mark the second matchup against an AFC South opponent in recent weeks as well as the second consecutive time traveling across the country to prepare for a 10 a.m. (PT) start.
Last season, San Diego hosted Tennessee in Week 2 at Qualcomm Stadium and sent the Titans home after a convincing 38-10 blowout despite the absence of Ryan Mathews and Antonio Gates.
If everyone stays healthy this time around, the Chargers could replicate last season's showing against a Titans team that is still developing around its young quarterback Jake Locker.
Expect to see a healthy dose of Chris Johnson from Tennessee as he attempts to redeem himself from a year ago when he carried the ball just eight times for 17 yards against the Chargers in 2012.
Tennessee will put points on the board but nowhere near enough to outlast a San Diego team that is hungry for its first win of the season.
Prediction: Chargers 31, Titans 17 (1-2)
Week 4 vs. Dallas Cowboys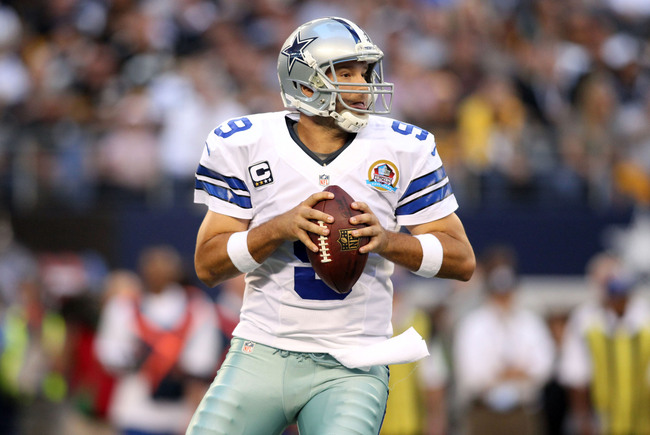 USA TODAY Sports
Tony Romo vs. Philip Rivers will be an entertaining matchup as both quarterbacks are between a rock and a hard place trying to resurrect their respective careers in 2013.
It's a given that Romo has struggled with turnovers, but his offensive weapons outnumber Rivers' options without a doubt this season.
Dez Bryant is coming off a career year in 2012, finishing with team highs in touchdown catches (12) and receiving yards (1,382) and the odds are he's only going to get better as he enters his fourth year.
Dallas also boasts veterans Jason Witten and Miles Austin in the passing game, which is complemented by a running game centered around DeMarco Murray—who is slated to have a breakout year now that Felix Jones is in Philadelphia.
On paper, these teams match up pretty well, but chances are this game will come down to whichever quarterback can take care of the football and make the most of scoring opportunities.
Dallas may have the bigger guns on offense but a win on the road won't be easy to come by for Romo.
Prediction: Chargers 28, Cowboys 24 (2-2)
Week 5 at Oakland Raiders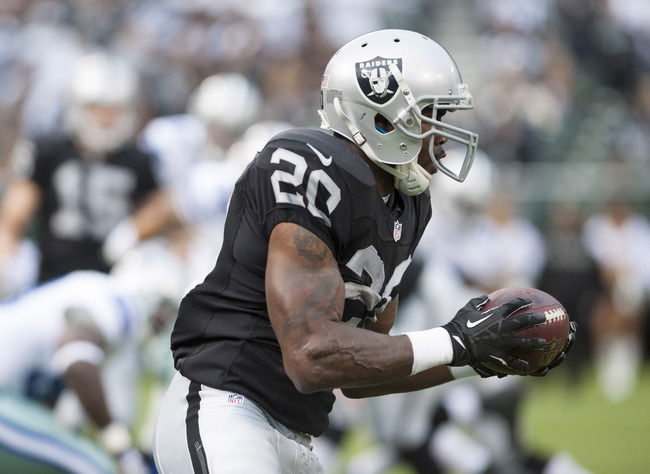 Ed Szczepanski-USA TODAY Sports
The Black Hole is never an easy venue to travel to and come away with an effortless victory, but the Chargers have historically gotten the better of the Raiders in this AFC West rivalry.
In the season opener last year, San Diego and Oakland kicked off the 2012 season on Monday Night Football at the Oakland Coliseum in what ended up being a miserable night for the Raiders special teams unit. The Chargers capitalized off three botched punts by the Raiders and cruised to a 22-14 victory.
Looking ahead to this season, the Raiders no longer have an experienced veteran under center like they did in Carson Palmer last year, but rather an inexperienced veteran (if that makes any sense).
Matt Flynn has played the role of backup quarterback for most of his six-year career but the former Green Bay Packer and Seattle Seahawk does have in-game experience that was too much to pass up for a desperate Raiders team.
Flynn won't be left to fend for himself, however, as the Raiders still have one of the AFC West's better running backs in Darren McFadden. While McFadden did improve in 2012, his numbers didn't come close to the ones he put up in 2010 when he rushed for more than 1,000 yards and seven TDs.
The recent loss of LT Jared Veldheer doesn't bode well for the Raiders or their new quarterback, which is why the Chargers should continue to dominate the Silver and Black even on the road.
Prediction: Chargers 24, Raiders 10 (3-2)
Week 6 vs. Indianapolis Colts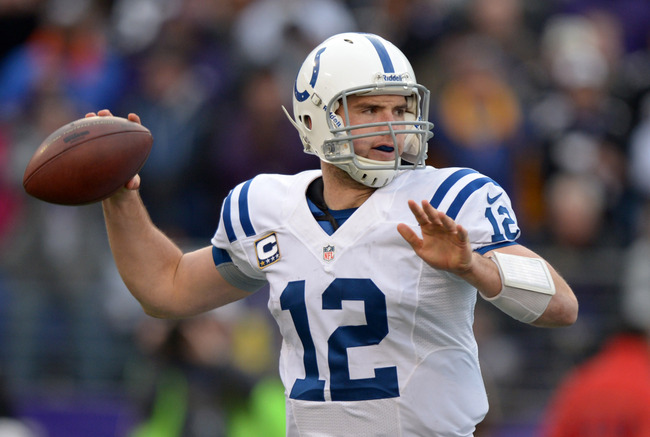 USA TODAY Sports
The Indianapolis Colts and their inspirational head coach was the feel-good story of the year last season, and on top of that the team was actually good despite the end of the Peyton Manning era.
When the Colts drafted Andrew Luck with the No. 1 overall pick last year it was assumed that 2012 would be a year of rebuilding for Indy, but Chuck Pagano's boys surprised a lot of people with an 11-5 finish in the regular season and an AFC wildcard appearance.
Now the big question is whether Luck can avoid the dreaded sophomore slump in 2013 and lead his team further into the postseason.
Indianapolis is yet another team that matches up well with San Diego, but the Colts' downfall will come as a result of their poor defense and limited running game.
Opposing offenses averaged 236.8 yards in the air against the Colts last season as well as 137.5 yards rushing. What Indy lacks in a run game, they more than make up for with a passing attack that ranked seventh in the league with 258 passing yards per game.
Luck keeps his team in the game but the balanced attack of Philip Rivers and Ryan Mathews comes out the winner here by a slight margin.
Prediction: Chargers 28, Colts 23 (4-2)
Week 7 at Jacksonville Jaguars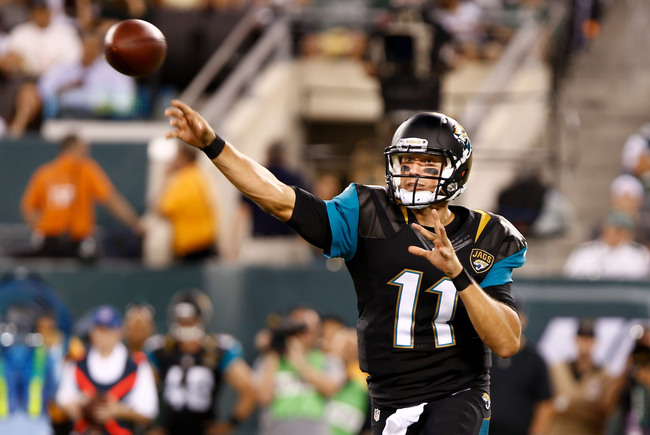 Debby Wong-USA TODAY Sports
Jacksonville has been in the rebuilding process for quite some time now and from the looks of it, 2013 will be yet another year filled with Blaine Gabbert growing pains.
The Jaguars added some much needed help in protecting Gabbert with No. 2 overall selection Luke Joeckel and it will be interesting to see how Gus Bradley opts to use his new offensive weapon in Denard Robinson.
Jacksonville does have some playmakers in RB Maurice Jones-Drew and WRs Cecil Shorts and Justin Blackmon, but the bad outweighs the good on this roster.
Assuming the Chargers can play it cool and head home with a victory, this should come as a guaranteed win. Although, Cleveland was supposed to be a guaranteed win last year for the Bolts and that was hardly the case.
Prediction: Chargers 27, Jaguars 10 (5-2)
Week 9 at Washington Redskins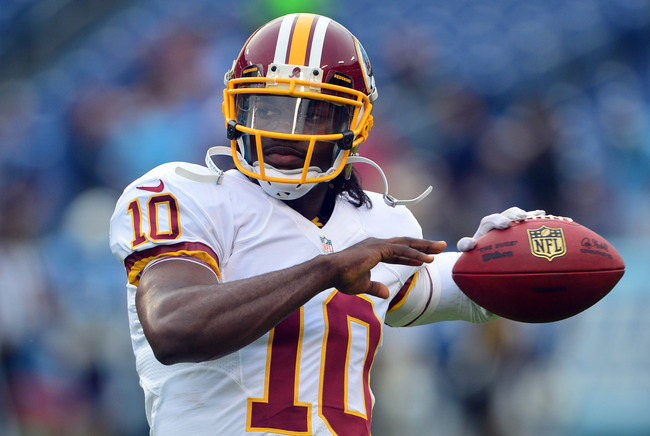 Don McPeak-USA TODAY Sports
Eventually, Robert Griffin III and his surgically repaired knee will take the field at some point regardless of what head coach Mike Shanahan feels is best for his starting quarterback, and by Week 9 Griffin should be well into the swing of things with a Redskins team that went 10-6 last season.
Washington got hot after its bye week in 2012, winning the last seven games of the regular season including an overtime victory against the eventual Super Bowl champions the Baltimore Ravens. Had it not been for his knee injury, Griffin could have even mustered up a win against the Seahawks in last year's NFC wildcard matchup.
Assuming he's healthy and back to his normal self, Griffin and Alfred Morris have the potential to make San Diego's run defense look merely average.
Another important factor to take into consideration is Washington's equally stout run defense that limited teams to just 95.8 yards per game last season and pesky defenders that accounted for 21 interceptions (tied for third best in 2012).
The Redskins defense will be more than happy to oblige Philip Rivers if he decides to make mistakes, but the dagger in San Diego's heart has to be this Washington offense powered by Griffin.
Prediction: Redskins 28, Chargers 17 (5-3)
Week 10 vs. Denver Broncos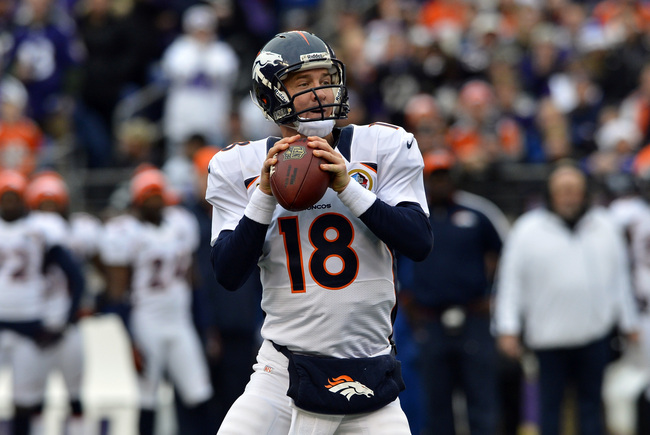 Ron Chenoy-USA TODAY Sports
In 2012, Peyton Manning and the Broncos squeaked past the Chargers in razor close finishes but it's highly unlikely that Denver run purely on luck after an outstanding offseason in free agency.
The Broncos didn't just improve their roster with little signings here and there, they went out and made noise with marquee signings that have analysts predicting an instant Super Bowl run even before the season starts.
The Chargers may have held their own with Denver last season, but it will be even more difficult just to keep up with the Broncos' offense let alone defend it.
Keep in mind too that the Broncos will have three former San Diego starters on the opposite sideline in Louis Vasquez, Quentin Jammer and Shaun Phillips.
If San Diego has any chance of taking down Denver then Week 10 is the time to do it at Qualcomm Stadium.
The odds, however, already don't look good. Philip Rivers doesn't have the offensive line to keep Von Miller off his back nor does he have the receivers to go up against a deep Denver secondary.
Prediction: Broncos 28, Chargers 20 (5-4)
Week 11 at Miami Dolphins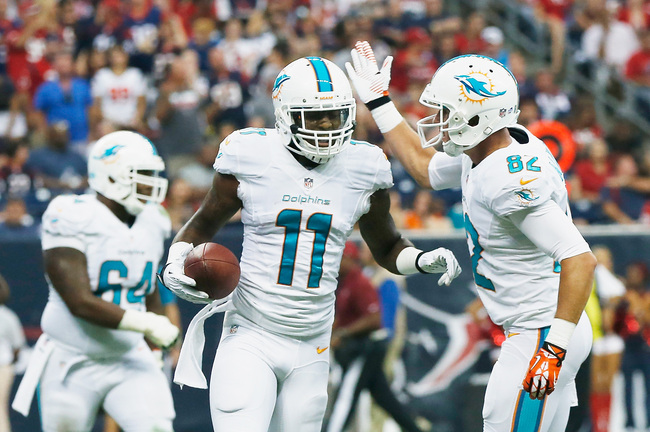 Scott Halleran/Getty Images
Miami has definitely improved from a year ago with big-time offseason acquisitions such as WR Mike Wallace, LB Dannell Ellerbe and CB Brent Grimes just to name a few.
It's obvious Miami is headed in the right direction with its squad and second-year quarterback Ryan Tannehill is developing quickly into the franchise quarterback the team has been looking for, but this team is far from ready to take over the AFC East.
Wallace should present a difficult challenge to either Derek Cox or Shareece Wright in the secondary, but the key to a Chargers victory will be rattling Tannehill early and often which wasn't all that difficult last season given his 13 interceptions and 35 sacks.
San Diego will have to grind it out for a victory on the road, but it's a doable challenge for the more experienced team.
Prediction: Chargers 23, Dolphins 20 (6-4)
Week 12 at Kansas City Chiefs
USA TODAY Sports
RB Jamaal Charles gave fantasy football owners and Chiefs fans alike quite the scare when he sustained a foot injury in practice that ended up being just a strain according to reports.
Charles' health is vital to Kansas City's success in its first season under new head coach Andy Reid, but the talented depth throughout this roster is also an important aspect of this new-look Chiefs team and one of the main reasons Kansas City is arguably the second best team in the AFC West.
San Diego had no trouble disposing of Kansas City in 2012 with marginal results in both matchups last season, but bringing in a new quarterback (one with playoff experience) changes the entire outlook of this team.
Alex Smith struggled to stay consistent for the majority of his career in San Francisco, but his last two seasons with the 49ers weren't all that bad. That still didn't prevent the sudden arrival of Colin Kaepernick from stealing the show though.
The Chargers could potentially split its two meetings with the Chiefs this season, but Week 12 on the road isn't the one they come out on top.
Prediction: Chiefs 27, Chargers 23 (6-5)
Week 13 vs. Cincinnati Bengals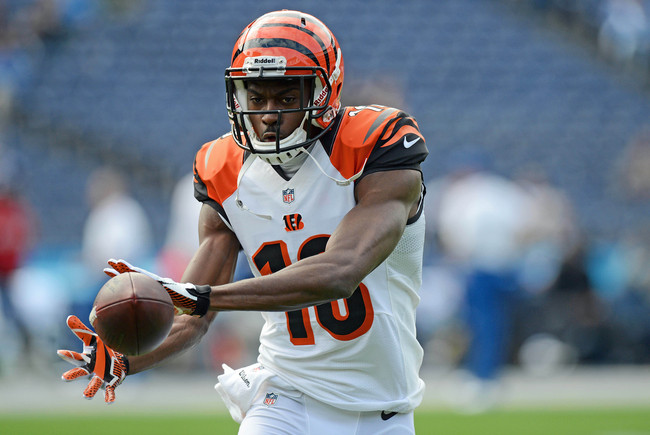 Jake Roth-USA TODAY Sports
The Bengals are a team to watch in the AFC this season and a big reason they've come so far is on behalf of young talent like QB Andy Dalton, WR A.J. Green and TE Jermaine Gresham.
Cincinnati made a wildcard appearance last season, falling to the Houston Texans by just six points. Green and Gresham made the Pro Bowl last season and Dalton tied for seventh in passing TDs (27). The Bengals defense also performed well, limiting opponents to 20 points a game.
In Week 13 of the 2012 season, the Bengals marched right into Qualcomm Stadium and stole a victory despite being down by a field goal at halftime. Dalton threw two interceptions in that game but redeemed himself with a passing TD to Gresham and a rushing TD of his own to help his team get the win.
Another close game should unfold at Qualcomm in this year's meeting, but the Bengals get a second-straight victory in San Diego.
Prediction: Bengals 23, Chargers 17 (6-6)
Week 14 vs. New York Giants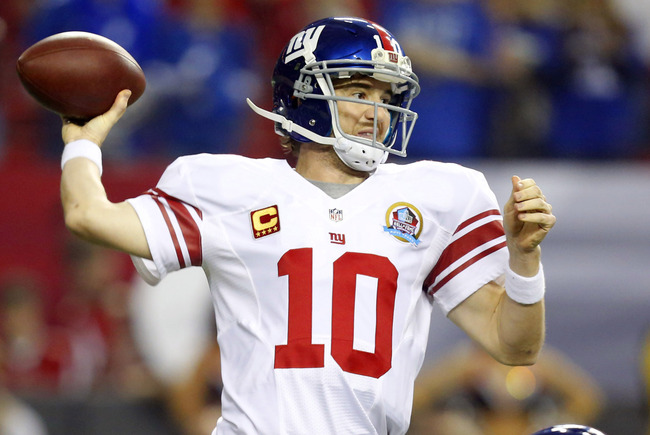 USA TODAY Sports
Eli Manning has never been a very welcomed individual in San Diego ever since he shunned the Chargers organization and fans on draft day back in 2004, but he apparently made the right decision as evidenced by his two Super Bowl rings.
When Manning makes his way out onto the field in Qualcomm Stadium, the rain of boos will shower down upon him but the two-time Super Bowl MVP will eventually shake it off as he normally does.
If there is one game the Chargers are capable of stealing this season, it's this one. New York lost some of its firepower in the offseason and its defense has been in steady decline recently.
There are, however, two pass-rushers San Diego has to worry about in Justin Tuck and Jason Pierre-Paul. Both should get to Rivers multiple times in this one given the poor protection, but the Chargers quarterback still has his way throwing the football.
Prediction: Chargers 28, Giants 17 (7-6)
Week 15 at Denver Broncos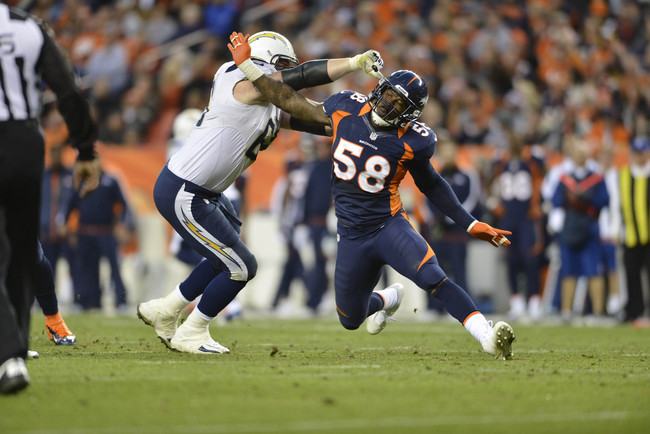 Ron Chenoy-USA TODAY Sports
At home against the Chargers last season, Von Miller put Philip Rivers on his back on three occasions and forced two fumbles. Denver had control of the game the entire evening and closed the door on the Chargers with a 30-23 win.
Both teams will have a short week to prepare for this Thursday night game on NFL Network, but the Broncos should be on their way to clinching the division by this point and use this game to really solidify their spot in the playoffs.
Denver gets the win at home easily in a more decisive fashion than its previous meeting with San Diego.
Prediction: Broncos 31, Chargers 16 (7-7)
Week 16 vs. Oakland Raiders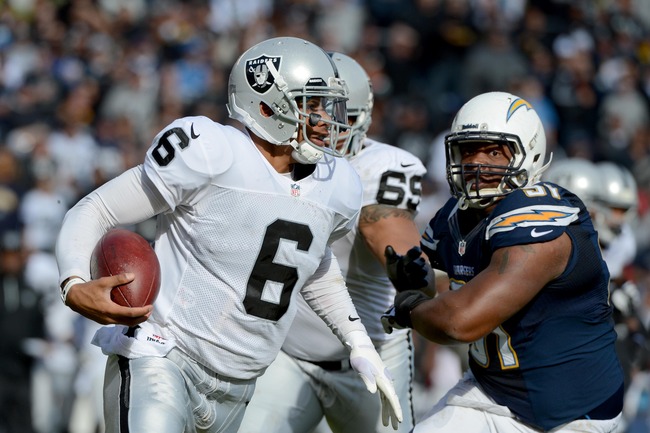 Donald Miralle/Getty Images
In San Diego's 2012 season finale, the Chargers closed out the year with a close 24-21 win over the Raiders in which Terrelle Pryor mounted a comeback and nearly succeeded in getting his team the come-from-behind victory.
Like that game a year ago, the Raiders always find a way to crash the party when the Chargers least expect it and give the Bolts a run for their money toward the end of the season.
But, San Diego still reigns supreme in this contest while saving face and producing a winning record for Mike McCoy in his first season with the team (but still a fourth consecutive year out of the postseason).
Prediction: Chargers 20, Raiders 17 (8-7)
Week 17 vs. Kansas City Chiefs
Jake Roth-USA TODAY Sports
Unless the AFC West comes as a total shock next season and the Broncos haven't already clinched the division, this game will serve as a momentum building season finale for both teams looking ahead to the 2014 season.
When wins or losses don't matter, the Chargers typically shine and let loose in close-out games. If everyone plays rather than resting up for the offseason, then San Diego should be able to split the series with Kansas City and pull off a victory.
Prediction: Chargers 21, Chiefs 17 (9-7)
Keep Reading

San Diego Chargers: Like this team?