WWE SummerSlam 2013: Triple H Is an Unnecessary Addition to WWE Title Match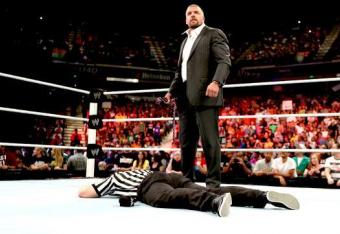 Photo courtesy of WWE.com.

Triple H has yet again thrown himself in the middle of a current WWE storyline rather than stick to his corporate role.
As if Randy Orton and his Money in the Bank briefcase looming in the background of the WWE title match at SummerSlam weren't enough, Triple H has now entered the fray as a special guest referee.
Whatever happened to a good old championship match?
Before Triple H's interference,
WWE
fans were treated to one of the best feuds of the year between Daniel Bryan and John
Cena
.
Cena's generic "Our time is now" campaign is still in full force. His run of dominance in 2013, after a down year in 2012, appears to be reaching its peak.
Who walks out of SummerSlam as WWE Champion?
While
Cena
was supposedly in the depths of his career in 2012, Bryan was one-half of an entertaining face duo with
Kane
. Bryan subtly used the exposure to become one of the most overly-exposed faces in the company, and ultimately parlayed that into a
WWE
Championship opportunity.
So, rather than having an interesting story play out to its conclusion, here we are again with Triple H in the thick of things.
Talk about a letdown. What was once the most anticipated match on the SummerSlam card now seems destined to sit in second place behind what is sure to be a classic between CM Punk and Brock Lesnar.
The addition of Triple H feels forced at best and all but guarantees some form of outside interference in a match that needs nothing of the sort.
Some will be quick to point out a quote from Dave Meltzer of Wrestling Observer Newsletter (subscription required) that states the addition of Triple H to the match is a strategic one for the further advancements of other storylines:
This match is expected to end up as the kickoff of the WrestleMania angle with the McMahons. HHH being added as referee is not because they think Bryan doesn't have enough star power and they need HHH there. Quite the opposite. HHH is there because this is a high profile title match, the biggest since WrestleMania, and the right spot for the angle to kick off the McMahon family.
No kidding this is the biggest title fight since WrestleMania. That doesn't mean Bryan needs a babysitter, and it certainly does not mean Triple H needs to be in the ring in front of the camera for the duration of the fight.
There is an interesting dynamic going on behind the scenes with the McMahons as the family once again (predictably) wrestling for control. The decision to potentially infuse that storyline into the Cena vs. Bryan feud feels like a slight to Bryan. Sorry, Cena fans, he's the guy in the main event even when he isn't WWE champion.
Vince McMahon has claimed he does not want Bryan to be champion, but he detests Cena as well for his attitude. Triple H is the face, at least for now, going into the match. There's a certain air of unpredictability, but that's not a good thing.
You know what was unpredictable? The original match. You could write it off as
Cena
burying another up-and-comer, or you could have had the slightest sense that this may be it—the time
Cena
goes down clean to a fan favorite. After all,
WWE
missed its chance with
Ryback
, who was riding a wave of popularity earlier in the year.
Where is he now?
Instead, we have a match with predictable drama rather than just quality wrestling. Bryan is like Punk in wrestling ability, so Bryan paired with Cena was going to make for a quality match. The quality will still be there, but we can't enjoy it for what it is with so many outside factors.
To give credit where it's due, the WWE product as a whole has been much, much better as of late. Younger guys are getting pushes, outcomes have been a bit more unpredictable, and the focus has been back on the wrestling so much that even a three-hour Raw has not seemed to drag in quite some time.
So maybe something amazing is in store. When Bryan is involved, there usually is.
Are you happy Triple H will act as special guest ref?
There's going to be a heck of a match between Bryan and
Cena
on Sunday. When they blasted each other on the go-home episode of Raw, you could hear the slightest sense of realism, especially when
Cena
was adamant he is a wrestler and when Bryan proclaimed he's better than anyone in the business.
Both have something to prove in the main event at SummerSlam. Could it be a classic? Maybe. The chance took a big hit when other convoluted nonsense was thrown in, especially the addition of a special guest referee by the name of Triple H.
Follow B/R's Chris Roling on Twitter for more news and analysis @Chris_Roling
This article is
What is the duplicate article?
Why is this article offensive?
Where is this article plagiarized from?
Why is this article poorly edited?