Little League World Series Scores 2013: Results That Will Boost Top Squads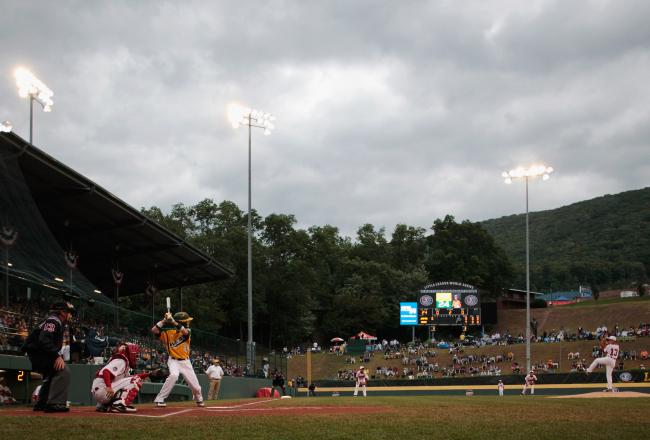 Rob Carr/Getty Images
The Little League World Series kicked off to much fanfare—and for good reason, as Round 1 was a showcase for the top teams to distance themselves from the rest of the pack.
There were a few favorites labeled as contenders entering the tournament, and most lived up to the hype in big fashion.
Outside of the predictable domination from top teams in the first round, another team emerged as a contender in full force after a historic performance.
Regardless of the label slapped on each team before hitting the diamond, these early showings of dominance have created an almost insurmountable level of momentum for the top squads.
See for yourself.
Japan Downs Czech Republic, 7-3
Japan with a post-win stat session after edging the Czech Republic #LLWS pic.twitter.com/xniiDnztZl

— Little League (@LittleLeague) August 17, 2013
Japan was far and away the favorite to win it all entering the tournament based on the run of dominance the country as a whole has experienced in the past few years—winning two of the last three World Series.
Musashi Fuchu destroyed the opposition 36-15 in the qualifying rounds, but the expectations are high after the performance Tokyo Kitasuna put up last year.

Japan met those expectations in a big way against the Czech Republic.
Kazuki Ishida was the star of the show for Japan, doubling and homering while helping his team to jump to a 6-0 lead in the second inning. Ishida was backed by stellar pitching that allowed just two hits.
This is business as usual for Japan. Downing the first team to appear in the tournament from the Czech Republic is a nice feat, but it's the solid combination of hitting and pitching that has Japan on the championship path again.
Mexico Routs Australia, 12-0
To say Mexico is an explosive team may not be doing the youngsters justice.
After embarrassing the opposition in the Mexico Regional in six contests by a total tally of 68-21 (actually losing one game 6-4), Mexico firmly planted itself in the "favorites" column with the World Series approaching.
Interestingly enough, Australia was no slouch entering the contest either. It held six of seven opponents to one run or less in the Australia Regional and scored in double digits four times, with a game-high tally coming in at a ridiculous 28.
So for Mexico to not only shut out Australia but also put up 12 runs of its own is a very impressive feat. It speaks to both the explosive hitting fans saw in the regional and just how strong the pitching staff truly is.
The U-T San Diego congratulated Mexico via Twitter.
Tijuana Little League celebrating win against Australian team in 1st game of World Series. http://t.co/hsDPmiKLxj

— UTSanDiego (@UTsandiego) August 15, 2013
If there is one team you do not want to bet against at this point, even with the history Japan is riding behind, it has to be Mexico.
California Silences Michigan 3-0 with No-Hitter
6-foot-4 pitcher Grant Holman threw a no-hitter in the LLWS today: http://t.co/pVpyT1nLim pic.twitter.com/dX1dzKNzTL

— MLB Fan Cave (@MLBFanCave) August 17, 2013
Chad Lorkowski, the 6'2", 200-pound 12-year old playing for Great Lakes, was the story of the World Series leading up to the tournament.
Lorkowski played just fine, but all of the publicity now resides with California pitcher Grant Holman, who made history by shutting down Lorkowski and Co. in Round 1.
Phrases like "shutting down" and words like "dominance" are typically thrown around carelessly, but there is no better time to use them than to describe Holman's performance.
Your favorite to win LLWS 2013?
Holman took the mound and flirted with the 85-pitch limit and ultimately threw a no-hitter in seven innings.
His dominant display of pitching will help California on its way to more victories. That the team was held to three scores is a bit concerning, but it scored in double digits in four of six games in the West Regional, so the bats should awaken eventually.
California was not pegged by many as a serious contender, but Holman and Co. opened some eyes in Round 1, and the performance tells you they are just getting started.
Follow B/R's Chris Roling on Twitter for more news and analysis @Chris_Roling
This article is
What is the duplicate article?
Why is this article offensive?
Where is this article plagiarized from?
Why is this article poorly edited?