USC Football: Game-by-Game Schedule Predictions for 2013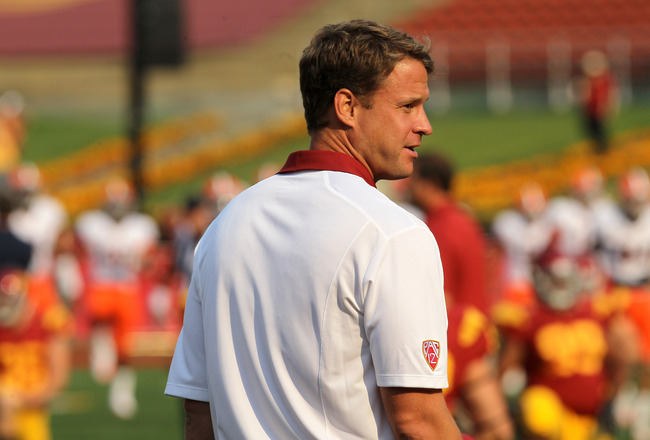 Stephen Dunn/Getty Images
The 2013 edition of the USC Trojans football team takes the field on August 29th when they open the season at Hawaii.
On that Thursday, the men of Troy will try to make up for a disappointing 2012 season that saw them deliver a 7-6 record with a team that was once thought of as a national title contender.
Also on the line this season is the future of their head coach, Lane Kiffin, who will likely have to produce a big year to be invited back for 2014 and beyond.
Can the Trojans rebound in 2013?
This slideshow will look at the upcoming season and offer predictions as to how these games will play out.
Now is the time for USC to produce or face big changes next year.
So join me as I look into my crystal ball and tell you what is going to happen over the next few months.
Note: predictions based on quality of opponents, venue of contest and intangibles such as rivalry games, etc.
August 29th at Hawaii (Thursday)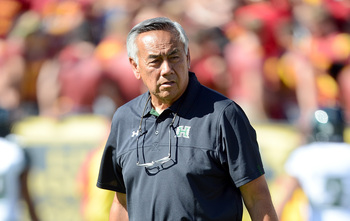 Norm Chow
Harry How/Getty Images
The Trojans open the 2013 season on the road against an old friend, former USC offensive coordinator Norm Chow in beautiful Hawaii.
Chow, now the head coach for the Warriors, would love nothing more than to beat his old team, but that will be a very tall order to be sure.
USC will be breaking in a new quarterback, and regardless of who that is, Lane Kiffin will be devoting his primary offensive attention to the running game, which will be going against a Hawaii defense that finished 86th in the nation against the run in 2012.
Look for the Trojans to control the line of scrimmage and have their way against the Warriors.
USC 45, Hawaii 14
September 7th, Washington State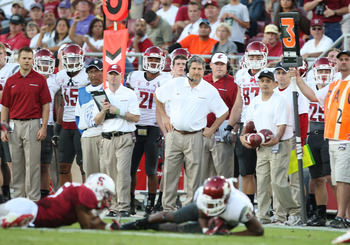 Mike Leach
Tony Medina/Getty Images
USC opens its home schedule with a visit from Mike Leach and his Cougars as he tries to improve upon a disappointing 3-9 record in 2012.
While fans can expect Washington State to be improved, the team still gave up over 163 yards per game on the ground last year, and that is something that Kiffin will want to exploit in his new ball-control offense.
This will also be a good test for Clancy Pendergast and his 5-2 defense as WSU runs an up-tempo offense led by quarterback Connor Halliday, who threw for three touchdowns in the Cougars' recent scrimmage.
Although the Cougars will move the ball fairly well, they will still fall well short of pulling off the upset.
USC 38, Washington State 17
September 14th, Boston College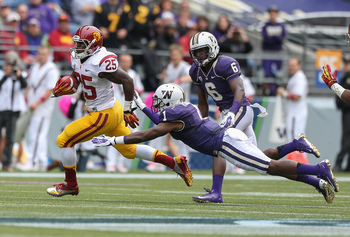 Silas Redd
Otto Greule Jr/Getty Images
Boston College will be making a rare appearance at the Coliseum when new head coach Steve Addazio leads his Eagles against what should be a 2-0 USC team hungry to add to their win total.
Former San Clemente (CA) high school quarterback Chase Rettig will lead an improved offense, but that won't matter as the Boston College defense was woeful in 2012, including finishing 111th in the nation stopping the run.
And that plays right into the Trojans' hands.
USC 52, Boston College 20
September 21st, Utah State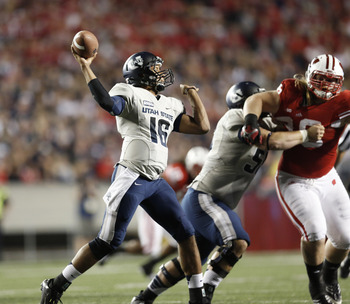 Chuckie Keeton
Tom Lynn/Getty Images
USC's first real test comes against a team that went 11-2 in 2012, and those two losses came by a total of five points.
Utah State is led by quarterback Chuckie Keeton, who threw for over 3,300 yards and had 27 touchdowns last year.
However, the Trojans can't afford to key just on Keeton because Utah State has a powerful running attack as well.
But that's not all. On defense, the Aggies finished 13th in the nation against the run, giving up a paltry 113 yards per game.
Things don't get much easier through the air for USC, either, as Utah State finished a respectable 32nd in that department last year as well.
This is a game that Trojans should worry about, although I expect USC to win a close one at home.
USC 28, Utah State 24
September 28th, at Arizona State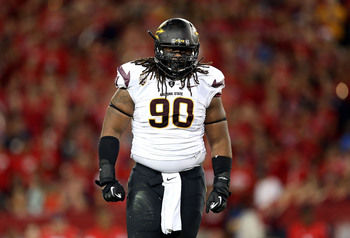 Will Sutton
Christian Petersen/Getty Images
Although the Trojans will escape with a narrow victory against Utah State, the road (literally) gets much rougher when USC travels to Tempe to play against the Sun Devils in the brutal Arizona heat.
The Trojans and the Sun Devils will both be looking to grind it out on the ground, and ASU can get the job done with D.J. Foster and Marion Grice, who are both looking to go for over 1,000 yards this year.
Meanwhile, Arizona State was vulnerable against the run in 2012, but with future NFL star Will Sutton anchoring a stout defensive line from his tackle position, the yards will be hard to come by on the ground.
Compounding the issue for USC is that last year, the Sun Devils were even better against the pass, finishing third in the nation in that department.
Unfortunately for Trojan fans, the four-game winning streak stops here.
Arizona State 28, USC 21
October 10th, Arizona (Thursday)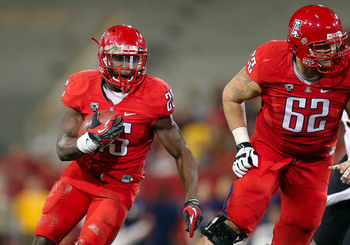 Ka' Deem Carey
Christian Petersen/Getty Images
The Trojans return home against Arizona looking to start a new winning streak.
Fortunately, the Trojans will be catching a Wildcat team that will be breaking in a new quarterback in 2013, and that doesn't bode well for Rich Rodriguez' up-tempo offense.
That's not say that Arizona is bereft of talent, however. Running back Ka'Deem Carey rushed for almost 2,000 yards in 2012, and he will be expected to hold down the fort on the ground should the aerial game stall.
Still, this is a game the Trojans should win fairly easily as they look to take out last week's frustrations on Arizona in front of the home crowd.
USC 45, Arizona 20
October 19th, at Notre Dame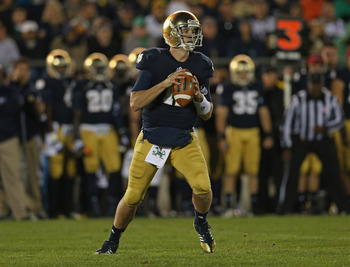 Tommy Rees
Jonathan Daniel/Getty Images
Though it appears that the Trojans caught a break when Irish quarterback Everett Golson got himself suspended for 2013, this is still Notre Dame, and South Bend is never an easy place to play.
Tommy Rees will take over for Golson in 2013. and while he is not as versatile as the guy he is replacing, he is steady and can get the job done.
George Atkinson III will take over running responsibilities for the now-departed Theo Riddick, but when all is said and done, he might be even more explosive.
Where the Irish really shine, though, will be on defense, especially on the line, where Stephon Tuitt and Louis Nix make like an unmovable wall against the run.
Concern mounts as USC loses its second game of the season.
Notre Dame 24, USC 17
October 26th, Utah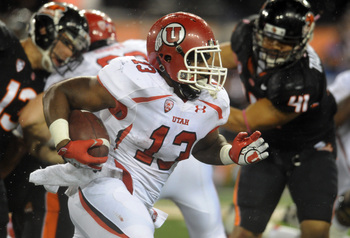 kelvin York
Steve Dykes/Getty Images
USC will be looking to right the ship at home against a Utah team that is now being led on offense by former mega head coach Dennis Erickson.
Unfortunately for Erickson, his offense will be led by a quarterback (Travis Wilson) who didn't do much after he replaced injured Ute QB Jordan Wynn.
However, the Utes do have a capable running back in Kelvin York, the one-time USC verbal commit.
On defense, Utah will have to revamp a defensive line that no longer contains Star Lotulelei, who has taken his considerable talent to the NFL.
USC gets back on track here at home against an overmatched Utah team.
USC 45, Utah 14
November 1st, at Oregon State (Friday)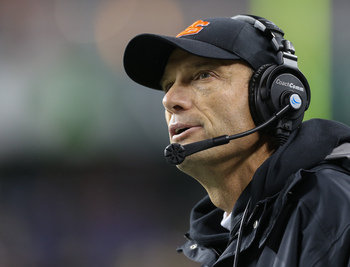 Mike Riley, Oregon State head coach
Otto Greule Jr/Getty Images
Usually, trips to Corvallis are not kind, nor are they pleasant for the men of Troy. Don't expect this to change in 2013.
This year, Beaver head coach Mike Riley will look to either Cody Vaz or Sean Mannion to run the offense from the quarterback position and Storm Woods will be the primary guy to run the rock.
While the offense is in good hands, the Oregon State defense may be even better, especially at linebacker and the secondary.
Altogether, the Beavers look like a difficult task for the Trojans, and this is likely to be their third loss of 2013.
Oregon State 31, USC 28
November 9th, at California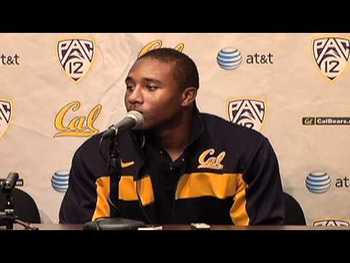 Brandon Bigelow (photo from 247sports.com)
Though USC doesn't have former Bear head coach Jeff Tedford to kick around anymore, USC should still handle Cal on the road.
Sonny Dykes has been tabbed as the new leader for the Bears, but despite his glowing resume as an offensive genius, Dykes hasn't recruited a quarterback who has the experience to run his sophisticated schemes.
This doesn't mean Cal is completely void of talent, though. The team still has a very capable running back in Brandon Bigelow, who averaged almost 10 yards per carry in limited action, and a young but talented defense that will be very good someday.
Still, this is a team that USC should handle fairly easily.
USC 35, Cal 20
November 16th, Stanford
Matt Kartozian-USA TODAY Sports
It will take a while, but the Trojans will finally deliver a huge win when they welcome Stanford to the Coliseum for Homecoming Weekend.
After years of futility, the Trojans will fire on all cylinders against a Stanford team that will have shot its proverbial wad the week before against Oregon.
Meanwhile, the Trojans will be geeked to end a four-year losing streak against the Cardinal. By this time, the passing attack will be able to exploit a Stanford defensive secondary that, while talented, is very young.
USC springs the upset and uses this win as a springboard to close the year strong.
USC 31, Stanford 20
November 23rd, at Colorado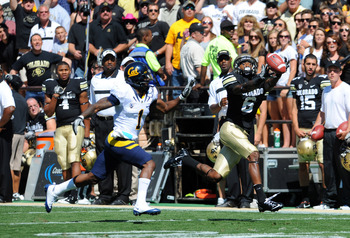 Paul Richardson
Ron Chenoy-USA TODAY Sports
The best thing the Buffaloes have going for them is the chilly confines of Boulder when they welcome the Trojans to Colorado.
New head coach Mike MacIntyre will look to Connor Wood to get the ball to returning wide receiver Paul Richardson, but beyond that, Colorado has little to offer on that side of the ball.
On defense, the Buffs have a solid defensive line, but the rest of that unit appears to be shaky at best.
All of which translates into a big Trojan victory as USC wins its third in a row.
USC 49, Colorado 21
November 30th, UCLA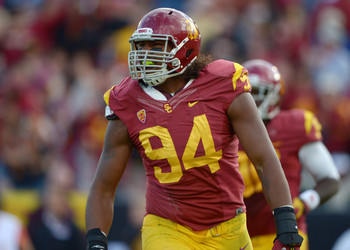 Leonard Williams, USC defensive tackle
Kirby Lee-USA TODAY Sports
Revenge will be on the Trojans' mind when they welcome the Bruins into the Coliseum for the final regular game of the season.
And it is in this game where Trojan defensive coordinator Clancy Pendergast releases his front seven to make life completely miserable for UCLA quarterback Brett Hundley—the guy who torched USC in 2012.
This year it is a different story as the Trojans dominate UCLA's vulnerable offense line, and on offense, a balanced attack leaves the Bruins dazed and confused.
The Trojans close out the year with four straight wins as they win a surprisingly easy one.
USC 38, UCLA 13
Conclusion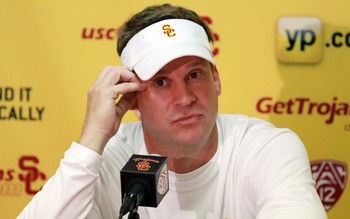 Kirby Lee-USA TODAY Sports
So there you have it, one man's prognostication for USC's 2013 season.
All told, this gaze into my crystal ball produces a 10-3 year for the Trojans and, in delivering this record, saves their head coach's job.
Of course, USC could spring an even better record in 2013 as I have the three losses only coming by a total of 17 points.
However, there are other games where things could conceivably go wrong as well.
Much depends on how healthy the Trojans stay this year because rotations will be limited due to depth issues.
Still, this should be a good year for USC—one that not only propels them back into the national spotlight but, perhaps even more importantly, returns the Trojans to the go-to destination for premier recruits.
Keep Reading

USC Football: Like this team?