South Carolina Football Team Program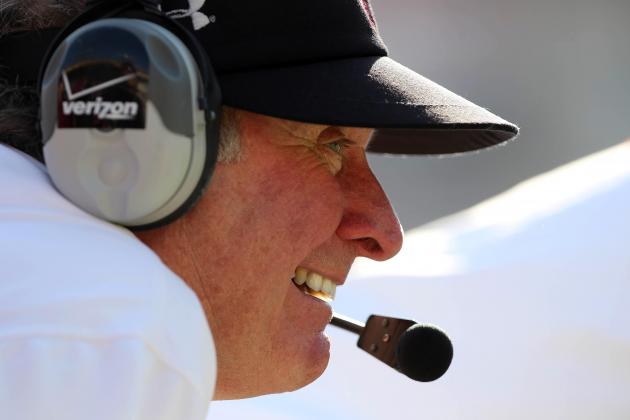 Kim Klement-USA TODAY Sports
Head coach Steve Spurrier has set the bar high for 2013 and is ready for his team to put together a memorable season.
South Carolina has quickly ascended to one of the powerhouse teams of the SEC with back-to-back 11-win seasons. However, one accolade continues to elude the program—an SEC title.
Head coach Steve Spurrier has assembled some great teams during his tenure with the Gamecocks, but the 2013 squad may be his best.
With a defense led by superstar defensive end Jadeveon Clowney and an offense managed by quarterbacks Connor Shaw and Dylan Thompson, South Carolina has the talent and leadership to make a run at an SEC championship.
South Carolina's schedule is favorable since it avoids SEC cross-division battles with Alabama, LSU and Texas A&M.
There are a lot of young players for the Gamecocks in 2013, but they are all talented and will improve throughout the season with experience in big games.
Is this the year that Spurrier's Gamecocks finally break free and take home the SEC title?
Here is a team program with everything you need to know about South Carolina football in 2013.
Begin Slideshow

»
Expert analysts break down South Carolina's schedule, discuss Jadeveon Clowney and Connor Shaw and then provide their predictions for the Gamecocks in 2013.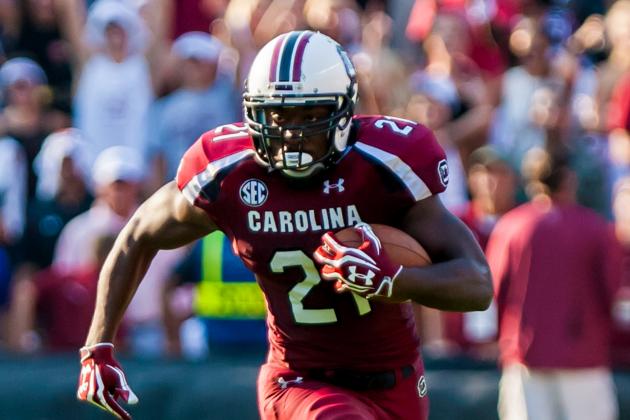 Jeff Blake-USA TODAY Sports
Running back Marcus Lattimore went down in 2013 with a devastating knee injury, but the Gamecocks still finished with 11 wins.
In 2012, the South Carolina Gamecocks cruised to another 11-win season, capped off by an exciting Outback Bowl victory over the No. 18 Michigan Wolverines.
Last season, the Gamecocks came out of the gate hot by rallying off five wins against Vanderbilt, East Carolina, UAB, Missouri and Kentucky. Then, South Carolina prepared for a big battle against rival Georgia.
In the marquee matchup and moment of the 2012 season, South Carolina stomped on Georgia with a 35-7 beatdown. The Bulldogs were completely shut down and embarrassed by the Gamecocks.
Marcus Lattimore scored a touchdown. Connor Shaw had two passing touchdowns and one on the ground. Ace Sanders had a spectacular punt return.
With a dominant win over Georgia, the season was taking an upward trend toward becoming a special one. However, the next two weeks on the road against LSU and Florida did not go according to plan.
The Gamecocks slipped up against LSU, allowing Jeremy Hill to run all over them, and scoring too little, too late. South Carolina lost 23-21 and needed to focus up for a battle with then No. 2-ranked Florida.
The Gators defense and quarterback Jeff Driskel's four passing touchdowns were too much for South Carolina to handle. The Gamecocks failed to protect the football in The Swamp, which led to a 44-11 rout by the Gators.
The following week, South Carolina squared off with Tennessee and picked up the win. But it lost something more important. Fan-favorite Marcus Lattimore suffered a difficult-to-watch knee injury and would miss the rest of the season.
South Carolina powered through the injury to Lattimore and stampeded to the finish line by chaining together four more wins after the Tennessee game, including a win over in-state rival No. 11 Clemson and the Outback Bowl win over Michigan.
2012 had some slip-ups and hardships, though every season has its ups and down. Regardless, South Carolina strung together another 11-win season and set itself up well for 2013.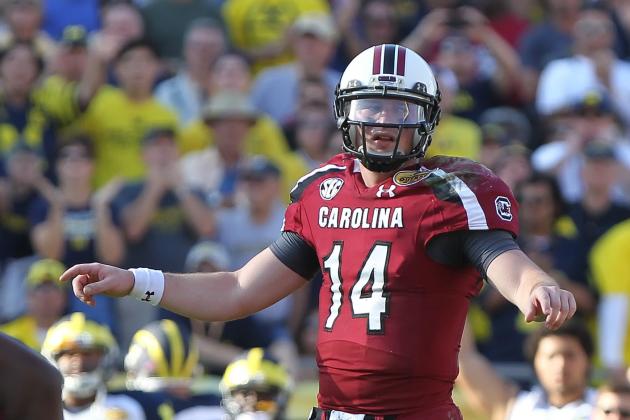 Kim Klement-USA TODAY Sports

Offense
Quarterback
SR Connor Shaw 6-1, 209
RS JR Dylan Thompson 6-3, 218
RS FR Brendan Nosovitch 6-1, 220
Running Back
SO Mike Davis 5-9, 215
SO Brandon Wilds 6-2, 223
RS FR Kendric Salley 5-9, 183
RS SO Shon Carson 5-8, 219
Fullback
RS JR Connor McLaurin 6-0, 237
Wide Receiver
SO Shaq Roland 6-1, 190
JR Bruce Ellington 5-9, 196
JR Damiere Byrd 5-9, 166
RS JR Nick Jones 5-7. 174
RS SO K.J. Brent 6-4, 188
RS SO Shamier Jeffery 6-1, 207
Tight Ends
JR Rory "Busta" Anderson 6-5, 242
SO Jerell Adams 6-6, 237
RS SO Drew Owens 6-6, 244
Left Tackle
RS JR Corey Robinson 6-8, 341
JR Mike Matulis 6-5, 266
Left Guard
RS JR A.J. Cann 6-4, 314
RS FR Brock Stadnik 6-5, 286
Center
RS FR Cody Waldrop 6-2, 319
RS FR Clayton Stadnik 6-3, 281
Right Guard
SR Ronald Patrick 6-2, 315
RS SO Will Sport 6-5, 294
Right Tackle
RS SO Brandon Shell 6-6, 323
RS JR Cody Gibson 6-7, 286
Defense
Defensive End
JR Jadeveon Clowney 6-6, 274
RS SO Mason Harris 6-3, 218
Defensive Tackle
RS JR J.T. Surratt 6-2, 307
RS SO Gerald Dixon Jr. 6-3, 318
Defensive Tackle
JR Kelcy Quarles 6-4, 298
FR Kelsey Griffin 6-2, 292
Defensive End
SR Chaz Sutton 6-5, 263
RS FR Darius English 6-6, 226
"Mike" Linebacker
SO Kaiwan Lewis 6-0, 221
RS FR T.J. Holloman 6-2, 228
"Will" Linebacker
RS SO Cedrick Cooper 6-2, 213
RS SO Marcquis Roberts 6-1, 225
"Spur" Linebacker
RS JR Sharrod Golightly 5-10, 195
RS FR Jordan Diggs 6-0, 214
Cornerback
RS JR Victor Hampton 5-10, 202
JR Ronnie Martin 5-11, 179
Free Safety
SO T.J. Gurley 5-10, 196
JR Kadetrix Marcus 6-1, 195
Strong Safety
JR Brison Williams 5-11, 218
RS FR Chaz Elder 6-2, 199
Cornerback
RS SR Jimmy Legree 6-0, 187
RS SO Ahmad Christian 5-10, 189
Special Teams
Kickers
SO Landon Ard 5-9, 172
RS FR Nick St. Germain 5-9, 175
Punters
RS JR Tyler Hull 6-2, 206
RS JR Patrick Fish 6-0, 195
Kick/Punt Returners
JR Bruce Ellington 5-9, 196
JR Damiere Byrd 5-9, 166
RS JR Victor Hampton 5-10, 202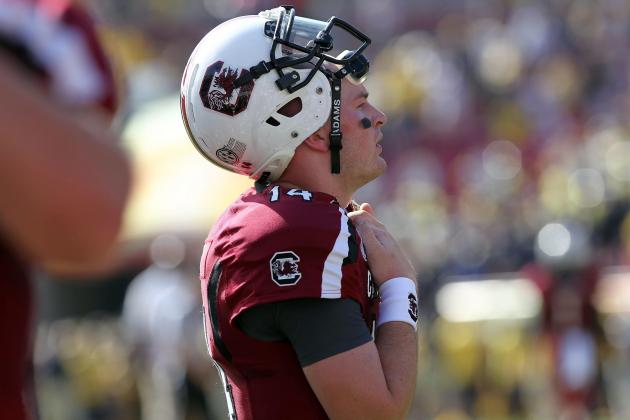 Kim Klement-USA TODAY Sports
Connor Shaw was banged up in 2012, but he powered through most of his injuries. Can he stay healthy in 2013?
Last season, South Carolina lost Marcus Lattimore to a season-ending injury and various other players got hurt.
Injuries are a part of football and can plague any season.
As of right now, the Gamecocks are fairly healthy as the 2013 opener approaches.
Jadeveon Clowney has battled some shoulder bruising, but this is no cause for concern.
Connor Shaw bruised his thumb after he hit it on a helmet during a throw at a scrimmage, though he should also be fine.
South Carolina will also be looking toward Cedrick Cooper to finish his recovery from knee surgery.
Another injury concern could be T.J. Gurley, who is also recovering from knee surgery, though he should be good to go.
Injuries are not much of a concern for South Carolina as Week 1 approaches.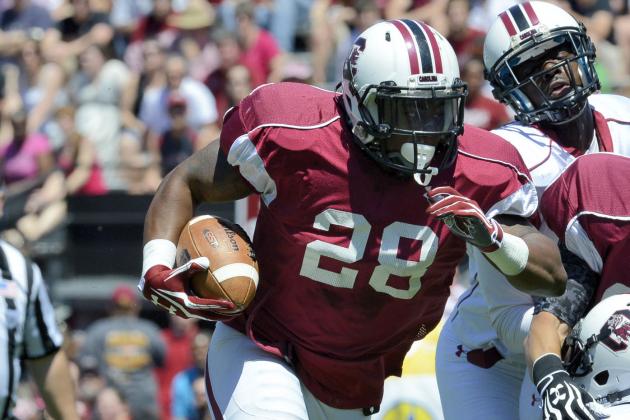 Curtis Wilson-USA TODAY Sports
Mike Davis takes over the backfield duties from Marcus Lattimore and will carry the running game workload.
1. Jadeveon Clowney
Of course Jadeveon Clowney is the biggest player to watch in 2013. He is arguably the best player in the country and will look to terrorize offenses yet again.
Clowney is trying to become the second defensive player in history to take home a Heisman. Just watching this kid play is a spectacle. No one plays like him. No one is as talented as him.
Keep on watching him emerge as one of the best defensive players college football has seen in recent history.
2. Mike Davis
Davis is the workhorse in the backfield. He emerged after spring practice as the No. 1 running back ahead of Brandon Wilds and is still going strong.
Davis has all of the tools to be a very successful running back even in the SEC, where defenses are brutal.
He is compact and quick with good vision and patience. When Davis finds the gap, he accelerates through and is deadly in the open field.
As just a sophomore, Davis is ready to burst onto the scene and make a major impact on the South Carolina offense.
He has the skills. Now watch him put everything together in 2013 and become an offensive force.
3. Damiere Byrd
Byrd is freaky fast, which is what makes him such a great option for the Gamecocks.
He has had troubles with his hands in the past, but he has been working hard to improve his catching abilities.
With lightning speed that can take the top off of a defense, Byrd will be a menace for the Gamecocks. He is a big-play threat on every down.
Shaw and Thompson need to get the football in his hands so Byrd can make plays happen.
4. The Tight Ends
This is the best squad of tight ends in the country.
Rory "Busta" Anderson, Jerell Adams and Drew Owens are all physical beasts who can not only block but also shred defenses with their receiving.
Whether it's on seam routes, posts, red-zone plays and regular routes, these tight ends are all such great athletes that they will make plays happen.
It is nearly impossible to cover them.
Adams will probably stand out the most of this crew with his red-zone targets, though all of them are players to watch.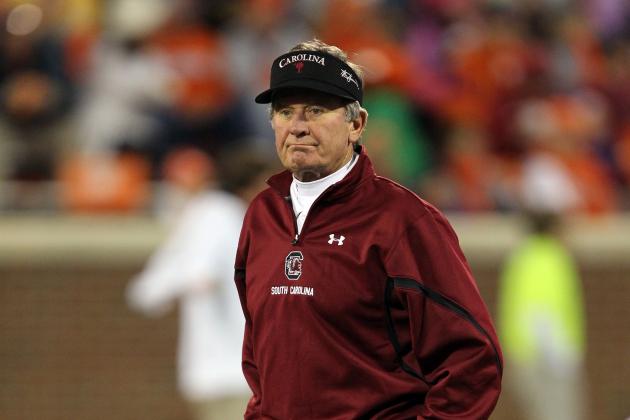 Streeter Lecka/Getty Images
Spurrier and most of his staff return for the 2013 season.
Head Coach - Steve Spurrier
The Old Ball Coach is still on the sidelines and is excited about what this year's team can accomplish. He will continue to be the man behind the Gamecocks offense.
Defensive Coordinator - Lorenzo Ward
Ward begins his second year as defensive coordinator and will continue to build on last year's success. He likes to use fast, athletic players in all aspects of his defense.
Offensive Line Coach - Shawn Elliott
Elliott will continue to develop the young group of offensive linemen and maintain a focus on run-blocking.
Wide Receivers Coach - Steve Spurrier Jr.
Spurrier Jr. has helped produce wide receiver talents like Sidney Rice and Alshon Jeffery. Now, he needs to work with the young group of inexperienced receivers, find a prime target and work versatility into the position.
Defensive Line Coach - Deke Adams
Deke Adams is the new face on this staff. He comes from Larry Fedora's staff at North Carolina and will get to work his new Gamecocks defensive line at the start of the season as he battles against his old team.
Adams has had success with jobs at North Carolina, Southern Mississippi, University of Louisiana-Monroe and North Carolina A&T.
Adams inherits a spectacular defensive line led by Jadeveon Clowney and will look to have one of the best front fours in all of college football.
He is also an excellent recruiter with a solid reputation in the Carolinas.
Adams' scheme is all about maintaining aggressiveness and attacking the gaps rather than letting the ball-carrier come to you. He will also continue to run the pass-rushing "Rabbit" set that has four defensive ends on the line on obvious passing downs.
Linebackers Coach - Kirk Botkin
Botkin enters his second year with the Gamecocks and will be relied on to develop the young linebackers.
Secondary Coach - Grady Brown
Brown also begins his second year with South Carolina. He helped coach T.J. Gurley and D.J. Swearinger to SEC honors. Gurley and Hampton could find their way to similar honors this season.
Quarterbacks Coach - G.A. Mangus
Mangus has been key in developing this deep group of quarterbacks. He will continue working closely with Shaw and Thompson so that both are ready to go at all times.
Running Backs Coach - Everette Sands
Sands has a young backfield with varying abilities. In his first season, Sands had a successful year with Kenny Miles and Mike Davis, even in the wake of Lattimore's injury.
Special Teams Coordinator/Tight Ends Coach - Joe Robinson
Last season, Robinson had a dynamic special teams playmaker in Ace Sanders. Now, he needs to find his go-to return man. He also has the trio of tight ends who are all playmakers of their own, so Robinson will work to make them key parts of the offense.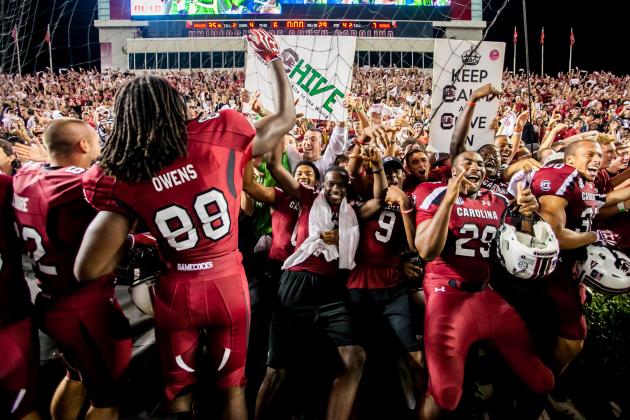 Jeff Blake-USA TODAY Sports
South Carolina will look to celebrate a fourth straight win over Georgia after a Week 2 showdown with the Bulldogs.
Schedule
8/29 vs. North Carolina
9/7 @ Georgia
9/14 vs. Vanderbilt
9/28 @ UCF
10/5 vs. Kentucky
10/12 @ Arkansas
10/19 @ Tennessee
10/26 @ Missouri
11/2 vs. Mississippi State
11/16 vs. Florida
11/23 vs. Coastal Carolina
11/30 vs. Clemson
South Carolina's most important games this season are against Georgia, Florida and Clemson.
The Gamecocks can set the pace for the season with the early Week 2 battle against the rival Bulldogs. Both of these teams are in the race for the SEC East division title and whoever wins this game will be able to run the table.
Florida is still a tough opponent. The Gators offense goes stagnant at times and their defense may not be as strong as last year's, but this team did dominate the matchup in 2012. Florida is also in the running to take the division, so this game could have huge implications.
South Carolina will be trying to continue to assert its power over in-state rival Clemson. The Tigers have big goals for this season under the leadership of senior quarterback Tajh Boyd. If the Gamecocks already have an SEC Championship Game berth under their belt, then they will also be in the running for a BCS title and this game will quickly become one of the biggest of the season.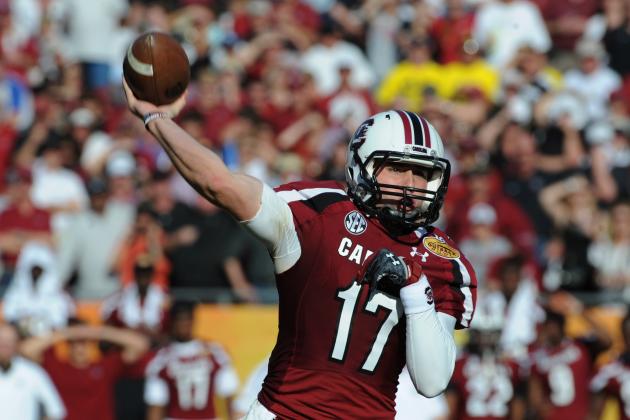 Al Messerschmidt/Getty Images
Dylan Thompson will offer a change of pace to the Gamecocks' offense.
South Carolina has the potential to be an offensive juggernaut in 2013.
With proven winner Connor Shaw at the helm, the team will feature a balanced shotgun offense that will utilize the read-option at times. Shaw is a solid dual-threat quarterback who will keep defenses honest.
The Gamecocks will have Shaw as the starter, though Dylan Thompson will garner some playing time. When Thompson enters the game, he will provide South Carolina with a pro-style offense that will work under center.
No matter what quarterback is in the game, the run game will be very versatile.
Mike Davis is the feature back who will chew away at defenses. Behind him is Brandon Wilds, who has had success as a power back and is great for north-south running. Kendric Salley and Shon Carson will also provide a change of style in the backfield.
The running backs will need to stay patient behind the young, strong offensive line. Watch for A.J. Cann and Brandon Shell to anchor the line yet again.
As for the receiving corps, the Gamecocks are very deep with talent and ability levels.
Shaq Roland and Bruce Ellington are the main targets in the passing game, though Damiere Byrd, Nick Jones and K.J. Brent are all strong options.
Beyond the receivers are the group that can take this offense to a whole new level.
Spurrier will look to maximize the use of his impressive trio of tight ends. They will receive a lot of playing time, as two-tight end sets will become the norm for the Gamecocks.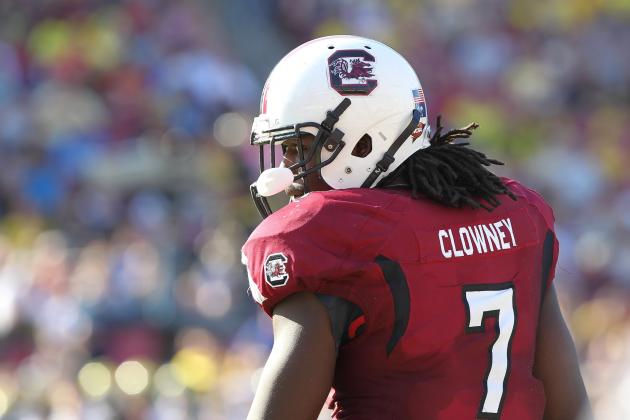 Kim Klement-USA TODAY Sports
Clowney anchors what could be another top-10 ranked defense.
South Carolina will continue to run the 4-2-5 defense that has worked very well over the years.
Clowney is the stud of this defense, which will need its younger players to step up and gain experience throughout the season.
Clowney will have a strong group of linemen around him in Chaz Sutton, Kelcy Quarles, J.T. Surratt and Gerald Dixon Jr. This grouping will be a terror for quarterbacks and offensive lines.
The middle linebackers remain as the biggest question mark on this team.
The talent is there, but these are young players who have yet to play in the big moments that can make or break a season. Cedrick Cooper and Kaiwan Lewis will control the middle of the field.
South Carolina's secondary is also a bit young but have the range and coverage to hold their own in the SEC.
Victor Hampton is the star of the defensive backs, and Jimmy Legree will play opposite him. T.J. Gurley, Kadetrix Marcus, Sharrod Golightly and Brison Williams will move around with key roles and control the back of the secondary.
South Carolina's defense may be young, but Clowney and the rest of the defensive line are enough to carry this team to a top-10 defensive ranking again.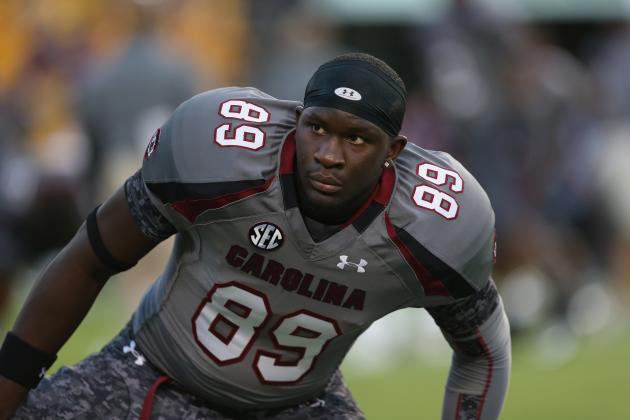 Ronald Martinez/Getty Images
Jerell Adams will be a deadly red-zone target for the Gamecocks, which makes him an X-factor for 2013.
South Carolina is going to be a very good team and remain in the hunt for a national championship, if certain aspects of the season fall into place.
Here are some X-factors for the Gamecocks in 2013.
1. The Georgia Game
Certain games can make or break a season. This is the game.
South Carolina can control its own destiny by defeating the Georgia Bulldogs for the fourth straight year and take home an SEC East division title.
The game is on the road and is only the second game of the year, so the Gamecocks will need to bring their A-game if they expect to win.
A loss to Georgia would put a damper on the season's outlook.
2. Jadeveon Clowney
He has to land on this list. The best defensive player in the country is automatically a major X-factor.
3. The Middle Linebackers
South Carolina's defense will be good, but it will need its young middle linebackers to play like experienced seniors.
The SEC is the toughest conference in the nation, and teams know how to exploit an opponent's weaknesses. The Gamecocks cannot afford to have their linebackers become a hole in the defense.
4. The Schedule
The Gamecocks avoid games against Alabama, LSU and Texas A&M.
They have a favorable schedule with the only two tough conference games against Georgia and Florida in the division.
South Carolina should take advantage of the schedule and control its own fate en route to an SEC Championship Game berth.
5. Jerell Adams
He's a second-string tight end. But Adams is going to play a lot in those two-tight end sets.
Adams is an acrobatic receiving tight end with great acceleration to go along with his big frame.
He will be a prime target for passing touchdowns and will become an integral part of the offense.
Adams can bring the offense to the next level with his natural scoring abilities and will be a major X-factor in 2013.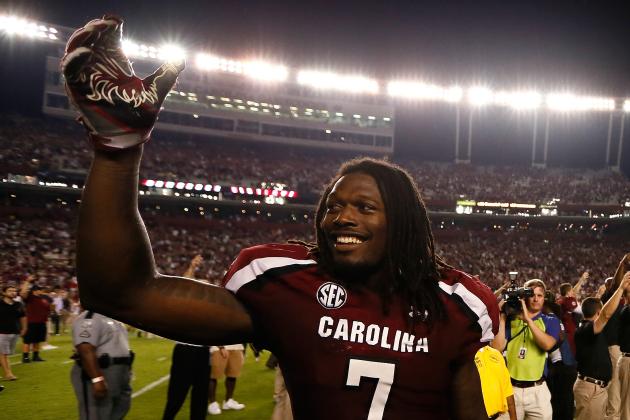 Kevin C. Cox/Getty Images
Jadeveon Clowney is looking to win the second Heisman in South Carolina school history.
Two major storylines surround the South Carolina Gamecocks in 2013.
1. Jadeveon Clowney for Heisman
Clowney's Heisman campaign is close to beginning and he is ready to go.
All eyes will be on Clowney as he seeks out the coveted award.
He is arguably the best player in college football, but will he be able to capture the Heisman Trophy, an award that has only been hoisted by one other defensive player in college football history?
Will Clowney join the ranks of Michigan great Charles Woodson?
How many sacks will he need to secure the Heisman?
The "Clowney for Heisman" campaign starts now.
2. South Carolina's Championship Pursuit
Spurrier and the Gamecocks have three goals for this season: win the SEC East, win an SEC championship and win a BCS title.
The competition is tough, but South Carolina can hang with the best teams in the country.
Will South Carolina attain glory?
The pieces are in place and this could be Spurrier's best team since he took over as head coach of the Gamecocks.
Now it is their time to show their game and produce on the field.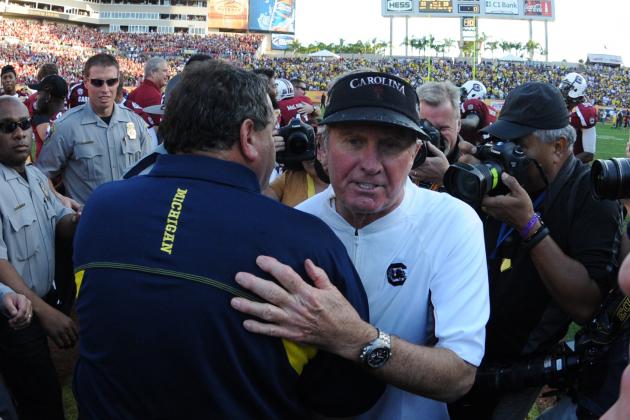 Al Messerschmidt/Getty Images
Spurrier and his Gamecocks won the Outback Bowl in 2012. Will 2013 end in an SEC title and more?
South Carolina is considered one of the dark horses to win a national championship in 2013.
The team is built for a title, but the Gamecocks' success this season depends on the game against Georgia. By beating the Bulldogs, South Carolina will set the pace for the rest of the season and control its destiny.
The conference schedule is fairly favorable, so the Gamecocks should win a lot of football games and build off of their success in recent seasons.
While I see South Carolina making the SEC Championship Game by going undefeated until then, a realistic prediction is 11 regular-season wins.
South Carolina will go on to a BCS bowl game, probably the Sugar Bowl, and pick up a victory to cap off a 12-win season.
The Gamecocks could win a BCS title and no one should be surprised if this team can pull it off, though a safe bet is another 11-win season.
Prediction: 11-2
Conference Record: 7-1
Bowl Game: Sugar Bowl