UFC Fight Night 26 Results: Shogun vs. Sonnen Round-by-Round Recap and Analysis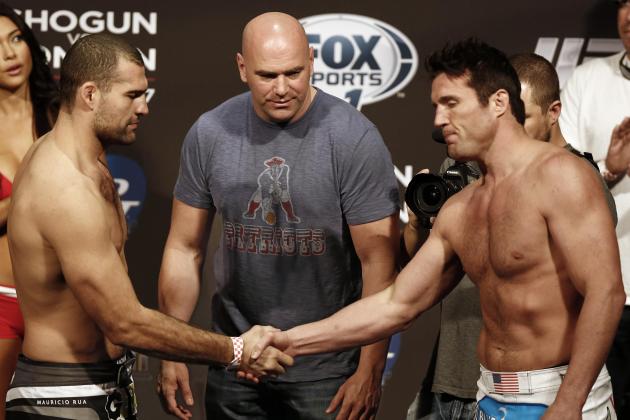 Winslow Townson-USA TODAY Sports

Chael Sonnen and Mauricio "Shogun" Rua come together to headline a fairly-stacked UFC Fight Night 26 card to kick off Fox Sports 1 in style. This fight is critical to both fighters.
Rua has been alternating wins and losses since 2009, and he has looked worse and worse in each consecutive fight. To his credit, he realized this and shook up his camp in a big way. At 31, Shogun still likely has a few years left in him, but we'll have to see if his 11-year career has taken too much out of him at this point.
Meanwhile, Sonnen is looking to post his first win since beating Michael Bisping over a year ago. Sonnen, in spite of his age, has robotic cardio and some of the best wrestling in the UFC. He'll be looking to begin his climb back to title contention with a win over Rua.
Begin Slideshow

»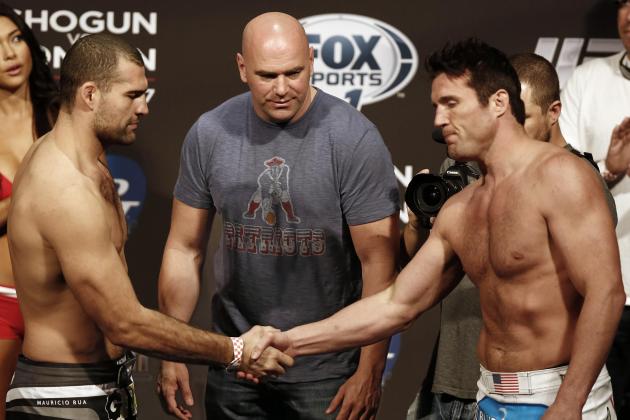 Winslow Townson-USA TODAY Sports

Sonnen goes for a takedown immediately after touching gloves. Shogun works his way to the cage impressively quickly, and works Chael to the ground himself. Chael works for a guillotine and uses it to work to top position and threatens to take his back. Shogun reverses and they wind up against the cage.
Sonnen throws Shogun and lands in his half-guard. He works his signature pitapat punching game as Shogun works for wrist control to no avail. Shogun gets double underhooks and Sonnen postures and works double-punches to the body. Chael starts landing big ground and pound from guard, rolls with Rua, and gets back to half-guard.
Chael immediately goes back to short punches and continues to score points. Shogun is clearly struggling to deal with Sonnen's smothering top game. Shogun works his way up and Chael locks a tight guillotine choke.
While it looked like Rua might be able to squeak away, Sonnen tightens it up and forces a tap. Amazing win for Sonnen.
A quick fight, but a great one for Sonnen. One of the best showings of his career.