AP College Football Rankings 2013: Grading Preseason's Top 25 Poll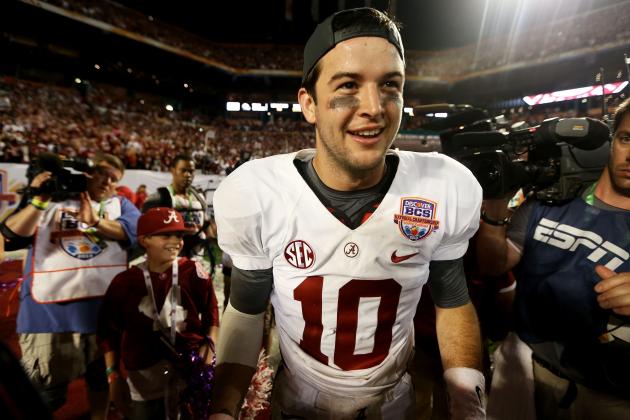 Streeter Lecka/Getty Images

The preseason AP poll was released on Saturday morning, joining the likes of SEC media days and the first day of fall camps in a string of many unofficial starts to the college football season.
But this one should be the last.
Alabama was the predictable No. 1, followed by Ohio State, Oregon, Stanford and Georgia. If those rankings look familiar, that's because they are: The AP Top Five was identical to that of the coaches poll.
In fact, as ESPN's Brett McMurphy pointed out, the same 25 teams graced each preseason poll and 19 of them were in the same exact spot.
But there were still a couple of curious differences worth noting.
Begin Slideshow

»
Coaches Poll: 1
Alabama got 58 of the 60 first-place votes, which at once seems ridiculous—who wouldn't vote for the Tide?—but also ties 2009 Florida for the highest percentage of first-place votes ever.
The Tide could make a case that they have the best quarterback, running back, wide receiver, offensive tackle and overall defense in America. The pollsters were right to make them near-unanimous favorites.
Grade: A
Coaches Poll: 2
The gap between Ohio State and Alabama was much bigger in the AP poll than the coaches poll. In like turn, the gap between OSU and Oregon/Stanford was appreciably smaller.
The Buckeyes are as talented as last year's record (12-0) suggests and are a clear favorites to sweep the Big Ten and play for the BCS title. But against Oregon or Stanford or Georgia on a neutral field, the Buckeyes might be Vegas underdogs, which makes this ranking just a slight improvement over the last one.
Grade: B+
Coaches Poll: 3
Oregon edged out Stanford for the No. 3 spot, but by less than it did in the coaches poll. Still, placing this high is a clear indication that—even without Chip Kelly in Eugene—expectations are as high as they've ever been.
With 15 starters back (and perhaps the best defense in modern Oregon history), this feels like exactly the right preseason spot. Whether the Ducks remain above Stanford after visiting Paolo Alto? That much remains to be seen.
Grade: B+
Coaches Poll: 4
Stanford again claims the No. 4 spot, edging out the same trio of SEC powerhouses behind it. And just like the coaches poll, the AP voters deserve a round of applause.
Stanford has, perhaps, the best defense in America, led by All-American candidates Shayne Skov, Ben Gardner and Ed Reynolds. The offense is always efficient under David Shaw and should be even better now that Kevin Hogan has matured. Don't be surprised (at all) if this team ends up playing for the title.
Grade: A
Coaches Poll: 5
According to Seth Emerson of the Columbus Ledger-Enquirer, the Bulldogs' one first-place vote came courtesy of Glenn Guilbeau, an LSU beat writer from Louisiana. That makes sense. He watched Alabama steal a game that LSU deserved to win (and should have won) in Baton Rogue last year, so he might not think quite as highly of the Tide.
That's a slight case of voter bias, and Georgia probably shouldn't be ranked above Alabama by anyone, but it's surely a Top Five squad. So this still feels like a pretty good ranking.
Grade: B
Coaches Poll: 7
South Carolina has the nation's best player, defensive end Jadeveon Clowney, but he'll have to do a lot of heavy lifting. Only 12 starters return to Columbia, including just five on the defensive side of the ball.
Connor Shaw has a lot of moxie, but he will have even more on his shoulders with guys like Ace Sanders out of the lineup. This feels like a definite Top 10 team, but not one that should be sniffing around the Top Five.
Grade: C+
Coaches Poll: 6
Johnny Manziel is innocent until proven guilty; but even as the evidence skews closer and closer toward conviction, the AP couldn't condemn A&M quite yet. It fell just one spot from its No. 6 rank in the coaches poll, which is much higher than it will deserve to be if Manziel is deemed ineligible. But for now, it still feels about right.
Grade: B+
Coaches Poll: 8
Clemson has blue-chippers at quarterback (Tajh Boyd), wide receiver (Sammy Watkins) and left tackle (Brandon Thomas)—the three most important positions for a passing game. So long as that trio (and offensive coordinator Chad Morris) keeps operating at a high level, the Tigers will be one of the nation's top offenses.
Regardless of the Manziel eligibility thing, Clemson will pass the Aggies if it beats Georgia in Week 1. So who cares if it didn't leapfrog them right off the bat?
Grade: B
Coaches Poll: 9
The AP ranked Louisville just as high as the coaches, and doing so made just as little sense. The Cardinals lost at home to 5-7 Connecticut last year, got torched by 19 points at Syracuse and barely eked out wins over 3-9 South Florida and 0-12 Southern Miss.
However well they played against Florida (which was admittedly very well) isn't enough to atone for that body of work. Teddy Bridgewater is as good as advertised, but the rest of his team is not
Grade: D
Coaches Poll: 10
Florida was a tough team to peg last season. It played down to inferior competition (see the Sugar Bowl loss to Louisville and near upset to Louisiana), but it beat the likes Texas A&M, LSU, South Carolina and Florida State. No team in America had four more impressive wins than those, but the offensive inconsistency, loss of 12 starters and gut-wrenching schedule all make it a long shot to finish in the Top 10.
Grade: B-
Coaches Poll: 12
So much about Florida State's season is unknown, making it hard to sign off on the Seminoles over more-proven programs like LSU and Notre Dame. Jameis Winston might be immediately special, but he's still never played a meaningful snap. Jacobbi McDaniel and Timmy Jernigan are former blue-chippers, but they've still never started a full season. Only 11 starters are back, and the receiving corps is perilously thin.
FSU's ceiling is high, so it might vindicate this spot, but for now, a few teams behind it deserve to be ahead.
Grade: B-
Coaches Poll: 13
LSU moved up one spot from 13th in the coaches poll, but it still seems a little bit low.
According to Football Outsiders, "The strongest indicator for how a college football team will perform in the upcoming season is their performance in recent seasons." And not many programs have been more consistent over the past half decade than Les Miles' Tigers. Would you really take Louisville over them on a neutral field? Seems like the Cardinals would be giving (at least) a touchdown in that game.
Grade: B-
Coaches Poll: 14
The Cowboys disappointed last season but there are genuine reasons for optimism in 2013. The bold hire of Shippensburg offensive coordinator Mike Yurich could pay immediate dividends for the spread attack, and the defense (ballasted by DT Calvin Barnett and CB Justin Gilbert) should get back to its turnover-forcing ways.
OSU deserves to be the Big 12 favorite—and probably by a little more than it is in this poll. But No. 13 seems like a good (albeit superstitiously foreboding) spot.
Grade: B+
Coaches Poll: 11
Nothing on this list sticks out more than the Irish at No. 14. All Notre Dame did last season was go 12-0 and play in the BCS National Championship. And all it brought back was eight defensive starters from a dominant unit, including two potential All-Americans in Stephon Tuitt and Louis Nix on the line.
Yes, the absence of Manti Te'o and Everett Golson will be palpable, but not so much that last year's end-of-the-regular-season No. 1 should start this regular season No. 14.
Grade: D
Coaches Poll: 15
A trendy sleeper team in 2013, the Longhorns again finished No. 15 and second among Big 12 teams.
Texas brings back an eye-popping 19 starters from last season, including the return of defensive end Jackson Jeffcoat, who was just rounding into shape before going down with an injury and missing the second half of the year. If he returns to peak form (and quarterback David Ash finds it, consistently, for the first time), this ranking could be too low. But those are decently big "ifs," so it could also end up being too high.
Grade: B
Coaches Poll: 16
Landry Jones is finally gone to the NFL, so Oklahoma will have a new starting QB for the first time in a decade four years. But Blake Bell, if he wins the job, needs to prove he can throw as well as he can plow forward for a two-yard touchdown.
Between that and the defensive attrition (Oklahoma returns just four starters on that side of the ball), it's hard not to be a little skeptical of Bob Stoops' club—regardless of how consistent it's been over the past decade.
Grade: B-
Coaches Poll: 17
Michigan was way over-ranked to begin last season, so it's nice to see slightly tempered expectations in 2013. And given the way the Wolverines (particularly new QB Devin Gardner) played down the stretch last season, it wouldn't be all that shocking to see them finish higher than they start.
It's a close battle with the AP's No. 18 team, but Michigan deserves to be the Big Ten's No. 2-ranked squad.
Grade: A-
Coaches Poll: 18
Nebraska's offense might be a Top 10 unit this year, led by the immortal (and always-improving) Taylor Martinez at quarterback, Ameer Abdullah at tailback and Kenny Bell on the outside. There are big questions on defense, though, as a unit that surrendered 105 points in its final two games last year brings back just four starters.
The offense, along with Bo Pelini's defensive bona fides, is good enough to warrant a Top 20 spot regardless. But without some improvement on the other side of the ball, Nebraska could crash and burn in a heartbeat.
Grade: B
Coaches Poll: 19
Boise State wasn't its usual, BCS-busting self last season, but it was still plenty good. The Broncos finished 11-2 and beat Washington in a very competitive Las Vegas Bowl (no sarcasm intended).
There are giant questions entering 2013—when only nine total starters return(!)—but Chris Petersen has not once failed to provide answers in Boise. Kudos to the voters for showing their faith in him.
Grade: A-
Coaches Poll: 20
It would be easy to complain on TCU's behalf. Just like in the coaches poll, it finished pretty far back of Texas and Oklahoma. All of this despite finishing third in the Big 12 media poll, ahead of Texas and right behind the Sooners.
At the same time, though, the Frogs finished last season 7-6 and haven't officially named a starting QB yet. So they should count their blessings for again being ranked Top 20.
Grade: B
Coaches Poll: 21
UCLA enters the season with higher-than-usual expectations, which are warranted (given the talent on its roster) but could be setting the stage for a letdown. The Football Outsiders Almanac projects the Bruins to finish No. 45 in America. And after parsing through their schedule (including games at Nebraska, at Stanford, at Oregon and at USC), it's hard not to kind of see its point.
Still, given the immense talent Jim Mora has assembled, it would have been hard to keep UCLA off of this preseason list.
Grade: B
Coaches Poll: 22
Northwestern didn't get snubbed by the AP, as some foolish writers predicted, and instead finished back in the No. 22 spot.
That seems deserved.
The Wildcats went 10-3 last season, and two of their losses (vs. Nebraska and at Michigan) were one or two boneheaded plays away from being wins. They were that darn close to finishing 12-1. And with 15 starters back in Evanston, it's not (that) crazy to expect similar success in 2013.
Grade: B+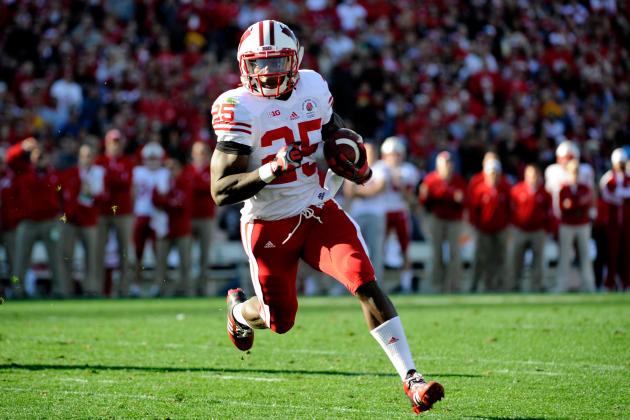 Robert Laberge/Getty Images

Coaches Poll: 23
This one makes a little less sense. Wisconsin underachieved for almost all of last season, and it wouldn't have even gotten its shot at late-season redemption had Ohio State (or Penn State) been bowl-eligible.
Then-head coach Bret Bielema left for Arkansas, leaving Wisco with highly capable but learning-curve-dependent Gary Andersen at the helm. The running game and front seven are both elite, but questions abound everywhere else.
This spot should have belonged to Michigan State.
Grade: C-
Coaches Poll: 24
What to make of the USC Trojans? Bad as they looked down the stretch (and in the middle of) last year, their roster, on paper, still looks like that of a Top 10 team.
With Silas Redd, Marqise Lee and Nelson Agholor in tow, Cody Kessler and Max Wittek should each be able to run an efficient offense. And with additions like Su'a Cravens, Kenny Bigelow, Leon McQuay and (the return of) Devon Kennard to the defense, that unit might finally be able to reach its potential.
Don't expect to see USC down this low for long.
Grade: B
Coaches Poll: 25
Oregon State is as solid as they come, a fitting and worthy choice at No. 25. No respectable team would storm the field for beating the Beavers, but none would weep too hard should they lose.
Mike Riley's team can run, pass, stop the run and (hopefully) stop the pass with consistency, making it a tough week-to-week matchup for anyone. And with Brandin Cooks still in the lineup, it will always have enough big-play potential to keep up with high-scoring teams.
Grade: B+