Shogun vs. Sonnen Fight Card: Three Fights You Don't Want to Miss
Winslow Townson-USA TODAY Sports
With a stacked preliminary card and an even juicier main card, MMA fans have a plethora of tantalizing tilts to look forward to heading into UFC Fight Night 26.
The inaugural event on Fox Sports 1, which will be held at Boston's TD Garden, will feature 13 intriguing scraps, including three that will be aired on Facebook.com.
Here are three fights you don't want to miss on this historical night in Beantown.
Mike Pyle vs. Matt Brown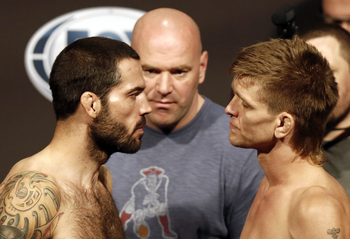 Winslow Townson-USA TODAY Sports
The fact that Matt Brown and Mike Pyle bring a combined nine straight wins into the Octagon says everything about the significance of this marquee welterweight matchup.
Brown, who's reeled off five straight wins in the promotion since getting submitted by Seth Baczynski at UFC 139, was originally booked to fight Thiago Alves, a man who's lost two of his last three scraps.
However, Alves pulled out of the bout due to an injury, and the UFC's brass pitted "The Immortal" with an equally dangerous opponent in "Quicksand."
Pyle has won four straight bouts and hasn't tasted defeat since getting TKO'd by Rory MacDonald at UFC 133.
Aggregate betting website Bovada.com has deemed Brown a slight favorite at 1.6-to-1 (-160) to best Pyle (+130).
But no outcome should come as a surprise with two consistent finishers going to war with so much on the line.
In this case, the oddsmakers and UFC matchmaker Joe Silva got it right. Pyle and Brown will surely put on a barn burner.
Conor McGregor vs. Max Holloway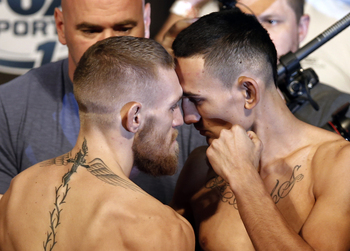 Winslow Townson-USA TODAY Sports
The buzz that will accompany Irish featherweight Conor McGregor into his second bout in the UFC will prove unprecedented, and not just because the fight's in Boston.
McGregor's new-found clout, coupled with the fact that his opponent, Max Holloway, doesn't shy away from a healthy brawl, makes this showdown a must-see.
The fast-talking McGregor burst onto the scene with a captivating TKO win in just 1:07 over the streaking Marcus Brimage at UFC on Fuel TV 9.
Still oozing with confidence from the win in his promotional debut, McGregor will attempt to finish his 10th straight fight with a submission or KO.
Holloway, on the contrary, dropped his last bout to Dennis Bermudez and will try to avoid the first losing skid of his career.
While the UFC didn't consider this bout main-event material, McGregor and Holloway will still get their chances to prove that they signify the future of the featherweight division.
Chael Sonnen vs. Mauricio Rua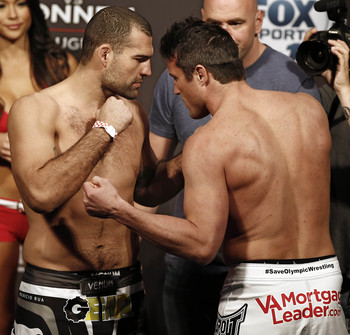 Winslow Townson-USA TODAY Sports
Chael Sonnen typically engages in verbal warfare with his opponents in an attempt to optimize the fight's promotion.
But strangely for Mauricio "Shogun" Rua, "The American Gangster" took a more respectful approach toward promoting their main-event bout.
Sonnen didn't stir up too much controversy in the buildup to his fight with Shogun. Fortunately for Sonnen and Rua, fans and pundits usually relish in watching two radically different styles collide.
In addition to the stark stylistic differences between the two, the fact that Sonnen and Rua will each enter this bout desperate for a win makes this an downright titillating main event.
Former light heavyweight linchpin Shogun, a feared striker and capable submission artist, has dropped two of his last three fights and three of his last five.
Similarly, three-time title challenger Sonnen, a former NCAA Division I All-American wrestler, has lost two fights in a row and three of his last five.
If the 36-year-old Sonnen successfully employs a wrestle-heavy scheme—like he did in several key wins in the middleweight division—then Shogun will undoubtedly lose a boring decision.
But if Sonnen, who's 1-5 in his career against Brazilian-born fighters, fails to enact his pressure-happy style—as he ultimately failed to do in his last two setbacks—then he may get put to sleep for the first time in his career.
Keep Reading