Daniel Bryan Winning the WWE Title Would Improve the on-Screen Product
Use your ← → (arrow) keys to browse more stories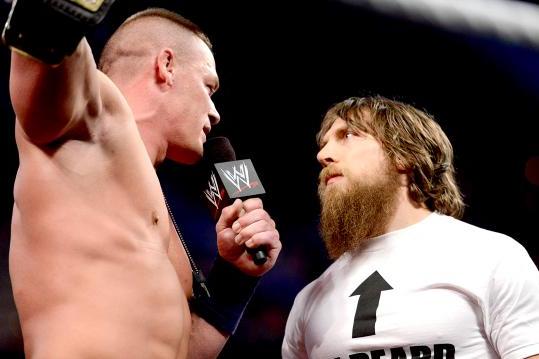 (photo courtesy of WWE.com)
As WWE champion, Daniel Bryan would improve the on-screen product simply by being someone entirely new holding the title.
Of course, a new Superstar holding the coveted championship is not the entire story. There are many fans in the vast WWE Universe who are clamoring to see the WWE Championship not around the waist of John Cena.
The Underdog Factor
If Bryan is able to secure the championship, his promised potential "paradigm shift" from a focus on entertainment to wrestling in WWE could begin to take place. The contrast between John Cena as the entertainer and Daniel Bryan as the wrestler is striking, as the holder of the WWE Championship is symbolic of what direction WWE is taking.
Much like when CM Punk won his first WWE Championship in a memorable way from Cena at Money in the Bank 2011, Bryan has a chance to do the same this coming Sunday at SummerSlam.
At the time, Punk seemed like an underdog to win because of his contract status and his perceived negative attitude toward WWE.
Bryan seems like even more of an underdog because of his smaller size, non-traditional appearance and pure focus on pro wrestling over sports entertainment.
Starting his training at the Shawn Michaels Wrestling Academy, Bryan learned quickly from Michaels that his smaller stature could be a hindrance as a pro wrestler. In a recent interview with John Clapp of WWE.com about Bryan's upcoming WWE Championship match, Michaels stated:
I always tried to be honest with him. I knew he was talented. And I knew he was going to face the same uphill battle that every guy his size does, myself included, and it was simply a matter of if he had the patience and the ability to adjust in areas where other people thought he needed to adjust — as far as personality, character, things of that nature.
Winning the WWE Championship would be a testament to Bryan's incredible work ethic. It would also deliver a stunning narrative demonstrating how hard work can lead to success.
As WWE champion, one can imagine that Bryan would be defending the championship regularly on Raw. Hopefully as champion, Bryan's reign would be remembered for his many title defenses against a variety of opponents.
Showcasing Bryan as a fighting champion is a surefire way to make his championship reign successful.
One of the reasons that the Cena and Bryan story fascinates the WWE Universe is because it is about competition. Their feud is not based on a story outside of the championship, as it purely concerns the WWE Championship. Fundamentally, their feud is brilliant because of its simplicity.
Bryan's story of winning the WWE Championship could be this generation's version of the Shawn Michaels "boyhood dream" win at WrestleMania XII or Mick Foley's stunning championship win on Monday Night Raw in 1999.
Tradition
With such a varied amount of pro wrestling training, Bryan's credentials could help to elevate the WWE Championship and the on-screen product by putting an emphasis on athleticism.
In an April 2012 interview with Ted Gruber from MMA Disputed, Bryan discussed his MMA training with UFC legend Randy Couture's former corner-man, Neil Melanson. When discussing MMA training as it relates to professional wrestling, Bryan pointed out:
I feel that it's very important because pro wrestling needs to evolve. What people bought in the 80's and 90's don't necessarily buy it today. There's a big difference the way I throw a kick and the rest of the roster throws one. I don't think the fans can necessarily identify the difference, but they can tell the difference. I think my training has really helped me in that aspect of mixing in the real legit kicks. My wrestling style has always been tight and my MMA training has helped me incorporate that in the ring.
While Bryan might be helping pro wrestling to evolve, he is part of a tradition that goes all the way back to the 1950s with former NWA champion Lou Thesz.
Thesz rose to the top of the NWA as someone who could allegedly defend himself in a real fight. According to Tim Hornbaker's book, National Wrestling Alliance: The Untold Story of the Monopoly that Strangled Professional Wrestling, Thesz's background as a trained amateur wrestler and "hooker" helped the NWA to have a champion who was "an authentic grappler built to the point where he was a feared opponent" (44).
In The New York Times obituary for Lou Thesz, it notes that Thesz once stated, "I am a wrestler. Not a wrassler, not a clown. A wrestler."
Bryan's words about being a wrestler and not an entertainer echo the sentiment of Thesz today.
WWE has not had a champion with such traditional pro wrestling credentials and ideals as Bryan in years. It is time for a WWE champion to be recognized for his pro wrestling ability and use competition as a basis for future title matches.
Competition Awaits
Will a Daniel Bryan WWE Championship reign improve the on-screen product?
The on-screen product will also be intriguing with Bryan as champion because he will have two top Superstars wanting a chance at him immediately.
Cena will most likely want a rematch at some point, and Randy Orton is always lurking around the WWE Championship scene with his Money in the Bank WWE Championship contract.
As WWE champion, Bryan will have an opportunity not only to elevate his status in WWE but also the WWE roster. Those who are given the chance to wrestle Bryan for the championship will more than likely have one of the best matches of their career.
The on-screen product will vastly improve with Daniel Bryan as WWE champion. It may not bring about a new era, but a Bryan title reign will help to make in-ring competition the forefront of the product.
Read more from Sean McCallon on the Double Axe Handle Blog.

Follow Sean McCallon on Twitter @TheBlueMask246.