Ryan Braun Releases Statement Admitting PED Use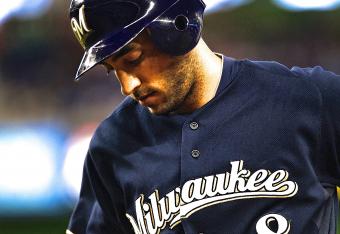 After years of speculation surrounding Ryan Braun's alleged PED use and MLB laying down a suspension for the remainder of the season, the Brewers star has finally decided to come clean.
Braun has released a statement on his suspension, admitting to PED use and apologizing for his actions, via MLB.com.
UPDATE: Thursday, Aug. 22
Ryan Braun has released a statement on his suspension, via MLB.com.
Braun first issued an apology:
Now that the initial MLB investigation is over, I want to apologize for my actions and provide a more specific account of what I did and why I deserved to be suspended. I have no one to blame but myself. I know that over the last year and a half I made some serious mistakes, both in the information I failed to share during my arbitration hearing and the comments I made to the press afterwards.

I have disappointed the people closest to me – the ones who fought for me because they truly believed me all along. I kept the truth from everyone. For a long time, I was in denial and convinced myself that I had not done anything wrong.
Later in the statement, he admitted to using PEDs:
Here is what happened. During the latter part of the 2011 season, I was dealing with a nagging injury and I turned to products for a short period of time that I shouldn't have used. The products were a cream and a lozenge which I was told could help expedite my rehabilitation. It was a huge mistake for which I am deeply ashamed and I compounded the situation by not admitting my mistakes immediately.
UPDATE: Tuesday, Aug. 20
According to Fox 6 in Milwaukee, Braun is now facing a defamation lawsuit from an old friend from college.
FOX6 News has learned a college buddy of embattled Brewers slugger Ryan Braun is now suing him for defamation. The lawsuit was filed in Milwaukee County court, and suggests Braun has been using steroids since his days at the University of Miami.

When Braun tested positive for elevated levels of testosterone in 2011, he needed help to beat the rap. According to a new lawsuit, his agent turned to one of Braun's long-time friends for assistance.

Now, Ralph Sasson is making some explosive allegations against the former National League MVP.

Sasson says Braun's agent contacted him, offering $5,000 for research that would help his client beat the rap — including a background check on Dino Laurenzi — the man who collected Braun's urine.

The suit also accuses Braun of encouraging Sasson to make prank phone calls intended to throw off ESPN reporters who were preparing to break the story of Braun's failed drug test.

Sasson says he refused to make the calls, but he did perform research aimed at helping his friend.

While he refused recorded interviews, Sasson sent a statement to FOX6 News that says while he recognizes the lawsuit has placed him in the public eye, it is his intention "to try this case in a court of law and not the court of public opinion."

Sasson's complete statement reads:

"Due to the immense public controversy stemming from Ryan Braun's suspension by Major League Baseball, it is not lost on me that my recent court filing has thrust my family and myself into the public eye. Given the circumstances, it is only natural that I be asked to provide public comment on this matter. Notwithstanding, my intention is to try this case in a court of law and not the court of public opinion. I am a private citizen and I deeply value my privacy. As such, I will provide no further comment at this time. I respectfully request that others sympathize with my desire to not comment on this matter as doing so may prove prejudicial to my case."

A call to Braun's agent was not returned.
Braun's friends shared the news with Nightengale on the condition of anonymity because the 29-year-old slugger has yet to make an announcement; however, they claim the list of individuals who will receive an apology for being lied to includes MLB commissioner Bud Selig, drug testing sample collector Dino Laurenzi Jr., teammates and peers.
Green Bay Packers quarterback Aaron Rodgers is probably on that list, too.
Despite being involved in two separate PED scandals since the news broke in December 2011, Braun has maintained his innocence concerning steroid use.
Braun, who was suspended by MLB in July for the remainder of the 2013 season, was initially able to escape punishment from the league for his 2011 failed drug test. He managed to win his appeal of a 50-game suspension on a technicality—Laurenzi made a mistake in handling the urine sample.
After leading the NL in home runs (41) during the 2012 season, Braun was back in the news for steroids this offseason. Tim Elfrink of the Miami New Times implicated Braun as part of the Biogenesis clinic scandal, and MLB dropped the hammer for his involvement with clinic owner Anthony Bosch.
As Braun makes his apology circuit official, he might have even more explaining to do, with new details emerging that far precede his MLB career. According to ESPN, his former friend, Ralph Sasson, has filed a defamation lawsuit against Braun with claims that include the slugger used steroids and accepted improper benefits when he was a student at the University of Miami.
When it rains, it truly pours.
For Braun, the past few weeks have to feel like a torrential downpour.
The truth won't restore his tainted legacy or eliminate any of the obstacles he'll face over the next couple of seasons, but it's a nice start toward true redemption.
This article is
What is the duplicate article?
Why is this article offensive?
Where is this article plagiarized from?
Why is this article poorly edited?