Stock Up, Stock Down for Cincinnati Reds' Top 10 Prospects for Week 20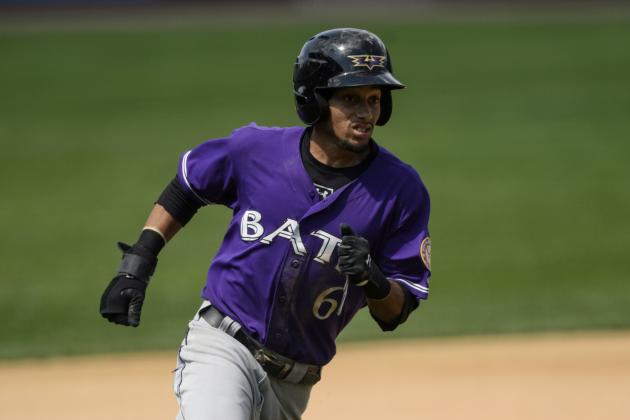 Howard Smith-USA TODAY Sports
Billy Hamilton could be among the players called up when rosters expand.
The 2013 MLB season has reached the middle of August, and the Cincinnati Reds are one of many teams that will be calling up minor leaguers soon based on how they performed this year.
At this point, the team has a pretty good idea of how some of its prospects have adjusted to their current levels.
Some of the prospects have helped themselves this year, but a couple of the top prospects have had disappointing seasons.
September is less than two weeks away, which means the Reds will have plenty of decisions to make.
Let's take a look at Cincinnati's top prospects and how they have done lately.
*All stats are courtesy of MLB.com and MiLB.com
Begin Slideshow

»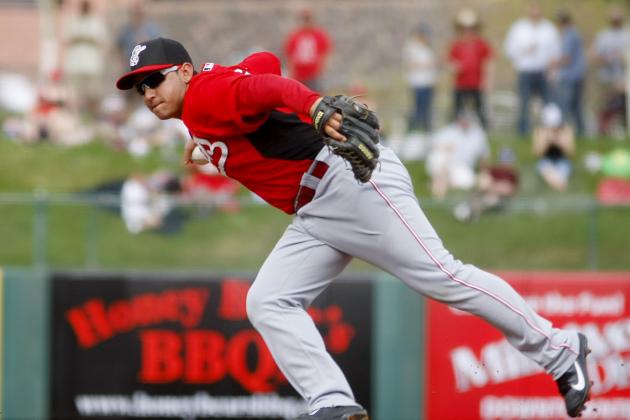 Rick Scuteri-USA TODAY Sports
Henry Rodriguez has continued to improve in the minors.
Level: Triple-A (Louisville)
Last 10 Days: .359/.405/.410, 0 HR, 2 2B, 0 RBI
2013 season stats: .270/.314/.334, 4 HR, 16 2B, 41 RBI
The Reds could use a player like Henry Rodriguez in September. He is able to play several infield positions, so his numbers are important to take a look at.
His overall numbers aren't great, but he has done a good job of hitting the ball lately. He isn't going to hit a lot of home runs. He is, however, going to hit with runners on base. He is hitting .290 on the season with at least one man on.
The Reds could use guys who put the ball in play. Rodriguez has only 66 strikeouts in 440 at-bats. It has been an area that has hurt the Reds in key spots this year, so Rodriguez could be a key bat off the bench late in games.
He is currently riding an eight-game hitting streak and has five multi-hit games during the streak.
Stock: Up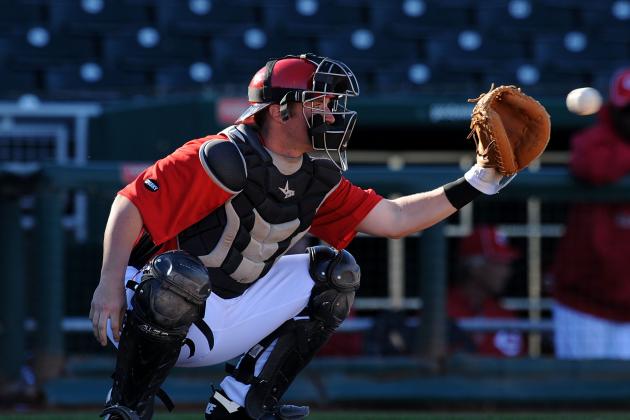 Norm Hall/Getty Images
Tucker Barnhart has continued to develop this season.
Level: Double-A (Pensacola)
Last 10 Days: .250/.368/.313, 2 2B, 4 RBI, 3 K/6 BB
2013 season stats: .268/.354/.361, 3 HR, 18 2B, 1 3B, 41 RBI, 51 K/41 BB
When Devin Mesoraco was struggling at the plate, it looked like the Reds may need Tucker Barnhart to develop quickly. Those worries have gone away, so Barnhart can continue to grow.
His numbers improve as the situation gets bigger. He is hitting .287 with runners on base and .349 with runners in scoring position.
Barnhart has had a solid season with the Blue Wahoos. He appears to have a good feel for the strike zone as well. He keeps the strikeouts down and draws walks.
The catcher isn't going to be expected to make an impact in the majors next season, but the organization has to be encouraged by how well he has done in Double-A.
Stock: Up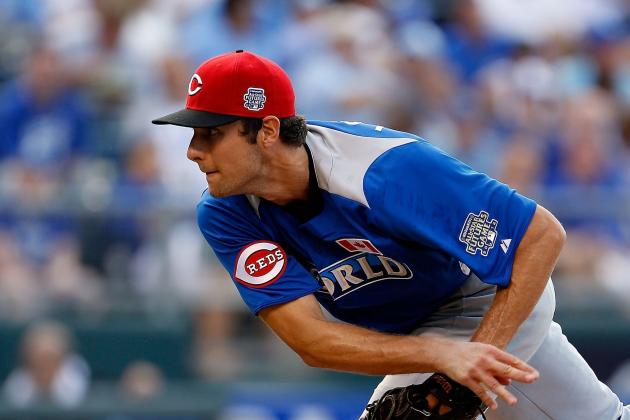 Jamie Squire/Getty Images
Kyle Lotzkar is one of the few top prospects who has struggled this year.
Level: Single-A (Bakersfield)
August stats: 1 G, 1 IP, 2 H, 1 R, 1 K/1 BB
2013 season stats:
Single-A (Bakersfield): 23 G, 29.2 IP, 1-2, 6.98 ERA, 31 H, 33 K/26 BB
Double-A (Pensacola): 10 G, 8.1 IP, 0-1, 11.88 ERA, 16 H, 8 K/11 BB
Kyle Lotzkar had a disappointing season this year and never really put together numbers that the team expected him to. He was sent down to Bakersfield after a rough stint in Pensacola.
He hasn't pitched since August 2 and didn't do very well. He allowed three batters to reach base and allowed a run in just one inning.
Lotzkar is currently on the seven-day disabled list, according to Reds.com.
Stock: Down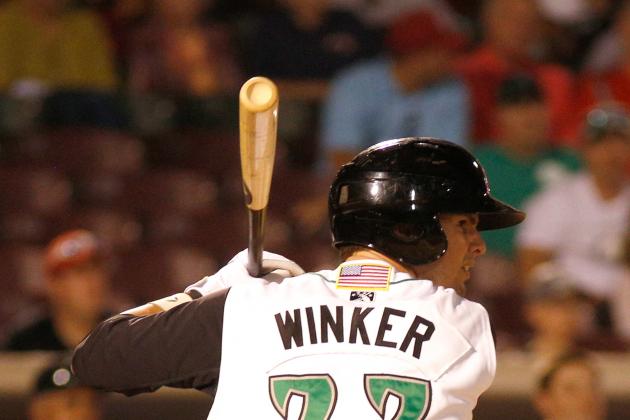 David Kohl-USA TODAY Sports
Jesse Winker has Reds fans anxious for his arrival.
Level: Single-A (Dayton)
Last 10 Days: .294/.415/.441, 1 HR, 2 2B, 5 RBI, 7 K/8 BB
2013 season stats: .281/.379/.463, 16 HR, 18 2B, 5 3B, 76 RBI, 75 K/63 BB, 6 SB
The next big-time prospect on the way through the system is Jesse Winker.
He continues to put up big numbers in Dayton. He has an incredible amount of talent and can do just about anything.
Winker has been able to hit for average, power, use his speed and be patient at the plate. He's drawn 63 walks in 112 games. His average has dropped slightly in the second half, but he's turned it back around lately.
He is still a few years away, but he will be much higher when the team releases its list of top prospects for next season.
Stock: Up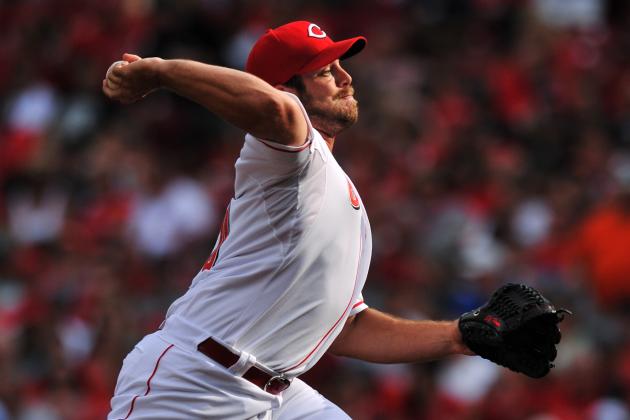 Jamie Sabau/Getty Images
J.J. Hoover has bounced back from a poor start and has been untouchable as of late.
Level: MLB (Cincinnati)
August stats: 7 G, 7.1 IP, 1-0, 0.00 ERA, 4 H, 9 K/1 BB
2013 season stats: 50 G, 52 IP, 3-5, 57 K/20 BB
The two most impressive performances come from the two players who are at the highest levels.
Since a meltdown against the St. Louis Cardinals on June 9, Hoover has been perfect. He has pitched 25.1 consecutive scoreless innings spanning 22 outings. In doing so, he has earned the trust of manager Dusty Baker.
With Jonathan Broxton and Sean Marshall on the disabled list, Baker had nobody to turn to for the eighth inning. The relievers were struggling. Everyone seemed to turn it around at the same time, and Hoover has been dominant.
He has mastered the art of mixing up his pitches. The right-hander can throw a fastball at 95 mph or drop a curve for a strike.
Hoover has 30 strikeouts to only eight walks and 11 hits during his streak. He has turned into the shutdown reliever that the team expected him to be.
Stock: Up
Level: Single-A (Dayton)
August stats: 3 GS, 15.2 IP, 1-0, 1.72 ERA, 12 H, 12 K/10 BB
2013 season stats: 24 G/23 GS, 103.1 IP, 5-7, 5.40 ERA, 119 K/90 BB
Ismael Guillon's biggest issue has been throwing strikes. He still hasn't been able to avoid walking batters, but he is beginning to improve.
August has been his best month, and it's not even close. June is the only other month in which he had a sub-6.00 ERA. He has held hitters to a .231 average in August, and he hasn't allowed more than two runs in an outing in four starts.
Guillon still has a long way to go before he can keep moving through the system. He needs to be able to avoid walking so many hitters because it will come back to hurt him at the higher levels.
Stock: Even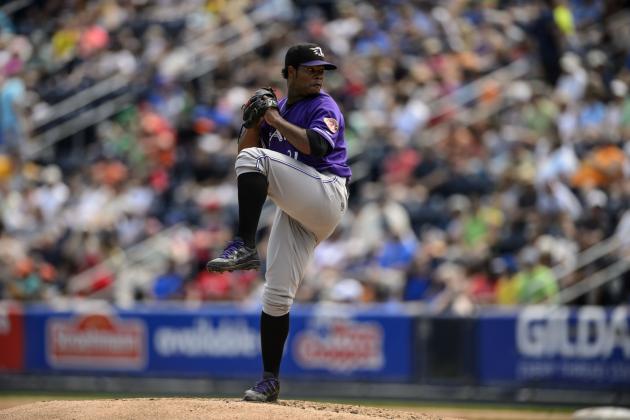 Howard Smith-USA TODAY Sports
Daniel Corcino has had a disappointing season in Louisville.
Level: Triple-A (Louisville)
August stats: 3 GS, 17 IP, 1-2, 4.24 ERA, 17 K/10 BB
2013 season stats: 24 G/22 GS, 122 IP, 6-13, 5.75 ERA, 84 K/64 BB
Another one of the prospects who has had a disappointing year is Daniel Corcino.
The right-hander had actually turned it around lately before his last outing. He had allowed more than two runs only once in his previous six starts. He was finally going five to six innings on a consistent basis, but walks have been an issue his past couple of starts.
Corcinco is going to turn 23 years old next week, so the Reds aren't going to give up on him. Pitchers develop at different ages, and there's no sense in trying to rush him before he's ready.
He is on the 40-man roster but isn't likely to be called up.
Stock: Even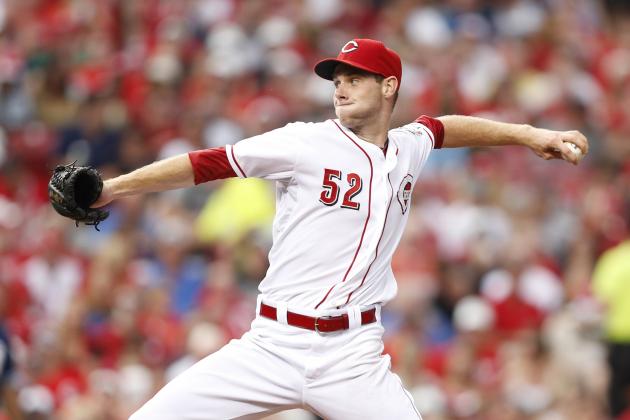 Joe Robbins/Getty Images
Tony Cingrani has been better than anyone could have hoped.
Level: MLB (Cincinnati)
August stats: 3 GS, 17 IP, 1-2, 4.24 ERA, 17 K/10 BB
2013 season stats:
MLB (Cincinnati): 20 G/15 GS, 94 IP, 6-2, 63 H, 111 K/38 BB
Triple-A (Louisville): 6 GS, 31.1 IP, 3-0, 1.15 ERA, 14 H, 49 K/11 BB
Easily the most impressive prospect has been Tony Cingrani. No Reds fans can say that they thought the rookie would be this good in Johnny Cueto's place.
Had it not been for Cingrani, the Reds could be in a much tougher spot than what they are in right now. He has been good all season and has gotten stronger in August. The ERA is inflated because he hasn't gone deep into games, but he has allowed only four earned runs this month.
The southpaw was charged with a loss in a game in which he did not allow an earned run.
Cingrani struggled to get strikeouts in June, but he has gotten back to blowing hitters away. He has at least seven strikeouts in three of his last four starts.
He has been able to improve the location of his breaking ball since returning to the majors. He will continue to work on that and develop into an even better starting pitcher.
Without Cingrani, the Reds would be rushing Cueto back from his injury. The rookie has exceeded expectations and has probably earned a spot on the postseason roster as a reliever.
Stock: Up
Level: Double-A (Pensacola)
Last 10 days stats: 1 GS, 6 IP, 0-1, 2 H, 2 R, 5 K/3 BB
2013 season stats:
Single-A (Dayton): 14 GS, 77 IP, 5-3, 2.57 ERA, 56 H, 96 K/20 BB
Single-A (Bakersfield): 4 GS, 20.2 IP, 2-2, 3.05 ERA, 19 H, 22 K/2 BB
Double-A (Pensacola): 1 GS, 6 IP, 0-1, 2 H, 2 R, 5 K/3 BB
Now that Cingrani is establishing himself as a major league pitcher, Robert Stephenson is the pitcher to watch in the minors.
Stephenson has zoomed through the system to get to Pensacola this year.
The right-hander has a great fastball and can put it anywhere he wants. His biggest issue, like most young pitchers, will be learning to locate his off-speed pitches. If he can control all of his pitches and have the confidence to throw them in any count, he will be tough to hit.
Stephenson has the talent to be an elite pitcher. He will still have to develop the rest of his pitches and will get time to do that in the minor leagues the next season or two. If he continues to put up great numbers, he could be a September call-up next season.
In his first start in Pensacola, he allowed only two runs on two hits in six innings. It wasn't a bad outing, but he was charged with the loss. Pitching at Double-A for the first time is a tough task, but he was able to pitch well in his debut.
He will again start next season as the team's top pitching prospect.
Stock: Up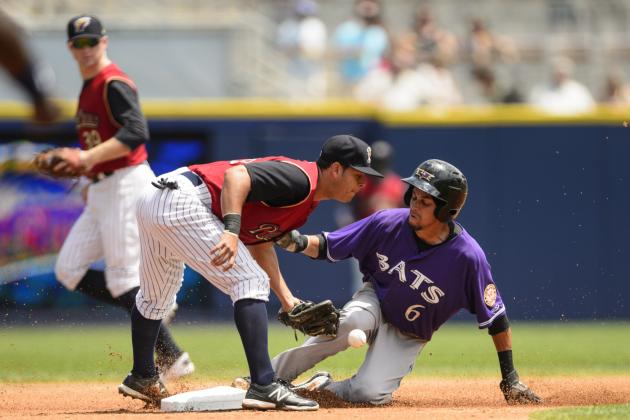 Howard Smith-USA TODAY Sports
Billy Hamilton has rebounded from a slow start in Triple-A.
Level: Triple-A (Louisville)
Last 10 Days: .292/.372/.463, 1 2B, 2 3B, 1 RBI, 3 K/2 BB, 5 SB, 2 CS
2013 season stats: .257/.309/.349, 6 HR, 16 2B, 4 3B, 39 RBI, 70 SB, 14 CS
It's almost September. The Reds are going to be adding players to their roster soon, and every fan is anxious for Billy Hamilton to get the call. However, John Fay of the Cincinnati Enquirer reported last week that general manager Walt Jocketty isn't sure if Hamilton will join the team next month.
Hamilton has helped his argument by hitting well lately. He got off to a horrific start in Louisville, but he continues to improve at the plate. His average has improved in each of the last three months. His .291 average in August is the highest it has been in any month this year.
The speedster has at least 15 stolen bases in every month but has some work to do if he is going to reach that mark again. He currently sits at seven stolen bases for the month.
His speed could have an impact on the playoff picture, but it may not matter. The team would have to add him to the 40-man roster, and it would speed up his arbitration clock. It may not be worth it for the team to call him up just to run occasionally.
Hamilton has tremendous speed, but calling him up may not happen this year. Nobody knows if the team will be able to re-sign Shin-Soo Choo. It doesn't appear that Hamilton is ready to be the team's center fielder and leadoff hitter on Opening Day.
The 22-year-old is extremely talented but still has some developing to do.
Stock: Even