Stanford Cardinal Football 2013 Team Program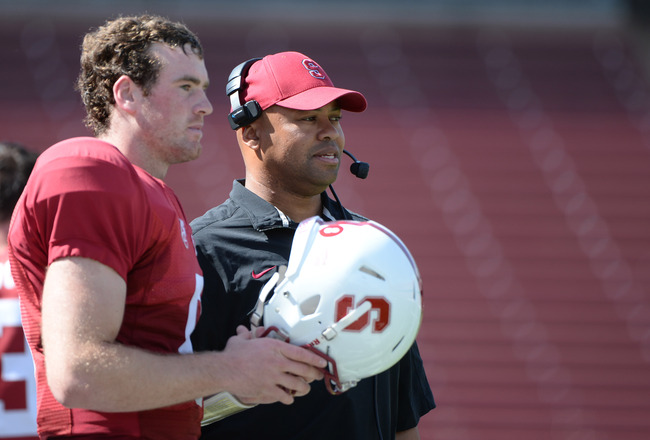 Kyle Terada-USA TODAY Sports
The Stanford Cardinal have appeared in three consecutive BCS bowls. They have won at least 11 games in the last three seasons.
Is 2013 the year Stanford wins it all?
In the first USA Today Coaches' Poll released August 2, the Cardinal start the season ranked No. 4. We all know preseason polls mean nothing, but people are beginning to realize Stanford is here to stay.
Video Preview
Here is a video preview of the 2013 Stanford Cardinal, courtesy of Adam Kramer, Barrett Sallee and Michael Felder.
Recapping 2012
The biggest question facing last year's Stanford team was who would replace Andrew Luck?
Often, when a team loses a quarterback with the ability and leadership of Luck, they take a major step backwards. That wasn't the case for Stanford in 2012.
The Cardinal began the season 7-2 with Josh Nunes under center. While the team was still winning, head coach David Shaw felt the offense wasn't reaching their full potential under Nunes and turned the team over to freshman Kevin Hogan. With that move, Shaw found his quarterback of the future.
Stanford went on a five-game winning streak with Hogan at quarterback, including a Rose Bowl victory over Wisconsin. He completed 72 percent of his passes, where Nunes completed only 52 percent.
The Cardinal finished the season with a record of 12-2, 7-1 in the Pac-12.
Depth Chart: Offense
Tyler Gaffney
Kyle Terada-USA TODAY Sports
Here is a look at the latest Cardinal depth chart. We will post updates once the new depth chart is released.
Quarterback
SO Kevin Hogan 6-4, 220
SO Evan Crower 6-5, 215
Running Back
SR Anthony Wilkerson 6-1, 214
SR Tyler Gaffney 6-1, 221
Fullback
SR Ryan Hewitt 6-4, 245
JR Lee Ward 6-1, 244
SO Patrick Skov 6-1, 240
Wide Receiver
SO Devon Cajuste 6-4, 232
FR Michael Rector 6-1, 190
SO Jordan Pratt 6-3, 211
Wide Receiver
JR Ty Montgomery 6-2, 215
SO Kelsey Young 5-10, 189
SO Kodi Whitfield 6-2, 197
Tight End
SO Luke Kaumatule 6-7, 260
JR David Dudchock 6-4, 233
Left Tackle
SO Andrus Peat 6-7, 310
SO Kyle Murphy 6-7, 272
Left Guard
SR David Yankey 6-5, 311
FR Johnny Caspers 6-4, 292
JR Dillon Bonnell 6-4, 279
Center
SR Khalil Wilkes 6-3, 290
JR Conor McFadden 6-3, 288
SR Kevin Danser 6-6, 301
Right Guard
SR Kevin Danser 6-6, 301
SO Joshua Garnett 6-5, 317
Right Tackle
JR Cameron Fleming 6-6, 318
SO Kyle Murphy 6-7, 272
SO Brendon Austin 6-6, 304
Depth Chart: Defense and Special Teams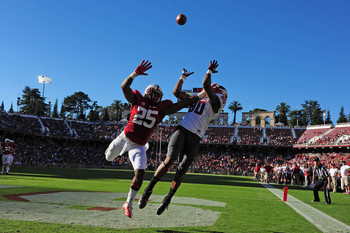 Alex Carter
Kyle Terada-USA TODAY Sports
Here is an updated look at the depth chart for the defense and special teams.
Defensive End
JR Henry Anderson 6-6, 282
SR Josh Mauro 6-6, 281
Defensive Tackle
JR David Parry 6-2, 303
FR Ikenna Nwafor 6-6, 288
Defensive End
JR Ben Gardner 6-4, 275
SO Aziz Shittu 6-3, 275
Outside Linebacker
SR Trent Murphy 6-6, 261
SO Kevin Anderson 6-4, 245
Inside Linebacker
SR Shayne Skov 6-3, 244
SR Jarek Lancaster 6-1, 232
Inside Linebacker
JR A.J. Tarpley 6-2, 237
JR Joe Hemschoot 6-1, 227
SO Blake Martinez 6-2, 238
Outside Linebacker
JR Blake Lueders 6-5, 258
JR James Vaughters 6-2, 245
Free Safety
JR Ed Reynolds 6-2, 205
SR Devon Carrington 6-1, 200
Strong Safety
JR Jordan Richards 5-11, 208
JR Kyle Olugbode 6-1, 192
Cornerback
JR Wayne Lyons 6-1, 193
SR Devon Carrington 6-1, 200
SR Usua Amanam 5-10, 175
Cornerback
SO Alex Carter 6-0, 204
SR Barry Browning 6-1, 179
Nickel
SR Usua Amanam 5-10, 175
SO Ronnie Harris 5-10, 170
Kicker
JR Jordan Williamson 5-11, 191
FR Conrad Ukropina 6-1, 185
Punter
JR Ben Rhyne 6-2, 202
FR Conrad Ukropina 6-1, 185
Long Snapper
SO Reed Miller 6-2, 222
SO Torsten Rotto 6-2, 240
Kickoff Returner
JR Ty Montgomery 6-2, 215
SO Kelsey Young 5-10, 189
Punt Returner
JR Ty Montgomery 6-2, 215
SO Kodi Whitfield 6-2, 197
JR Keanu Nelson 5-11, 179
FR Barry Sanders 5-10, 191
Injuries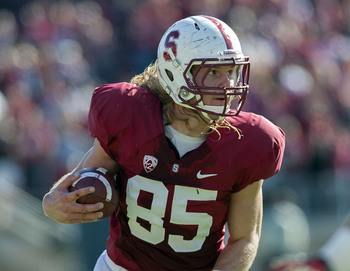 Ryan Hewitt
Ed Szczepanski-USA TODAY Sports
Fortunately for the Cardinal, they have no significant injuries to report. That may change now, however, with players practicing in pads for the first time this weekend. Players were excited for this development:
First day in full pads at StanU. Time to get it

— Ryan Hewitt (@Huey_85) August 16, 2013

If any injuries occur, we will keep you updated.
Players to Watch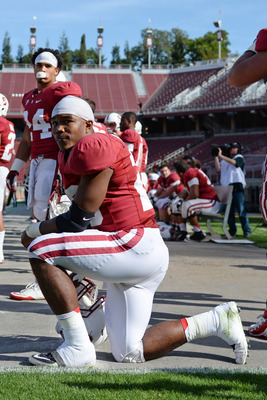 Barry Sanders, Jr.
Kyle Terada-USA TODAY Sports
Running Back Barry Sanders Jr.
Is there a player in college football fans want to see debut more than Sanders? The son of the NFL Hall of Famer will be in the mix for carries this season.
Don't look for Sanders too often, though. He is behind a pair of seniors on the depth chart and Shaw will likely split carries amongst this group all season, or at least until one truly separates himself.
Outside Linebackers Blake Lueders and James Vaughters
Replacing three-time All Pac-12 performer Chase Thomas is a tall task. However, the Cardinal believe they are in good shape with both Lueders and Vaughters. This will be a spirited battle all throughout camp and look for both players to see significant time in 2013.
Left Tackle Andrus Peat
Peat is a massive man with surprisingly good athletic ability. If he plays to his talent level, this Stanford offensive line will be the best in the country. Peat can dominate in both the running game and passing game.
Quarterback Kevin Hogan
Has David Shaw found his next Andrew Luck? That may be a tad too much pressure at this point for Hogan, but he has the size and athletic ability Luck possessed during his time in Palo Alto.
Hogan finished second on the team in rushing last year while completing 72 percent of his passes. Brett Hundley and Marcus Mariota may get all the love among quarterbacks in the Pac-12, but keep an eye on Hogan.
He could very well end up being the best of the bunch.
Coaches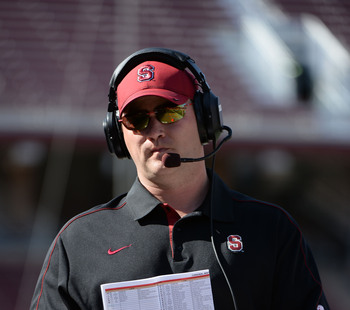 Mike Bloomgren
Kyle Terada-USA TODAY Sports
David Shaw realized after last season that Pep Hamilton may not be around too long. Shaw felt Hamilton would probably get a head coaching gig in short time. He was mostly right.
This offseason Hamilton accepted a position with the Indianapolis Colts to be their new offensive coordinator, reuniting him with Andrew Luck.
What did Shaw do to replace Hamilton?
He stayed in-house and promoted Mike Bloomgren to offensive coordinator. Bloomgren, is entering his third season on staff at Stanford after spending the previous two years as offensive line coach. He will retain those duties.
When Jim Harbaugh left three years ago, Stanford made the right decision in promoting Shaw. Expect the same result with Bloomgren.
Mike Sanford is also entering his third year on staff and will now oversee quarterbacks and wide receivers in addition to his role as recruiting coordinator.
Sanford spent the previous two years coaching running backs and will be an offensive coordinator before too long. He is one of more the talented offensive coaches in all of college football. He is an excellent recruiter, too.
Former Stanford quarterback Tavita Pritchard is now a full-time member of the coaching staff. Pritchard began his coaching career in 2010 as a volunteer before spending the last two seasons as a defensive assistant. He will coach the running backs.
2013 Schedule and Most Important Games
| | | |
| --- | --- | --- |
| Sat., Sept. 7 | San Jose State | Stanford, Calif. |
| Sat., Sept. 14 | Army | at West Point, N.Y. |
| Sat., Sept. 21 | Arizona State | Stanford, Calif. |
| Sat., Sept. 28 | Washington State | at Seattle, Wash. |
| Sat., Oct. 05 | Washington | Stanford, Calif. |
| Sat., Oct. 12 | Utah | at Salt Lake City, Utah |
| Sat., Oct. 19 | UCLA | Stanford, Calif. |
| Sat., Oct. 26 | Oregon State | at Corvallis, Ore. |
| Thu., Nov. 07 | Oregon | Stanford, Calif. |
| Sat., Nov. 16 | USC | at Los Angeles, Calif. |
| Sat., Nov. 23 | California | Stanford, Calif. |
| Sat., Nov. 30 | Notre Dame | Stanford, Calif. |
Most Important Games
UCLA - New head coach Jim Mora brought the Bruins back to prominence in his first season as head coach in 2012. In quarterback Brett Hundley, the Bruins have one of the more talented quarterbacks in the country to go along with a terrific defense.
The Cardinal defeated UCLA twice, in consecutive weeks, last season. However, in the Pac-12 title game, the Bruins proved they can play with, and perhaps defeat, the Cardinal.
Oregon - In the past few seasons, this matchup featured the top two teams in the Pac-12. That doesn't expect to change in 2013. The Cardinal won last year's duel after the Ducks took the previous two in convincing fashion. Fortunately for Stanford, this game will be played in the friendly confines of Stanford Stadium.
Notre Dame - After three straight wins in this annual rivalry, the Cardinal failed to defeat the Fighting Irish last season. The Irish won the game in overtime in one of the better games last season. With both teams now among the nation's elite, this season finale could have huge implications for both schools.
What to Look for on Offense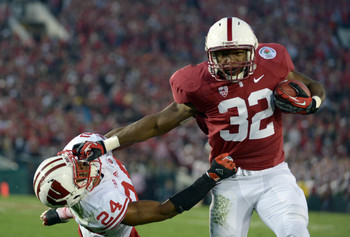 Anthony Wilkerson
Kirby Lee-USA TODAY Sports
In the era of the read-option and no-huddle, football purists could view Stanford as a breath of fresh air. The Cardinal employ a pro-style offense built around a strong offensive line and sound quarterback play.
That trend will continue in 2013. The Cardinal have arguably the best offensive line in the nation. While they must replace the school's all-time leading rusher Stepfan Taylor, a trio of talented, versatile backs appear ready for the challenge.
Sophomore quarterback Kevin Hogan proved last year he is not only the present, but the future at Stanford. Hogan is big (6'4", 220), fast and has a strong arm.
He proved adept at running the play action last season and look for him to take more chances down the field this season. He averaged a modest 7.2 yards per attempt last season.
The Cardinal lost their top five pass-catchers from 2012. There are a host of receivers ready to step up, led by junior Ty Montgomery and sophomore Kelsey Young. Keep an eye on Devon Cajuste, too. He has outstanding size and had an impressive spring.
The biggest question for Stanford, who will replace tight ends Zach Ertz and Levine Toilolo? Luke Kaumatule appears to be the top candidate, but the Cardinal like to use multiple tight end sets, opening the door for a host of talented, young players.
What to Look for on Defense
Shayne Skov
Scott Olmos-USA TODAY Sports
The Cardinal employ a 3-4 defensive front that is equally as strong defending the run as they are rushing the passer. Last season, Stanford led the nation with 57 sacks, averaging just over four per game.
They did lose Chase Thomas, but Trent Murphy and Ben Gardner both return. Murphy led team in sacks last season, while Gardner was tied with Thomas for second on the team.
Stanford led the Pac-12 in rushing defense, allowing only 97 yards per game. That was good for No. 5 overall. They allowed only three yards per rush. With the majority of the front seven returning, expect the run defense to be even better this season.
Senior linebacker Shayne Skov is the heart of the defense. Yes, Skov is a great player, but he is a tremendous leader. Skov led the team in tackles last season, finished with 2.5 sacks and 6.5 tackles for loss.
As great as the offensive line is, the defensive line is just as good. They are led by Gardner, David Parry and Henry Anderson.
An experienced secondary also returns. The Cardinal feature perhaps the best pair of safeties in the nation in Jordan Richards and Ed Reynolds. Wayne Lyons and Alex Carter return as the starters at cornerback.
Lyons is a future All-American while Carter is equally as good. Reynolds is the prototypical free safety and led the team with six interceptions last season.
X-Factors for 2013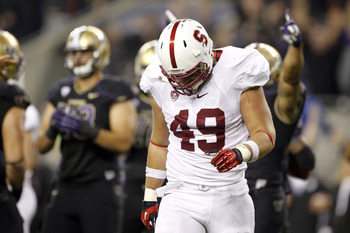 Ben Gardner
Joe Nicholson-USA TODAY Sports
Dominance in the trenches
Several weeks ago, we did a story profiling the top offensive/defensive line combinations in the country. Stanford was at the top of the list, and for good reason.
Jim Harbaugh built Stanford into a smashmouth program. His goal: Stop the run on defense and run the ball at will on offense. That's how Stanford has played in recent seasons and it is a big contributor to their sustained success. Stanford's ability to win in the trenches will keep them in every game and a major threat to win the national title.
Favorable Schedule
As we mentioned earlier, the Cardinal's toughest games are UCLA, Oregon and Notre Dame. What is so favorable about this schedule? Each game will be played at home. Shaw is 13-1 at home in his two seasons as head coach.
Running back depth
Replacing Stepfan Taylor won't be easy. He was the school's all-time leading rusher. However, the Cardinal are well-equipped to handle his departure. Senior backs, Anthony Wilkerson and Tyler Gaffney, figure to receive the bulk of carries early in the season.
Each bring a different style to the position with Wilkerson being more of a physical inside runner. Oh, they also have a guy named Barry Sanders.
Coaching
Shaw enters his third season as head coach of his alma mater. He is an impressive 23-4 overall and led the Cardinal to a BCS berth in each of his first two seasons. With the talent this team possesses, and a young coaching staff, the Cardinal are set up well for the long-term.
Top Storylines to Watch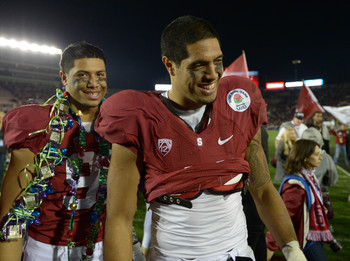 Luke Kaumatule
Kirby Lee-USA TODAY Sports
Who will step up at tight end?
Outside of quarterback, tight end has become the most important position in the Stanford offense in recent years. Last year, the Cardinal replaced Coby Fleener with Zach Ertz and Levine Toilolo and didn't miss a beat. Ertz and Toilol were first and third, respectively, in receiving for Stanford in 2012. They take with them 93 receptions, 1,291 receiving yards and 10 touchdowns.
Sophomore Luke Kaumatule gets the first opportunity. Kaumatule impressed coaches in the spring and certainly has the size and athleticism Stanford covets in their tight ends. Junior Davis Dudchock will also play a lot.
Keep an eye on true freshman Eric Cotton. At 6'6", 230 pounds, Cotton has ideal size to play right away. His blocking will determine when he will play, if at all, in 2013.
Will Barry Sanders Jr. contribute?
When you are the son of one of the greatest running backs of all time, expectations are high. While no one will confuse the younger Sanders with his father, at least not yet, he was one of the top recruits of 2012.
Of all of the Cardinal running backs, Sanders is the only one who has true game-breaking ability. If he doesn't receive significant carries this year, he could see action as a punt returner.
Who will replace Chase Thomas?
Thomas was a three-time all-conference selection. He was second on the team in tackles and sacks last season. Fortunately, linebacker is one of the deeper positions on the team. James Vaughters and Blake Lueders get the first crack at replacing Thomas, but don't rule out freshman Peter Kalambayi.
Progression of Kevin Hogan
Hogan had an excellent finish to the 2012 season. Can he repeat that momentum from start to finish in 2013? He certainly has the talent. It will be up to Hogan to raise the play of those around him, something all great quarterbacks do.
Season Prediction
When it is all said and done, do the Cardinal have what it takes to get to the national championship game? Here is a game-by-game look at how the Cardinal will fare in 2013:
9/7 vs San Jose State - Win
9/14 at Army - Win
9/21 vs Arizona State - Win
9/28 vs Washington State - Win
10/5 vs Washington - Win
10/12 at Utah -Win
10/19 vs UCLA - Win
10/26 at Oregon State - Win
11/7 vs Oregon - Win
11/16 at Southern California - Loss
11/23 vs California - Win
11/30 vs Notre Dame - Win
Yes, that's right, of all the difficult games on Stanford's schedule, I have them losing at USC. Keep in mind, USC still has plenty of talent and the game is on the road the week after the Cardinal play Oregon.
The Cardinal will play in the Pac-12 title game and win, putting them in the Rose Bowl for consecutive seasons. They will finish at 13-1. Just short of a national title. Don't worry, that's not too far behind.
Keep Reading

Stanford Football: Like this team?